It's been almost 4 years since we moved into our house of possibilities. Although there was overt damage and no running water, the vast majority of the ugly in our home was just major neglect. Comparable homes that sold in our neighborhood put our home value at almost $45,000 more – about 10%.
While we could see past all of that, I understand that it was a major turnoff to other buyers. A home is our biggest life investment and even if you aren't planning on moving anytime soon, you don't want to put off small repairs until the last minute. Many of our projects are monster sized – like the poker table build that is now going on over 4 months. However, I thought today, I would round up several home improvement projects that only take a weekend and can boost a home's value, curb appeal, and your sanity of not having to see an eyesore again!
1. Updating Light Fixtures (Or adding New Ones)
One thing I can't stand is bedrooms without permanent light fixtures. It's like someone left the job before it was completed. If you aren't comfortable with DIYing this project, you can hire an electrician for relatively cheap to add the wire, if you have a switch already connected to an outlet.
True Story – I personally know someone who purchased her house because of how much she loved the light fixtures. If you already have the light fixtures installed, updating them is a very simple project to tackle that takes maybe an hour.
2. Landscaping for Curb Appeal
The entry way of a home is really a first impression. Adding some landscaping and even just washing the concrete or paver stones can be a big impact. I have seen many gorgeous front entry ways transformed with just a few plants and painting the door. You can see more of our simple curb appeal tips here.
Landscaping doesn't have to be ornate to be beautiful. For plants, repeating combinations of 3 plants can be simple, stunning, and cohesive. I also find that you don't need a super green thumb with only 3 types of plants. Or add a simple DIY retaining wall to give clear edges and add some hard surfaces.
3. Repairing and Adding Trim
Trim is actually a big deal to a lot of people. From super tall board and batten to basic baseboards, even superficial cracks can feel like the house is falling around you.
We are lucky enough to live in a contemporary colonial home, which generally means I can go hog wild on adding trim on the walls around the house, but every style of home has its own features.
If you feel a little handy and want to dress up the walls for a focal point or adding an air of sophistication, installing picture frame wainscoting is one of my favorite options, but there are many styles to choose from including board and batten, raised panel, and bead board.
Here are our tips and projects for adding or repairing trim in a home:
4. Updating Appliances
This is probably one of the most expensive items on the list, or it can be. But there are also some pretty creative solutions that are very budget friendly.
An important example was our kitchen stove. The replacement for our glass top stove was $2200, so we decided to try to save our old one and replace the porcelain grates. You can see how we were able to save and clean the glass stove top here.
Another way we updated our appliances on a budget was with the dishwasher, and we used stainless steel contact paper to cover over the existing scratches and scuffs. Now, you can even do this with refrigerators and ovens now that they have the right size to fit doors.
5. New Backsplash
I love, love, love our tumbled marble backsplash, but it was a mess to install with traditional mortar and grout. It also took about a week to complete, but there are so many more options than traditional tile if you don't feel confident in laying mortar and tile.
One of my favorites is peel and stick tile! It can be permanent or removable if you like, and there are tons of brands and ways to do it. We helped my brother-in-law install a glass peel and stick backsplash here and it looks beautiful and has held up well. However, there are other options as well, including this awesome tutorial about stenciling peel and stick floor tile for a higher-end look at a fraction of the cost.
6. Simple Bathroom Updates
To get the most bang for your buck, kitchens and bathrooms are the best place to upgrade. A full renovation is not required to make simple updates to a bathroom that will take it from yuck to more luxurious atmosphere.
Although we did complete a full contemporary bathroom makeover last year, many of the updates were smaller in scale and budget, like updating the light fixtures and changing the faucets. We even saved the vanity base and repainted it for an updated look.
Another budget idea for updating a bathroom is to paint the bathtub or shower basin rather than replacing it. That saves quite a bit of money!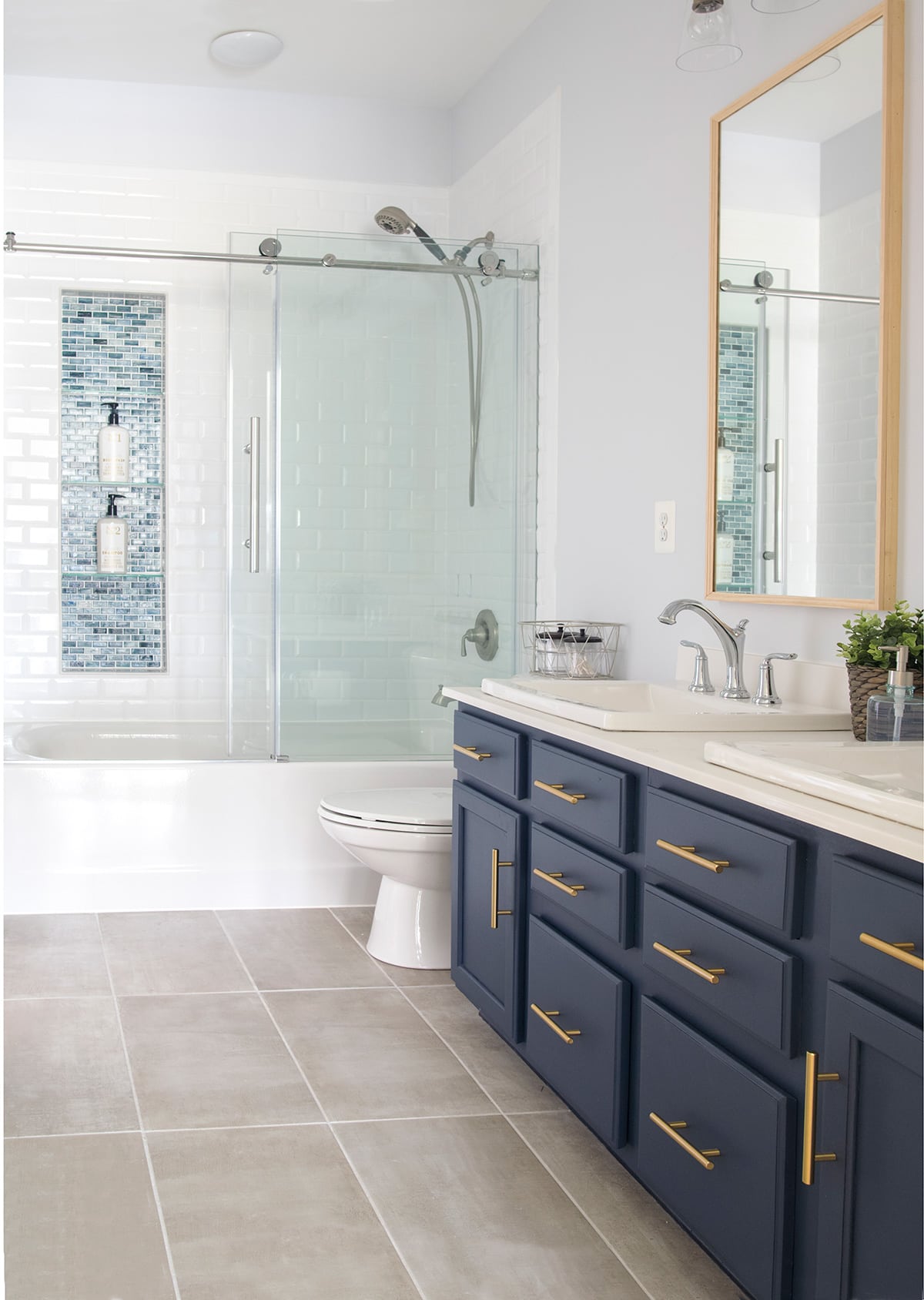 I know that I will be thanking myself for the making these small repairs when it comes time to move (someday!). The chaos of moving is enough on it's own, and I don't want to update or repair something that is driving me crazy just so someone else can enjoy it!