How to choose the perfect kitchen island pendant lighting based on style, size, and finish. We're sharing all of our secrets from spatial planning to stunning, affordable options. Create your dream kitchen with these trendy kitchen pendant lighting ideas!
Whether you're shopping for a new kitchen light, installing an entryway light, or updating a bathroom vanity light, there are many factors to consider before making your purchase. Style, size, budget, and light output all play a key role, including when selecting lights over a kitchen island.
The number of options can get overwhelming. Fortunately, I am sharing some simple guidelines I've used over the years to make the process of selecting the perfect kitchen island lighting easier. Read along for handy tips and answers to the most common questions, as well as stunning options for every style and budget.
Kitchen Island Lighting FAQs
Quick answers to the most common questions.
How many lights do I need for my island?
For a 15-square-foot island, you need between 535 — 750 lumens. A 60-watt bulb produces about 800 lumens. So, 60-watt bulb above your island will give you enough light, while two provides a brighter glow for tasks. Islands under six feet should have 2 pendants and islands above six feet should have at least 3 pendant fixtures, depending on the size of your fixtures.
How far down should pendant lights hang over an island?
The general rule of thumb is to hang pendant lights between 30-36 inches from a countertop or island. Take the height of the fixture and the height of your ceiling into consideration as well. The goal is to see across the counter without your light impeding your view.
How big should your light be over your island?
If you're using your island for cooking and as a preparation area, choose a pendant light that is bright enough for your tasks. If you're using your island exclusively as a dining and socializing area, choose ambient lighting suitable for a breakfast nook.
Is it necessary to install pendant lights over island?
No, but recessed lights are great options. However, if your space allows it, pendants add extra style and function to your kitchen.
Should I match the finish on my pendant lights to my other kitchen finishes?
You don't need to match the finish of all other items in your kitchen. In fact, mixing metals can add balance and interest. However, try not to use more than 2 metals or finishes in a space. For example, if your appliances are stainless and knobs are black, you will most likely want to choose a chrome, stainless, or black light fixture.
How To Space Lights Over a Kitchen Island
There are a few basic design rules to spacing pendant lights. First, they should be around 30-32 inches off the top of the bar. Lights should be placed about 12-18 inches from the edge (go at least 6 inches minimum).
How to space the lights depends on how many lights you have. To make a basic guideline, divide the length of your countertop by how many lights you want to add +2. Then you know approximately how to space them.
Here's a handy guide to how to space pendant lights over an island.
But rules are made to be broken…
During our kitchen remodel, I was determined to find the perfect light fixture to showcase our newly custom-built island.
Our bar lights hang a bit lower at 26 inches, because the bar is already raised 7 inches from countertop height. I also gravitated toward over-sized lights, so I used two and spaced them further apart than the standard rule of thumb. Ours are 12 inches from the edge.
The takeaway here? Design is art. While we provide basic guidelines to simplify installation, not all kitchens or fixtures are the same. At the end of the day, follow your aesthetic instinct for the most polished and practical solution.
Quick Fixture Sizing Tips
Large kitchens and open concept homes can accommodate larger pendants.
A beautiful bar is often the focal point of the kitchen, so I opt for larger fixtures to make the lights stand out more.
Lights usually should reflect the size and shape of the room. For example, tall light fixtures work best in a tall room. Wider light fixtures work in a wide or long room.
Open style pendants block the least amount of visual space in any kitchen and work best for enclosed or small kitchens.
Check out a few of other easy DIY projects for your kitchen here:
Kitchen Island Lighting Styles
We've covered finish, size, and placement, but what about style? While there are a million choices out there for kitchen island pendant lighting, most can be categorized down to their shape and a few basic styles to help you search for your perfect light.
The most common shapes:
Globe
Teardrop
Square
Bell
Lantern
Drum
Conical
Dome
Cylindrical – like the shape of a roll of paper towels.
Cage Pendants
Caged pendant lighting is a versatile choice for any sized kitchen. A cage light is any type of light that has a shade that you can see through. It's an ideal option for small spaces or for adding a touch of glam.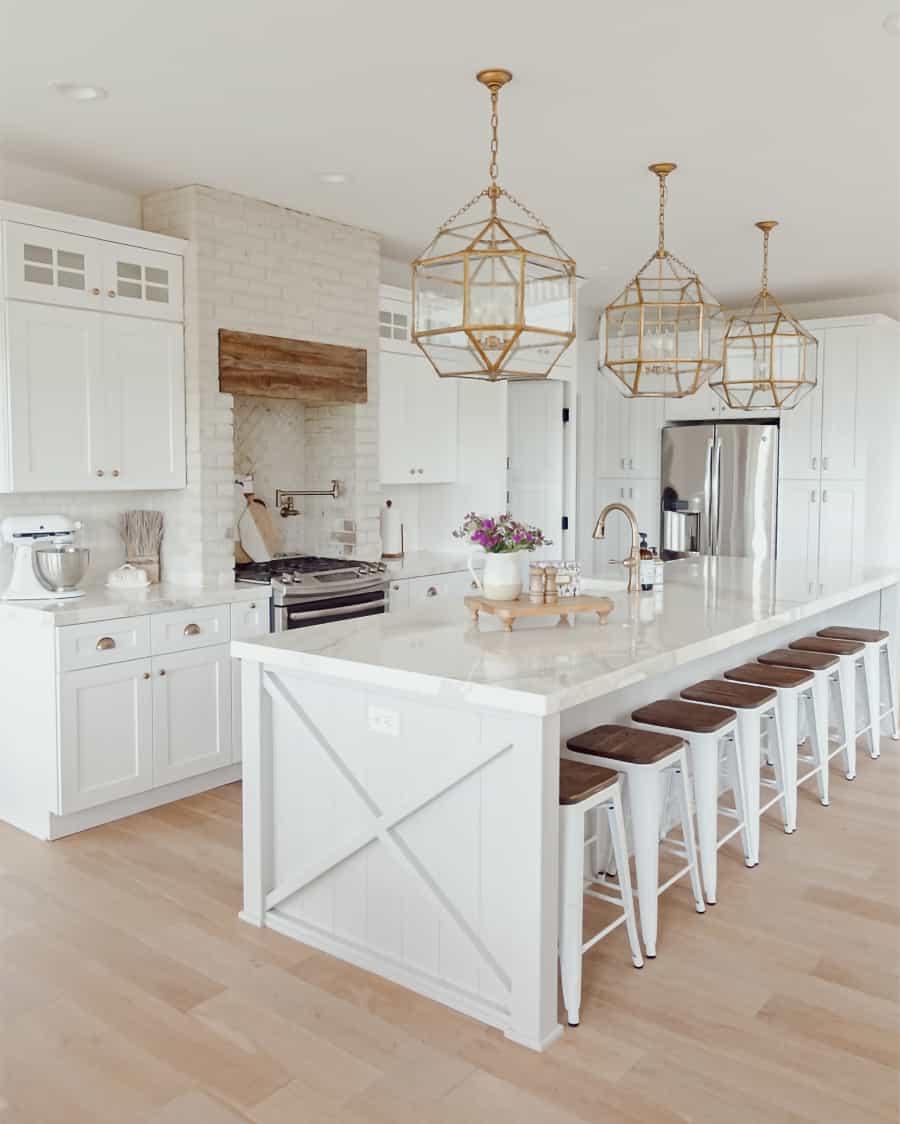 Basketweave
Whether you lean towards modern farmhouse or a more boho aesthetic, basketweave is flexible enough to fit into your design plan. The open style means it will work in tight spaces where pendant lighting would otherwise be considered a faux pas.
Glass Pendant
Glass pendant lights are crisp, modern and versatile enough to introduce into any design aesthetic. You can find these in a variety of shapes that add a noticeable punch of style without overwhelming your island or kitchen.
Bell Pendant
Bell pendant lighting adds a classic element with a modern twist. The beauty of this design is found in the shape itself: a simple arc that complements traditional and modern decor styles. With many options to choose from ranging from bold colors to bright metals, you truly can't go wrong with this classic.
Traditional Lantern
Traditional lantern style pendants are a near perfect balance of geometric angles and delicate beauty. The traditional tiered canopy and glass panes are elegant without being too fussy. Faux candles are most commonly featured as the lighting element, adding a touch of rustic sensibility. Lanterns are highly structured but can also be quite whimsical, depending on the surrounding decor.
Shaded
Draw attention from the floor to the ceiling with a light, airy look. By allowing light to pass through, shaded pendants efficiently disperse illumination for soft ambiance throughout your space. The result is elegant simplicity. This style is versatile and can include drums or conical shaped pendants.
Multi-Light Pendant
Multi-light pendants or suspensions traditionally include three or more mini pendants attached to a single canopy in a linear, circular, or rectangular formation. Think of it as a contemporary alternative to chandeliers.
Multi-light pendant fixtures are cost effective and easier to install. Whether you're searching for a unique geometrical concept or a traditional linear style, a multi-light pendant adds a splash of flavor to your kitchen.
Kitchen Island Pendant Lighting Ideas
I've done some of the homework for you and rounded up a few of my favorite kitchen pendant lights. Bonus- most cost less than $200!
Click the images in the gallery below to find their sources: (Affiliate links are provided below for convenience.)

Did you find a new favorite? Share your fabulous lighting finds with us below. I love to see what projects readers are up to at home!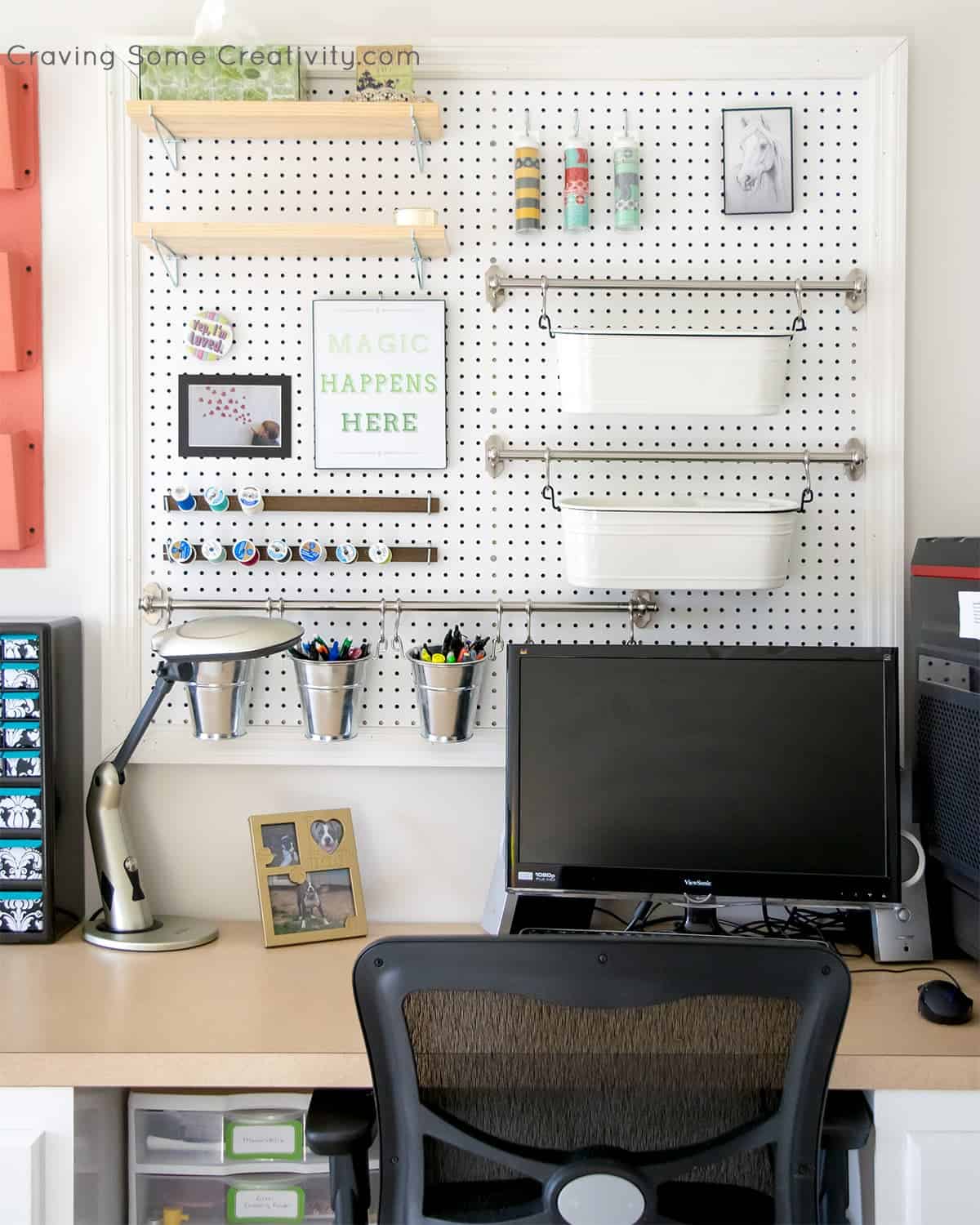 Grab our free series "Weekend Home Projects that will Transform Your Life"
Sign up below to receive updates including free printables, organization tips, home improvement projects, recipes and more!
More Design Ideas
PS I love seeing your creations! Be sure to take a photo and tag #cravingcreative on Instagram! You can also stay in touch with me through following me on Instagram, Pinterest, and subscribing to the newsletter!