Installing under cabinet lighting makes a kitchen look larger and more functional, but it can be hard to choose. Here is a collection of simple options & pro tips!
Under the cabinet lighting is a budget savvy way to update your kitchen. Whether your goal is to showcase cabinets or countertops, or to simply add some mood lighting- there are many choices available to consumers.
LED Direct Wire Under Cabinet Light
We chose this 24-inch LED Direct Wire model from Home Depot during our kitchen remodel because it is dimmable and has bulbs that can be changed, but the wires are completely hidden from sight. The lights are connected to each other and then to an outlet. We cut a small hole in the wall under the cabinets and fished the wire over to an outlet box. This type of installation does require that you can wire a wall switch.
Our kitchen light casts a cozy glow in the evening and they are super low maintenance. They also can be installed with a dimmer and turn off with a convenient light switch. I couldn't be more pleased with the choice we made.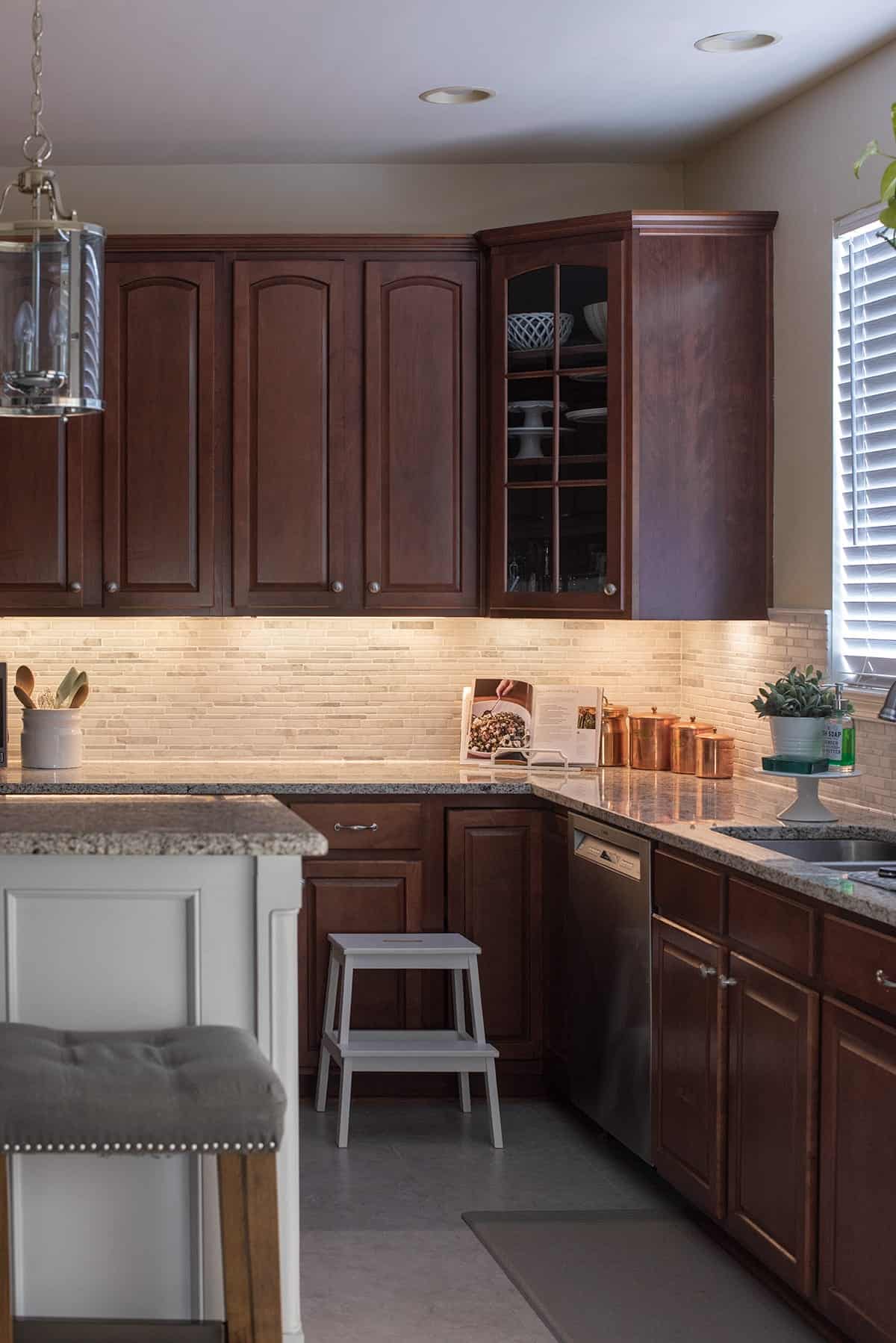 LED Tape Lights
Another popular trend in cabinet lighting is LED tape lights. This style of under cabinet lighting is easy enough for a novice to install and can be used in places that would be hard to install otherwise like the insides of cabinets.
Tape lights adhere directly to cabinets; use connectors to tailor the strip to desired lengths. My friend at Honeycomb Home offers a great tutorial on how she did hers.
Important tips for Tape Under Cabinet Lighting Installation
Access to an outlet is required.
Drilling through cabinets may be necessary for install.
Basic working electrical knowledge is strongly suggested.
LED Wireless Puck Lights
Looking for a completely no-fuss wireless lighting solution? Choose puck lights like this easy to install set. This style features dimming and remote control options. No electrical outlet, wiring or drilling is required so it's a great option for any level of DIY experience.
Pro tip: invest in rechargeable batteries for budget efficiency.
Oh Everything Handmade has a good tutorial and shows how this style of lighting looks under the cabinets.
LED Wired Spotlight Installation
If design flexibility is your primary concern wired spotlights may be the best option for you. Install lights individually for a true spotlight effect or group them closer for an effect similar to strip lighting. These lights are not adhesive. Access to an outlet is required. The Ikea OMLOPP LED spotlights featured here do no require any previous electrical knowledge for installation. Dimmer is sold separately.
I hope this cast some light on the best option for your cabinet lighting project. Feel free to message me with any questions- I'm always happy to help. Happy DIY'ing!
Pssst...
Grab our free series "Weekend Home Projects that will Transform Your Life"
Sign up below to receive updates including free printables, organization tips, home improvement projects, recipes and more!