Over 25 Genius kitchen cabinet organization ideas to help you kick the kitchen clutter. These long-term solutions transform unused space into efficient storage.
Let's be honest, maintaining orderly kitchen cabinets is a daunting task. Kitchens hide a lot of stuff behind closed doors. Many kitchen items get used and re-stocked regularly; traditional storage methods just won't cut it. It's important to design systems that withstand the challenges of real life.
I'm a big convert to the idea of using hidden spaces for organization. Once I realized that my cabinet doors offered me for storage, I was hooked! The door to my pantry, linen closet, and my son's clothes closet have all become proper storage spaces to date.
The best part? A major kitchen overhaul isn't required to implement changes. These DIY solutions are simple. Life is more enjoyable when its clutter free.
More Ways to get organized:
Kitchen Drawer Organizers
An efficient workspace makes meal prep a breeze. Put an end to aimless searches through cluttered drawers. Resolve to get organized! These straightforward solutions are a snap to implement.
DIY Tupperware Drawer Organizer
Tame the Tupperware tumble with this organizer even beginners can build! Easily transform a piece of plywood into functional pegboard kitchen storage. Free plans included!
Who can't use extra drawer space? This brilliant secret toe kick Drawer is a dream come true. Learn how to transform dead space into hidden bonus drawers with step-by-step instructions.
The trouble with many drawer dividers is that they aren't an exact fit for the space. That's not the case with these customizable drawer dividers! Customize compartment sizes to expand your storage space. Perfect for the dreaded "junk drawer."
Struggling with stacks of baking sheets? No need to play cabinet Jenga any longer, thanks to this handy DIY pull out drawer. It's a wonderfully convenient storage idea for cookie sheets, pizza pans, cutting boards and more.
Do away with the heavy lifting, and designate dish duty to drawers. Implementing these adjustable drawer dividers opens up a world of sensible storage possibilities. Convenient, one-click installation. Compatible with most drawer sizes.
Under Sink Organization Ideas
Under the sink often becomes the catchall of kitchen clutter. Make the most of this critical storage area by implementing structure. Get inspired by some of our favorite finds.
Add a hinge to those useless drawer fronts under sinks with this kit. Keep small items, such as sponges and SOS pads, off the counter but close at hand. An easy project for any DIY skill level.
Maximize your space by implementing storage behind the cabinet door! Deep bins like these wire racks are ideal for cutting boards, food storage wrap, or cleaning supplies. I use mine to keep the dishwasher soap and supplies handy.
Two features I love about this under the sink organizer? The super slim design is perfect for getting around bulky under hangs like the garbage disposal or double sink pipes. The two-tiered shelf makes it easy to find what you need at a glance.
Slide out storage is always a great addition to any storage area. These 2-tier pull out metal baskets are a versatile way to maximize storage space in areas where plumbing may create an awkward space.
Spice Rack Ideas
The number of spices we acquire as home cooks adds up quickly. But where's the most practical place to store them? Cue these clever spice rack ideas!
This idea from House on Stanford eliminates the cringe-worthy blind search through an overcrowded spice rack. Spices are easily accessible, and easily viewed through magnetic spice jars.
This sophisticated spice rack can be configured to any position. It accommodates large spice jars without impeding your cabinet shelves. Pure genius!
Ready for a complete spice rack overhaul? This post is for you! Our how-to guide provides practical and enduring pointers for staying organized. Free printable labels and buying guide included.
Easy access- check. A large number of spices in a small area- check. This slide out spice rack organizer checks all the right boxes. The front panel label makes kitchen clean up a breeze, no matter who's on kitchen duty!
No more standing on tiptoes for a pinch of this or a dash of that. This professional spice rack tray brings everything to eye level. Cleverly transform a kitchen drawer into a four-tiered spice rack.
Cabinet Storage Ideas
No matter how big an abode may be, it seems there's simply never enough cabinet space. Truth be told, if you're not using some sort of organization technique, you're probably not using your cabinet space to its fullest potential.
Use a plastic wall mount organizer rack for housing items like toothbrushes, makeup brushes, or toiletries. The adhesive cups stick to any surface and are ideal for any room. Great option for dorms or rental homes!
Stacked Containers
How pretty are these?! These stacking containers save counter space and blend seamlessly with decor. Click on photos for purchasing information.
Keep handy wrap, well, handy. Bring food storage essentials eye level with this simple solution for hanging plastic wrap. The adhesive backed command strips are sturdy enough to hold up to everyday use.
Command hooks are a versatile tool in your organization arsenal. Use hooks to easily hang utensils, measuring items, and hair accessories. I love this idea because I'm always losing my hair bands!
Creating a family command center in the heart of the home seems only natural. Cabinet doors make an optimal surface for a hidden command center. Leave notes and store important info without taking up wall space or cluttering up the refrigerator door.
Hate pulling out every pot just to get the bottom one? Eliminate that process forever with pull-out organizer hooks. Expand your space to keep items neatly aligned. Store cookware, cleaning accessories, cooking utensils, and more.
A deep cabinet can easily become a cave of clutter. Customize your cabinetry the budget friendly way! Keep your cookware out of sight but within reach, with customized sliding shelves.
Kitchen Cabinet Organizers
Searching for more kitchen cabinet organization ideas? Enjoy this list of brilliant products I've discovered on Amazon!
To store cleaners under the kitchen sink: Deep basket hanger
For cleaning products & sponges OR hair products & brushes: Double basket
For that big mess of plastic grocery bags: Bag holder
To keep your dish towels: Double towel rod
Paper towel storage: Paper towel holder
For foil, cling wrap, wax paper, etc: Kitchen wrap organizer
Spice containers: Door-mounted spice rack
Which idea has inspired you the most? Share your genius kitchen cabinet hacks below.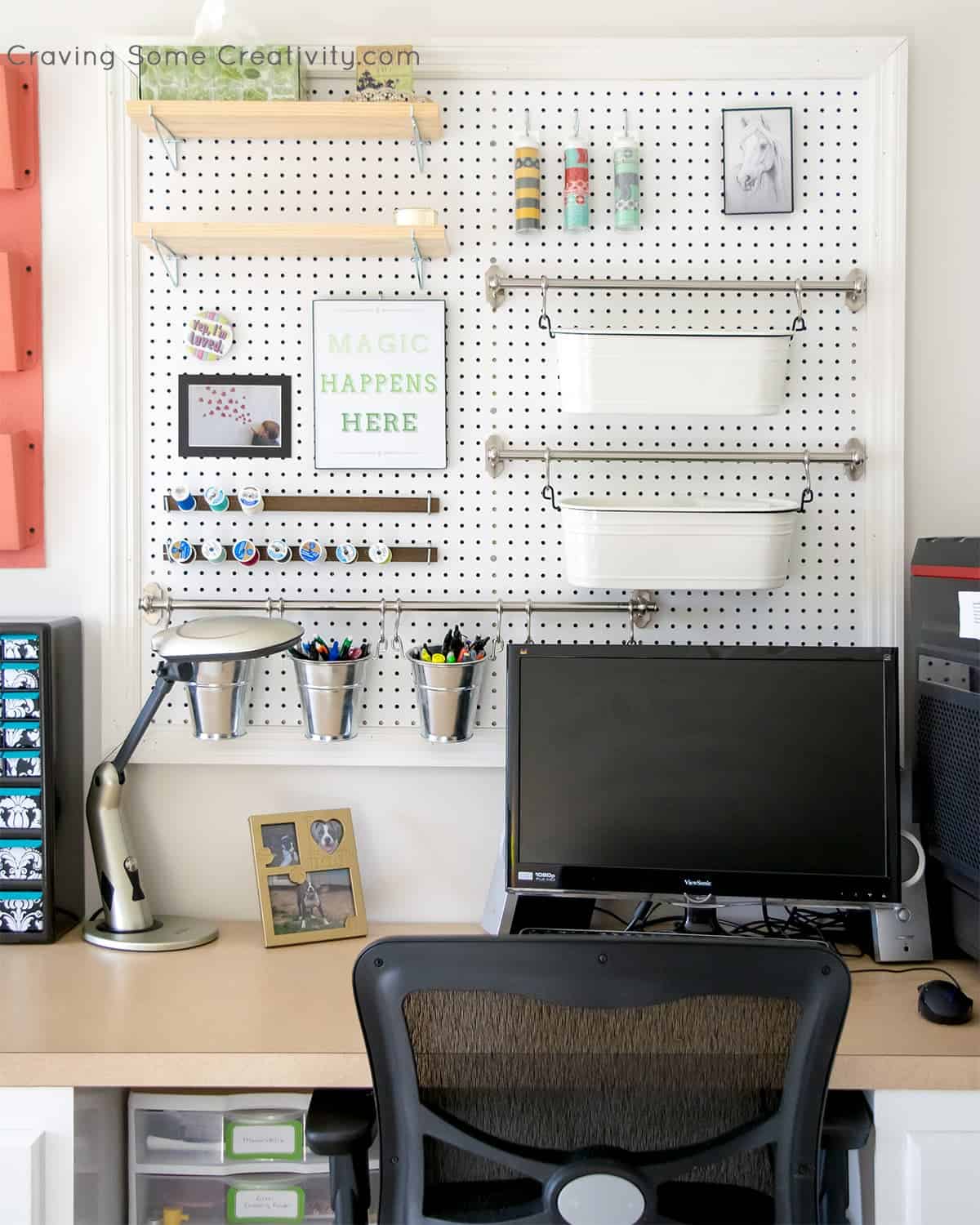 Grab our free series "Weekend Home Projects that will Transform Your Life"
Sign up below to receive updates including free printables, organization tips, home improvement projects, recipes and more!
More Organization Ideas