This week, I am breaking down how I painted some kitchen cabinets for my craft room. But before we get to painting the cabinets, I am starting off by showing how to remove wood grain and pits in these oak cabinets and get a nice smooth finish on painted furniture.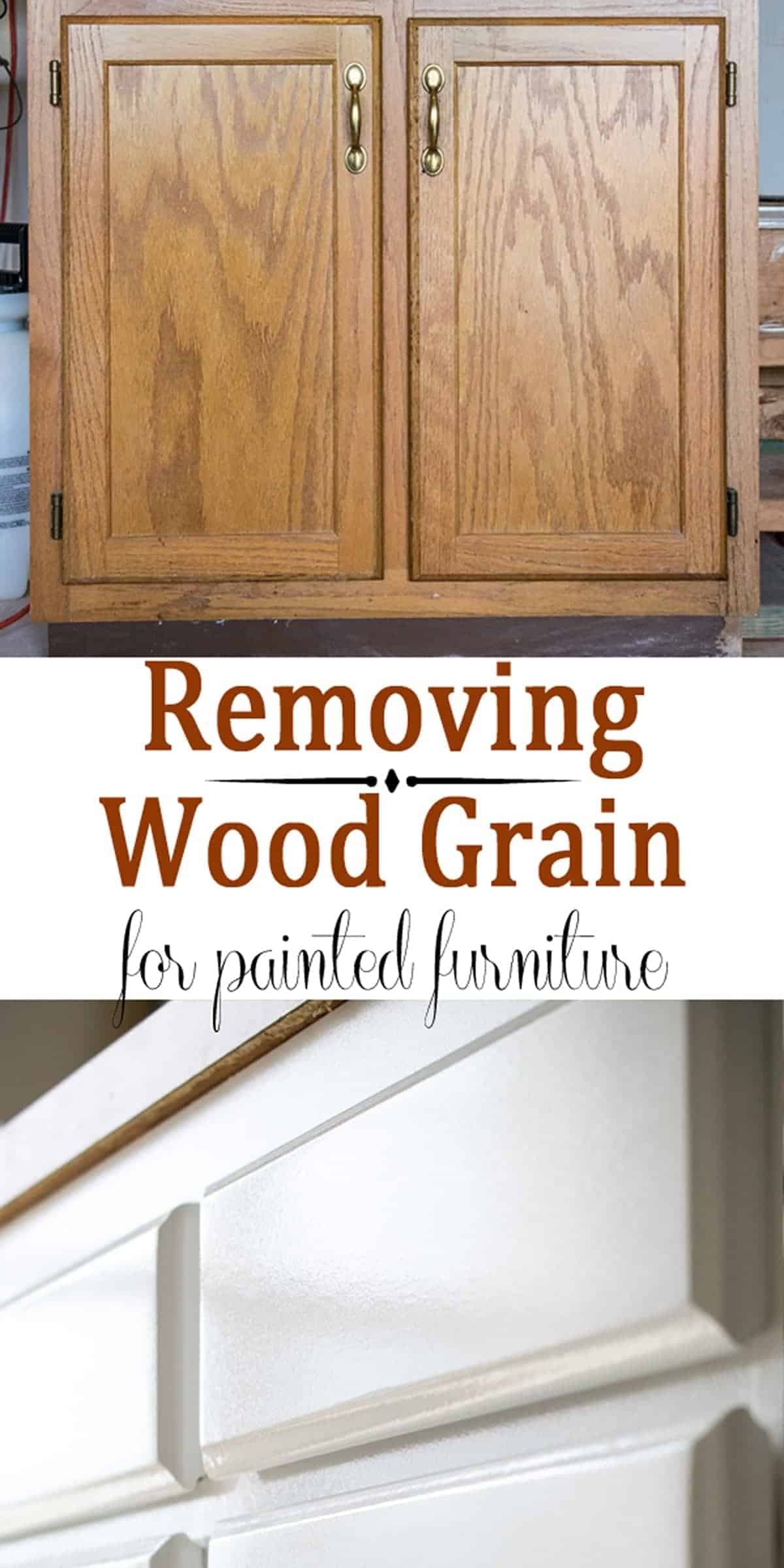 While, yes, I could have just slapped some paint on them and called it a day (or week), I understand that preparation is the most important part of making a project both beautiful and long lasting. It was important to me that these cabinets left no trace of their former life and were given a modern and uplifted appearance of white painted furniture.
*This post may contain affiliate links. These are products I use for many of my home projects.
How to remove wood grain from oak cabinets
This is one of the original cabinets we bought off of craigslist from a kitchen that was slated for demolition and complete replacement. Yep, really ugly and outdated. We paid $375 for 13 cabinets. If you have not shopped cabinets lately, $375 is approximately how much you would pay for 2 new base cabinets. Of course, I didn't need 13 cabinets so I kept 4 base cabinets and my husband took the rest for the garage. One day I hope to show off what he did with them (it rocks!), but I have to get him to clean out the garage first, lol.
This is the oak wood grain and facings we are working with. Oak is well known for its recessed wood grain as it dries out. Unfortunately, this means that the pores of the wood are often open and will easily soak up contaminants if not sealed properly. The damage on the bottom picture is from the wood soaking up kitchen oils and other contaminants over the many years of their use. There was no sign of rot.
Ok, let's get down to the business of removing wood grain texture, shall we? The first step was to strip the glazing from the fronts of the cabinets. Latex enamels and most any paint will not adhere very well to varnish or other types of clear coat. For this, a product called Deglosser for painted furniture is your new BFF! I honestly recently discovered this product and it will save your poor elbows from all that sanding. It is awesome in a bottle! I let it sit overnight (much more than the 10 minutes recommended because that wasn't working) and everything was so much easier. The deglosser I used said not to wipe them off after use. However, the product I was using softened additional grime so I thoroughly cleaned them again.
To truly seal the pores and level out all the ridges and valleys in the wood grain, I recommend a quality wood filler. Here are some tips when working with a wood filling product.
*Update: With any wood filling product, you want to make sure that the first layer of paint or primer is thin to prevent reactivating the filler.  I have used many, many wood fillers and this one is by far my favorite to use.
Keep it as thin as possible. Wood fillers are not flexible the way that wood is. Thus, it is more prone to cracking and thick layers will make it even more so. Think of a wood board vs a cement board. If you kicked each of them, the cement board would crack and the wood board would bow (up to a certain point, of course).
Push down on the scraper as you spread. Really get it into the grain and ensure a proper bond. Then scrape the excess off.
There will be some sanding and you can't skip it. Make the transitions between wood and filler smooth and seamless. A palm sander will save you hours on a project like removing wood grain texture.
If you are intending to stain rather than paint, you can match the wood filler to the wood grain and make it stainable. However, this will not look right unless you only have small, individual pores to fill. Large swatches like I was attempting to smooth out would not work with a stained furniture piece. If you have small individual pores, you may have an easier time with products such as aquacoat.
Make sure your corners or any hard to reach (for sanding) places are as smooth as possible when you let the wood filler dry. Since most palm sanders have circular disks, corners have to be hand sanded. Keep that in mind and save yourself as much work as possible!
As many people have pointed out to me, I could have simply painted many more coats of paint and sanded between each to remove wood grain & get a smooth front. However, that idea was FAR more work than a few layers of wood filler because of the depth of the ridges and pits. I would have probably sanded through the primer so many times and start over. Paint simply doesn't fill grooves very well. Also, the purpose of the filler was also to seal the pores and diminish any future recessing of the grain.
Looking for more furniture or painting techniques? Full tutorials: