One of the distinguishing features of oak is the highly visible wood grain. Learn how to fill wood grain when painting cabinets or furniture.
This week, I am breaking down how I painted some oak kitchen cabinets for my craft room. One of the distinguishing features of oak is the highly visible wood grain. Even when you paint oak cabinets or furniture, the wood grain still shows.
I am starting off by showing to fill wood grain and pits in these oak cabinets and get a nice smooth finish.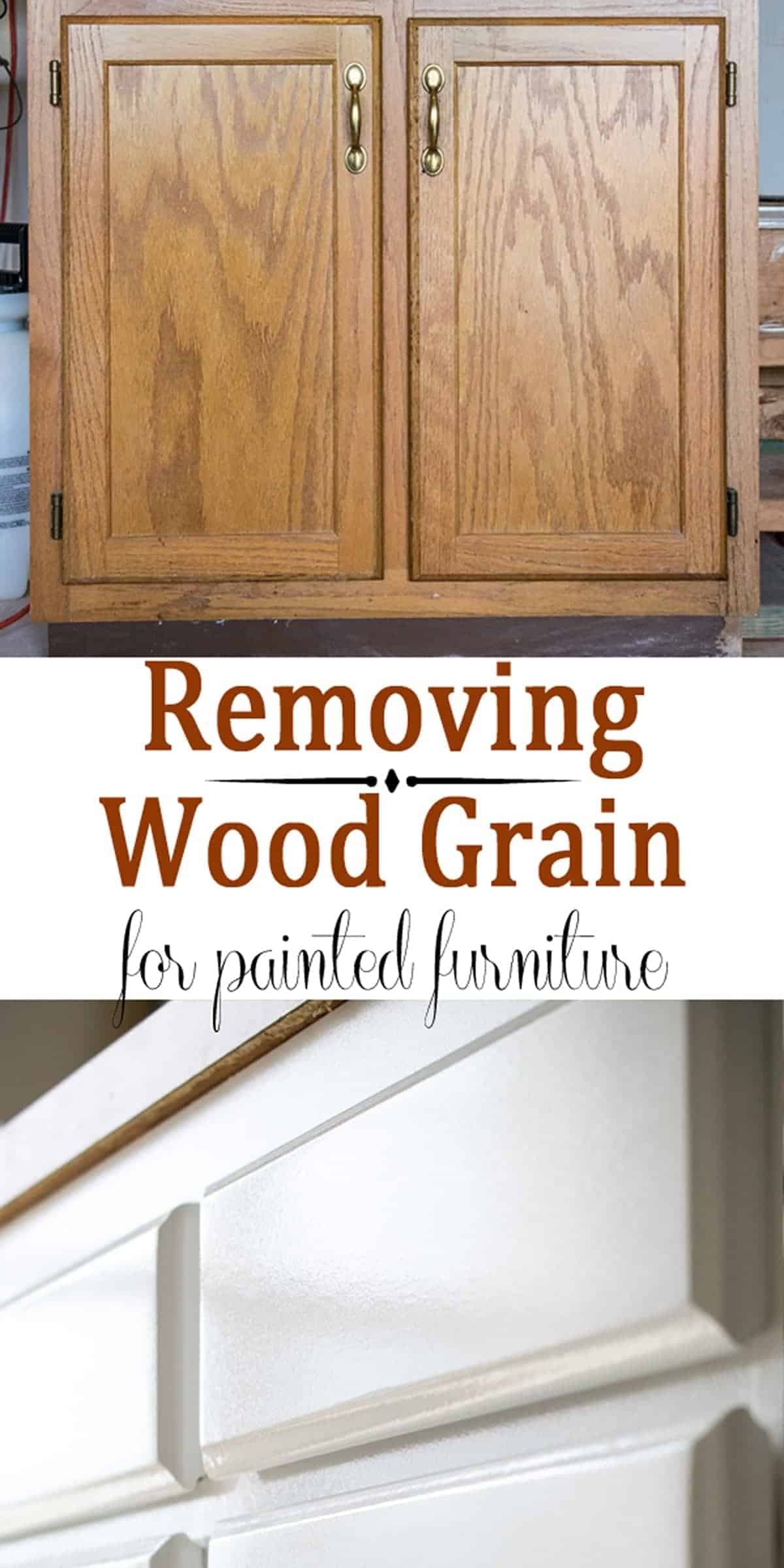 While, yes, I could have just slapped some paint on them and called it a day (or week), I wanted a modern and colorful look for these cabinets, so the wood grain showing wasn't the style I wanted. Filling in the wood grain creates a modern and uplifted appearance on painted furniture.
You can also check out my post on the definitive guide to painting kitchen cabinets as well.
This is one of the better looking cabinets we bought and they are used. I kept 4 base cabinets and my husband took the rest for garage tool storage.
This is the oak wood grain and facings we are working with. Oak is well known for its recessed wood grain as it dries out. Unfortunately, this means that the pores of the wood are open and will easily soak up contaminants and humidity if not sealed. The damage on the bottom picture is from the wood soaking up kitchen oils and other contaminants over the many years of their use. There was no sign of rot.
Step 1: Prep the Cabinets
Ok, let's get down to the business of filling wood grain texture, shall we? The prepwork is much the same as preparing cabinets for painting.
After cleaning thoroughly with TSP, the glossy varnish needs to be removed or "roughed up". Wood filler is designed to bond with raw wood best, so I would not recommend deglosser in this instance.
Step 2: Get the Right Product
To truly seal the pores and level out all the ridges and valleys in the wood grain, I recommend a quality wood filler. I have used many, many wood fillers and this one is by far my favorite to use for all-purpose. For single use projects, I also really like this DAP wood filler as well, but it dries out in the can, so you can't save any for a future project.
Also, unless you are an experienced DIYer, I generally do NOT recommend Bondo or Epoxy filler on cabinet doors. While these products have their uses, the level of effort and practice needed is much higher without delivering a particularly better finish.
Step 3: How To Fill Oak Cabinets with Wood Filler
To use the wood filler, add some to a regular scraper and spread it out over the wood grain areas. Push down on the scraper as you spread. I personally like a scraper that bends a bit when I press on it. Really get it into the grain and ensure a proper bond. Then scrape the excess off. For large areas, I layer several coats with sanding between coats, until the entire area is smooth and even.
Tips on how to use wood filler
Keep the layer of wood filler as thin as possible. Wood fillers are not flexible. Thus, it is more prone to cracking and thick layers will make it even more so. Think of a wood board vs a cement board. If you kicked each of them, the cement board would crack and the wood board would bow (up to a certain point, of course).
Make the transitions between wood and filler smooth and seamless. A palm sander or multi-tool (great for corners!) will save you hours on a project like removing wood grain texture.
If you are intending to stain rather than paint, you can match the wood filler to the wood grain and make it stainable. However, this will not look right unless you only have small, individual pores to fill. Large swatches like I was attempting to smooth out would not work with a stained piece. If you have small, tight pores, you may have an easier time with products such as aquacoat.
Make sure your corners or any hard to reach (for sanding) places are as smooth as possible when you let the wood filler dry.
Unless you have a mouse sander or multi-tool, corners have to be hand sanded. Keep that in mind and save yourself as much work as possible!
With any wood filling product, you want to make sure that the first layer of paint or primer isn't heavy to prevent reactivating the filler.
Frequently asked questions:
As many people have pointed out to me, I could have simply painted many more coats of paint and sanded between each to remove wood grain & get a smooth front. However, that idea was FAR more work than a few layers of wood filler because of the depth of the ridges and pits. Paint simply doesn't fill grooves very well. Also, the purpose of the filler was also to seal the pores and diminish any future recessing of the grain.
See how these painted cabinets turned out in the Craft Room Makeover
Looking for more furniture or painting techniques? Full tutorials:
Grab our free series "Weekend Home Projects that will Transform Your Life"
Sign up below to receive updates including free printables, organization tips, home improvement projects, recipes and more!
More Painting Tutorials