Learn how to make restaurant quality hibachi at home for a one pot dinner! This easy hibachi chicken recipe includes step-by-step instructions and homemade yum yum sauce. An easy weeknight dinner or fun family night in.
As an avid home cook, our family rarely eats out. When we do enjoy dining out, we typically gravitate towards Mexican or Japanese cuisine. My guys are big hibachi fans. Honestly who doesn't enjoy the unique showmanship of a trained Hibachi chef? It's a fun family night out- with a hefty price tag.
So, I set out to perfect an at-home technique, minus the onion volcano. Lucky for me that my best friend in college worked at a Japanese steakhouse.
I love meals that are large enough to have leftovers. This hibachi chicken recipe is super simple to divvy up for lunches. And this is a leftover my hubby will actually take for lunch. He's a hard sell, but there are a few safe bets like Peanut Butter Ginger Slaw, Honey Sesame Chicken, and Honey Soy Chicken Kabobs. Notice a theme here?
Why This Recipe is Perfect
This hibachi chicken and fried rice recipe is buttery without being overly oily,, and tastes like it was freshly made at your favorite Japanese restaurant. This the perfect way to make hibachi at home!
This is one of my favorite ways to use up leftover veggies to make a fast stir fry style dinner that everyone loves. It is completely customizable with different proteins and vegetables.
The Yum Yum sauce is sweet and exactly like the famous Japanese steakhouse sauce. It is extraordinary for dipping, drizzling over grilled meats, seafood, vegetables, rice, noodles and more!
Ingredients and Notes
This recipe is highly customizable when choosing ingredients, so I have some ideas below.
Cut everything into bite-sized pieces. I like to use zucchini spears with some of the seeds sliced off. It makes them cook more evenly.
Proteins: While I focus on chicken in the recipe card, you can have 1-2 lbs of any protein you prefer such as shrimp, steak, salmon, or tofu. The cooking times will vary with the type of protein, but I suggest keeping it on medium high heat.
Veggies: Aim for enough vegetables to equal your proteins, at least. Mushrooms, zucchini, yellow onions, baby corn, peas, and carrots are the most often used. Cut them in larger chopped sizes, about an inch.
Soy Sauce: I like to use low sodium, but regular soy sauce is fine.
Cooked Rice: Use long grain rice or jasmine rice. They tend to hold up better than any other rice and tend not to get too sticky.
Butter: I generally use unsalted to control the amount of salt in the dish, particularly since soy sauce already has a lot of salt.
Recipe Tip: Day old rice is best. It doesn't get overly sticky while taking up the flavors. However, if you are in a pinch make the rice first and spread it out onto a baking sheet in a single layer.
How To Make Yum Yum Sauce
Now for the crowning achievement, the incredible mayo sauce. This is the exact Yum Yum sauce recipe I have used for years, and it is spot on! This Japanese American invention is also known as white sauce, shrimp sauce, hibachi sauce and yummy sauce.
The biggest factor is what kind of mayonnaise you use. I always use Hellman's original mayonnaise. Another authentic option is to use sweet mayo, which you would usually find in Asian grocery stores. If you use the sweet mayo, you may have to cut the sugar just a bit.
It really is amazing stuff!
Other notes about serving yum yum sauce:
For best flavor blending, yum-yum sauce is best if allowed to sit at least 2 hours or overnight.
Yum yum sauce can, however, be served immediately though.
Room temperature is best. It doesn't quite taste right cold. If the hibachi is hot, the sauce will warm and mix just fine.
This sauce lasts about 4-5 days in the refrigerator.
This recipe makes about 2 cups of sauce.
How to Make Hibachi
Great news! If you can turn on a stove, you can make hibachi. It's super simple with bite size chicken, your custom selection of veggies and a homemade yum-yum sauce. I have the full recipe below in the recipe card, but I include this visual guide to how all the steps should look during preparation.
Recipe Tip: I make this is huge batches. Either a large fry pan or a wok will be fine.
Turn stove to med-high heat. We cook the chicken and vegetables separately to keep them tender-crisp and warm. Cook the veggies first and remove to keep warm.
Sauté the chicken or other protein like shrimp or steak until they are fully cooked. I usually cook shrimp last because it keeps the heat the least. Remove to set with veggies. Cover to keep warm.
The rice is the quickest, which is why I cook it last. You use precooked (boiled) rice to make fried rice. It is perfectly cooked in about 3-4 minutes. It will sizzle and should brown a bit.
Use a higher temperature to crispen the outside of the vegetables and the meat. Stir frequently while cooking on high heat.
Recipe Tip: This recipe is setup for ease. However, you can make an egg fried rice by scrambling egg in the wok before adding the rice for cooking.
Serving and Storage Suggestions
Serving Ideas: I normally serve this with either some steamed vegetables or a side salad.
Store: Store your hibachi in a ziplock bag or other airtight container in the fridge. You can store everything together or rice separately. It should keep well for up to 3 days.
Freeze: You can freeze extra rice or toppings for up to 6 months. Be sure to let it cool before sealing and storing it in the freezer. The next time you want to enjoy hibachi, let it thaw in the fridge overnight then reheat it in the microwave. I would not recommend freezing the yum yum sauce.
More Asian Inspired Dishes
FAQs
Can I use a different protein for this Hibachi recipe?
Absolutely! You can use a different or a combination of whatever you prefer. Some common ones to try are ribeye or sirloin steak, filet mignon, salmon, shrimp, scallops, tofu, and lobster.
Is Hibachi a good recipe for meal prep?
This recipe is perfect for meal prep! You can double or triple the recipe depending on how many meals you want to make of it. Prepare as directed and store in refrigerator in individual meal prep containers for 3-4 days for quick grab and go meals during the week!
What are some other vegetables I can add to this Hibachi recipe?
I usually make mine with just the mushrooms and zucchini, but you can use onions, carrots, broccoli, red bell peppers, or yellow squash as well.
Is Yum Yum Sauce Actually Japanese?
 No, although this sauce is a famous Japanese Steakhouse sauce, it is an American invention. Synonymous with Japanese steakhouses across North America, Yum Yum Sauce did not originate in Japan, nor is it served in restaurants in Japan.
What seasoning do they use at hibachi?
The principal seasoning is a garlic butter and soy sauce, but can include ground pepper, ginger, sesame seeds, or teriyaki.
What type of rice is used in Japanese Resturants?
Jasmine Rice.
Happy Dinnertime!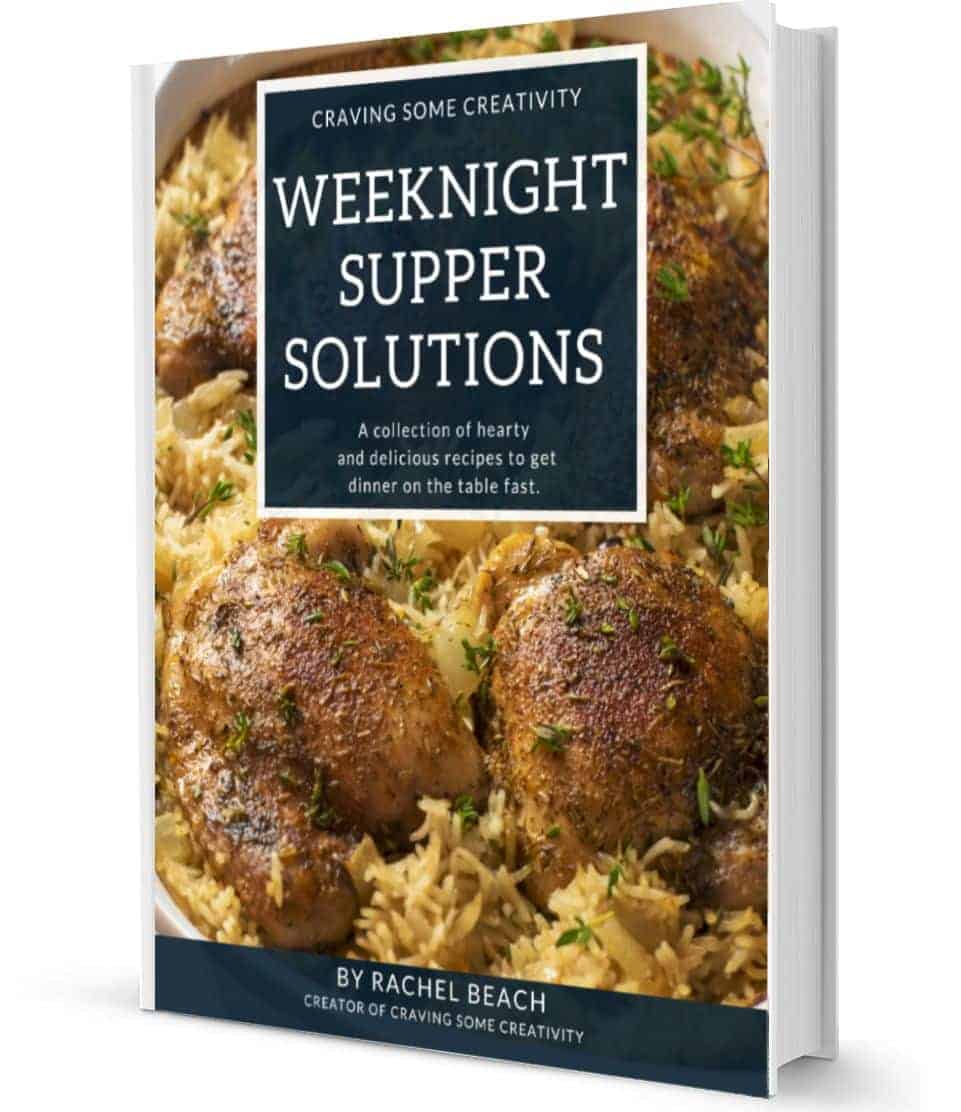 Not Sure
What's For Dinner?
Signup for recipe updates and get a free cookbook of Easy Weeknight Supper Solutions!
More Great Recipes
PS. If you make this recipe, leave a COMMENT AND A STAR RATING in the comments section at the bottom and be sure to take a photo and tag it #cravingcreative on Instagram! I appreciate you for taking the time to read about me and my family recipes. 
Hibachi Chicken
The experience of authentic restaurant quality Hibachi made at home including the Yum Yum sauce. Feel free to include shrimp or steak, although the cooking times may vary.
Print
Pin
Rate
Equipment
Wok (optional)

large non-stick saute pan
Ingredients
Hibachi
1

lb

Chicken, cut into bite sized pieces

can substitute shrimp, salmon or steak

1

lb

Zucchini (about 3 medium zucchini)

cut into 2 inch spears, seeds sliced off

4

oz

Button or Baby Bella mushrooms

cut into quarters or bite sized chunks

4

tablespoon

Unsalted Butter

7

tablespoon

Soy Sauce, divided

Low-sodium is fine

4-5

cups

Long Grain or Jasmine Rice

Pre-cooked, best if it's a day old.

2

cups

Yum Yum Sauce

from below
Yum Yum Sauce
1 ¼

cup

Hellman's Original Mayonnaise

¼

cup

Water

1.5

teaspoon

Tomato Paste

1

tablespoon

Unsalted Butter

melted

½

teaspoon

Garlic Powder

1

teaspoon

Granulated Sugar

¼

teaspoon

Paprika
Instructions
In a bowl or mason jar, briskly whisk together all ingredients for Yum-Yum Sauce. Set aside. The sauce is best near room temperature rather than cold. It can be served immediately but is best when allowed to sit for at least 2 hours.

Turn stove to med-high heat. In a wok or large sauté pan melt 1 tablespoon of butter and add 2 tablespoons. of soy sauce. Add mushrooms and zucchini and cook for 5-7 minutes or until al dente, stirring frequently. Remove veggies to a large bowl. Cover to keep warm.

In the same pan, add 1 tablespoon of butter and 2 tablespoons of soy sauce. Sauté the chicken until fully cooked, about 5-8 minutes, Stir frequently. Remove to set with veggies. Cover to keep warm.

For fried rice, add 2 tablespoons of butter to pan. Add 3 tablespoons of soy sauce. Cook for 3-4 minutes. It will sizzle and should brown a bit.

Serve chicken and vegetables over the rice with yum-yum sauce on the side.
Notes
Rice Notes
Day old rice is best. It doesn't get overly sticky while taking up the flavors. However, if you are in a pinch make the rice first and spread it out onto a baking sheet in a single layer.
You can also serve steamed rice or riced cauliflower for healthier options.
Nutrition
Serving:
1
cup
|
Calories:
510
kcal
|
Protein:
45
g
|
Fat:
16.4
g
|
Cholesterol:
129
mg
|
Sodium:
274
mg
|
Potassium:
751
mg
|
Calcium:
30
mg
|
Iron:
5.8
mg