Avoiding brush marks and streaks is the ultimate goal of everyone who paints. After all, you spent a lot of energy working on your project. You want it too look professionally done. It is one of the things that I get asked most about with my painting projects. Well, I am spilling all my secrets today! Today's painting tips will make sure that you learn the best way to paint without brush marks or strokes being visible.
This post contains affiliate links for your convenience to the products I use and love.
The best way to paint to avoid brush strokes is, of course, to use a high quality paint sprayer. This is the paint sprayer that I currently use and love. However, not everyone has one of these on hand and even if you are one of the lucky ones, some projects just demand being hand painted. Our stair rails and balusters, for instance, had to be painted in place, rather than taking them apart and spray painting in the garage. With a paint sprayer, no matter how careful you are, there will be overspray. Also, setting up and cleaning a paint sprayer seems like too much work for small projects.
But you can still get a really professional, smooth finish painting with a brush if you follow these tips!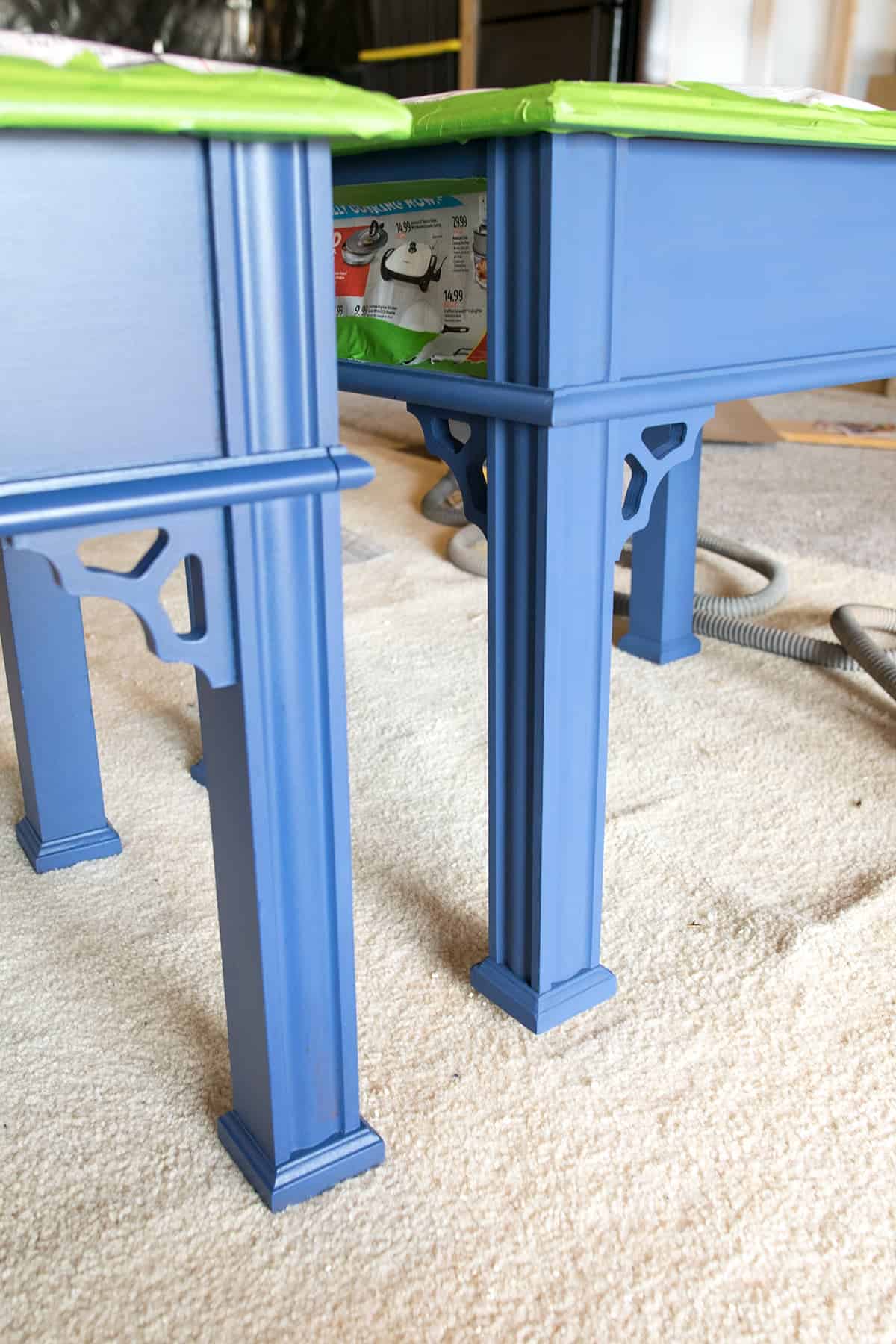 This piece was hand painted with Country Chic Chalk Paint.
Painting Tip #1- Paint with a lower sheen
The easiest way to paint without brush marks is to paint with a matte or chalky paint. Flat paint hides imperfections, including brush strokes the most. However, that isn't to say you have to use those. There are lots of other tips that will help. Although I am not a huge fan of chalk paint, my absolute favorite matte paint is this one by Fusion Mineral. It comes in lots of trendy colors and is pretty durable on it's own.
Painting Tip #2 – The right brush
I have tried a whole lot of brushes and the single best brush I have ever used is these type for details and these larger ones for flat surfaces. The brown taklon are my favorite, but I like the golden as well. These are actually for artist's painting, but they are amazing at painting household projects. You can also get them from most craft stores. These brushes are usually small and great for details and such, but I have painted doors and other items with them as well. For large, flat areas (such as cabinet panels, drawer fronts, or , I use a microfiber roller. The paint will dry too fast to make large areas brush mark free.

Taken with a high-definition macro lens to highlight any imperfections. I left the wood grain in this stair rail because I thought it actually enhanced the classic feel of the hand rail. There are a few scratches because someone used 100 grit sandpaper. (It took a full day and it had been a long day and we ran out of 220 grit.)
Painting Tip #4- Painting techniques that help eliminate brush strokes
Don't press too hard on the brush. If the brush fibers start to fan out, you are pressing too hard.
Paint in the details and then smooth over.
Going back over semi dry paint will cause ripples. If you miss a spot or made a mistake, smooth it with sandpaper when dry and the next coat will fix it.
You want to apply a thin coat, but don't "stretch" the paint on the brush. Reload often.
Always paint in one direction.
If you are able to work fast enough, paint in shorter strokes for the best coverage. Then go back and lightly smooth out the paint by dragging the brush from one end to the other. You will smooth out any ridges between the shorter strokes. You cannot do this if the paint starts to dry though, so be quick.
This desk was completely painted with a brush and a dense foam roller.
Tip #5 -Paint without Brush Marks with the Right Paint
Use a paint with a long working time. Working time is how long you have before the top layer of paint starts to dry, basically how long you have to manipulate it. I have a few paints that I like for this: Benjamin Moore Advance (satin or eggshell) and Fusion Mineral Matte Acrylic (matte). I have had good luck with Country Chic Chalky Paint as well (my favorite chalk paint closed and I personally dislike Annie Sloan Chalk Paint primarily because of the short working time.)
WANT TO LEARN MORE ABOUT THE RIGHT WAY TO PAINT FURNITURE? CHECK OUT THESE POSTS:
Now you know the key things to do when painting with a paint brush that will keep brush strokes from showing up on your project. I have used these ideas many times myself with glorious results!
Grab our free series "Weekend Home Projects that will Transform Your Life"
Sign up below to receive updates including free printables, organization tips, home improvement projects, recipes and more!
For more painting techniques and Ideas, check these out: