Illuminate your space with these welcoming entryway lighting ideas. From awkward spaces to low ceilings, we've included tips on choosing a foyer light that leaves a bright first impression of your home. Ideas for every space, style and budget.
Opening the front door of your home is akin to opening the cover of a book for the first time. Your entryway is the first peek inside of your house and makes a lasting impression. And as the saying goes, you don't get a second chance at a first impression.
I am kind of a nerd about lighting. It's one of the most important design elements of a room, and yet so often overlooked. As someone who photographs my own home and others, lighting can make or break how your home looks and feels. From bathroom lighting to chic kitchen pendant lights, there's more to great lighting design than picking a pretty fixture and using whatever lightbulbs you have on hand.
In this post, we've found affordable entryway lighting ideas that are perfectly suited to a variety of spaces and aesthetics including low ceiling chandeliers, recessed lighting, awkward spaces, and sconces.
Lighting FAQs
How much light do I need in a hallway?

As a rule of thumb, hallways generally require an overhead light every 8 feet. Bathrooms and kitchens need the most light, about 70-80 lumens per square foot. To figure out how many lumens you need, multiply the bathroom square footage by 70.
How bright should a hallway light be?

Most rooms require about 30-40 lumens per square foot for a good amount of light, although bedrooms can be 10-20 per square foot for ambient lighting. To figure out how many lumens you need, multiply the room length x room width x 30. Divide by the number of bulbs you use to get the lumen requirements for each bulb.
How low should entryway lights be?

The general rule of thumb for hanging lighting in the entryway is that the bottom of the chandelier or pendant should be at least seven feet above the floor. For example, in a single-story foyer where the ceilings are 9-12 feet high, the lighting should be no closer than 7 feet above the floor.
How do you light a two story foyer?

Two story foyers need a larger scale chandelier to fill the space. Hang the fixture between the first and second story so it illuminates the entire entry. Light fixtures with a greater height than width tend to work best because they fill the vertical space.
How low should a two story foyer light hang?

If you have a large, two-story foyer, the chandelier should hang at least 5 feet down from the ceiling. For a small foyer, the light should hang no lower than 7 feet from the floor.
How To Measure for a Ceiling Light
A celling light's shape should reflect the overall shape of the room or space. For example, a very narrow and tall two-story foyer would be best served by a foyer light fixture that is taller than it is wide. It won't overwhelm the space and will draw the eye upward for a grand feel.
This is a rough guide to estimating the correct sized ceiling light that is best for your space.
Height
Measure the height of the room (floor to ceiling) in feet.
Example: 8 feet high
Multiply the height by 2.5″ to 3″ per foot.
Example: 8 x 2.5″ to 3″ = 25-30 feet
Swap that value to inches.
Example: 25-30 feet > 25-30 inches
This is the ideal height for a light fixture.
Width
To determine the diameter of a light fixture that's best for your space:
Measure the length and width of the room in feet.
Example: 8 feet by 12 feet
Add the two lengths together.
Example: 8 + 12 = 20 feet
Swap that value in feet for inches.
Example: 20 feet -> 20 inches
This is the ideal diameter for a light fixture in this room.
Example: 20 inches wide
So, in our example, you'll want to look for a light fixture around 20 inches wide and 25-30 inches tall. This isn't a hard rule, but it gives you a good starting point for the right fixture for your space.
Quick Tip: If you still aren't sure, cut out a large piece of paper in the dimensions of the light you are considering and hang it. This provides a great visual aid to see how the light will fit in the space.
Foyer Lighting Ideas
The good news is there's an abundance of budget savvy styles on the market available in different designs, shapes, colors and sizes. I've rounded up a few of my favorite entryway ceiling lights, and most cost less than $150.
Chandeliers
A well-placed chandelier is guaranteed to leave a lasting first impression. Roomy foyers benefit from large chandeliers that take up substantial real estate and draw your gaze upwards.
There are three main types of chandeliers. They are categorized by the direction in which they cast light: upward, downward and ambient.
Upward chandeliers cast light from the base of the chandelier towards the ceiling. This creates a softer glow that's ideal for decorative purposes. Downward chandeliers cast light from the base of the chandelier towards the floor or onto other pieces of furniture. This creates direct light that's ideal for task lighting. Ambient chandeliers cast light in all directions. This creates a brilliant full glow effect. Some chandeliers are hybrids that cast light in more than one direction.
Some of Our Favorite Affordable Chandeliers
Click on photo to find purchasing sources.

How high should an entryway chandelier be hung? Center your foyer chandelier in the center point of your space. Install your fixture so that the bottom is 7 feet from the floor at least. If you have lower ceilings, hang your fixture so that the bottom is 6.5 feet from the floor. If the chandelier hangs from a 2-story ceiling, don't let it hang lower than the height of the first floor.
Lighting for Low Ceilings
Long gone are the days where close to ceiling light designs were limited to cheesy builder grade half-dome models. There's a whole new world of modern low-profile entryway light fixtures at our fingertips!
Semi-flush Lights are a very popular choice because they give you all the beauty and grandeur of a chandelier but are scaled down for lower ceilings.
Flush mount lights hug the ceiling and offer bright overhead lighting in a low-profile design. Small flush mount ceiling lights offer the same great benefits of larger light fixtures without being too visually imposing for snug spaces.
Recessed lighting is another optimal choice for a standard-height ceiling and work even better for drop ceilings. Most often recessed lighting is designed to seamlessly blend into the space, so that it almost disappears but still has a dramatic lighting effect.
Low Profile LED – As featured in Under Cabinet Lighting Options, recessed lighting can be installed in spaces where it previously couldn't because of new developments in LED lighting. With LED trims that only require 2 to 3 inches of clearance to install, low ceilings now have plenty of room for high-quality, high-design lighting.
Our Favorite Affordable Entryway Light Fixtures
Click on photo to find purchasing sources.

Quick Tip: Install lights between 6-8 feet apart to allow light to overlap and fill the space. Placing the recessed fixtures further than 8 feet apart creates pools of light and will leave areas of the hallway in the shadows.
Brighten a Foyer with Decorative Lighting
Hallway sconces are some of the best lighting options to brighten dimly lit corridors and entryways. Using a variety of light sources at different heights provides even illumination and the illusion of more space. Here are some more ideas for decorative lighting:
Incorporate decorative accents like table lamps.
Entryway table lamps create pools of localized light at or near eye level.
If your home features a long hallway, consider installing multiple wall sconces.
Art light sconces can help you accent photos or decor you love the most.
Mirrors are great to bounce light around and make the room feel larger.
Where to hang sconces? The bulb of the wall sconces should be placed five to six feet from the floor for optimal results. Center the light fixture no less than six inches and within eighteen inches away from wall hangings. If you're centering a mirror between wall sconces, position the two wall fixtures 36-40 inches apart for even lighting.
Some of Our Favorite Affordable Sconces
Click on photo to find purchasing sources.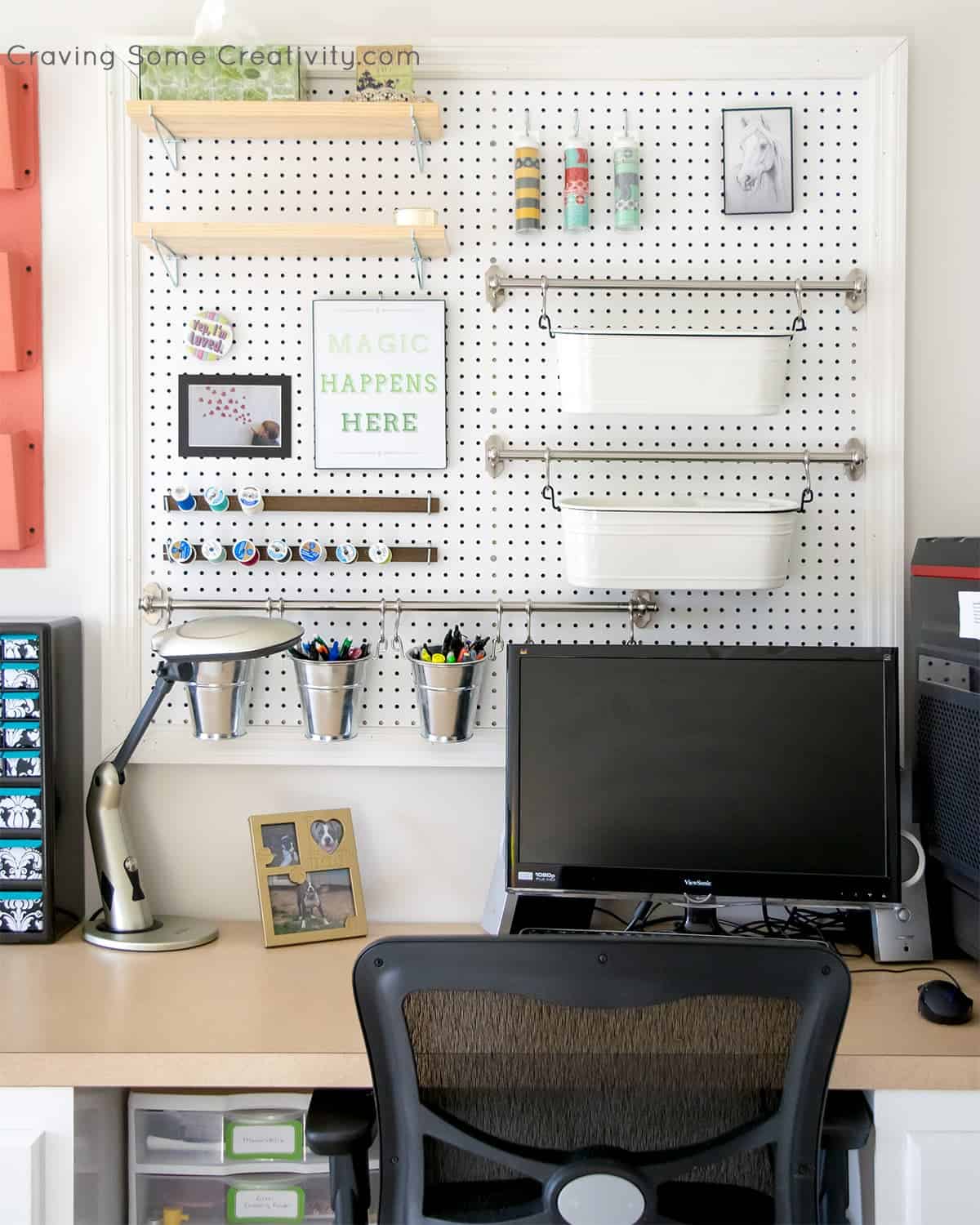 Grab our free series "Weekend Home Projects that will Transform Your Life"
Sign up below to receive updates including free printables, organization tips, home improvement projects, recipes and more!
More DIY Home Decor Ideas
PS I love seeing your creations! Be sure to take a photo and tag #cravingcreative on Instagram! You can also stay in touch with me through following me on Instagram, Pinterest, and subscribing to the newsletter!