Learn how to paint kitchen cabinets like a professional! It's a big job so make it easier with these tips about using a quality paint sprayer.
I have been receiving a lot of questions from readers lately about cabinets and I just so happened to be in the middle of painting a large set of kitchen cabinets for a friend! It really humbles me to know that you guys trust me with your own projects, dilemmas, and "help?!" moments. This is our fifth set of painted cabinets (plus all the other furniture makeovers) so I thought this would be a great time to not only show a before and after, but to give some tips on working with a paint sprayer for cabinets.
My friend is looking to sell her house and doing all the prepwork for a few budget updates to get the house ready. The kitchen was a wall of a TON of honey oak cabinets. She was a bit overwhelmed with such a large kitchen, so she asked if I could help and give her guidance on the best products, finishes, and process for making these cabinets shine. If you want to know what paints I recommend for cabinets and furniture, check out this post.
Here is the before:
Why You Need A Paint Sprayer for Painting Cabinets
It's a Time Saver
Painting kitchen cabinets is a big job, even if you don't have a huge kitchen like this one. There were 47 doors and drawers and took us about 2 hours to do one coat! Brushing would have taken maybe 8-10 hours per coat. A Good Paint Sprayer is a lifesaver for large projects!
No Brush Marks
Nothing beats the easy-to-get smoothness of a sprayer. Period. The finish will look professionally done.
Less Paint Needed
A paint sprayer applies paint in very thin coats, much thinner than a typical brush. Therefore, even with the same amount of coats, you get even coverage but use less paint.
Tips for Prepping Cabinets for Painting
Especially for a large kitchen with multiple size doors and drawers, I HIGHLY recommend numbering them and making a chart. It will make it so much easier on you when you need to put everything back together.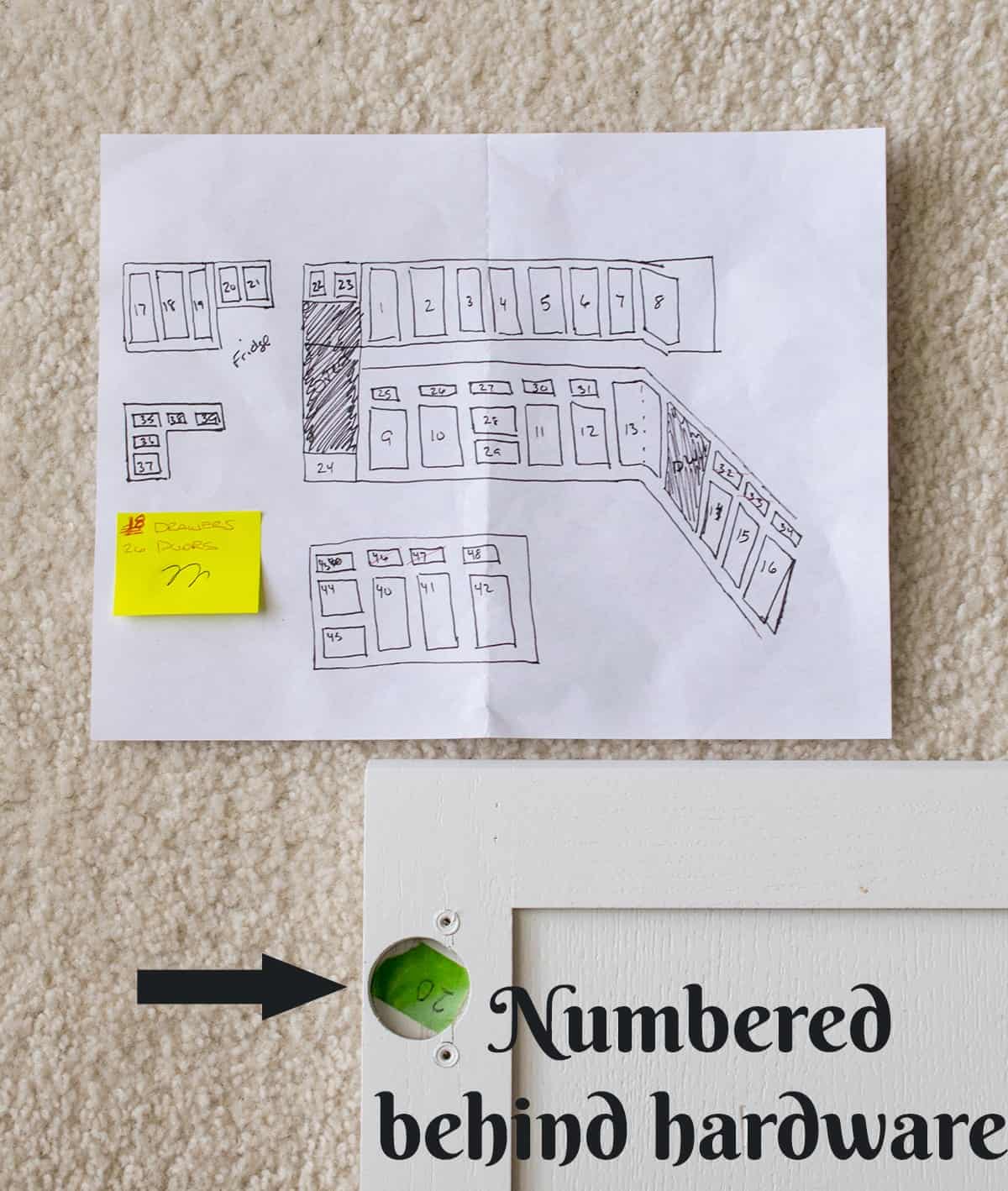 As you can see, we used painters tape and put the tape in an inconspicuous place behind the hardware that we removed. We did the backsides first with the tape on the front, and then moved it to the back to paint the fronts.
With painting anything in the home, the basic steps remain the same – Clean with TSP, sand, wipe thoroughly to remove dust, prime and paint. With that being said, there are two questions I get asked ALL the time.
"Do I really need to sand ALL those cabinets?"
While there are many paints out there that tout themselves as "no sanding required", I still HIGHLY recommend sanding. Sanding helps paint bond and kitchen cabinets are considered very high traffic pieces. The worst feeling is to do all that work, and then realize the paint is chipping/peeling because you skipped this step. To me, skipping sanding just isn't worth it.
The good news is you do NOT need to sand down to bare wood, a good rough up with 120 grit sandpaper will do for most cabinet paints. Sand in the direction of the grain or use an orbital sander and mouse sander. These two tools will almost eliminate hand sanding, while making the process much faster and easier. To get a truly smooth, professional finish, sand with 220 grit sandpaper just before the last coat.
Should I add a clear topcoat?
The second question I receive so often is about using a top coat. I highly recommend a top coat for kitchen cabinets, even if the paint says it doesn't need one. Polycrylic (sometimes called Water-based polyurethane) will make them much more durable and easier to clean things like dried food without harming the paint finish. You can read more about my favorite polycrylics here.
The third question is about filling in the grain. If you are interested in that, you can find a wealth of information about hiding wood grain here. However, removing wood grain wasn't a request in this cabinet project.
How To Use A Paint Sprayer
Fun fact – I own 4 sprayers! But, don't worry, you only need one. For this cabinet set, we used the Wagner 3000 sprayer. This sprayer comes with two nozzles – one for finer, detail work and one for larger projects like staining a fence or walls. We utilize the smaller tip and paint reservoir for projects such as furniture or cabinets.
Check out our recommendations on the Best Paint Sprayers for Your Project!
How To Set Up the Sprayer
On this particular sprayer, and most wagner sprayers, the larger tip has three knobs to adjust: the air flow, the paint flow, and the paint width. The detail nozzle only has the airflow regulator. Both sizes have the option to spray vertically or horizontally.
Although this sprayer can handle most paints un-thinned, if you find that you just aren't getting a super smooth finish or the sprayer is spitting, try thinning the paint with up to 10% water. I usually add ¼ a cup at a time and mix thoroughly to test.
As I mentioned earlier this particular kitchen had 47 door and drawers to paint. We were lucky at the time to have an unfinished basement area to set up in, but I have a few tips for any area you choose.
The doors and drawer fronts should ideally sit a bit raised off the floor to keep the wet sides from touching anything while drying. We use scrap pieces of 4×4, but a pack of plastic solo cups is cheap and works great!
When painting both the inside and outside of the doors, paint one side, let them sit for a week + to partially cure, and then do the other side.
The last big setup tip is to spray your piece off the ground. We used an old table and covered it with plastic to raise what we sprayed off the ground. I carefully moved the "done" pieces to their drying place. Each coat took about 2 hours, so our backs thanked us for not having to bend over the whole time.
Now You Are Ready!
Beyond the setup, using the sprayer is as easy as it gets. Just point and shoot! However, there are a few quick tips to make the process go smoothly:
Wipe the tip with a rag occasionally as you go. Dried paint can build up on it, causing your paint to splatter.
Always test a scrap board (preferred) or large piece of cardboard. Anytime you take a break from using the sprayer, always hit the test board first. This includes after refills or long breaks.
If after the first few cleanings, your paint sprayer won't spray, check to make sure a little hole attached to the plastic tub isn't clogged.
Start by spraying off the board, meaning engage the sprayer before you are over top of the work product (or cabinet door in this case). Spray all the way across, and let go of the trigger after you have gone off the door. If a sprayer is going to spatter, it will most likely happen when you engage/disengage the trigger.
If you do happen to get spatter/orange peel, wipe off immediately until smooth and spray again. (A lessen I learned the hard way when I started out.) Sanding it all smooth again is much more time-consuming both to fixing the mistake and to project completion.
Just like those dishes in the sink, cleaning the sprayer immediately after use makes it easier and ensures continued quality use, and is really all the maintenance you need.
I know that it sounds in-depth, but I promise after you get the hang of it, you may find yourself using a paint sprayer for all kinds of projects around the house. It really is addicting!
And my friend is absolutely thrilled with her updated cabinets. In fact, it even spurred her to epoxy her counter-tops, replace the light fixtures and add knobs. She wishes she had done this years ago!
Even though we did not fill in the wood grain, the cabinets look so smooth and professionally done.
Check out our other posts for more information on painting cabinets:
Pssst...
Grab our free series "Weekend Home Projects that will Transform Your Life"
Sign up below to receive updates including free printables, organization tips, home improvement projects, recipes and more!