I love looking at inspiring and creative kitchen ideas. The main elements of all kitchens are the same (cabinets, stove, fridge) so adding personality to a kitchen can be a challenge. Since the kitchen is the "heart of the house", it should reflect your personal taste. Here are 10 ways that you can add personal style to a kitchen.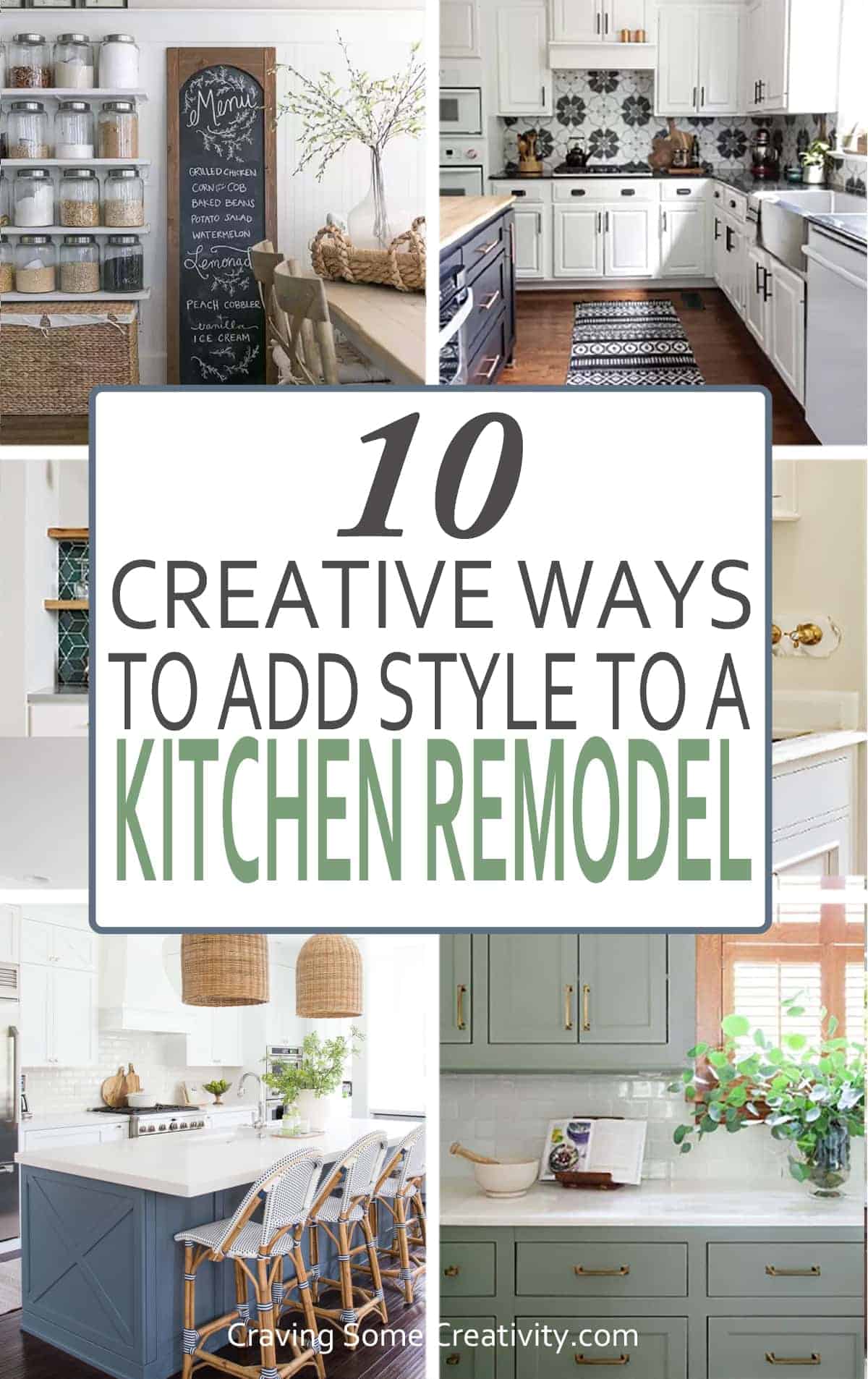 These kitchens are from real people and most of them are DIY kitchens, so much respect to them! Click the links below to view more creative ideas from these amazing kitchen makeovers.
1. A Punch of Unexpected Color
This fun kitchen from Life On Virginia Street utilizes a refreshing pop of color while keeping the style consistent. Everything is clean and bright without looking too white and sterile. The blue is also accented in the chairs but it is not overwhelming and makes for a beautifully breezy kitchen design.
2. An Architectural Detail
This DIY kitchen makeover makes perfect use of every inch of space. You won't believe the transformation! The cabinets did not originally extend to the ceiling and the wine boxes above the fridge give the room a great architectural detail while increasing functionality.
3. Create a Kitchen Focal Point that Adds Both Function and Style
This butler's pantry area makes a wonderful focal point in Dear Lillie's Kitchen Summer Kitchen and Family Room. The beautiful cabinets adds both function and style to an otherwise blank wall. This kitchen makeover also includes the dining area as well as a matching sitting area.
4. Colorful or Patterned Kitchen Back Splash Tile
Kitchen renovation stores display a wide array of interesting and colorful tiles and wallpapers, but finding the right use for them can be a challenge . Deeply Southern Home has added a stylish backsplash to her comfortable kitchen. What I love most about her kitchen is that it is inviting enough to talk over coffee or just start baking right away.
5. Unique lighting
The amazing ideas in this kitchen makeover from Nina and Cecillia are too many to name. These globe light fixtures add some visual interest to her kitchen and are a contrast to the other textures and elements in the kitchen.
6. Fun and Funky Chairs or Bar stools
This Before and After kitchen design from Design Sponge is an amazing update complete with character-defining bar stools. The pop of color brightens the gray and white kitchen and gives a casual fun feel to this space.
7. Create Interest with Dual Tone Cabinetry
Who says everything has to match? Break the rules! Especially if you are worried about overpowering your kitchen with a wall of colorful cabinets, dual-toned cabinetry can be the perfect solution. This kitchen from Sarah Sherman Samuel keeps a very classic look while adding a hint of color.
8. A Personal Piece Re-purposed in a Creative Way
This kitchen design from Roeshel @ DIY Showoff is peppered with personal eclectic touches. The use of the dresser as an island is genius! In her kitchen, there are so many little-nuanced touches, you will find yourself discovering something new and unique each time you look.
9. Mix Textures and Surfaces
This beautiful kitchen belongs to The Rambling Redhead. The combination of textures such as the brick, granite counter tops, and shiny subway tile meld together in this kitchen. Mixing textures and surfaces gives depth and life to her design.
10. Say It Like You Mean It
Word art is a very popular and easy element to add to any kitchen design, like this chalkboard from Elle Claire Inspired. Printables and various sayings can be easily made to fit any kitchen design style. Be careful with this element however, as too much use can quickly make your kitchen look overdone.
It has been so much fun looking at all of these beautiful kitchen designs and thank you ladies and gents for sharing you wonderful homes and showing us how functional spaces can be breathtakingly beautiful and personal. I hope you have found some inspiration in these ideas and I would LOVE to hear about your personal style in the kitchen!
Cheers!
If You are a DIYer like us, Check Out Some Of Our Best Kitchen Makeover Tips and Projects:
Grab our free series "Weekend Home Projects that will Transform Your Life"
Sign up below to receive updates including free printables, organization tips, home improvement projects, recipes and more!
More Creative Kitchen Ideas