Twenty gorgeous kitchen remodeling ideas for the busiest room of the house. Add pizzazz to your renovation project with budget-friendly DIY and decorating ideas.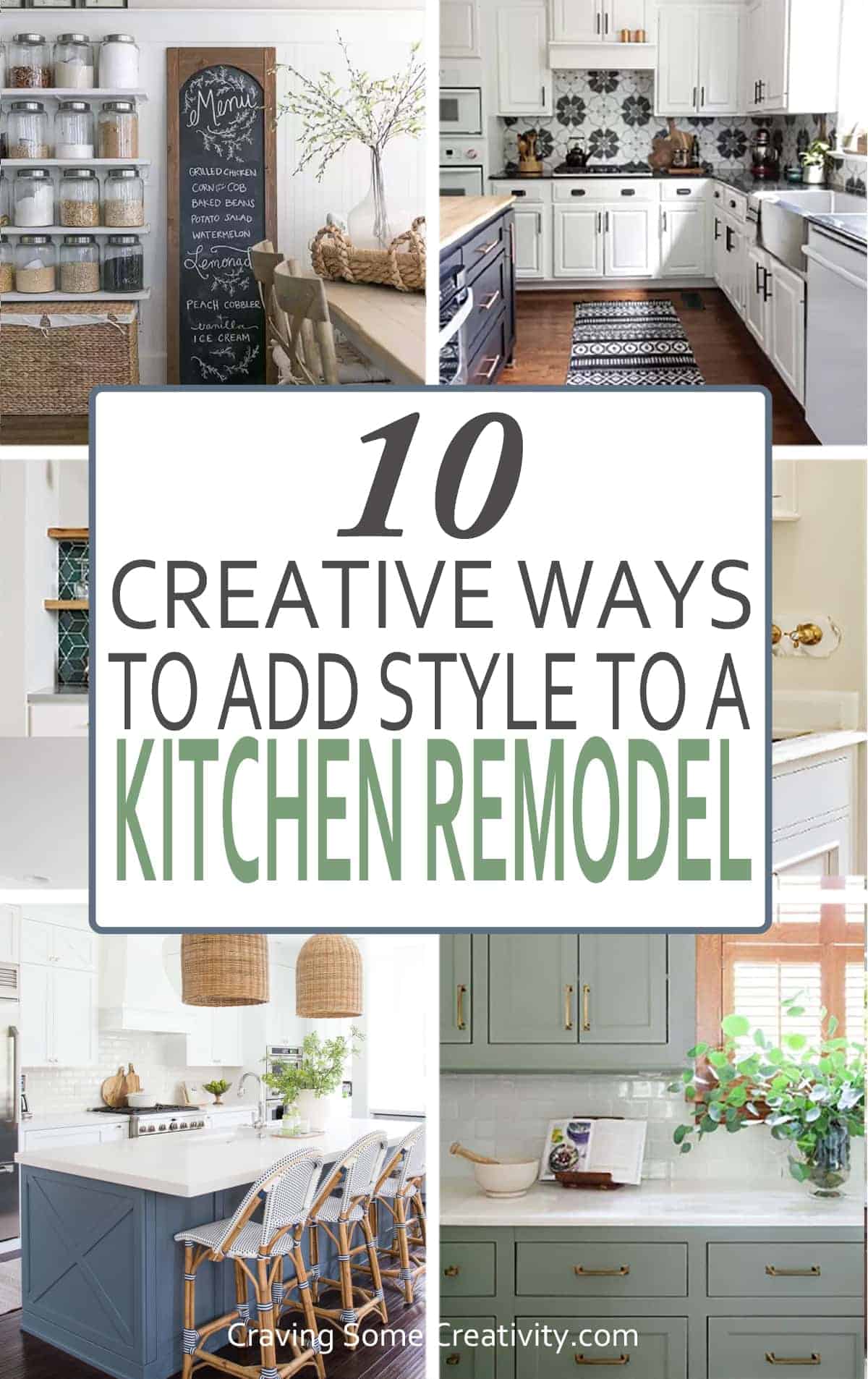 From morning rush hour to midnight nibbles, the kitchen remains a hub of daily activity. There's a reason the kitchen is known as the "heart of the house." It's often where we gather as families. So, your kitchen design should not only reflect your personal taste but feel just as comfortable as any other living space.
While the main components of any kitchen may be the same (cabinets, appliances, countertops), kitchens don't need to be a difficult room to remodel. An updated color palette, appliance overhaul or cabinet makeover are practical ways to incorporate modern style.
Check out these creative kitchen renovations from real homeowners. You can even see all the before & after designs with the links.
Budget-Friendly Updates that Make a Big Difference
These kitchen remodel ideas can kickstart new ones!
Start with decluttering- clearing countertops of unnecessary items instantly expands your space.
Give older appliances a modern facelift! These DIY Refrigerator Makeovers are simply amazing.
Simple peel and stick backsplash. All the sophistication of traditional tile, minus the hefty price tag and mess!
A new faucet. A simple fixture swap makes a big impact.
Modern countertops make a huge difference. Follow our handy guide: 5 tips for replacing countertops for professional looking results that save money.
Create the illusion of bright, open space with open shelving. Style the shelves with some of your favorite items.
Paint old cabinets or add new hardware for a big change.
Update light fixtures. Installing pendant lighting or a well-positioned hanging globe adds focal interest.
Fresh greenery enhances any space. Potted herbs, succulents, hanging vines or fresh cut flowers are inexpensive ways to add punches of color to your kitchen.
1. Add Some Color
This fun kitchen from Life On Virginia Street utilizes a refreshing pop of color while keeping the style consistent. Everything is clean and bright, without looking too sterile. The blue accent color peeks through once again in the barstools. The effect is a beautifully breezy kitchen design.
2. An Architectural Detail
No space is wasted in this clever DIY kitchen makeover from The Honeycomb Home. Extending cabinets to the ceiling and installing built-in boxes above the refrigerator, adds eye-catching architectural details while improving spatial function.
3. Open Up The Space
Open concept kitchens aren't a new idea, but this layout is what kitchen dreams are made of. Removing closed cabinetry from the walls lends a spacious, sleek feel to the space. Yet no storage has been sacrificed. By opening up the floor plan, gatherings feel easy and laid back.
4. Colorful or Patterned Kitchen Back Splash Tile
Kitchen remodeling stores display a wide array of interesting and colorful tiles and wallpapers but finding the right use for them can be challenging. Deeply Southern Home added a stylish backsplash to her inviting kitchen. This space is a cozy haven for coffee talk or a hot cup of tea.
5. Unique Lighting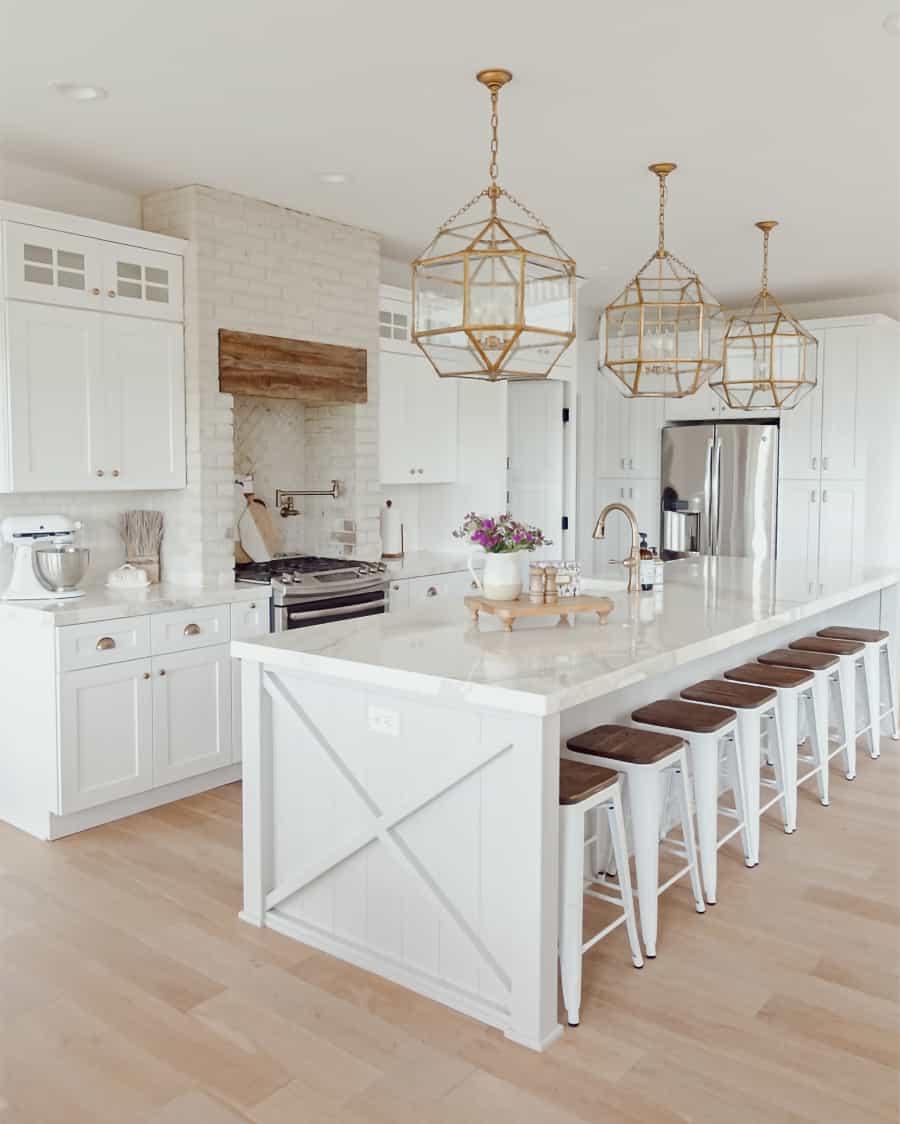 It's impossible to make light of all of the amazing ideas in this kitchen makeover from ninawilliamsblog. But these globe light fixtures top my list of favorites. The fixtures add visual interest to her kitchen. They provide welcome contrast to the other textures and elements in the room.
Check out our favorite pendant lights for kitchen islands here.
6. Room with a View
Love a picturesque view but worried about shelving? This suspended shelf solves the dilemma. The wood and copper pipe shelf creates extra storage and works in harmony with the other industrial elements. Most importantly, that gorgeous view remains unobstructed. Open shelving is excellent for plants, small serving dishes, or displaying your favorite knickknacks.
7. Create Interest with Dual Tone Cabinetry
Who says everything has to match? Break the rules! Dual-toned cabinetry is a polished solution if you're concerned about overpowering your kitchen with a wall of colorful cabinets. This kitchen from Sarah Sherman Samuel illustrates a classic look with a hint of color.
8. A Personal Piece Re-purposed in a Creative Way
This kitchen design from Roeshel @ DIY Showoff is peppered with personal eclectic touches. The use of the dresser as an island is genius! In her kitchen, there are so many little-nuanced touches, you'll find yourself discovering something new each time you look.
9. Mix Textures and Surfaces
This beautiful kitchen belongs to The Rambling Redhead. The combination of textures such as rough pine beams and subway tile backsplash shine without competing with the other natural elements. Mixing textures and surfaces adds depth to her design.
10. Say It Like You Mean It
While I don't advocate buying every farmhouse sign you find, an inspirational quote or two can be a positive addition to set the mood of your mornings. Printables or menu boards like this chalkboard from Elle Claire Inspired bring a touch of whimsy to almost any esthetic.
11. Custom Island
My friend at Seeking Lavender Lane designed an island that feels like an extension of the rest of the living space. The overall design goal? Cabinetry that model's furniture, more so than run-of-the-mill kitchen storage. They nailed it with careful attention to details: a versatile greige color, exposed hinges, and wider bead-board, to list a few.
12. Think Beyond Subway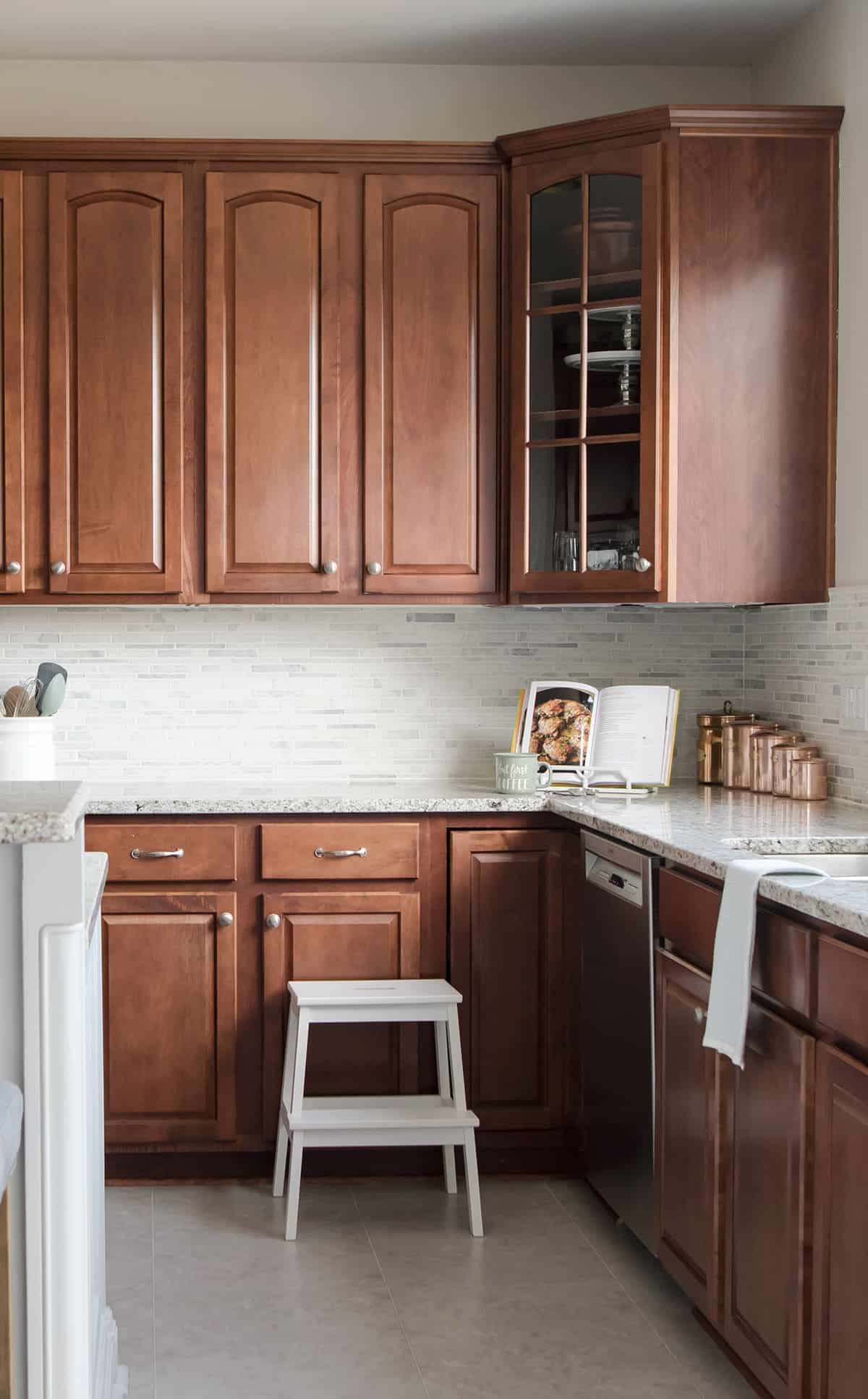 I love subway tile in the right application as much as the next person. But today, we have so many beautiful and effortless options that can bring a little sparkle to the kitchen. For our kitchen makeover, we opted for a honed marble to complement the traditional elements of the cabinets while keeping everything light and brightened up.
Read more about creative subway tile patterns for a fresh take on the classic backsplash!
13. Old World Charm
This renovation brilliantly blends polished urban elements and old world charm. A charming brick wall, raw wood kick plate and candelabra-style chandelier are some of the unexpected details in this very modern makeover. The effect is a clean, yet naturally homey vibe.
14. Create a Pantry
Many older homes have odd nooks or small bonus rooms, seemingly difficult to work around. This kitchen lacked a proper pantry, so the homeowners masterfully transformed an awkward nook into a custom alternative. The added storage and counter space is handy for everyday use and can quickly become a coffee station or bar area when entertaining guests.
15. Statement Piece Sink
An apron style sink anchors the coastal cottage vibe in Sustain My Craft Habit's kitchen. The sink serves as a focal point in this kitchen layout. Selecting an apron style with brushed metal finish, adds panache to serene blue and white decor. Note how perfectly the light fixture compliments the sink. Magnificent!
16. DIY Range Hood Cover
The challenge we often face while making the kitchen feel cheerful, is the jarring appearance of appliances and other kitchen equipment. When Confessions of a Serial DIYER set out to create a light and airy gathering place, they covered every detail. The DIY Range Hood Cover seamlessly blends an unsightly, but necessary, component of the kitchen into their elegant design.
17. Black is the New Black
Don't shy away from the dark side! Add instant sophistication to your kitchen with black accents. This is Our Bliss created an inviting and modern space with a bold color palette and complementary clean lines. Every carefully selected element of this kitchen shines.
18. Broaden your Backsplash Borders
Why hide beautiful backsplash behind the stove or sink? Break out of the backsplash box and make a focal wall. Sand and Sisal used a marbled swirl of sea glass inspired tiles to frame the entire back wall in this stunning coastal-inspired renovation.
19. Warm Natural Finishes
Simplicity reigns supreme in this texture-rich kitchen remodel idea by Studio McGee. Character-driven details like warm oak cabinetry, unlacquered brass hardware, and gleaming black and white marble countertops invite your eye to drink in every detail of this timeless design.
20. Chef Grade Appliances
Embrace your inner chef and invest in professional grade appliances. Busy home cooks dream of even cooking and streamlined efficiency. I simply adore how this renovation by White Cottage Home & Living blends cottage style quaintness with industrial capability.
If You are a DIYer like us, Check Out Some of Our Best Kitchen Makeover Tips and Projects:
Frequently Asked Questions
What is the costliest part of a kitchen remodel?
Cabinets! The average cost of cabinets can be around $15,000. Cabinets are required for functional space usage and storage. Finding ways to implement what you already have is a huge money saver!
How long does a DIY kitchen remodel project usually take?
Plan for anywhere from three weeks to four months to complete your renovation project. Several variants, including the size of your kitchen, and the project complexity, may factor in.
Can you remodel a kitchen in stages?
Cutting your remodeling project into phases can reduce stress and budget woes. A phased plan allows time to address each step separately, so the kitchen remains functional during construction.
Isn't it inspiring to see how functional spaces can also be breathtakingly beautiful and personal? We appreciate these creative homeowners for sharing their before and after stories with us. Ready to tackle your own renovation? I'd love to see some of your favorite inspirations.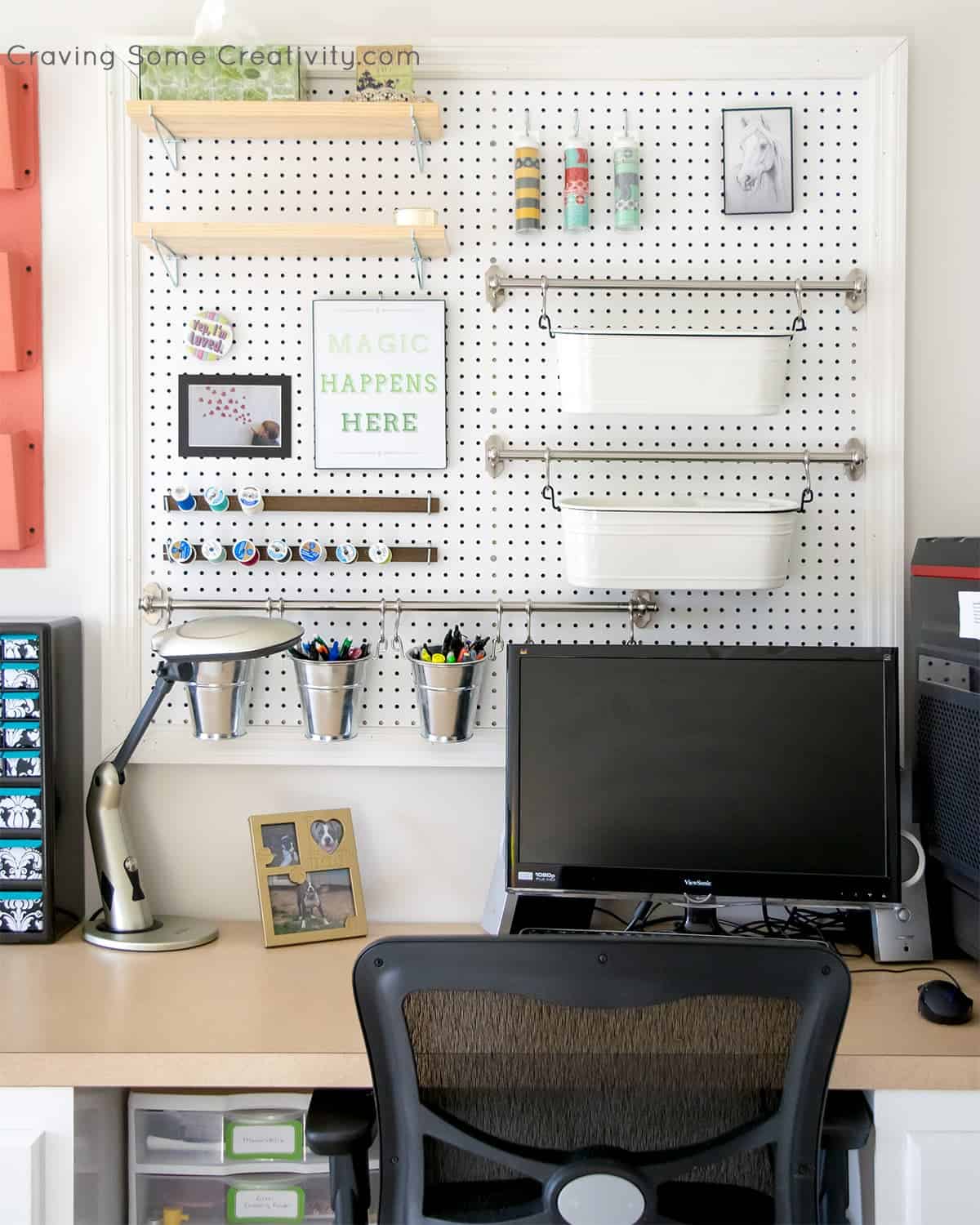 Grab our free series "Weekend Home Projects that will Transform Your Life"
Sign up below to receive updates including free printables, organization tips, home improvement projects, recipes and more!
More Creative Kitchen Ideas
PS I love seeing your creations! Be sure to take a photo and tag #cravingcreative on Instagram! You can also stay in touch with me through following me on Instagram, Pinterest, and subscribing to the newsletter!