I love looking at inspiring and creative kitchen ideas. The main elements of all kitchens are the same (cabinets, stove, fridge) so adding personality to a kitchen can be a challenge. Since the kitchen is the "heart of the house", it should reflect our own personal taste. Here are 10 ways that you can add your own personal style to a kitchen. Click the links below to view more creative ideas from these amazing kitchen makeovers.
1. A Punch of Unexpected Color
This fun and colorful kitchen from Jessica @ Mom 4 Real takes full advantage of unexpected pops of color by removing the cabinet doors and painting the insides a brilliant, fun teal color. The color is carried in selected accessories but is not overwhelming and makes for a vibrant kitchen design.
2. An Architectural Detail
This kitchen makeover from Katie @ View from the Fridge makes perfect use of every inch of space. The attached hutch and ceiling drop down give the room a great architectural detail while increasing functionality.
 3. Create a Kitchen Focal Point that Adds Both Function and Style
This hutch area  makes a wonderful focal point in Dear Lillie's Kitchen Summer Kitchen and Family Room. The beautiful chalkboard adds both function and style to an otherwise blank wall. This kitchen makeover also includes the dining area as well as a matching sitting area.
4. Colorful or Patterned Kitchen Back Splash Tile
Kitchen renovation stores display a wide array of interesting and colorful tiles. Cassie @ Primitive and Proper has added a stylish backsplash to her comfortable kitchen. What I love most about her kitchen is that it is inviting enough to talk over coffee or just start baking right away.
5. Unique lighting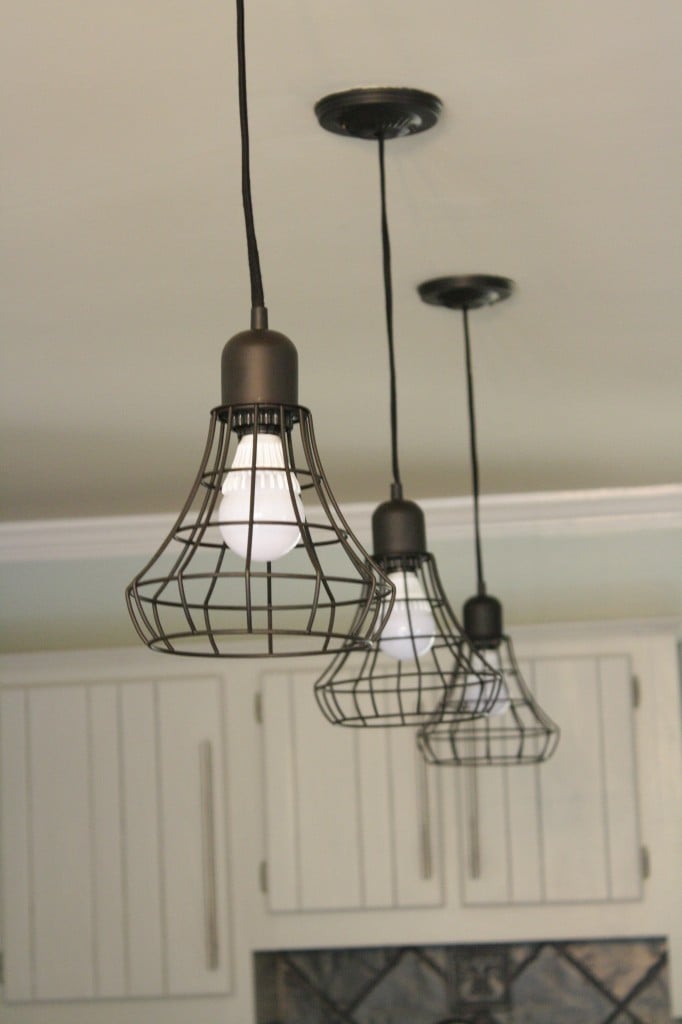 The amazing ideas in this kitchen makeover from Tasha @ Designer trapped in a Lawyer's Body are too many to name. These bare bones light fixtures add some visual interest to her kitchen and play into the eclectic theme. Hop on over and check out her awesome wood herringbone wall and many other budget-friendly kitchen ideas.
6. Fun and Funky Chairs or Bar stools
This Before and After kitchen design from Design Sponge is an amazing update complete with character-defining bar stools. The pop of color brightens the gray and white kitchen and gives a casual fun feel to this space.
7. Create Interest with Dual Tone Cabinetry
Who says everything has to match? Break the rules! Dual-toned cabinetry has been a trend in the last few years. This kitchen from Better Homes and Gardens keeps a very classic look while creating a great focal point out of that absolutely fabulous bar. (It makes me swoon in envy, I won't lie!)
8. A Personal Piece Re-purposed in a Creative Way
This kitchen design from Roeshel @ DIY Showoff is peppered with personal eclectic touches. The use of the dresser as a bar is genius! In her kitchen, there are so many little-nuanced touches, you will find yourself discovering something new and unique each time you look.
9. Mix Textures and Surfaces
This kitchen from Taryn @ Design, Dining, and Diapers is a great kitchen makeover on a budget. The combination of textures such as the wood grain, cement counter tops,  and shiny subway tile meld together in this small kitchen. Mixing textures and surfaces gives depth and life to her design.
10. Say It Like You Mean It
Word art is a very popular and easy element to add to any kitchen design. Printables and various sayings can be easily made to fit any kitchen design style. This beautiful quote comes from Anne @ CircusBerry.
It has been so much fun looking at all of these beautiful kitchen designs and thank you ladies and gents for sharing you wonderful homes and showing us how functional spaces can be breathtakingly beautiful and personal. I hope you have found some inspiration in these ideas and I would LOVE to hear about your personal style in the kitchen!
Cheers!