Small laundry room organization ideas that pack a punch in a tiny space! Both a little makeover and some ridiculously useful ideas in one, this post includes tips, tricks, and a mini-guide to pulling it together.
Phenomenal, humongous bedrooms!
….itty, bitty laundry room.
If house listings in real estate were accurate, mine might have looked like that. The small laundry room was truly an afterthought for whomever built this house. It sits next to the kitchen, as a breezeway between the garage and the kitchen. Our garage door is usually open, so friends and family often enter the house this way rather than the front door.
Who really wants to enter your house though the laundry room?!
A few years ago, we made it more functional. You can read about how we built the laundry room cabinets here. However, the style and organization was pretty basic.
Poor thing.
No more neglecting her! Today, I am sharing tips for small laundry room organization and how we got it together finally. If you are interested in my process for organizing a room, you can read my post about how I organize a room in one day and make it last.
Today, I am offering an overview of all of the small laundry room organization ideas that we have utilized in this laundry room and others of the past:
1. Start with a Small Makeover
In my experience, making a space pretty motivates organization. I know it sounds strange, but a makeover makes you want to maintain it even more! When you pair certain decorations and practical storage solutions, they make a space a pleasure to work in.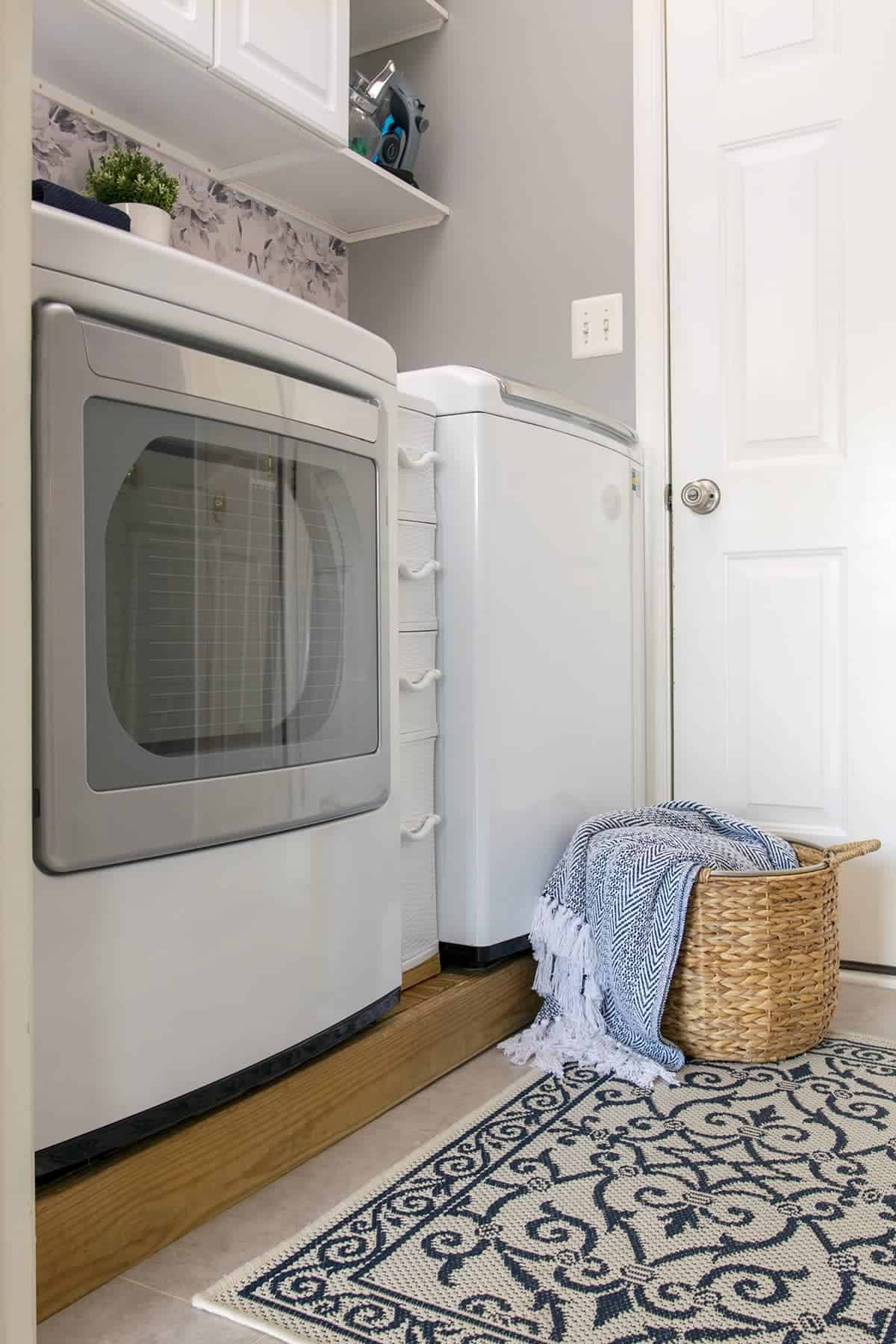 The first thing I did was to repaint all of the room, and pick out some coordinating floral wallpaper. The wallpaper is all the heart emojis!
Side note: Did you know you can custom size wallpaper on Esty?! It is made to order so they can reduce the pattern size to fit your purpose! I was so concerned the flowers would be too big for between shelves that we reduced the pattern scale by 50%.
2. Add a cabinet or shelves
3. Add Storage in Tight Spaces
There is a thin set of drawers (this one is similar) between the washer and dryer. I keep dish towels, cleaning towels and items we use the most often in it. We added a board underneath the shelf to fill the drawer gap and support the shelf.
If you have a front-loading washer and dryer, you could lay a board over top for folding clothes and it makes the space look very modern and neat.
For a stackable set, some of them have a pull out tray option for the stacking kit.
4. Organized Cabinets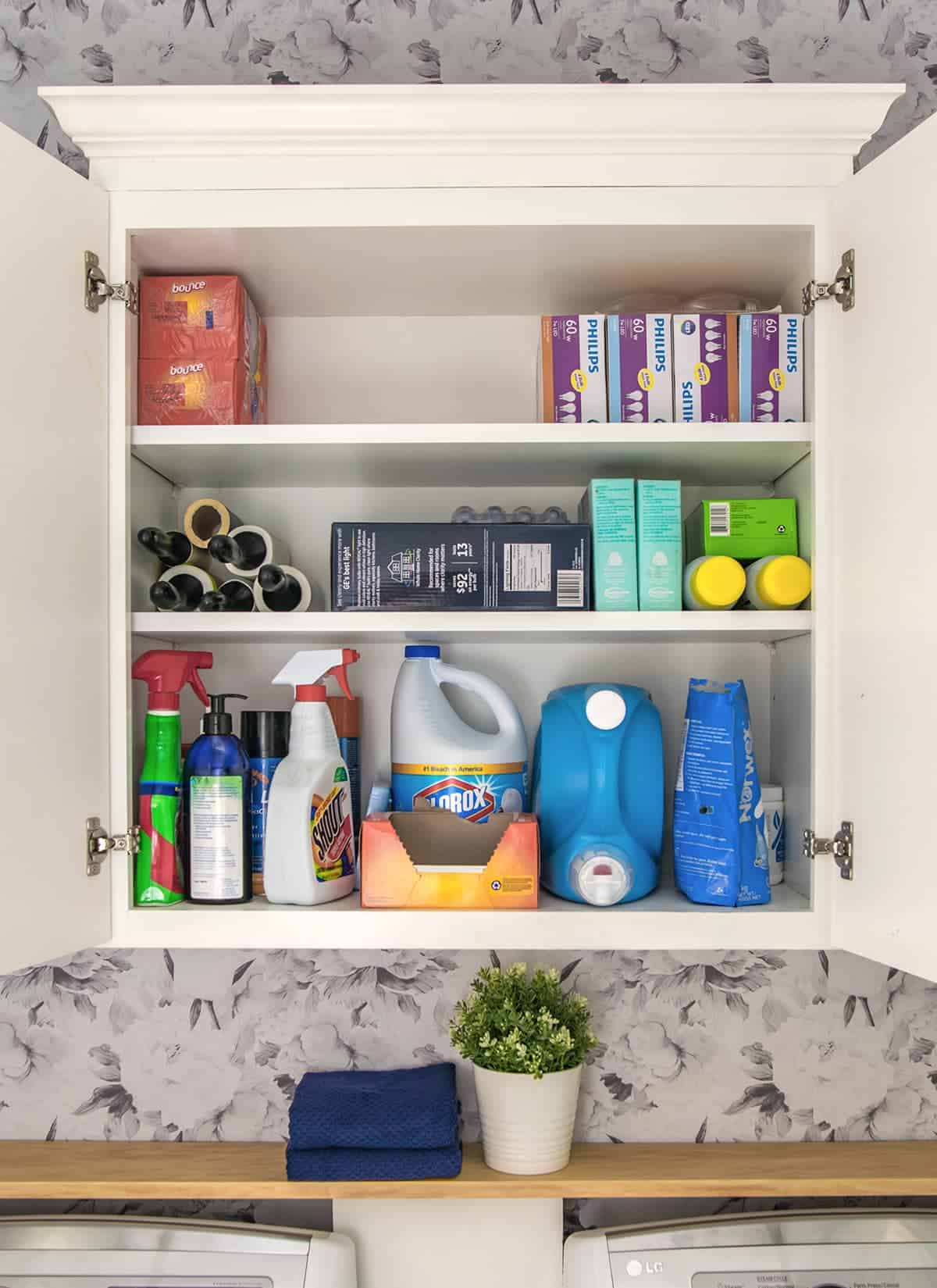 We made use of every inch for storage. The cabinet is where we hide most of the laundry items. The backup detergents are in the wicker baskets and canisters on the shelves. The drawers between the washer and dryer have our hand towels, Norwex cleaning cloths, and dustpan in them.
5. Sorted Laundry Storage
In our laundry room, we use a small broom closet and added simple shelves to keep the laundry organized and easy to store until wash day. You can see how we built the laundry closet organization here.
However, you don't need a closet at all to create space for laundry waiting to go in the washer. A few other ideas I have used in the past:
Utilize an adjustable shelf rack to store laundry baskets off the floor. We use an aluminum one like this.
Purchase a deep armoire or tall cabinet to put baskets in.
Vertical Canvas Laundry sorters that can fold away when not in use.
5. Hanging Laundry Ideas
Some items can't be put in a dryer. For those delicates, I have a few ideas that I have used in other laundry room configurations:
Hooks on the Wall – I use hooks to hang delicates and I can put shirts on a hanger for drying. You can use single hooks or a line of hooks like a coat rack.
A Bar under shelves – screw a towel bar to the underside of shelves to hang clothes.
Add a row of pegs – for hanging brushes and clothes. This makes use of wasted space and is a charming way to decorate your laundry area.
A fold out laundry hanger on the wall – Anything that folds away when not in use is a great space saver!
Frequently asked Questions
Where can I find a narrow set of drawers for storing items in the laundry room?
I found my white rolling storage bin on Amazon. It fits perfectly between my washer and dryer and is great for storing all my Norwex towels and a few cleaning supplies.
How do you create an organized system for laundry?
Some have a designated laundry day, while others find it easier to do a load as soon as a full one is ready. I sort all clothes ahead of doing laundry, checking pockets as I sort. I also have a regular seasonal rotation for items such as pillow covers, bedspreads, and curtains.
How do you make a small laundry room feel bigger?
Use light, soft colors and good lighting to make a room feel larger. Choosing a cool tone like blue, green, grey, or purples make a room feel larger. However, the biggest difference is proper lighting. Bright, full overhead lighting plus adequate task lighting, like under cabinets, will always make a room feel less cramped.
Now when our friends and family pass through the laundry room, she won't be the leftover lady anymore! She has her own identity, and shines brightly.
Might even make laundry a bit more fun.
Room Decor Sources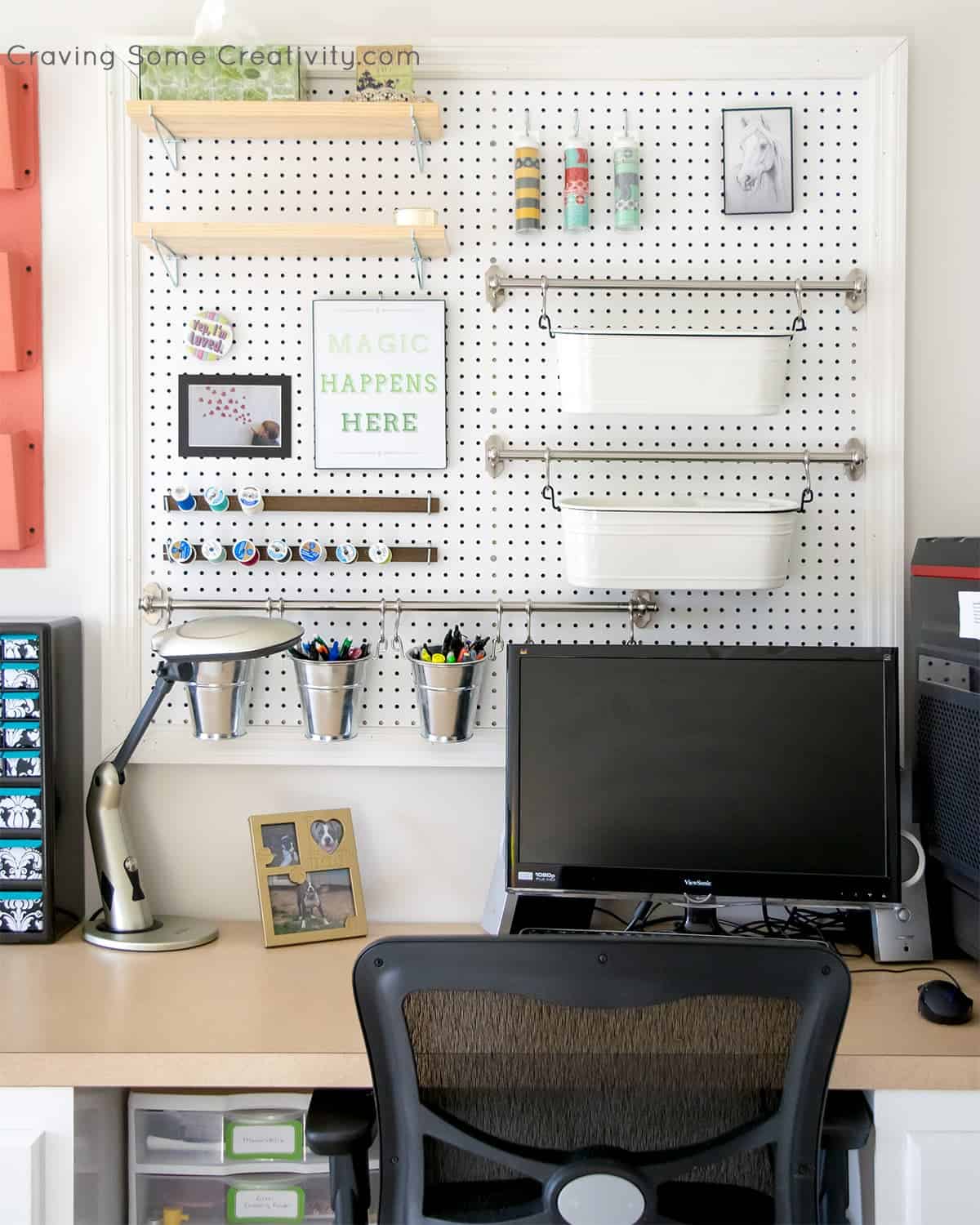 Grab our free series "Weekend Home Projects that will Transform Your Life"
Sign up below to receive updates including free printables, organization tips, home improvement projects, recipes and more!
More Makeover Reveals
PS I love seeing your creations! Be sure to take a photo and tag #cravingcreative on Instagram! You can also stay in touch with me through following me on Instagram, Pinterest, and subscribing to the newsletter!