Have water damaged textured ceilings or need to patch a hole? Almost every wall develops flaws at some point, but you can perfectly repair a textured ceiling with these tips.
One of the absolute joys (cough-sarcasm) of living in an older home is having a textured ceiling. They attract dust and are more difficult to paint or to repair the textured ceilings.
But there are the memories. I can remember staring up at ours and seeing different images in them – sort of like cloud watching. Mostly flowers or stars, but occasionally a witches cruelly smiling face or Snoopy laying atop his dog house.
We love repairing older homes including repairing baseboards, painting kitchen cabinets, and full bathroom remodels , so this was one of our easier jobs!
While I personally dislike textured walls and ceilings, I understand that removing them in large rooms is a very big job. So repairing water damage spots or a hole in a textured ceiling is much more manageable.
Repairing a hole or damage to a textured ceiling depends on your ceiling texture type. Types of ceiling texture include
knockdown texture
orange peel texture
crow's foot
popcorn
These can be a challenge to replicate and match to the surrounding textured surface. But I'm showing you how drywall finish is pretty easy once you get the right texture tools!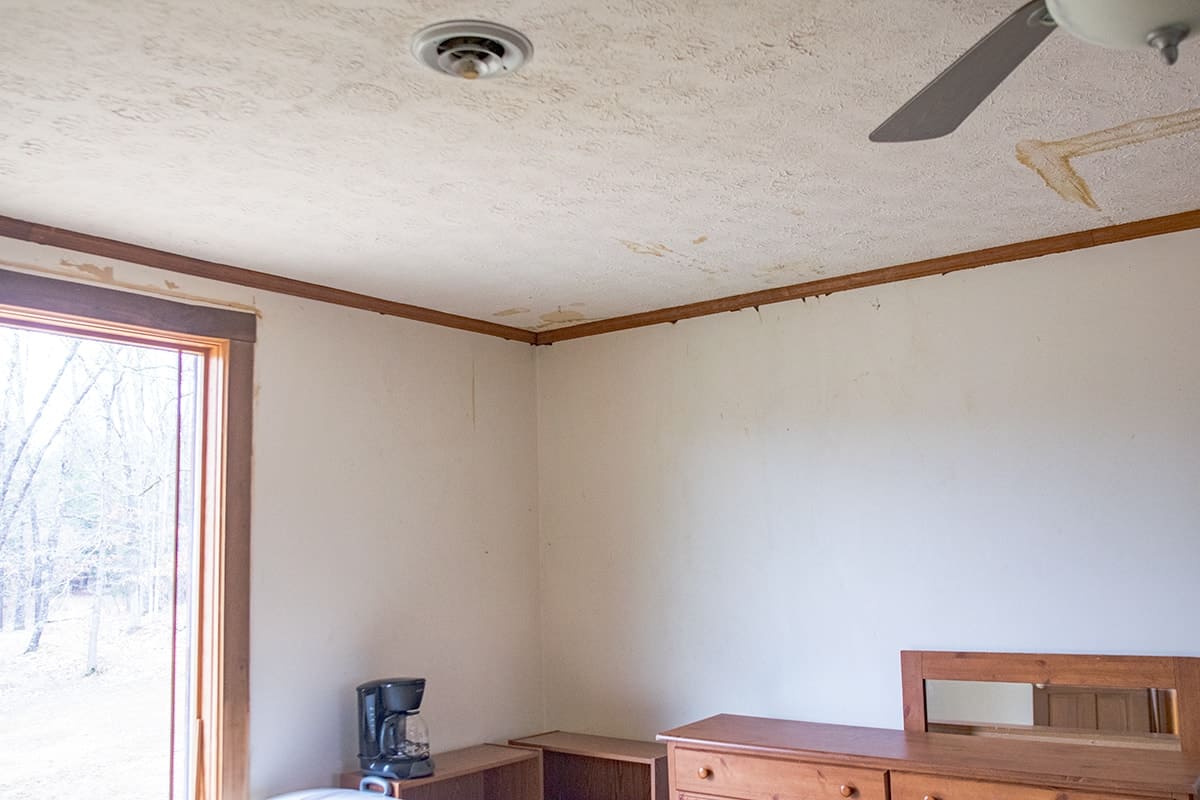 In our case, the damage was from a leaky roof several years ago. The roof had been replaced and there was no mold, so now it was time to repair the textured ceiling.
Textured Ceiling Repair for Discoloration
Not all water damage requires removing the patch or ceiling. Some damage can just be water stains if the ceiling texture isn't chipping or falling. In those cases, it was as easy as using an aerosol sealer like my favorite from Kilz.
Ceiling Texture Types
The single hardest part of this job was figuring out ceiling texture type so that we could replicate it. Here is a handy list of ceiling texture types and the tools used to create them:
Ceiling Texture Tools
With the exception of the orange peel and popcorn ceilings, all of the other textures use joint compound from a hardware store to create the pattern.
Now, this list is by no means comprehensive. There are as many ceiling textures types as there are people who create them. Feel free to ask any questions if you have a particular type of ceiling texture.
Step by Step Instructions
1. Soak Ceiling Texture Brush
For brush textures, soak the brush in warm water for at least an hour, or overnight. This softens the bristles to create the right texture for your ceiling.
2. Prepare the Surface
Remove any loose ceiling texture from the old ceiling. I usually find that if you can get under it with a putty knife, it will come off pretty easily. The one thing I try to do when patching a textured ceiling is to make sure I don't have any long, straight lines between the old and new. An irregular edge makes it easier to hide a patch to the observer. If you have any water damage, I highly recommend using a stain blocker like this spray stainblocker to keep the old water damage from seeping out. I apply that after removing any loose textured ceiling. If you have a hole in the sheetrock ceilings behind the joint compound texture, replace/patch that as well.
3. Apply Joint Compound
The technique will vary slightly with what texture you are trying to match, but here are the basics.
Stir the joint compound with a paint stick or large spoon to loosen and remove bubbles somewhat.
Test out your pattern on a spare board or extra piece of drywall until you get the right texture. I find that first dipping the brush in a bit of the joint compound makes the pattern more even when applying.
Once your ready to move on to the real area, spread the joint compound on with a putty knife or magic mudder across the area to be patched. Try to blend any edges with the existing texture. You aren't trying to create texture yet, just get it up on the ceiling relatively smooth. Don't be shy with it either, put it on at least as thick as the existing texture.
Using your texture brush, stomp the texture into the applied joint compound in the same fashion as the practice board.
If you have a knockdown ceiling, you will have to use a large putty scraper to go across the texture to smooth it down to a knockdown texture.
4. Paint
Once you've achieved the pattern or texture you desire, wait overnight or longer before painting.
Pro Tip: White ceiling paint is very hard to match perfectly, so plan to paint the whole ceiling unless you don't mind a line where you patched.
We used our handy paint sprayer to paint both the ceilings and the walls, which made it happen in maybe ⅕ the time it would have taken! Yes, your arms will ache spray painting a ceiling, but honestly they are going to ache too with a roller.
Grab our free series "Weekend Home Projects that will Transform Your Life"
Sign up below to receive updates including free printables, organization tips, home improvement projects, recipes and more!
More Painting DIY Tutorials