Wood furniture can be painted in a multitude of ways. Learn about the various paint options and how to get the best results. We have been painting furniture for clients and friends for years. Even if you are a beginner, this guide makes it easy to know the what, why, and how.
I can't think of anything more disheartening than a bad paint job. All the prep and work you put into a DIY project to watch it chip and fail is the worst. And, unfortunately, I have seen it many times with friends and clients.
The truth is that over the many years of painting furniture and refinishing, not all paints are created equal.
So, today, I thought I would take some time to share a guide to the best paints for furniture! I have used over 15 different paint lines not including the many more that aren't meant to paint furniture with and, honestly, paint types are NOT all equal.
The Basics
When choosing the right paint for a furniture project, there are several characteristics that are important. I look for all of the following in the paints that I use:
Maximum Durability
Sheen
Non-toxic (No fumes, very low VOCs, and avoids harmful chemicals)
Does not require priming
Self-leveling is nice to create a smooth finish
Pro Tip: NEVER paint furniture with so-called latex paint or wall paint. Latex is sort of a misnomer since there is no natural latex in today's paint, although sometimes an altered synthetic is used. Wall paint is not designed to adhere well to furniture and it isn't durable enough.
How to Prep Furniture for Painting
I also won't go too much into the prep-work necessary for painting furniture, but if you are interested, we have several articles on prepping your DIY project.
How To Paint Oak Cabinets – this post shows our step-by-step prepping process.
If your piece doesn't require much repair, all of the paints that I recommend only need to be cleaned really well with either Simple Green or teaspoon if you have heavy stains.
After cleaning, sand well with 120-220 grit sandpaper. If you want a paint job to last, I generally don't recommend skipping sanding.
If you are painting a piece with knots or stains, add a layer of shellac primer over those spots to keep any discoloration from seeping into your paint.
How to Choose the Right Type of Paint
The good news is it won't take long to see your furniture painting project transform in a matter of a few hours. But first, you need the right products. I do not use the same furniture paint for every project, nor should you. To get the best results, there are a few considerations:
Painting method – brush, spray, or roller
How smooth and free of brush strokes do you want the paint to be?
Durability Factor – How often will the piece be touched, banged, or used?
Sheen Factor – What kind of sheen do you want? Matte, satin, or semi-gloss?
To make this easy, here is a shortcut chart about the paints I usually recommend and the situations around them:
All of the paints I recommend are also very low to no volatile organic compounds (VOCs), so I can paint them indoors with no fumes!
1. Best Chalk Paint
I think it's a fair disclaimer that I am not a big fan of chalk paint in general. It is simply a personal preference as I don't like how it feels when dry and I have tried several brands for clients.
I find that Chalk Paint is one of the least durable paints without a topcoat, and, in my home with boys, I need maximum durability and cleaning.
However, chalk paint is great for things like home decor signs, picture frames, or furniture that doesn't have constant handling. It does not require priming, is beginner friendly, and generally doesn't show brush marks.
The best I have found is a DIY chalk paint, and it is much cheaper than the fancy brands. Here is the recipe:
Interior Paint (I usually use Acrylic Paint or A paint without primer – I find that certain paints + primer can make the texture gummy, but different brands may not have that problem)
4 ounces of Calcium Carbonate

Dissolve ¾ cup of calcium carbonate powder in just enough water to reach a smooth consistency. It shouldn't be too watery. I would say about the consistency of salad dressing is perfect.
Pour the calcium carbonate mixture into 3 cups (24 oz) of paint, stirring well. After it is smooth, add a bit more paint to make 1 full quart (about ¼ cup) and stir again. This recipe sits well in a cool dry place for a few days, when tightly covered. Just give it a stir before using. The calcium carbonate powder also has a long shelf life in a sealed bag.
2. Best All Around Paint – Fusion Mineral
Fusion Mineral is the paint I use most often. I love the matte sheen, which is still pretty flat but not quite as flat as chalk paint. You can learn more about Fusion Mineral here, but here are my general thoughts:
Can be brushed or sprayed with a paint sprayer. For large flat areas, I would use a microfiber roller to lessen brush strokes, unless you are spraying.
Wax and water-based polyurethanes work great without altering the color as much as chalk paint.
Controlled distressing is a breeze.
Some colors can be a bit easier to work with and spread better. This is more of a boutique paint and made in smaller batches than your commercial brands.
Fusion Mineral is very durable but I wouldn't use it without a protective topcoat on surface that will see a lot of wear, such as a kitchen table or a heavily used dresser. However, I often use this with a topcoat poly and even did my kitchen island with it.
3. Most Durable Paint – Benjamin Moore Advance Alkyd Paint
This is my favorite satin and eggshell sheen paint. Here are the situations I would use this:
When I want maximum durability without a topcoat.
When I cannot use a sprayer, but want the most brush stroke free finish.
When I would like a Satin or slightly glossy finish.
It has the widest range of shades and colors available.
All projects I have used this paint for have held up beautifully. It is also easy to wipe off dirty fingerprints.
This paint does, in fact, come in a flat sheen. My store does not have it and thus, I have not used the flat. However, I will say that I wasn't impressed with the high gloss. The cure time was far too long for me.
The only trouble I have ever had with this paint is when I tried to thin it with water. There are very specific instructions on the paint can for how to thin BM Advance.
4. Best Decorative Paint – Miss Mustard Seed
Miss Mustard Seed Milk paint is a paint based off of milk proteins. It is all natural and has a specific finish style. It's called "chippy" because rather than distressing furniture via sanding it off, the paint sort of chips off to give it that style. It authentically creates an aged finish that looks much more natural than other paints.
It is virtually brush stroke free, and much easier to work with than other paints if you don't want brush strokes.
It comes in a powder form, so it lasts forever, but does need to be mixed prior to painting.
Miss Mustard Seed works really well on raw wood as well. It is very durable and soaks down into the wood. It does not chip as much on raw wood.
Probably the most natural ingredient paint you will find on the market. Great for people with sensitivities to chemicals.
It is a very thin paint and takes a bit of practice to learn how it behaves.
If you are interested in learning more about how to use milk paint, I highly recommend watching this workshop on working with Milk Paint.
Buy Miss Mustard Seed Milk Paint Here
Dresser Painted with Miss Mustard Seed Milk Paint
Decorative Finishes for Furniture
There are so many fun finishes out there! Finishes are like adding jewelry to your favorite little black dress. The dresser is wonderful on its own, but that extra touch enhances the whole package. Here are some of the finishing products that I love and where to buy them:
Fusion Mineral Furniture Wax – Most tutorials show using wax as a protective finish, but it is also a great decorative finish. Here are some of the decorative finishes you can do with wax-
Use dark wax to age a piece. Particularly with a light-colored piece, I lay the wax over a polyacrylic. That's just my preference so that I get the durability of the polyacrylic and the luster of the wax. This also keeps the wax from seeping into the paint and making it more controllable.
Mix in metallic cream to give a bit of metallic sheen.
Mix in metallic gilding powder for more of a metallic punch.
Tint the wax with a bit of paint to layer different colors.
Liming Wax – I love a good cerusing technique and liming furniture is a very beautiful, but specific finish.
General Finishes Glaze – This is a beautiful product that beautifully layer colors for depth or aging. I also use it to tone down bright colors. Here is an example of a dresser layered with glaze.
Tips for Mixing Paint
Whenever possible, AVOID custom color mixes. If you need to do touch ups later on or want to color match, it is usually very difficult to match a paint. From experience, the store may not be able to even mix it if you have the original label.
If you do need to lighten a color, mixing white paint in a dark color will make the pigment brighter (i.e. it will make a blue appear more blue and lighter).
To lighten a color such without creating more saturation, add a medium or light gray paint.
If you need to thin a paint, never thin more than 10% water by volume. Thinning paint too much makes it behave differently and may weaken the durability.
Benjamin Moore Advance in particular doesn't like to be thinned very much, although I have thinned it for spraying.
More Furniture Painting and Refinishing Projects
FAQs
What kind of paint to use on furniture without sanding?
While sanding will unquestionably give you the best bond and last longer, there are many paints that work well without sanding. I highly recommend the sanding method for high traffic surfaces such as around knobs and tabletops. You can use a high-bonding primer for surfaces that can't be sanded such as laminate or MDF. Fusion Mineral and Rustoleum Chalk Paint work best without sanding.
Do I need to sand between coats of paint?
No. The only reason to ever sand between freshly applied paint is to remove imperfections or if it isn't smooth to your liking. Don't sand the final coat unless you plan to apply a top coat.
What is the best topcoat for painted furniture?
A water or solvent based polyurethane gives great protection for painted furniture. I have used several brands and explain more in detail the best furniture topcoats here.
Do I Have to prime Furniture First Before Painting?
Many paints today do not require priming so check the product. However, you may still need use a sealing primer if painting white or light colors, stains, or if you have heavy tannins (knotty pine, Brazilian cherry) in the wood.
What is the best paint for cabinets?
My go-to paint brand for painting kitchen cabinets is Benjamin Moore Advance in satin sheen. It levels beautifully for a smooth finish, is super durable against chipping and fading, and cleans up easily.
What is the best spray paint for wood furniture?
After spray painting many projects, my favorite brand of spray paint for wood and metal is Rustoleum Universal. Prep the surface well and you can add a topcoat if you wish. You can see our DIY painted refrigerator here.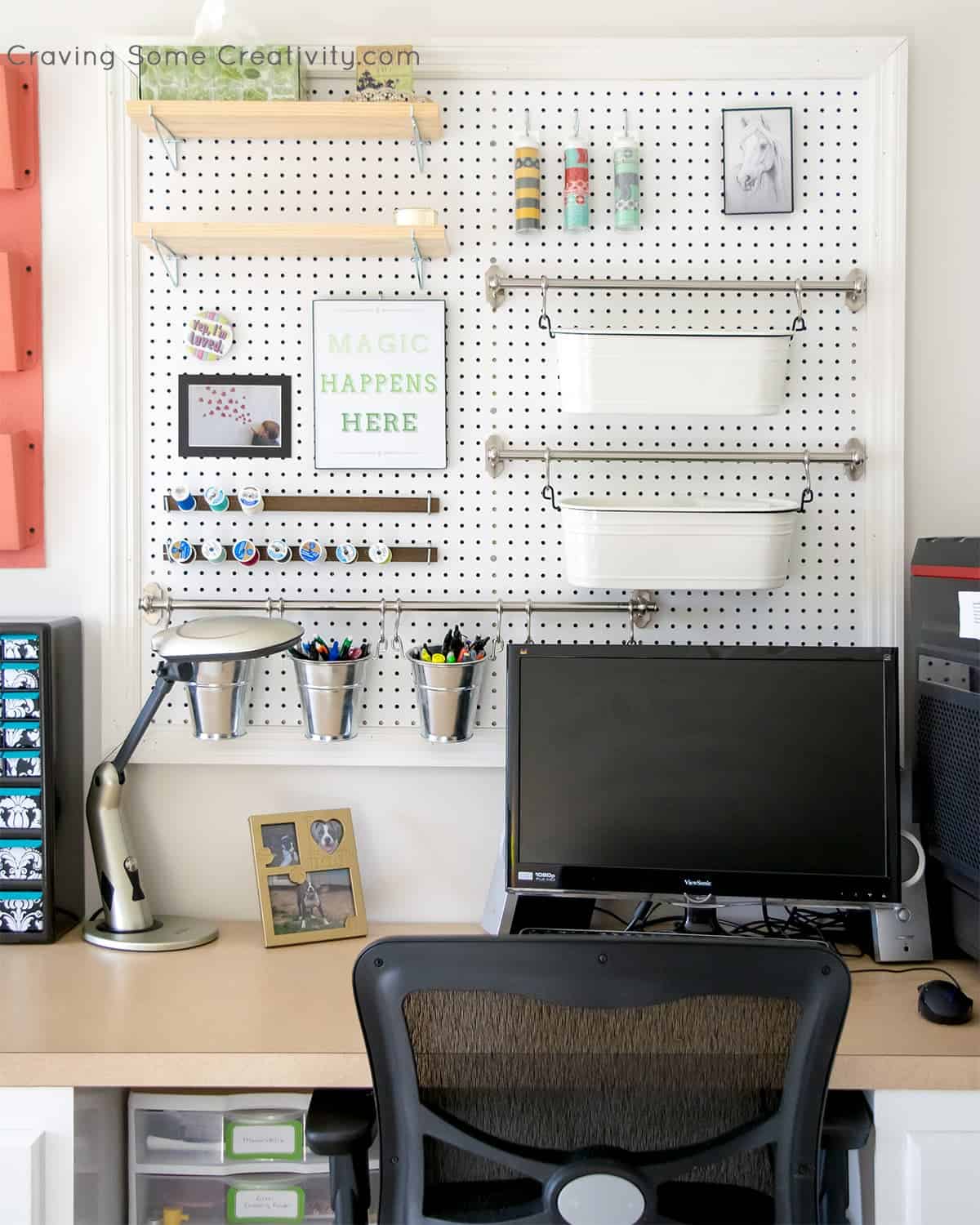 Grab our free series "Weekend Home Projects that will Transform Your Life"
Sign up below to receive updates including free printables, organization tips, home improvement projects, recipes and more!
More Furniture Ideas
PS I love seeing your creations! Be sure to take a photo and tag #cravingcreative on Instagram! You can also stay in touch with me through following me on Instagram, Pinterest, and Subscribing to the Newsletter!