Learn the tips and tricks to painting a bathroom cabinet that will last! This inexpensive yet professional looking project saved our builder grade vanity.
Painting the bathroom vanity has been on our todo list for years! We are so close to finishing up this bathroom renovation, that I almost can't stand it!
So this is what we started with: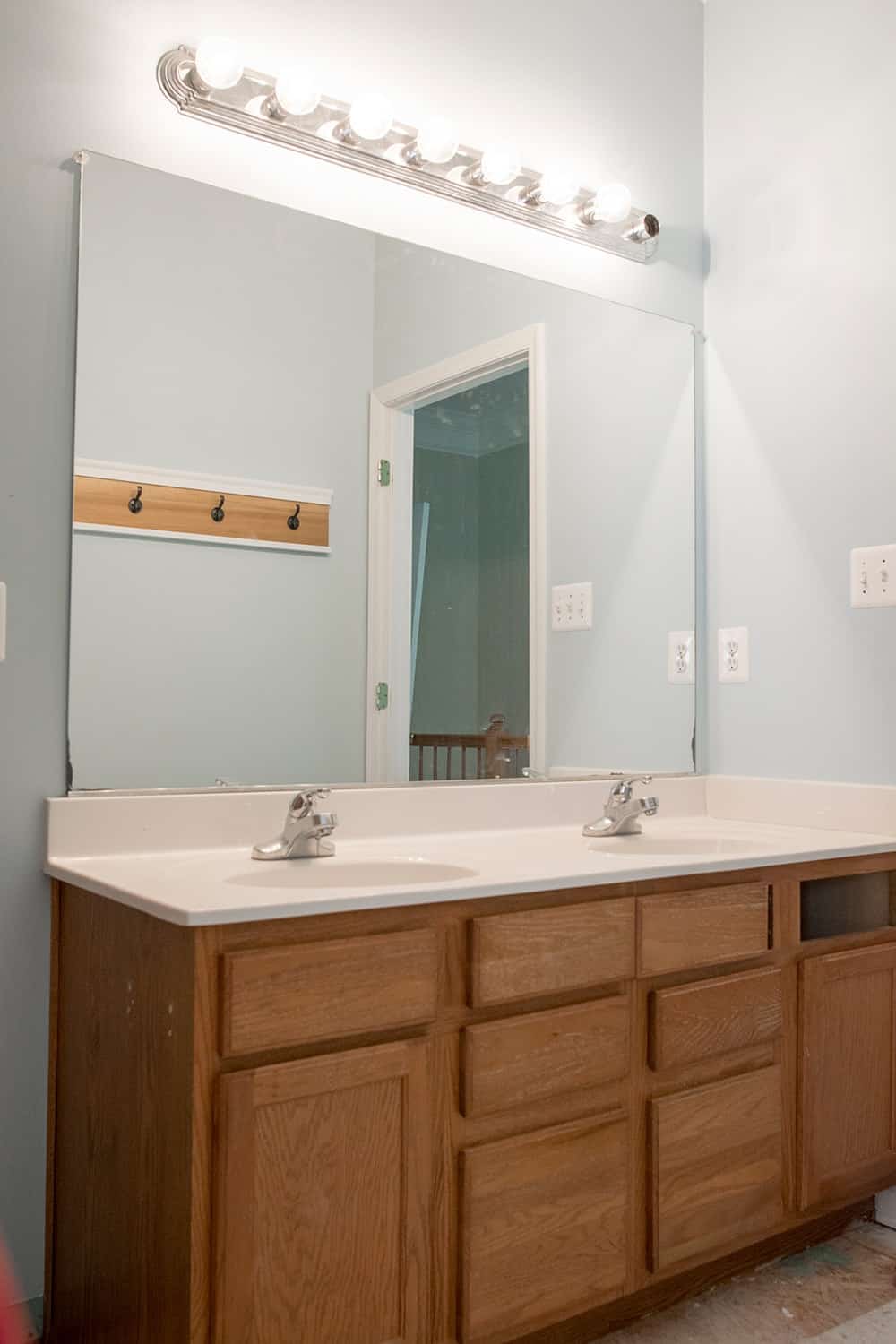 It's not in great shape and the missing front piece has never been there since we moved in.
The awesome power of paint in a makeover never ceases to amaze and, frankly, I love that it is a huge budget saver. I have painted several furniture pieces over the years and am ready to tackle a little different job.
With only a quart of paint, the right tools, and a little knowledge, I made this into to a more modern guest bathroom!
Looking for some color inspiration for your project? I have scoured the internet to find specific examples and real-life paint examples in our post on Colorful Furniture Makeovers, 20 Sage Green Cabinet Paints, and the best Blue Cabinet Paint Colors.
While it might seem like an intimidating project, with the right tools and some good advice, it's perfect for a beginner DIY project. If this is a project you've considered tackling, this post will give you the step by step how-to to get it done! Let's go…
Recommended Paint Project Supplies
What to do Before Starting
The first step when painting a bathroom vanity is to remove the drawers, door front, and any hardware present so that only the frame is left.
If you are changing out the hardware to a different size, fill any holes from the old hardware. After the surface is good, clean the frames and all doors and drawer fronts with either teaspoon or a household cleaner if the cabinet isn't too nasty.
How To Prep Furniture for Painting
After all grime is removed, lightly sand the surface. I generally recommend against skipping the sanding because the best bond requires some sanding. And you want your paint to have the best bond for long lasting results.
For sanding, you only need to "rough up", not completely remove all previous stain and varnish. I use an orbital sander with 120 grit and leave it at that. A 220 can be used for hand sanding any corners.
If you want to get a completely smooth finish, we have a tutorial for filling in woodgrain on furniture. For dark colors with a matte sheen, I generally don't find it to be bothersome.
After everything is sanded, vacuum off the sanding dust and wipe all of the surfaces down with a clean microfiber cloth or tack cloth.
Tips for Painting a Cabinet
Yes, the fun part! Here are some tips for the smoothest finish:
Get the right tools. A few extra dollars will save you a lot of heartache and frustration. I prefer fine taklon brushes like you find at craft stores for the least amount of brush strokes, but many people like Purdy Brushes.
Tape off any edges you don't want painted such as under countertops or walls.
Use a lint free -microfiber roller across all flat surfaces for the smoothest finish.
You will get the best results if you brush then roll before the paint has time to dry.
With a brush and microfiber roller, I painted 2 coats. And that's it!
Because I wanted to add hardware to this vanity, I drilled holes in each piece and screwed them in just like any other hardware.
Want more furniture transformations? Check these out!
Frequently Asked Questions
Can I skip priming cabinets?
Yes! If you do not have any of the below problems, I would skip priming:
1. You are using a non-priming enamel paint.
2. There is no risk of stains, oils, or grease coming through the paint (use a stainblocking primer if there is).
3. You aren't painting bright white (I like to use a stainblocking primer for white).
Do I need to paint inside the cabinet?
I usually don't paint the insides or the drawer sides because it just isn't worth the effort for me. I generally don't recommend painting inside the cabinets because of scratches. If you have some damage, I would probably use a quality contact paper.
What paint can I use in a bathroom?
Moisture is definitely going to be a factor when deciding what paint to use. As a result, I would use an enamel or acrylic type of paint. Fusion Mineral Paint is an Acrylic Emulsion based paint rather than something like chalk or latex which I would never use in a bathroom.

You Can Buy Fusion Mineral Paint Here.

You can read more about the best paints for furniture here which shows my personal recommendations developed over years of refinishing and living with painted furniture.
Do I need to sand between coats of paint?
No. The biggest misconception I see in painting is the idea that you need to sand between coats. Sanding is required only if your paint is not smooth to your liking.
Do I need to use a polyurethane or protective top coat?
With the paints I use, a topcoat is not required. If you do choose to add a protective topcoat, there are lots of options and they all work pretty well. You can read my recommendations on the best topcoats for furniture to help make a decision, but any quality poly will do. Just make sure that it is water based.
See our full bathroom remodel reveal here.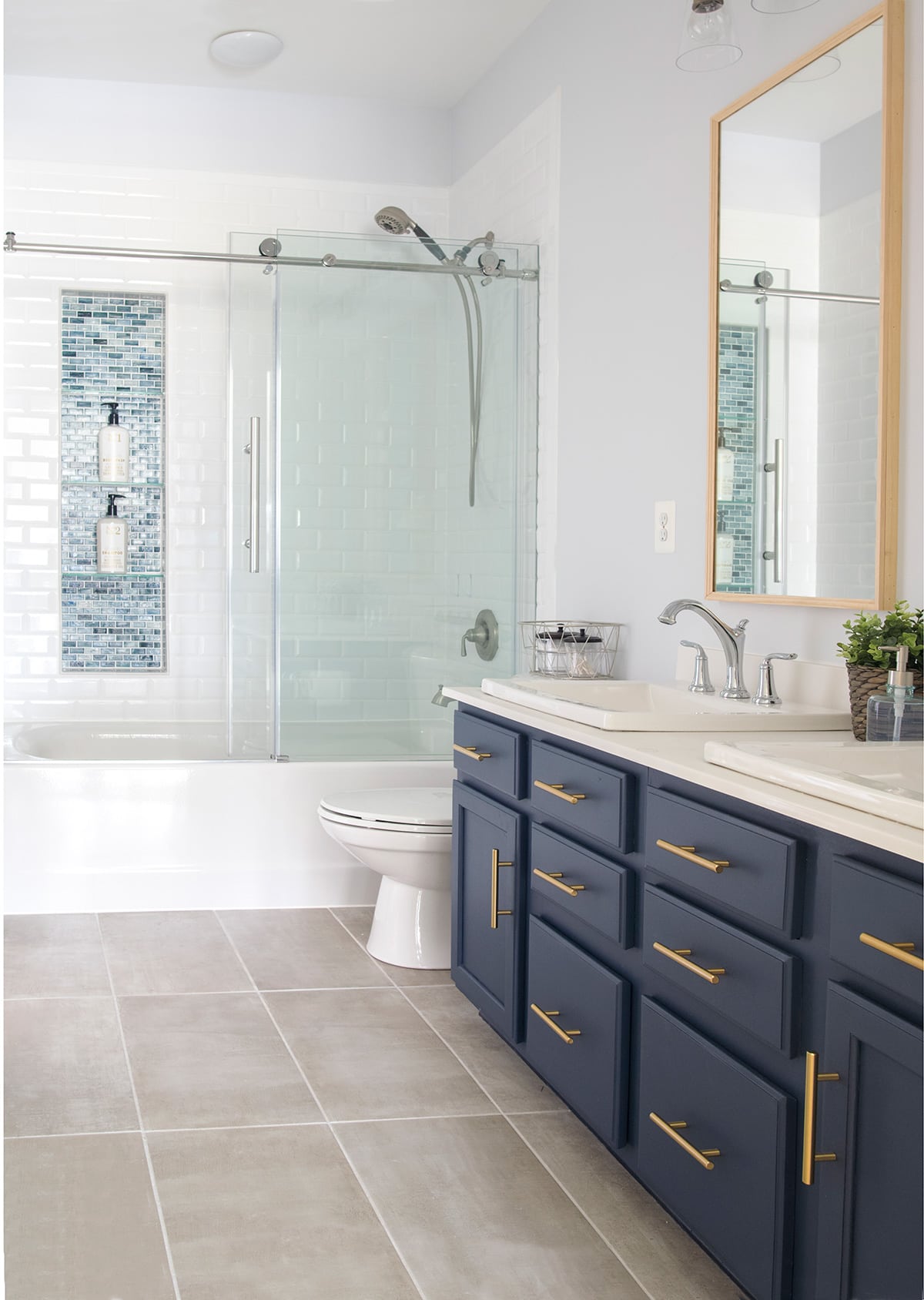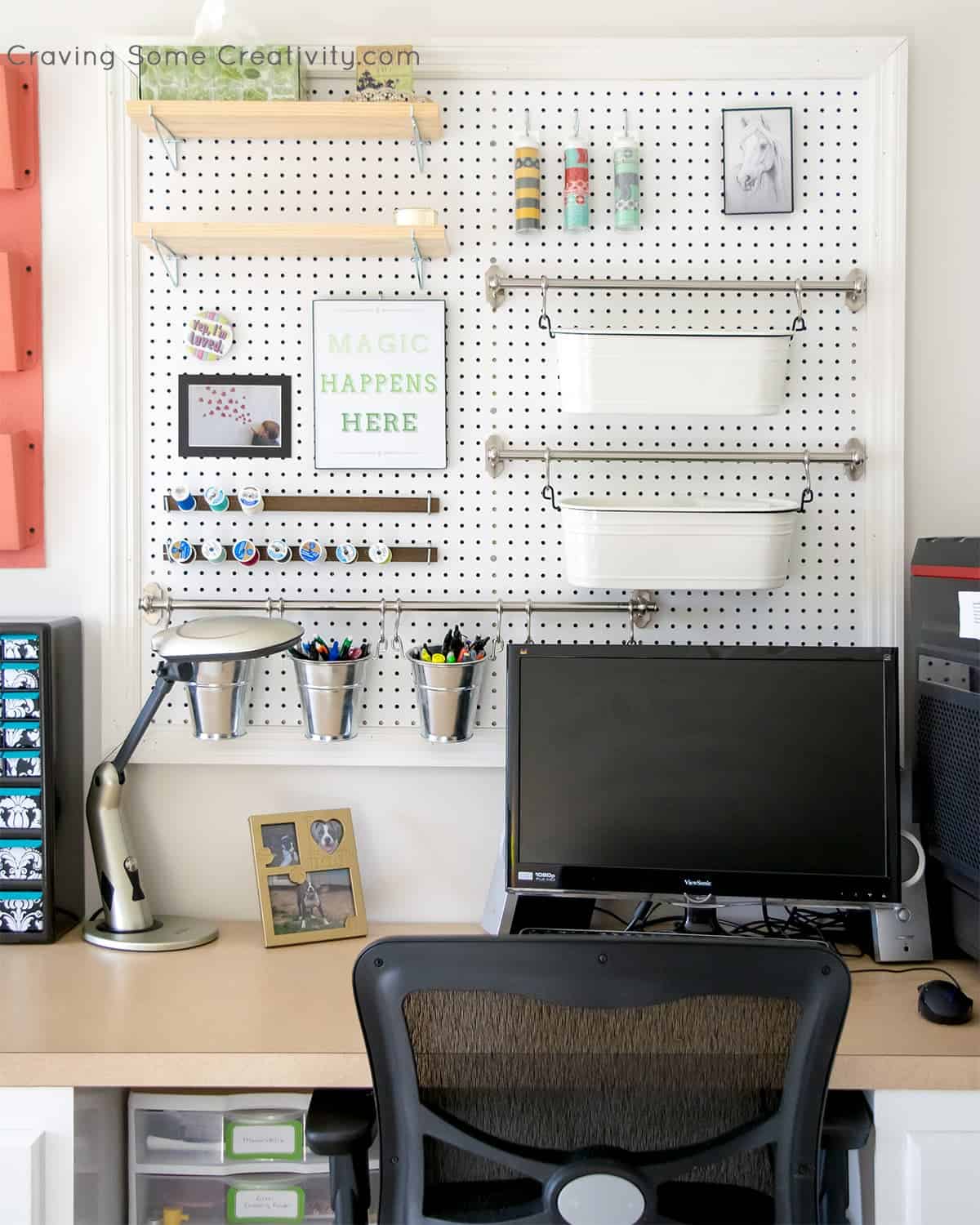 Grab our free series "Weekend Home Projects that will Transform Your Life"
Sign up below to receive updates including free printables, organization tips, home improvement projects, recipes and more!
More Furniture Painting Tutorials
PS I love seeing your creations! Be sure to take a photo and tag #cravingcreative on Instagram! You can also stay in touch with me through following me on Instagram, Pinterest, and subscribing to the newsletter!
How To Paint a Bathroom Cabinet
Paint a bathroom cabinet that looks great and lasts! These durable paints require no-priming so you can paint in three steps.
Print
Pin
Rate
Supplies
Sandpaper or sanding blocks

120 and 220 grit

Paint brushes

Paint

See my favorites to use in Notes

Protective Top Coat

Optional, but recommended
Instructions
Remove hardware and doors. For large jobs, I number the doors. Clean the frames and all doors and drawer fronts well.

Sand enough to remove any sheen or gloss. An orbital sander with 120 grit makes the sanding much easier. 120 or 220 grit can be used for hand sanding any corners.

Tape off any edges you don't want painted such as under countertops or walls. Use a lint free microfiber roller across all flat surfaces for the smoothest finish. You will get the best results if you brush then roll before the paint has time to dry.
Notes
These instructions are for for paints that don't require primer like Fusion Mineral and Benjamin Moore Advance.
There are, however, 3 situations that I would still use a high-quality stainblocking primer:
Painting over dark cabinets with a light or white color
Oak Cabinets that have bad stains stains like deeply embedded oil or markers.
Cabinets with knots in the wood such as knotty pine.
My favorite never-fail primer is Kilz Premium (not the original).