We are so close to finishing up this bathroom renovation, that I almost can't stand it!
The awesome power of paint in a makeover never ceases to amaze and, frankly, I love that it is a budget saver. I have painted several furniture pieces but this is our first painted bathroom vanity and I will share some tips along with the new and improved version of this cabinet.
If you don't remember our builder grade bathroom, here is the before.
But look at this difference!
If I didn't know better, I would NOT believe that was the same vanity! Now, I am obviously not quite done with this entire process yet as you might notice that there are no countertops, faucets, or mirrors above this beauty. But we are getting very close! So consider this a sneak peek at how this bathroom is going to turn out. Painting this cabinet and adding the hardware just makes the whole room pop though.
Special Considerations for Painting A Bathroom Vanity
The color is Midnight Blue from Fusion Mineral Paints. The above picture is the best reference for what the true color looks like in lots of natural light. However, it does appear darker at night with the vanity lights on (they cast the vanity into a shadow so it looks almost black).
Now you might be wondering if there are any special considerations about painting a bathroom vanity. In any bathroom, moisture is definitely going to be a factor when deciding what paint to use. Fusion Mineral Paint is an Acrylic Emulsion based paint rather than something like chalk or latex which I would never use in a bathroom. While I haven't done it yet, I do plan on putting a matte topcoat on. The main reason that I am going to add a topcoat is because dark colors tend to show smudges and fingerprints more easily. If it wasn't such a dark color (in a kid's bathroom), I wouldn't worry about a top coat as much. While Fusion is wipeable and easily cleanable, I want to make cleanup as easy as possible. Also, I know my son and I can bet you that I will find dried on toothpaste stuck to this vanity. Ah, the life of a mom. 🙂 I would rather have a topcoat on it just to help me scrub that off without damaging the paint.
You Can Buy Fusion Mineral Here.
When I paint a furniture piece, I usually don't paint the insides or the drawer sides. It's just not worth the effort for me but I sort of like how the wood sides match the blue and brass hardware.
SEE OUR FULL BATHROOM REMODEL REVEAL HERE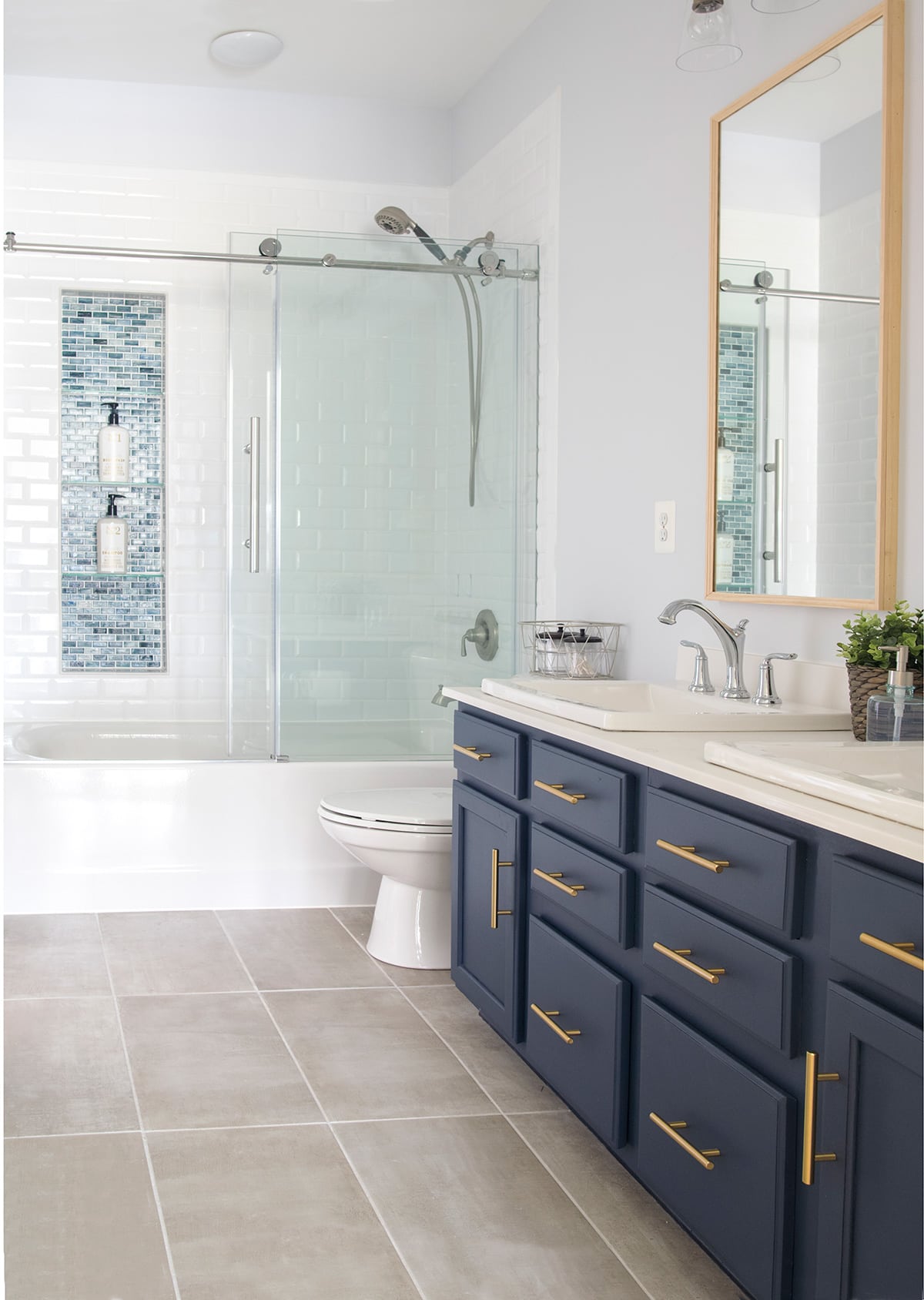 Three Easy Steps to Painting with Fusion Mineral
Fusion Mineral Paint is one of my all time favorites. For most pieces you only need to sand lightly. I used a 220 grit sandpaper on a palm sander for most of this piece and just hand sanded the edges of the drawers. After wiping all the dust off, there is no need to prime like with most paints. With a brush and microfiber roller, I painted 2 coats and that was all. And that's it! As I mentioned, I would like to add a matte topcoat to this piece but it usually isn't necessary. You can read more about my favorite top coats HERE.
Because I wanted to add hardware to this vanity, I drilled holes in each piece and screwed them in just like any other hardware.
Doesn't really get any easier than that!
So let's check in with where we are in the bathroom renovation!
So far, here are all of our sources and where we are on the to-do list:
Alright, we are on the homestretch! I have already picked out the countertops and faucets, so my main decisions are whether I should put something decorative over the toilet and by the light switch. What are your thoughts? Picture frame or shelves? What about a nail polish organizer? Wow, I guess the hard decisions aren't over yet!
Update: See Our Completed Bathroom Renovation Here
Want to see more furniture transformations? Check these out!
Pssst...
Grab our free series "Weekend Home Projects that will Transform Your Life"
Sign up below to receive updates including free printables, organization tips, home improvement projects, recipes and more!