Repairing baseboards isn't hard but those unsightly cracks and chips can build up over time as a house settles. Today, I want to show you how to repair your baseboards like a pro!
FrogTape® asked to work with me to help make all the baseboards beautiful again. As always, all opinions are 100% mine.
If there is one fact I know about older homes, it's that the poor baseboards and trim take far more of a beating than they should. All those pretty wall pictures on Pinterest with the stunning crown molding and crisp baseboards? I have yet to move into a house like that. You name it and I have probably fixed it. I have seen dog chew marks, people paint right over dirt, and, well, let's leave it at that. It's really sad too because beautiful baseboards and edges really can make a wall stunning. It's those little details that make a difference. That's ok, we can fix it! It all starts with some tape and a caulking gun.
Both sets of stairs were badly cracked, but the baseboards themselves seemed to be in decent condition. Replacing them seemed like an extra step we didn't need.
Supplies For Caulking and Baseboard Repair
silicone caulk –This caulk is my favorite. *Make sure it is paintable caulk made for trim*
a caulking tool – This tool won't drip after release and is much easier on your hands than the cheaper ones.
a caulk scraper and a plastic putty knife
scissors or utility knife
sandpaper
painting supplies (paint brush/roller/Tape)
Begin by scraping off the old caulk. I love this a caulk scraper because it won't gouge the wall or tile. Scrape or sand any excess texture off to create a smooth surface.
One trick to caulking any area is to cut the tip of the caulking gun at an angle. As you are caulking, hold the gun so that the tip is completely flush with the baseboard. Since I do a lot of caulking, getting a nicer gun with comfort grips that won't drip after I set it down is really worth it.
And that has got to be the worst caulk job I have ever done. I am holding a camera at the same time so you forgive me, right? I promise, it will all get smoothed out and it will be our little secret.
If you aren't comfortable with caulking, you can use specialty tape for Multi-surfaces. I have been in love with the clean lines that FrogTape gives me since I first discovered it while painting a racing stripe design in my son's bedroom. I immediately noticed how much cleaner the lines were compared to other brands. Who wants to have to go back and touch up boo-boos from inferior tape? Ain't nobody got time for that!
Oh, I love a good reveal! Don't you?
Second pro-tip: skip all those fancy caulk tools and use your finger to smooth out the caulk. Use your index finger at an angle with light, but consistent pressure with your caulking gun in long swipes to get the best results. I usually caulk several feet and then wipe the excess off in one stroke. You want to press on the sides enough that you see the edges of the tape clearly before you tear it off. Peel off the tape immediately while the caulk is still wet.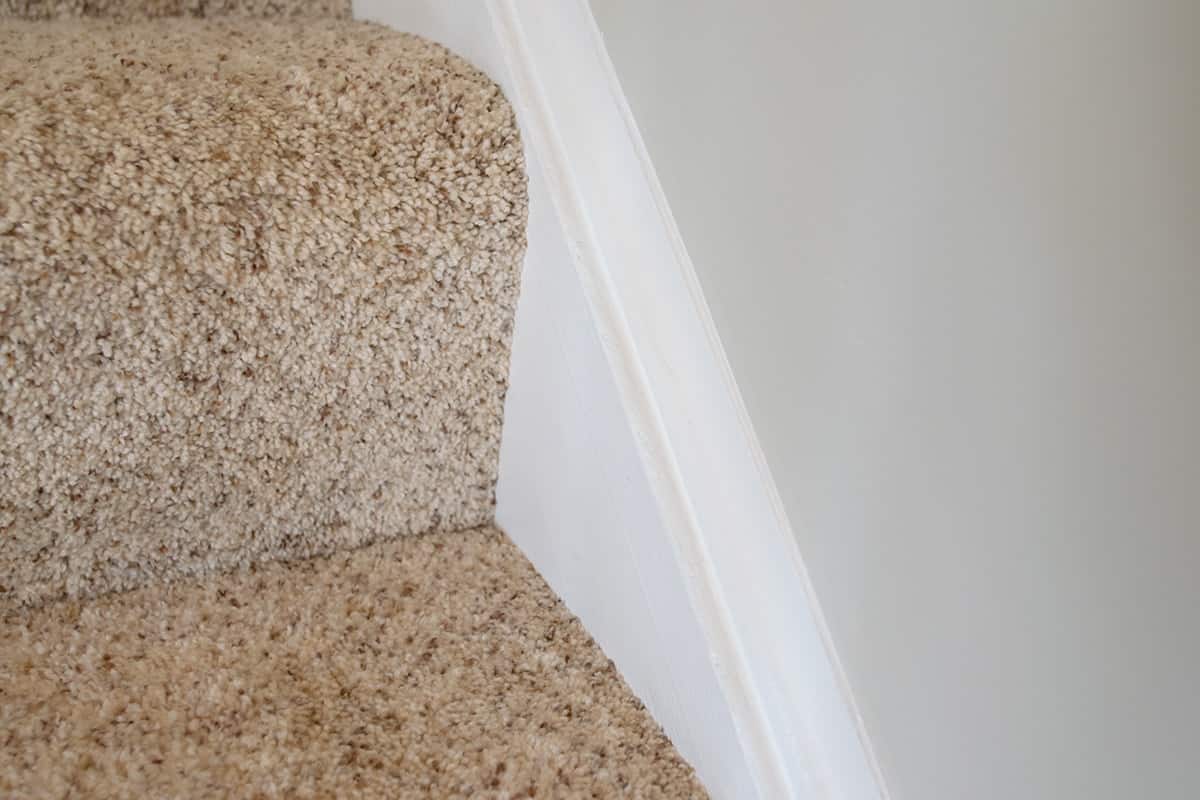 This is the mirroring staircase and it was in exactly the same condition before we repaired it. See what I mean? Those clean lines really look professional!
While we still have some work to do sanding and patching that wall, I wanted to share a few tips on making those baseboards and walls looks stunning and professional. I always paint my baseboards first because they are lighter in color. If you were using a darker color on the baseboards than on the wall, you may consider painting the wall first. I also find that taping the baseboards last provides an overall straighter line. I love the delicate surface tape for this purpose because it is made specifically for freshly painted surfaces. I even tape off the carpet to make it easier to paint the baseboards.
Looking for More Simple Ways to Improve Your Home?
Who knew baseboards could be this exciting?!
Pssst...
Grab our free series "Weekend Home Projects that will Transform Your Life"
Sign up below to receive updates including free printables, organization tips, home improvement projects, recipes and more!
More DIY Home Projects: