This Cajun crawfish & seafood boil recipe, featuring my deliciously flavorful Cajun butter sauce, makes the ultimate summertime feast. A surprisingly simple, yet sophisticated, one pot meal with fresh seafood, flavorful corn, and tender potatoes. Bet you won't make it any other way after this!
Gather friends and family for the ultimate feast! This is a meal and an event! Nothing kicks off the summer season like a traditional seafood boil. This simple one pot meal goes by many regional names: low country boil, Frogmore stew, and Louisiana crawfish boil to name a few. But by any name, it's a communal eating tradition that spans generations.
The secret to a delicious seafood boil is the seasoning. My family is wimpy by Louisiana standards when it comes to heat, so I tend to have a lighter hand with the cayenne. Nevertheless, my homerun Cajun seasoning is always a crowd favorite. This custom blend of spices is versatile enough to use on everything from Blackened Chicken, Blackened Mahi Mahi, Oven Roasted Potatoes, and even makes an appearance in creamy Cajun Crab Dip.
This recipe is everything- savory, spicy, and straightforward. The corn and the potatoes draw in the seasoned water bath so that every bite bursts with flavor. Although I will never turn down some crab legs, the corn is a serious contender for my favorite part.
There are no rules on what has to be included and I have included a little cheat sheet to make it affordable or eye-popping fancy. Silverware optional, napkins essential! Let's get started!
What Goes in a Seafood Boil?
The beauty of this dish is there is that there is no one right way to do it when it comes to what seafood to use. While this lady will never pass on the opportunity to have snow crab legs, you can go as fancy or affordable as you like. To me, andouille sausage and crawfish are essential southern and Cajun flavors to include.
There are about 5 pounds of seafood in this recipe. Feel free to adjust the balance of each to more or less, as desired. It won't change the amount of seasoning or other ingredients.
Seafood Ideas:
Crawfish (aka crawdads, mud puppies, poor man's lobster, crayfish, mud bugs)
Snow Crab
Lobster tails
Mussels
Clams
Shrimp
Ideas beyond seafood:
Andouille Sausage or Smoked Sausage
Alligator Tail
Hard boiled eggs (this is a new one for me)
Vegetable or Sides:
Corn on the cob
Fingerling or small potatoes
Onions
Okra

Long Green Beans

Cornbread on the side
Equipment Needed:
A HUGE Pot – I make this in my 20-quart Canning Pot. If you don't have a pot that large, you can divide the recipe into 2 large soup pots evenly.
Newspaper or vinyl tablecloth
A Come-As-You-Are Attitude
How to Make a Cajun Boil
The shelling and cleaning of all the seafood is the labor-intensive part, and that can be done the day before. Putting this meal together only takes 30 minutes in a big pot!
Brown the aromatics – Certain flavors are just better with a little heat. I like to brown the sausage and then cook the spices and garlic for 1 minute to really bring out their flavors and add a little smokiness.
Boil the Corn and Potatoes – Let all that seasoning infuse for 20 minutes or until tender.
Poach the seafood – Crab legs and crawdads are pre-cooked, so they only need a few minutes just like the shrimp, mussels or clams, and other seafood. The mussels should just open, and the shrimp should be pink throughout. Toss any shells that don't open.
How to Serve a Seafood Boil
The fun part! Some friends poked fun at me for photographing this on a cookie sheet. "Girl, you ain't no southerner! You throw that pile directly on the table!"
They aren't wrong that this recipe is often tossed on newspaper in the middle of the table and served family style so everyone can grab what they like. However, this a no judgements type of recipe if there ever was one.
I also like a vinyl tablecloth instead of newspaper though because cleanup is super easy. Just roll up all the trash and shells inside the tablecloth and toss. Done. Easy.
Tips for a Successful Cajun Boil
Don't overcook the seafood. My particular recipe is designed so that all the seafood can be added at the same time, but if you make substitutions like clams or lobster, they may take a few minutes more or less to cook.
If you have never sucked on a crawfish head, try it! Personally, I think it's overblown, but it is really fun taking photos of all your friends doing it. Ah, memories. Pinch off the tail and insert the open side of the front in your mouth.
Don't forget the accoutrements. Crab leg crackers or mallets, lots of napkins, hot sauce, lemons, and more butter (always more than you think you will need) are essential.
Have fun! I like to clean and prep all of my seafood before family arrives so I can hang out while the boil is going on. Seafood boils should be stress free and fun.
More Delicious Recipes from Our Kitchen
FAQs
What goes with a seafood boil?
The beauty of a seafood boil is that it is a one pot meal. Corn and small potatoes are traditionally included, but you could serve cornbread, green beans, or a simple salad on the side.
How to reheat Seafood?
For leftovers, heat the corn in the microwave. The seafood should be steamed. Add water in the bottom of a large pot and heat to boiling. Add a double boiler or a large mesh strainer over top of the boiling water. Add the shellfish and seafood and cover. Steam until warmed through.
What is a Louisiana Crawfish Boil?
These little crustaceans keep hungry boil-goers busy, busy peeling, shucking and slurping. It is the crawfish that make this style of boil very unique and extremely regional to Louisiana.
Do I need fresh, alive crawfish?
Lucky you that you have fresh, alive crawfish! In many areas of the country this is hard to find and, thus, this recipe is based around frozen, pre-cooked crawfish. If you use fresh, then the cooking time of the crawfish will change.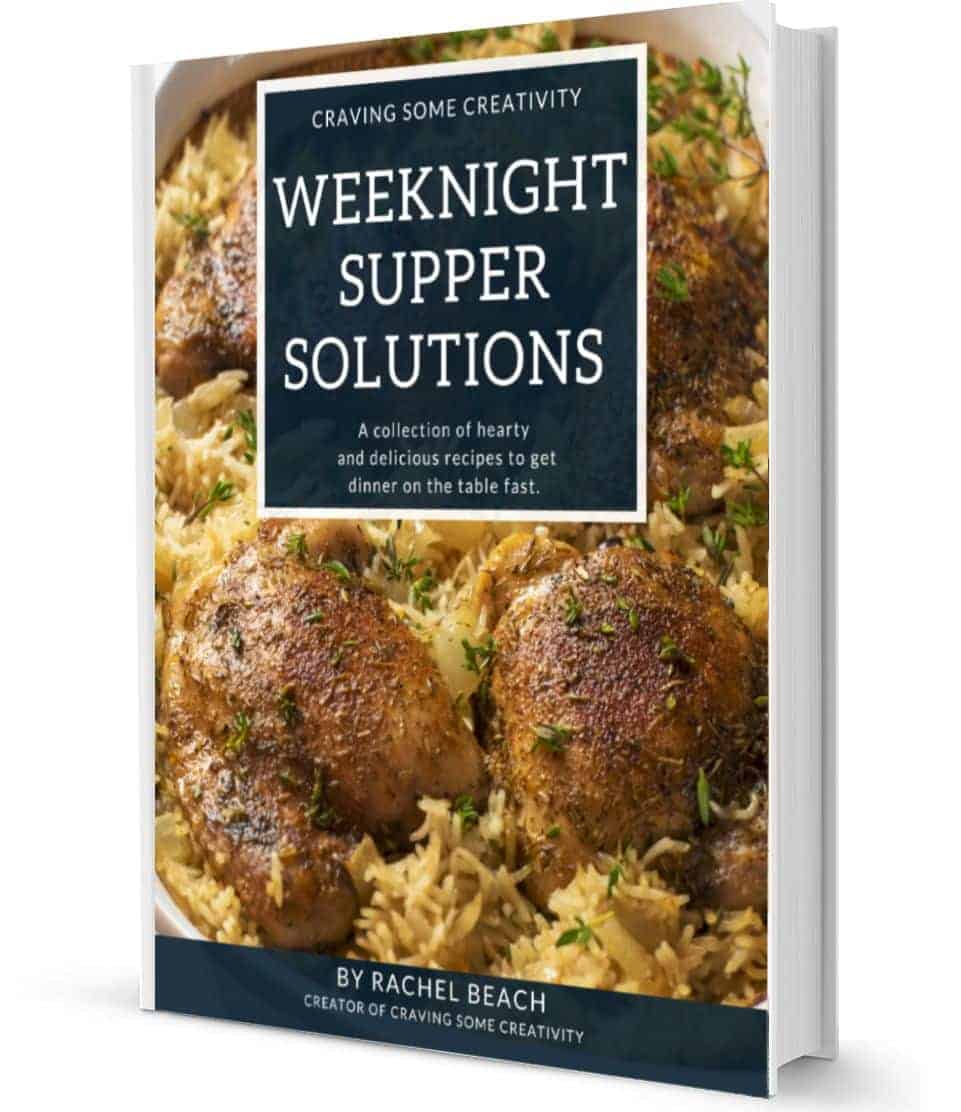 Not Sure
What's For Dinner?
Signup for recipe updates and get a free cookbook of Easy Weeknight Supper Solutions!
Check Out Our Other Recipes
PS. If you make this recipe, leave a COMMENT AND A STAR RATING in the comments section at the bottom and be sure to take a photo and tag it #cravingcreative on Instagram! I appreciate you for taking the time to read about me and my family recipes. 
Cajun Crawfish & Seafood Boil
A Cajun crawfish & seafood boil featuring my deliciously flavorful Cajun butter sauce makes the ultimate summertime feast. A surprisingly simple yet sophisticated one pot meal with fresh seafood, flavorful corn, and tender potatoes. Bet you won't make it any other way after this!
Print
Pin
Rate
Equipment
Newspaper or vinyl tablecloth
Ingredients
Cajun Spice Mixture
2.5

tablespoon

Paprika

1.5

teaspoon

Cayenne

*See note to adjust heat level

1.5

teaspoon

onion powder

1.5

teaspoon

Garlic Powder

1

teaspoon

Dried Thyme

1

teaspoon

Dried Oregano

1

teaspoon

White Pepper

Black Pepper can be substitued

2

teaspoon

Salt
Seafood and Vegetables
1

tablespoon

Vegetable Oil

8

oz

Andouille or Smoked Sausage

Cut into 1-inch pieces

2

teaspoon

Minced Garlic

48

ounces

chicken broth

6 cups

Water

1

lb

Small Gold Potatoes

4

ears

Corn

Cut in half or about 3 inch pieces

1

lb

Mussels or Clams

1

lb

Shrimp

deveined, shelled but with tails

1-2

lb

Snow Crab Legs

2

lb

Crawfish

frozen, pre-cooked

Chopped Parsely

for garnish

Hot Sauce

for serving

3

Sticks

Unsalted Butter

2 sticks for recipe, 1 or more for serving, but you may need more. Remove ½ salt if using salted butter

4

Lemons

Sliced into wedges
Instructions
In a medium bowl, combine all spices for the cajun seasoning mixture. Clean and prep all seafood.

Heat oil in a large stockpot over medium-high heat. Add the sausage and cook until browned on both sides. Add garlic and ¼ cup of the cajun seasoning mixture. Stir and cook for one minute.

Into the pot, pour the chicken broth. Add the corn and potatoes. Add enough water to cover the potatoes and corn. Bring to a boil and cook about 20 minutes. The potatoes should be tender, and the corn cooked through.

After the potatoes are done, add crab legs, shrimp, mussels, and crawfish to the pot. Cook 5-6 minutes or until the shrimp is pink and cooked through. Remove from heat and drain, reserving ½ cup of liquid.

While the pot is boiling, melt the 2 sticks of butter in the microwave and skim the top cloudy part off. Whisk in 2 teaspoons of the Cajun seasoning mixture. Add in the reserved liquid and whisk. Pour over the seafood or serve on the side for dipping.

Serve on a cookie sheet or directly on the table over newspapers or plastic table cloths. Garnish with parsely if desired. Serve with melted butter, lemon wedges, hot sauce, and crab cracker utensils or mallets.
Notes
Heat/Spice Level:
This is well seasoned but not particularly spicy (my family is a bunch of proud whimps by Louisiana standards). That being said, I often leave out the cayenne for guests who are sensitive or have even doubled it for those who like some kick. You can also serve hot sauce and a cayenne shaker on the side so others can choose their own level.
Nutrition
Serving:
3
cups
|
Calories:
610
kcal
|
Carbohydrates:
29.6
g
|
Protein:
61.7
g
|
Fat:
27.3
g
|
Saturated Fat:
11.3
g
|
Cholesterol:
315
mg
|
Sodium:
948
mg
|
Potassium:
1337
mg
|
Fiber:
4.3
g
|
Sugar:
4.2
g
|
Calcium:
182
mg
|
Iron:
7
mg