Lighting is a huge part of any room transformation. A well-chosen vanity light becomes a focal point, setting the scene.
We are sprinting towards the finish line in the bathroom makeover. I won't lie, paint clothes have become the norm and I may have cried a little at the exhaustion and frantic pace we have been going at. The tile installation took so much longer than we anticipated. As I look around at the room, I wish I could just wave a magic wand and Poof! instant makeover.
But today's project comes pretty close. New light fixtures in under an hour!
I actually know homeowners who have purchased their homes based on the fixtures installed! In truth, it's a simple DIY project to tackle with some practical ground rules in place.
UPDATE: SEE OUR COMPLETED BATHROOM RENOVATION HERE.
How To Choose A Bathroom Vanity Light
Light it up. A bathroom is really a task area. To decide lights, think about the tasks you perform and lighting requirements. Develop areas of light like a lighted makeup mirror, separate his and her sides, light rimmed mirrors, and overall brightness needed. Bathrooms and kitchens need the most light, about 70-80 lumens per square foot. To figure out how many lumens you need, multiply the bathroom square footage by 70.
Size & Shape. Choose a fixture that will fit appropriately. Decide how much area your fixture will require, how low it may hang, etc.Vanity lights, except sconces, should hang well above eye level. You don't want to be staring directly into a bright bulb all the time.
Classic vs Trendy. Everyone's esthetic differs. This is your home so ultimately it should be a reflection of your taste. However, before choosing a fixture that screams "design trend of the moment," consider the longevity. Choose a fixture that has broad enough appeal to mesh with multiple styles of design. So when the urge to redecorate strikes, the light fixture withstands the test of time.
Price, price, baby! Light fixtures can be super pricey.
A few drool worthy choices:
Budget Friendly Vanity Light Fixtures
Many of these come in multiple choices in the number of lights and color choices.

Budget Friendly Vanity Sconce Lights
I am loving the look of vanity lights being on the side of mirrors rather than the top. Many of these come in multiple choices in the number of lights and color choices.

Turn A Single Vanity Light into Two Lights
When working with electrical, I always advocate for common sense. Consult an electrician if you aren't 100% confident of what you are doing. It is very important to understand whether you are increasing or decreasing the load on a circuit when replacing a fixture. Working knowledge of basic building code is highly recommended, for instance all junction boxes must be accessible. Read the directions that come with the newly purchased light fixture and prepare your workspace with all the proper tools before the installation process begins.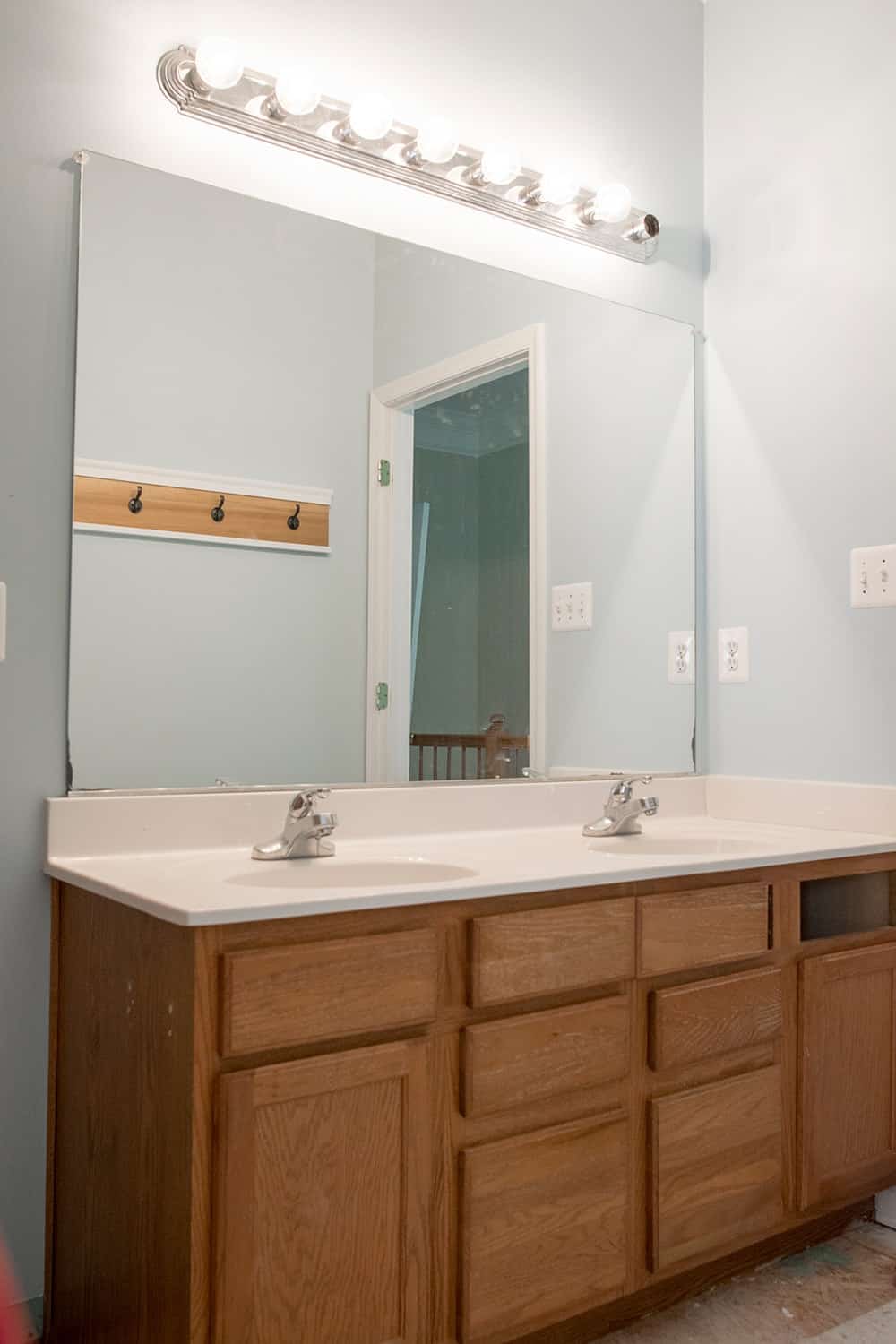 In the case of my guest bathroom remodel, I wanted to replace a builder grade 8-bulb fixture. (Who needs 8 bulbs in one fixture?!) Back when I was making plans for this bathroom, I knew we wanted to change the over-sized mirror into 2 separate mirrors and make the sinks into distinct stations.
That meant turning our single oversized light fixture into two stunning transitional lights. What amazed me was that despite going down to four light bulbs, the room is just as bright and well-lit as before.
In order to separate the lights, we cut a hole where the original wires fed through the wall and fished it over to where the first light would go. We installed the first light as usual directions would indicate (black to black, white to white, ground wire) and created a daisy chain to the second light. If you are unfamiliar with daisychaining, it is a way to wire things in a sequence. If you have ever plugged a multi-plug into a multi-plug or hung christmas lights, you have created a daisy chain.
Basically you have wire A that comes from the wall, Wire B that are the wires coming from the first light, and Wire C that fishes over to the second light. We wrapped all three together with a wire nut and fished wire C over to the second light. Then we installed the second light according to directions. Lastly, we patched the big hole where the old light used to be and done, done, done.
I don't have much to show without the mirrors and vanity installed, but here is a sneak peek to the lights we installed. We are now only a few weeks away from the final reveal.
Grab our free series "Weekend Home Projects that will Transform Your Life"
Sign up below to receive updates including free printables, organization tips, home improvement projects, recipes and more!
More Bathroom Ideas: