Lighting is a huge part of any room transformation. A well-chosen vanity light becomes a focal point, setting the scene. Get helpful ideas on how to choose bathroom lighting, placement of vanity lights over a mirror, budget ideas, and design tips.
Lighting is one of my passions! From great kitchen island lighting, under cabinet lighting to beautiful entryway lights, I love it all. to We spend so much time on our homes, especially at night, there's just no reason to have bad lighting!
I actually know homeowners who have purchased their homes based on the fixtures installed! In truth, it's a simple DIY project to tackle with some practical ground rules in place.
And proper lighting is more than just a pretty fixture (although that definitely helps). This guide will help you learn how to choose bathroom lighting including selecting the right bulbs, how to brighten your space, and design principles for light placement and layout.
What type of lighting is best for a bathroom?
The best lighting includes layers designed to work to meet a variety of needs. Ample overhead lighting for tasks such as showering and setting the mood for things like a personal spa day, but also including spot lighting for tasks such as shaving or putting on makeup.
Also pay attention to the lumens, which are a unit of how bright a bulb is. Two bulbs with the same wattage can have vastly different lumens.
Lighting FAQs
What bulbs to use for the bathroom?
For tasks such as applying makeup, a Kelvin rating of 4800-5000 is recommended because it won't alter skin tone too much. Kelvin (K) is a unit that describes the color temperature of lights. 2700-3000K is soft warm light where 5000-5500 is bluer and considered daylight range. However, the color of your walls can affect the overall color range. For example, a blue bathroom will make daylight appear even cooler.
Should vanity lights face up or down?
Some fixtures make it obvious what their orientation should be. Others are more ambiguous. It is personal preference, although most circumstances dictate that light high on the wall face downward and lower lights face upward. Sconces at eye level should face away from the viewer so you aren't staring into a lightbulb.
How wide should vanity light be compared to mirror?
If you choose to place your lights above the mirror, the light fixture should never exceed the mirror's total width. As a rough guide, mirrors below 30 inches should have a fixture at least ½ the width of the mirror, closer to ⅔ or ¾. For very large mirrors, it is best to use more than one fixture.
How many lumens do I need for a small bathroom?
Bathrooms and kitchens need the most light, about 70-80 lumens per square foot. To figure out how many lumens you need, multiply the bathroom square footage by 70.
How many lights should be on a bathroom mirror?
A lighting fixture should not be equal to or wider than a mirror. The most common sizes for a small bathroom mirror are 2 or 3 lights.
Is LED light good for applying makeup?
While natural, indirect daylight is best because it is evenly diffused and the correct color temperature, LED light has an excellent CRI value (color rendering index). Make sure to use the best color temperature in a well-lit space.
How To Choose A Bathroom Vanity Light
Light it up. A bathroom is really a task area. To decide lights, think about the tasks you perform and lighting requirements. Develop areas of light like a lighted makeup mirror or a recessed ambient light to read labels. Bathrooms and kitchens need the most light, about 70-80 lumens per square foot. To figure out how many lumens you need, multiply the bathroom square footage by 70.
Size & Shape. Choose a fixture that will fit appropriately. Decide how much area your fixture will require, how low it may hang, etc. Vanity lights, except sconces, should hang well above eye level. You don't want to be staring directly into a bright bulb all the time.
Classic vs Trendy. Everyone's esthetic differs. This is your home so ultimately it should be a reflection of your taste. However, before choosing a fixture that screams "design trend of the moment," consider the longevity. Choose a fixture that has broad enough appeal to mesh with multiple styles of design. So, when the urge to redecorate strikes, the light fixture withstands the test of time.
Price, price, baby! Light fixtures can be super pricey. We have included several affordable options at the bottom of this post.
Bathroom Lighting Ideas
There is no one specific placement for vanity lights, so you have options! Below are some examples of my favorite bathroom lighting layouts and ideas.
1. Sconces in line with the tops of mirrors
I call this the "Mickey Mouse Ears" design. Truthfully, I mean that in an endearing way as I designed a bathroom with nearly this exact lighting style. It is best to space this style far enough from the mirror so that it doesn't overlap or line up in a perfect triangle. This one is the most common for a small bathroom recessed lighting layout because you still get a focal point for lights.
2. Lighting over top of the mirrors.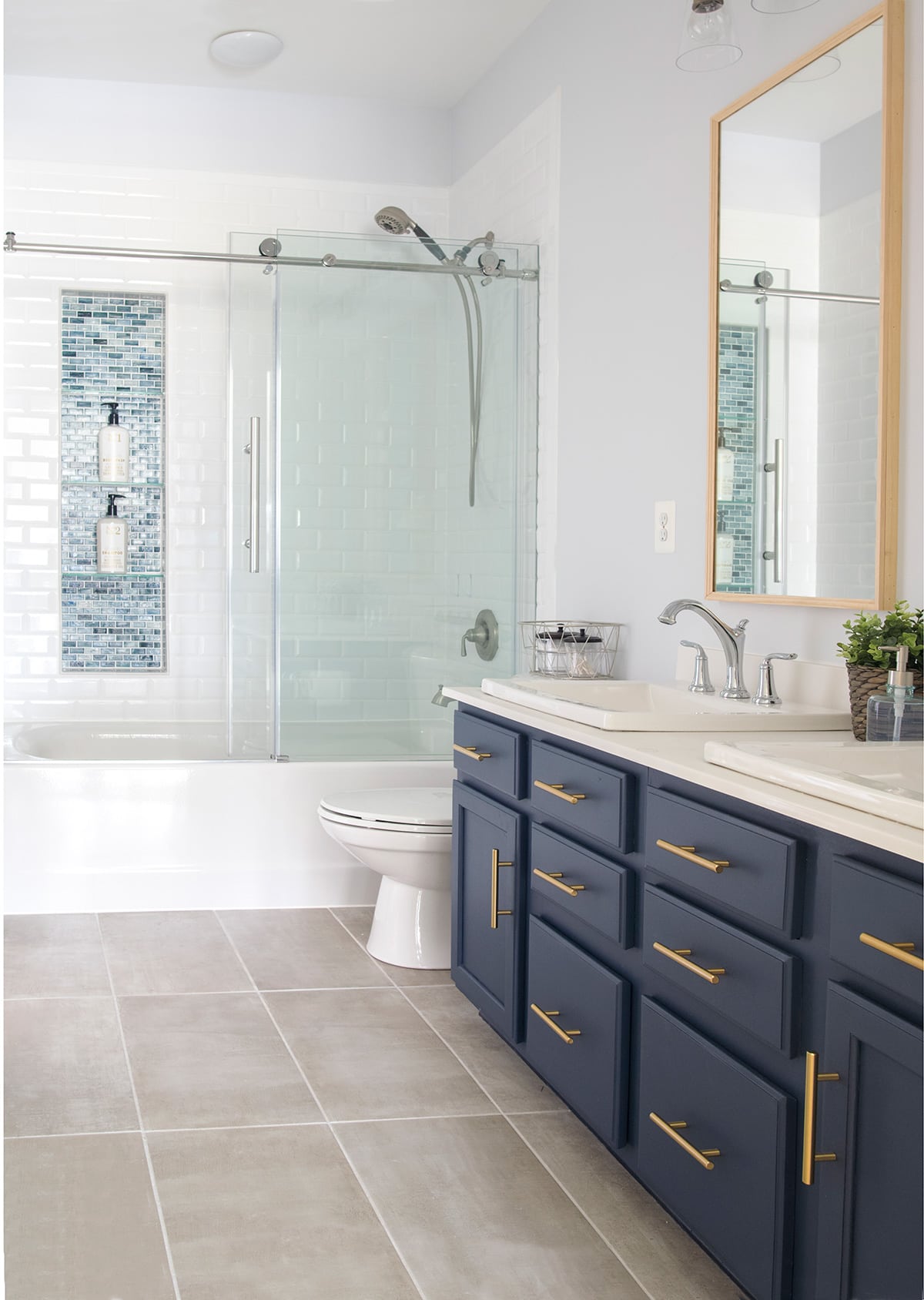 If vanity lights are placed over a mirror, they should be high enough not to reflect on the mirror itself.
3. Vanity lighting as a part of the mirrors.
This is one of the least common vanity styles as you have to have a custom mirror made with a hole for the lights to go through. However, it looks very elegant and can provide a taller looking room if done well.
4. Pendants and Recessed Lighting
Proper lighting should be a mix of ambient and task lighting. In this bathroom, they did a great job of using a skylight and recessed lighting to brighten the space while using task specific touches that can be used for ambiance or to touch up makeup expertly.
5. Sconces Between the Mirrors
Sconce fixtures on the side of mirrors are great to eliminate shadows under the chin and eyes. This makes makeup application and shaving easier to view in full light.
Budget Friendly Vanity Light Fixtures
Many of these come in multiple choices in the number of lights and color choices.

Budget Friendly Vanity Sconce Lights
I am loving the look of vanity lights being on the side of mirrors rather than the top. Many of these come in multiple choices in the number of lights and color choices.

Our Remodel
If your dream lighting configuration isn't what you currently have, you don't need to tear out walls. We turned our single oversized light fixture into two separate fixtures wired to the same switch. Because we used better bulbs, the room is just as bright and well-lit as before.
Disclaimer: When working with electrical, I always advocate for common sense. Consult an electrician if you aren't 100% confident. It is very important to understand whether you are increasing or decreasing the load on a circuit when replacing a fixture. Working knowledge of basic building code is highly recommended. For instance, all junction boxes must be accessible. Read the directions that come with the newly purchased light fixture and prepare your workspace with all the proper tools before the installation process begins.
You can see our Bathroom Before and After Here.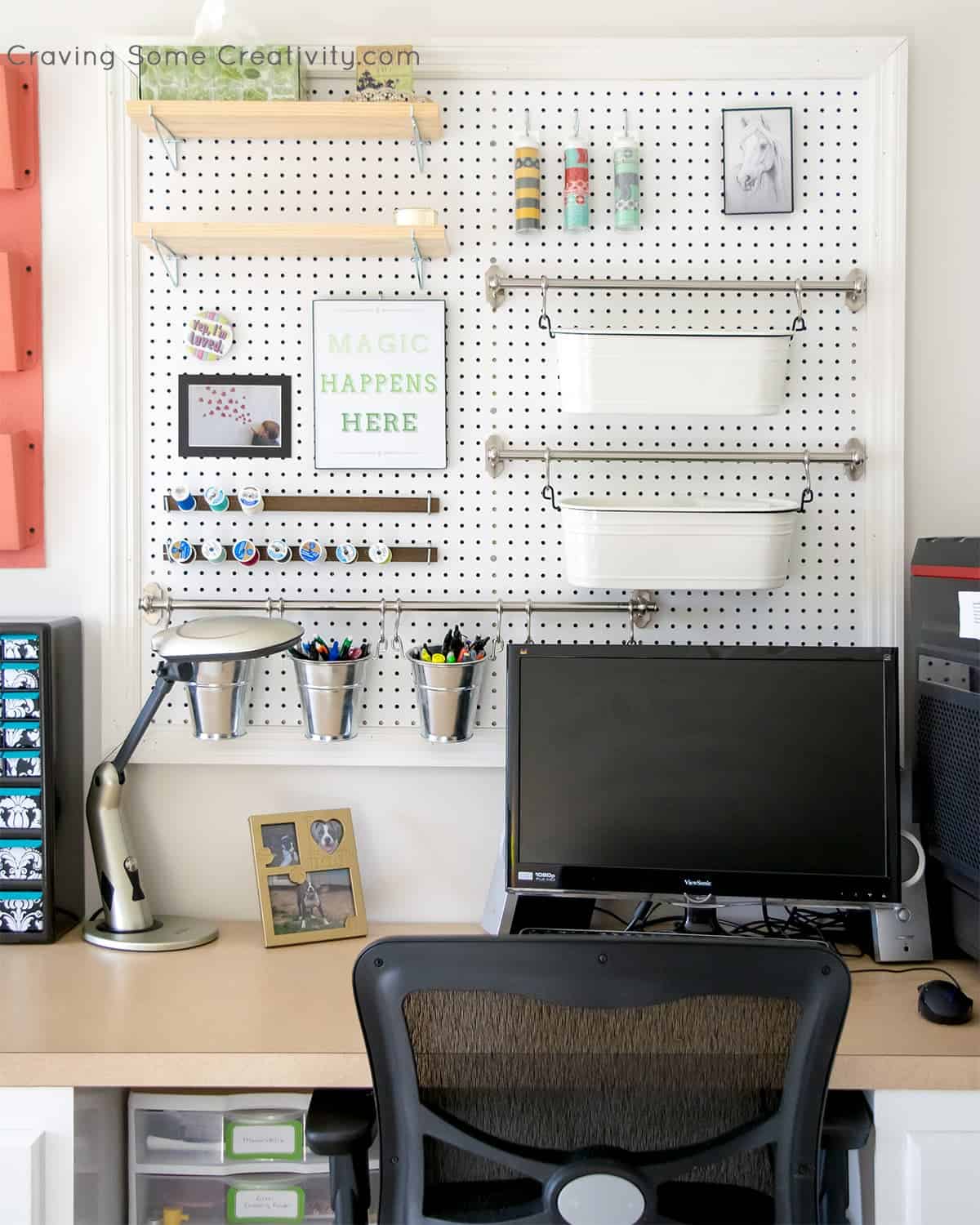 Grab our free series "Weekend Home Projects that will Transform Your Life"
Sign up below to receive updates including free printables, organization tips, home improvement projects, recipes and more!
More Bathroom Ideas