We created a DIY kids closet organization remodel to get everything organized in a tiny space. I hope this tour can give you lots of ideas for budget-friendly and smart ways to organize a toddler or big kid's closet.
So above is where we started:
Does the kid's closet look more like a dumping ground with useless wire shelving? Yep, been there! We were tired of it, so my husband and I created a DIY custom closet that get everything organized in a tiny space.
You can see more about how we built this custom closet in this post. Today, however, I want to talk about all the details that made it truly functional, with tons of tips on kid's closet storage and organizing ideas.
All the best pictures of closets on the internet clearly belong to the girls. Why do girls get to have all the fun? Well, not anymore, because this boy's makeover shows all the best ideas we used for simple space-saving hacks – with growing room!
Kids Closet Organization Planning
Like all makeovers, such as his homework station we had to imagine how we envisioned him (and us parents, of course) using this space.
Like most kids, our son lives in t-shirts and shorts, so he doesn't have as much use for clothes that require hanging. What he really needed was a place to store (and read) all of his books.
Seriously, how lucky am I to have a child who loves reading every day? It is a welcome break from the loud bangs, crashes, and general mayhem that is my darling boy.
However, the books are piling up. On the floor, on the bed, in his desk, in the bathroom and more places I can't even remember. It was time for them to have a place of their own.
We have our planning method down to a science. If you are interested, I talk a lot about the planning stages for organizing any project in How to Organize a Room in One Day.
Incredibly Useful Kids Closet Organization Ideas
We built this entire closet for about $200 (so much cheaper than those closet kits!) Once we finally agreed on the plan and budget, we embarked on our DIY closet mission, and I could NOT be more thrilled with how it turned out.
Here it is after building:
Storage on the Door
This is a very small kid's closet, so we tried to utilize every inch of space. The door rack on the back can be used for hats, shoes, dressing accessories, or books. We actually use this for books.
And here it is today! drumroll…
Double Up for Twice the Space
Builder grade closets usually put the racks so low that all that space up top is wasted. By raising the shelving, even just a little, we created enough space for two rods to hang clothes. This effectively doubles the hanging space!
Currently, we were slightly concerned our little guy would use the lower bar as a hanging apparatus, so we didn't add it, but we left space to grow into.
An Ikea Closet Hack
In his boy bedroom makeover, we used two IKEA towers for storage rather than side tables. The bins in the bottom are perfect to hide all of the kid's clutter and easy to label. This gave us the idea for this cube storage rack in the closet. The billy bookcase is the perfect height to use as shelving in the closet!
We use this currently for more books, his rock collection, and shoes, but it would also be a great staging area for outfits during school or for more bins.
Bins and Shelves
Bins are the best! I use the bins to store out of season clothes, but I could also include them in the shelves on the rack for items like socks, underwear or accessories. We considered adding lower shelves, but then we would not be able to add the second hanging rod.
I have spent a lot of time selecting just the right bins and storage systems in the house. I even built a guide that shows all my favorite Storage Ideas for Organizing Small Spaces.
Hooks For Maximizing Storage Space
We added gold hooks on the side of the bookcase unit. They are perfect to store hats or belts and small bags. We also considered adding them on the back wall behind the clothes or the opposite wall, but we can always add more later if we need to.
Built In Laundry Hamper
In the bookcase, instead of adding shelves in the bottom, we used the space to create a hamper that slides out. We built the box out of plywood and used heavy duty drawer slides. At first, he could not reach the bottom, so we put a platform box inside to make it easier. When he grew taller (and his clothes got bigger), we removed the box to make more room.
Closet Dividers
Kids quickly outgrow their clothes, and you may purchase clothes that are a larger size for future use. Use simple dividers or different colored hangers to separate the sizes. We also use space saving hangers in all our closets.
Accessible Storage
One of the biggest lessons along this journey is that if organization isn't accessible, we won't use it. My son is old enough to have a step stool in his room, so we could put things a little higher for him to reach. Keeping what he uses most in easy reach really does help when it's clean up time.
Pardon me for a moment while I gush. He is growing up fast. Seriously. Stop. Now.
More Organization Ideas
Makeover Video
I painted, wallpapered and organized this closet in four hours. Wanna see it happen in about 30 seconds? Huzzah! Haha, you're Welcome.
Kids Closet Organization Sources
Bins (similar, but I actually like these better)
Wall Paint Color – Valspar Oatlands Subtle Taupe
Blue Paint Color – Benjamin Moore Van Deusen Blue
Bookcase
Update 2022: We added the second clothing rod in 2021 and the closet works just as great as it ever has. He does have more hanging clothes now like jeans and long sleeve shirts, so I am glad we left that space. We also use the bottom half of the book storage on the door for shoes, but otherwise the closet looks the same.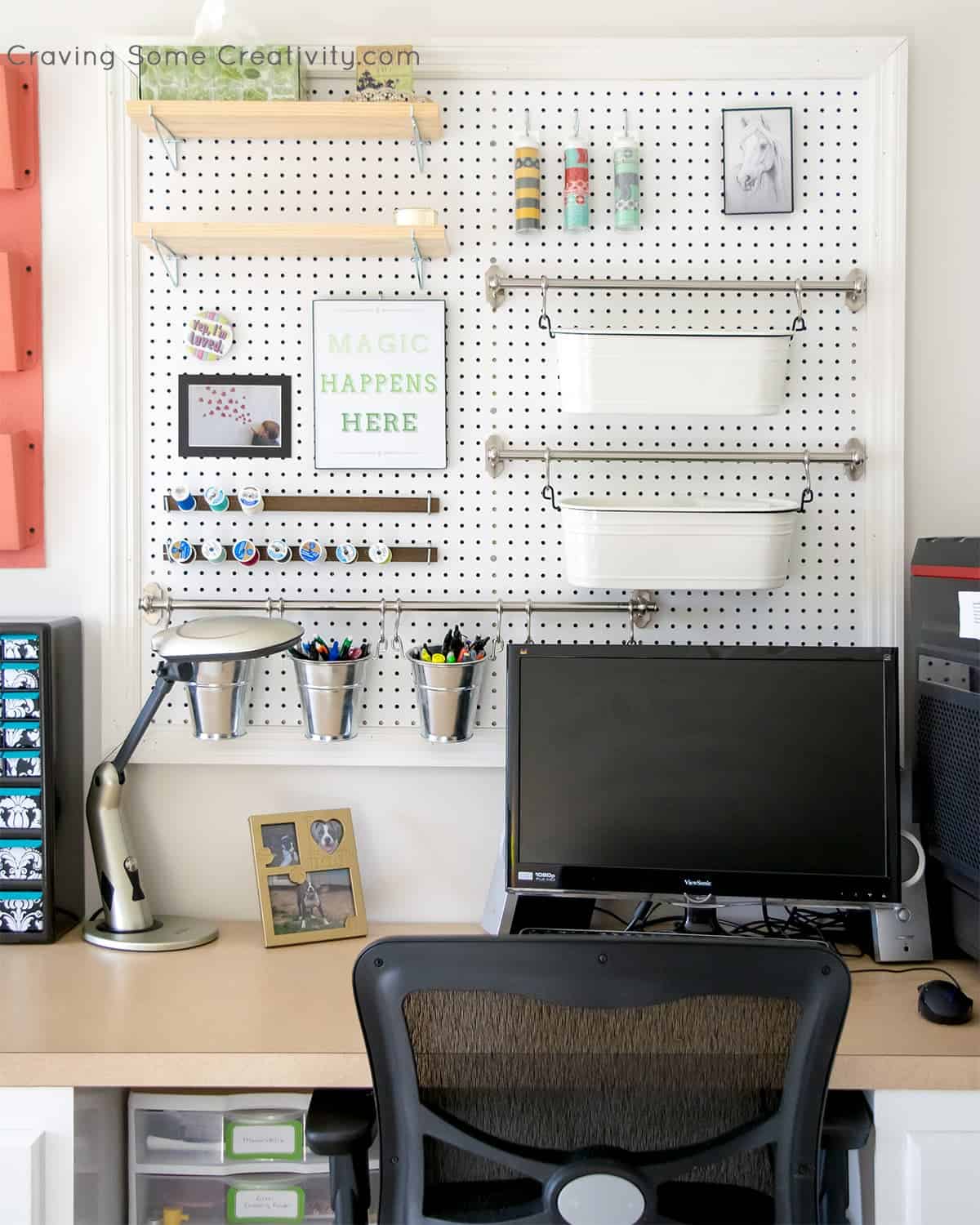 Grab our free series "Weekend Home Projects that will Transform Your Life"
Sign up below to receive updates including free printables, organization tips, home improvement projects, recipes and more!
More Organization Ideas
PS I love seeing your creations! Be sure to take a photo and tag #cravingcreative on Instagram! You can also stay in touch with me through following me on Instagram, Pinterest, and subscribing to the newsletter!