A traditional Christmas Mantel and hearth with layers of decorations to make your entire home feel jolly and festive! We include simple mantel decor ideas that will effortlessly transform your space into a Christmas dream.
It's time to deck the halls and get to new cookie recipes, shopping, and general merriment. Each year gets better and better as we go along in this adventure of DIY home improvement and making a house a home.
One of many surfaces that gets decorated for the holidays at our house is our mantel. Besides the tree, the mantle area is probably the biggest focal point for traditional Christmas decor. I've done a Hunter Green Christmas Mantel and a Nutcracker themed mantel, but I kept it pretty simple this year with our DIY wood pallet sign.
The living room has been going through a very slow transformation the last few months, and one of the ideas I had on my list was to add some window box trim to the area above the mantle.
Simple Rustic Red Christmas Mantel
I feel like it adds so much more dimension. The mantle itself is a new thicker, deeper board that we had laying around the shop as well. It feels much sturdier than the terrible MDF that it was there before.
Related: Check out our in-depth tutorial on How to Add Wainscotting for more details.
Most of the elements are the same from last year including our embroidered stockings and a beautiful garland similar to this one.
Christmas Mantle Decorating Tips
Even if you don't have a mantle, there are so many fun ways to decorate an area like a mantle. You could use a big chunky shelf, a sideboard, or an entry table to hang your stockings from.
Use stocking hooks for no damage hanging (these hold up to 5 lbs).
Think about the overall shape. Choose an overall shape based on your mantel size, such as symmetrical or offset. Use a mix of tall, short, wide, and heavy or light items.
Achieve balance by thoughtfully repeating items (groups of 3 or 5) and arranging taller accessories in the back while smaller items are front and center.
Prop items up for more height. I use scrap wood blocks so trees sit above the garland.
These command hooks are a great no damage way to keep your garland from falling. I wrap wire around the hooks and then around the garland so it sits exactly where I want it!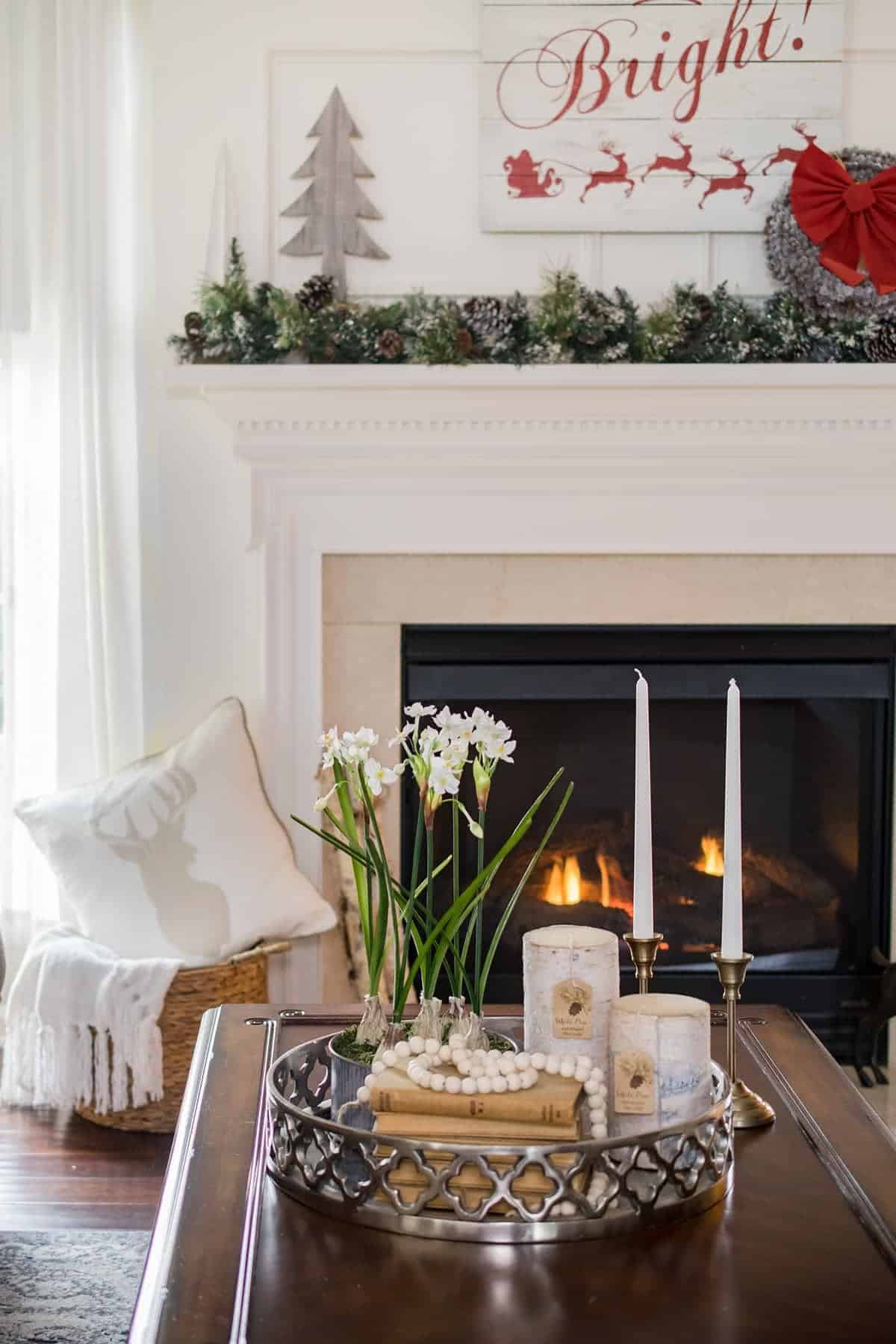 Layer Garland for More Fullness
Garland can be really expensive. One of the ways I have added fullness is to combine one less expensive garland and add greenery or florals from the craft store (especially after the season!). Doubling up with two garlands is also great for that lush look.
Create a Cozy Atmosphere
Decorate the areas around the mantle such as shelves, the fireplace, or a coffee table will add to the overall cozy vibe of your mantel as well.
I was so in love with our fall coffee table decorations this year that I wanted to create a Christmas themed coffee table. Using our mirrored tray, I added some paperwhites and birch candles. I have also been having a lot of fun putting these wood bead garlands in places around the house.
Match the Mantle and Tree (if they are close to each other)
I have three trees in our house and each of them is decorated uniquely with different color schemes and even themes. I try to incorporate similar elements between the mantle and tree such as pops of red and greenery.
I thought it would be great to have my husband's family tree because his whole family gathers here every year for Christmas. It's a nostalgic addition that truly warms my heart to think about the littles opening their presents under Grandma's tree.
Christmas Wall Decorations
The newest changes to our living room are these two armchairs which replaced our old loveseat. I added some deer head pillows and love the look opposite of the tree.
Behind the chairs sits our awkward wall between the stairs that I put a gallery wall on. Although I changed up this area after this photo was taken, I love the little touches of Christmas.
Merry Christmas from Our Family to Yours!
Links to Decor Sources
It feels like this room is coming a long way though since last year. The new blinds, curtains, mantle, rug and chairs are giving me all the good vibes that this will work throughout the year.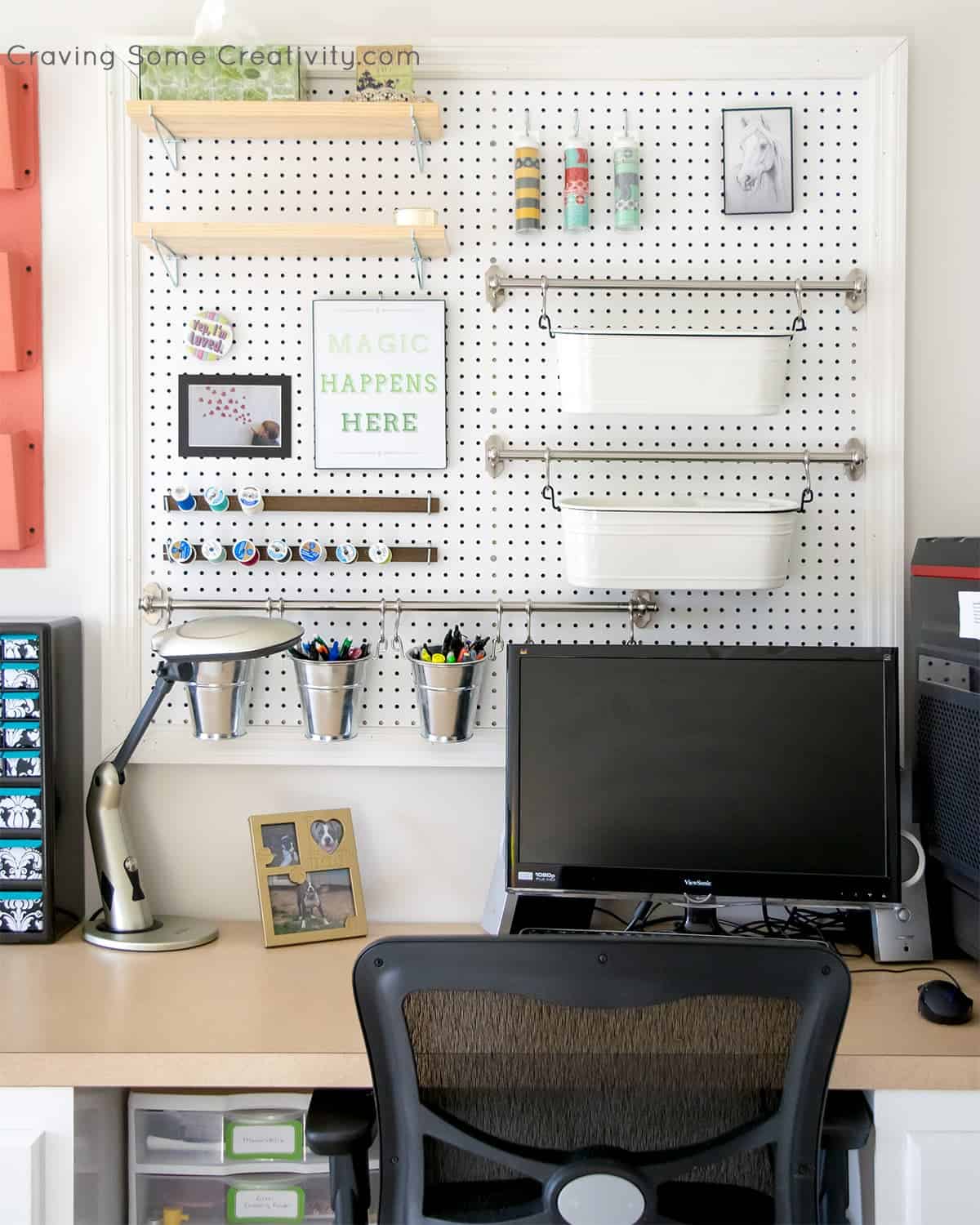 Grab our free series "Weekend Home Projects that will Transform Your Life"
Sign up below to receive updates including free printables, organization tips, home improvement projects, recipes and more!
More DIY Christmas Ideas