Wanting to Paint your Oak Kitchen Cabinets? Don't go out and buy paint until you read these tips for painting cabinets the right way!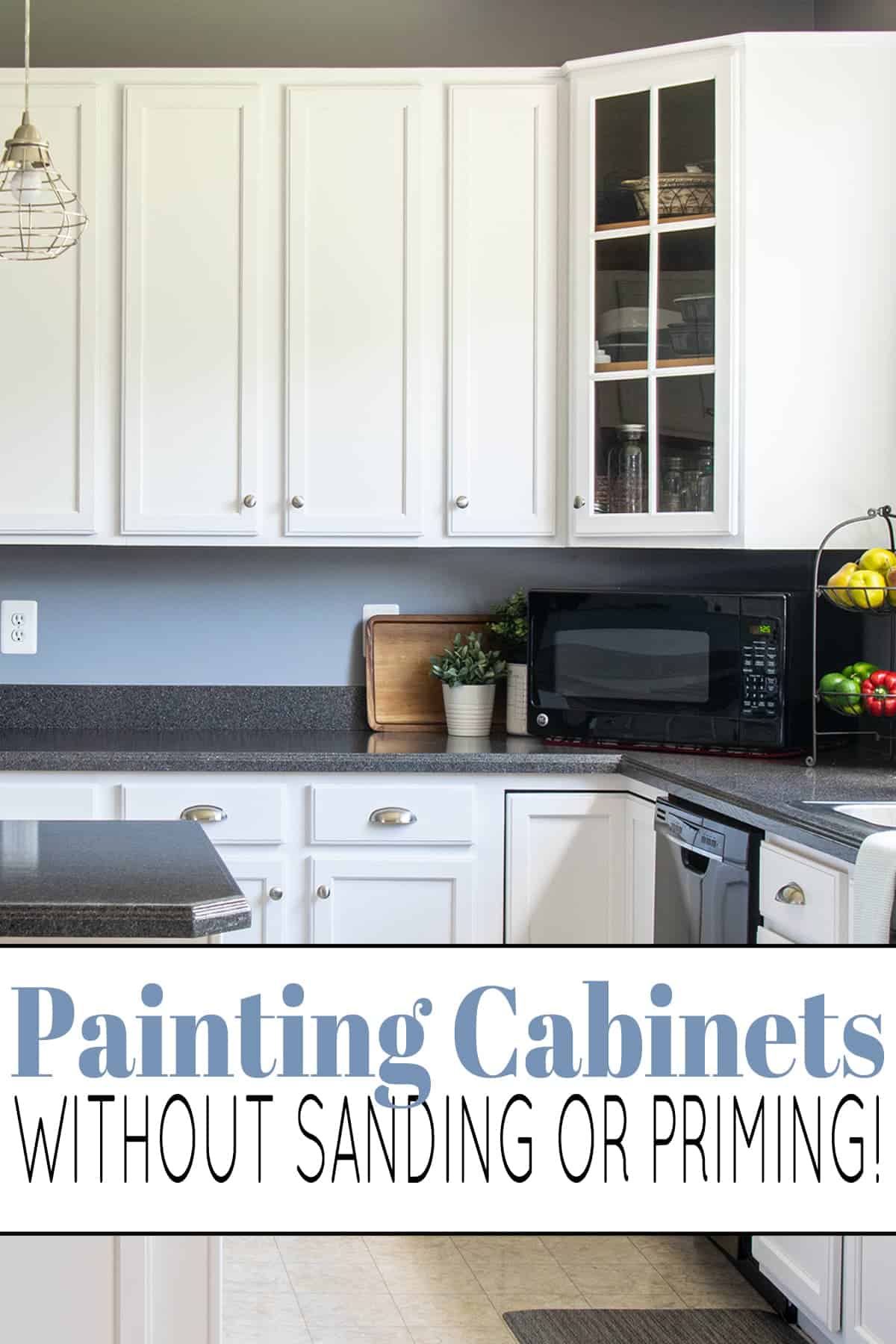 There is no question that painting kitchen cabinets is a big project, and it's tempting to just slap some paint on them and be done. But if you want a paint job that will look great with a finish that will last, it's best to take the time to do it the right way.
I have done many, many furniture painting tutorials and troubleshot lots of paint projects for clients, so this is THE guide and the process for getting a finish that is long lasting and professional looking!
My Go-To Painting Supplies
This is just a handy list to refer to. Many of these are your preference based on your specific situation, but I will explain in the steps below.
These are pretty standard old oak kitchen cabinets. Oak has a very distinctive grain, and if you are looking to smooth that out, check out my post on removing wood grain. Today, I am sharing our tried-and-true painting techniques for painting kitchen cabinets.
How To Paint Oak Cabinets Step-by-Step
1. How to Prep Kitchen Cabinets for Painting
First, remove all the hardware and use this cleaner for getting any and all grime and dirt off of them. Make sure to remove any residue well before proceeding. We made our space in the basement with a huge tarp and a large piece of the nasty carpet we replaced when we moved in.
Pro Tip: Number the doors when you remove them so that you know where each one goes when you're putting the kitchen back together.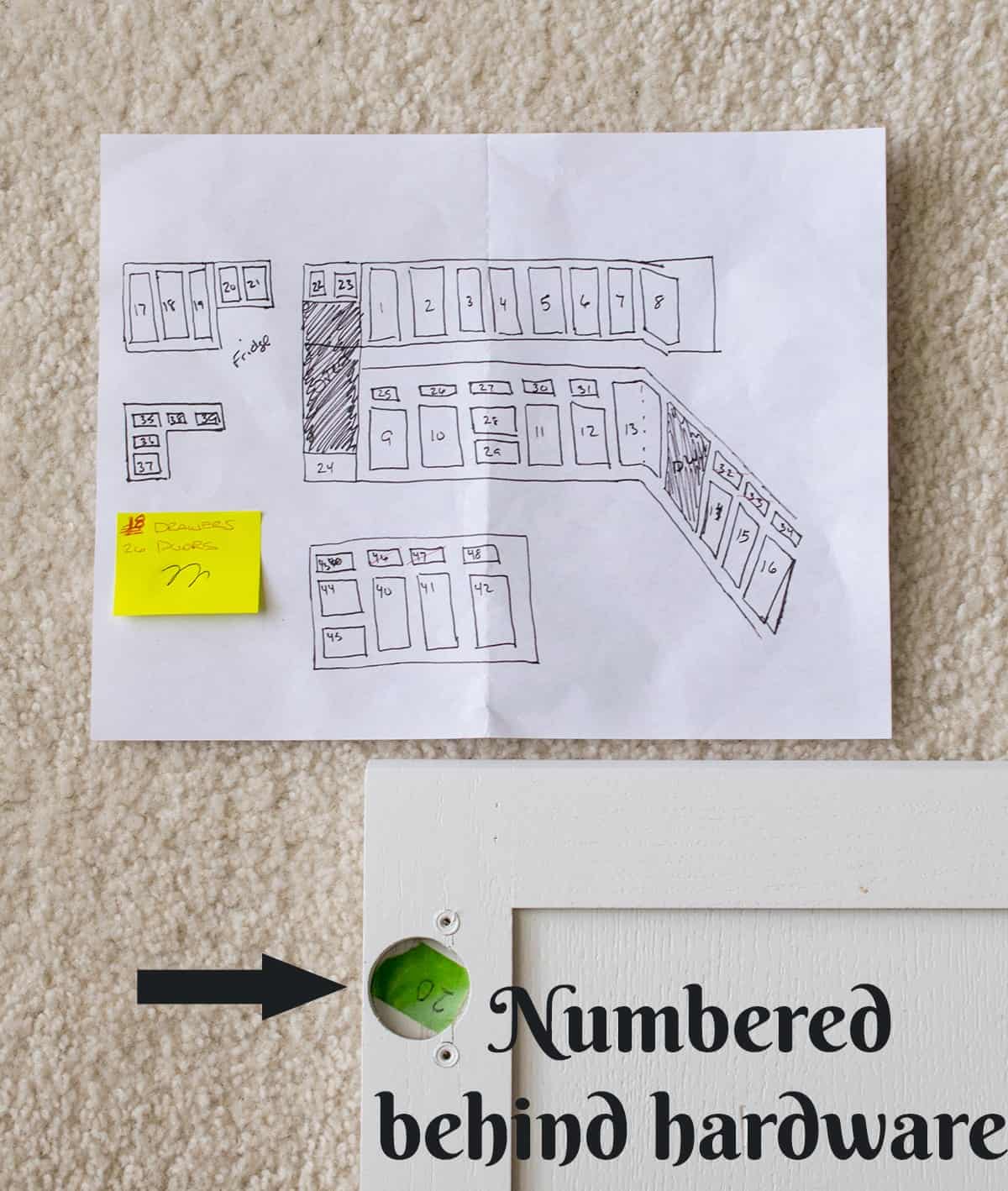 These particular cabinets are a solid wood front with sides that are laminate covering fiber board (aka very common style kitchen cabinets).
2. To sand or not?
There are two ways of removing the varnish/sheen that kitchen cabinets: sanding and deglossing.
The first way is to sand with a palm sander or a mouse sander (we use a multi-tool for corners, which is one of our best ever purchases. You don't necessarily need to get every bit of varnish off. I give a general rule – sand just enough to take the gloss off.
Sanding is going to give the best bond, particularly for old kitchen cabinets where the topcoat is degraded. I highly recommend the sanding method for high traffic surfaces such as around knobs and door edges.
What about surfaces that can't be sanded? You can also use a bonding agent like this one. It's not available at many hardware stores, but you can buy it online.
You can also use a deglosser, which puts a coating on the cabinets that paint can bond to. Spray it on and after 15-20 minutes, test your surface. It should look etched, but not gummy or glossy. If it is, the surface may need to be cleaned again or sanded.
3. When To Skip Priming
Now, the cabinets are ready for painting. In my experience, there are a few paints that you can skip priming with – Chalk Paint, Fusion Mineral and Benjamin Moore Advance.
There are, however, 2 situations that I would still use a high-quality stainblocking primer:
Painting over dark cabinets with a light or white color
Oak Cabinets that have bad stains like deeply embedded oil or markers.
Cabinets with knots in the wood such as knotty pine.
The cabinets I am painting today are too troublesome to not prime. Two coats of primer (with a sprayer, only one if brushing) will give good coverage on painted oak kitchen cabinets. After using many, many primers, this series of Kilz is my never fail go-to primer. You can also use a shellac-based primer if you have knotty pine cabinets, and that works well.
Remember: use the same base for all layers. For example, if you are using a water-based paint (like latex enamel), you would need a water based primer, sealer, clear coat, etc.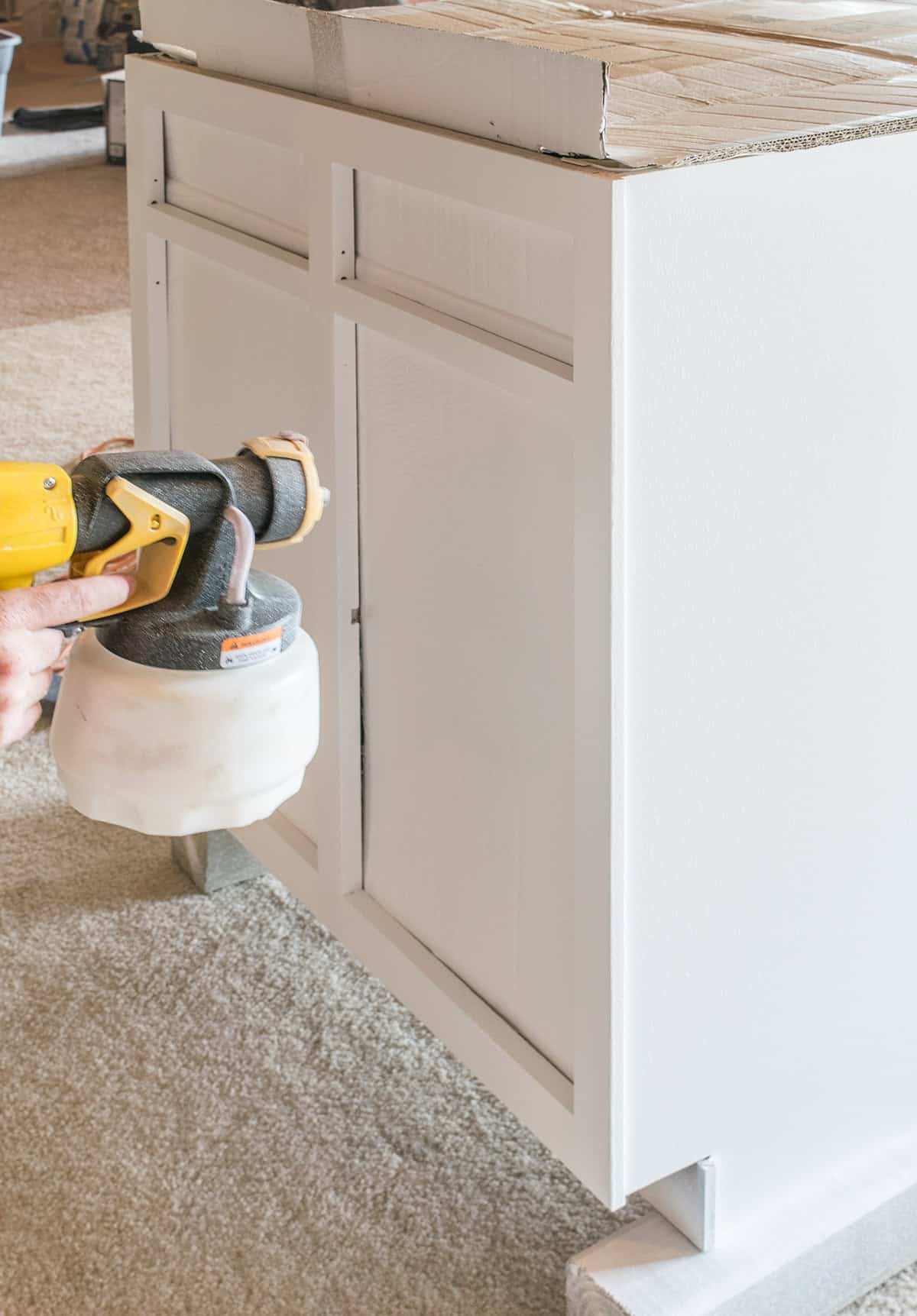 For a matte finish, I recommend either Fusion Mineral or Rust-Oleum Ultra Matte Chalked Paint. Fusion Mineral, in this case, is probably going to be very pricey. We painted our kitchen island with Fusion Mineral, and it's awesome. However, both paints will require a protective top coat if used in the kitchen. I have used Fusion Mineral in my son's bathroom and furniture pieces without a topcoat and LOVE it! I've scrubbed dried on toothpaste off of it and it looks great.
You can read about the most durable paint options here.
4. How to Get a smooth finish when painting kitchen cabinets
Here is another tip that saved me a TON of time on painting kitchen cabinets: get a sprayer!
A large kitchen of 47 doors and drawers took me and my husband about 2 hours to spray one coat!
Moreover, a sprayer will always deliver the best finish possible, period. In the last few years, homeowner sprayers have improved a lot. There are a lot of great options out there depending on your situation. (I actually own 4 sprayers!) The short answer for those who may only have a few projects (or new to sprayers) and on a budget is this Wagner model I use and love.
Related Guide: Choosing the best paint sprayer
There is a learning curve however with any sprayer and I suggest playing with it and testing before each coat. Getting the correct pressure and paint flow is essential to a smooth finish.
We have an excellent guide to painting kitchen cabinets with a sprayer that shows how to setup, troubleshoot and get the best finish possible.
Pulling out the cabinets certainly makes this easier. However, the process isn't impossible if that is not feasible. You can either buy a ton of thin tarps and spray the cabinet frames or brush/roll them with a microfiber roller or a foam roller depending on which paint you use.
*Note – with deeply grained cabinets, you will still see some of the woodgrain after painting. If you want a completely smooth finish like the picture below, I recommend and show you how to fill woodgrain before painting here.
5. Adding a Protective Clear Coat
For the paints mentioned above, this step may be optional. So it's all up to your preference.
I have written a great guide to The Best Protective Top Coats for Furniture and Cabinets if you want more information.
My most used clear coat for kitchen cabinets is Benwood Stays Clear Acrylic Polyurethane. First, it comes in 3 different sheens – flat, low-luster, and high gloss. I chose the low-luster finish. Second, it's made for painted floors, so I know it is durable. And third, the name says it all – STAYS CLEAR.
*Note – This product is absolutely meant to be applied with a sprayer. You can brush it on with a bristled brush but for a project like this, I would recommend thinning it out about 5% to prevent any air bubbles in the surface. If you do use a brush, definitely use a high-quality finishing brush such as a Purdy or Corona China Bristle. You can also use a microfiber roller. Do not use a foam roller.
6. Dry Time VS Cure Time
After installing the doors and drawers back on the cabinets, I left them open to allow the paint/poly to cure. It took about two and a half weeks for mine to fully cure inside, but it can take up to 60 days to fully cure in high humidity.
What is paint curing? Paint can be dry to the touch and not actually be fully dry. If I were to close all my drawers so that there was paint to paint contact, and then opened them a day or so later, I risk the paint sticking together and (horror) pulling some of the paint off.
Frequently asked Questions
Can I paint kitchen cabinets without sanding?
There is a method that doesn't require sanding. You can use a deglossing product, sometimes called liquid sander. Deglosser only works on wood and varnished veneers. It generally won't work well on laminate or paper covered surfaces.

What is the best paint to use on kitchen cabinets?
Spending the extra money on a quality paint will save you so much heartache in the long run. Cabinet paint must be extremely durable and very easy to clean. I would say that at least ⅓ of my clients have me fix bad paint jobs on cabinets and the number 1 problem is using the wrong paint.

My most recommended paints are Benjamin Moore's Advance Alkyd Paint (satin), Fusion Mineral (Matte), and Behr Cabinet Paint (Budget pick).
Why should I use a paint sprayer for painting kitchen cabinets?
Painting cabinets with a sprayer provides a much smoother finish than using a traditional brush method. It cuts down on the time and work involved as well as eliminates the need for touchups or sanding after the fact.
Is it cheaper to paint or replace cabinets?
I recently priced cabinets from several large companies. Prices were ranging from $110-400, with around $270 being the most common price per cabinet. You can paint a huge kitchen for around $500 in materials.
I know today's tutorial was kind of in-depth and chocked full of information, but if you ever go about painting kitchen cabinets, you will love this!
UPDATE: HERE IS HOW OUR CABINETS ARE HOLDING UP 2 YEARS LATER.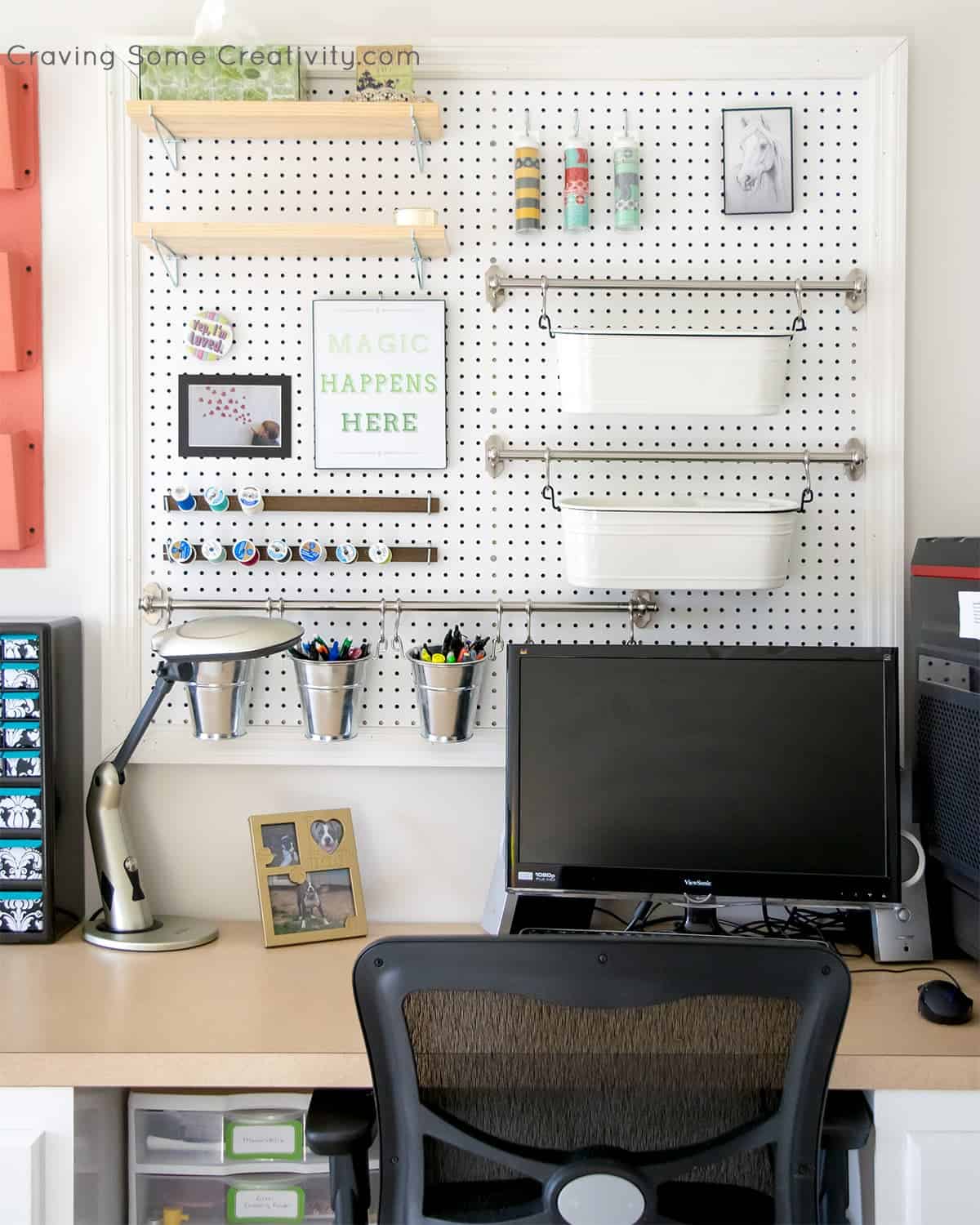 Grab our free series "Weekend Home Projects that will Transform Your Life"
Sign up below to receive updates including free printables, organization tips, home improvement projects, recipes and more!
More Information on Painting Cabinets Like a Pro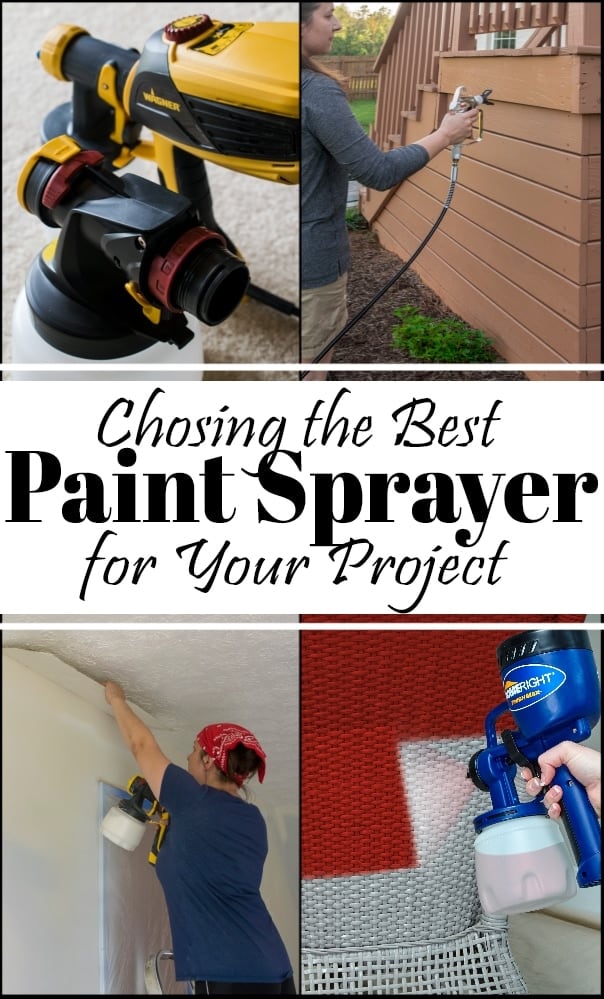 PS I love seeing your creations! Be sure to take a photo and tag #cravingcreative on Instagram! You can also stay in touch with me through following me on Instagram, Pinterest, and subscribing to the newsletter!
Supplies
Paint Brushes

Microfiber rollers

Lint free cloths

Stainblocking Primer

(this is my go-to favorite)

Paint
Optional Materials
Protective Top Coat

Wood filler

for deep scratches
Instructions
Remove all the hardware, doors and drawer fronts. Use a degreaser or teaspoon to clean grime and dirt.

Sand just enough to get the glossy surface off. A palm sander or a mouse sander (we use a multi-tool for corners, will save hours of hand sanding. While sanding will produce the best bond, you can skip sanding by using a deglosser product in areas that cannot be sanded.

If needed, repair deep scratches with wood filler. Wipe any dust off before painting.

Setup your painting area. If you can't remove the drawer fronts, you can prop them up to dry. Doors should ideally be lifted off the floor for drying. Wood blocks or plastic cups work well to prop them up.

Coat with Appropriate Primer. One coat provides enough coverage for brushing/rolling. Use 2 light coats if spraying or if drastically changing the color. Allow to dry 24 hours. If any stains come through, recoat those areas.

Paint the cabinet doors with 2 coats of cabinet paint. See notes about using a sprayer.

Allow to dry. I generally allow the doors to dry about a week before flipping over to prime and painting the front sides.

Paint the frames. You can paint the cabinet frames while waiting for the doors to dry. You can either tarp and spray the cabinet frames (pictured) or paint using a brush and roller. Generally, there is no need to paint the insides except for glass fronted cabinets.

Add a protective clear top coat. This is optional but highly recommended for most paints to make cleaning easier and the paint will last longer.

Put the doors and drawers back on. Full cure can take up to a month, so I suggest leaving the doors and drawers ajar for at least a few weeks.
Notes
Tips for using a sprayer
Wipe the tip with a rag occasionally as you go. Dried paint can build up on it, causing your paint to splatter. 
Always test a scrap board (preferred) or large piece of cardboard. Anytime you take a break from using the sprayer, always hit the test board first. This includes after refills or long breaks.
If after the first few cleanings, your paint sprayer won't spray, check to make sure a pinhole at the top of the suction tube isn't clogged.
Start by spraying off the board, meaning engage the sprayer before you are over top of the work product (or cabinet door in this case). Spray all the way across, and let go of the trigger after you have gone off the door. If a sprayer is going to spatter, it will most likely happen when you engage/disengage the trigger.
If you get spatter/orange peel, wipe off immediately until smooth and spray again. Drying and sanding smooth again is much more time-consuming,
Clean the sprayer immediately after use. You can, however let it sit in the sprayer overnight for additional coats, but clean the tip well.