There is no question that painting kitchen cabinets is a big project, and it's tempting to just slap some paint on them and be done.  But if you want a paint job that will look great with a finish that will last, it's best to take the time to do it the right way. This tutorial discusses tips and the process for getting a finish that is long lasting and professional looking.
*This post may contain affiliate links. For more information, see my disclosure page.
If you saw my post on Monday about eliminating the wood grain in kitchen cabinets, you will remember that this is what the cabinets looked like when we purchased them from craigslist. Looking a lot more like ugly, used cabinets.  Check out that post if you want to understand how to prep the surface if you want a completely smooth finish when painting kitchen cabinets. Today, I am sharing our painting technique for these oak cabinets. It is kind of long, which is why I broke this up into two posts.
REMOVE HARDWARE
First, remove all the hardware and clean the surface thoroughly. We made our space in the basement with a huge tarp and a large piece of the nasty carpet we replaced when we moved in.
These particular cabinets are a solid wood front with sides that are laminate covering fiber board, aka typical kitchen cabinets from that era.
SANDING, SANDING, SANDING (aka my least favorite thing ever!)
There are two ways of removing the glaze/sealer that kitchen cabinets and a lot of furniture pieces have. You can either sand it all off with a palm sander or hand-sander or use a product called deglosser. For us, we sanded the cabinet fronts because they were flat and it was only a small area.  We sanded the laminate sides as well. We did not bother sanding the interiors.
PRIMING AND YELLOW SEEPING THROUGH PAINT
Wipe down and remove all dust. I recommend vacuuming with a brush ->very lightly damp cloth (denatured alcohol is best but not absolutely necessary)-> dry microfiber cloth method, making sure to get in the crevices. Now, the cabinets are ready for priming. Three coats of primer (with a sprayer, only one if brushing) will give good coverage on these babies. With old cabinets and really any furniture, I recommend a stain sealer. Because these are used kitchen cabinets, they have been exposed to all kinds of kitchen oils and cooking products. We used Bullseye primer and the door fronts yellowed. What happens is that the natural and kitchen oils to which they were subjected were bleeding out into the paint. Therefore, I added one layer of Kilz stain blocker and voila, no more yellow streaks!
Remember: use the same base for all layers. For example, if you are using a water-based paint (like latex enamel), you would need a water based primer, sealer, clear coat, etc.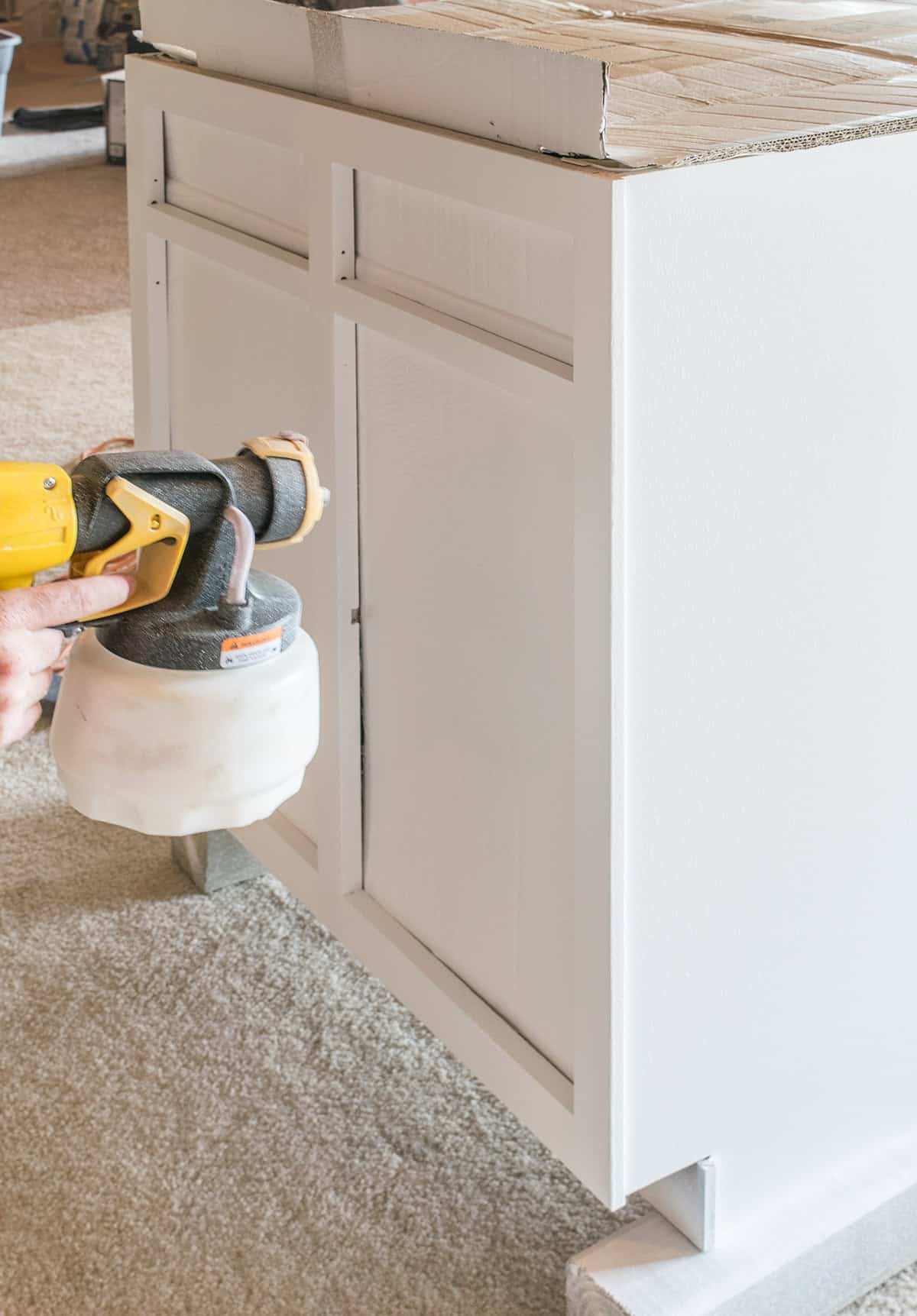 PAINTING CABINETS WITH A SPRAYER
Here is another tip that saved me a TON of time on painting kitchen cabinets: get a sprayer, people! We purchased this Wagner Kit since I have many more furniture pieces to paint. Even better, do like we did and go halfsies with someone on it. Each coat took about 10-15 minutes to spray for all 4 cabinets! There is a learning curve however with the sprayer and I suggest playing with it and testing before each coat. Getting the correct pressure and paint flow is essential to a smooth finish. Also, remember to thin out the paint and it will go on much smoother. I got orange peel all over 2 of the doors and that was a nightmare to sand out. If that happens, WIPE IT DOWN BEFORE IT DRIES and start over with that coat. I learned the hard way that there are no alternatives, you have to sand.
We sprayed 4 coats of white paint on these. Because these coats are much lighter than a brush coat, I lightly sanded between every other coat with 220 grit sand paper. Just before the final coat, I used 320.
Pulling out the cabinets certainly makes this easier. However, the process isn't impossible if that is not feasible. Personally, I would roll the cabinet front with a dense foam roller and foam brush but still spray the doors and drawer fronts. If you do use a brush, add a product called Floetrol to your paint. It will help the paint level better and keep any brush marks to a minimum.
ADDING A PROTECTIVE CLEAR COAT
After we let the paint dry for a few weeks, I really wanted to protect my cabinets from my loveable Tasmanian devil (ahem, my son who has already banged many a chair against the drawers). I spent hours researching clear coats and I see a lot of recommendations for Minwax from bloggers. However, in my search, I came across more than one forum post of a poor, frustrated DIYer saying that the Minwax turned yellow when used over white. Oh, bleep no! I love DIY bloggers and I have gotten so much great information from them. However, I am also careful about the advice I take. (After seeing a prominent furniture painting blog call polyurethane and polycrylic "essentially the same thing", you would too!) Eventually, I stumbled across a Benjamin Moore Product Called Benwood Stays Clear Acrylic Polyurethane (you can buy it cheaper elsewhere). Can I say how awesome this stuff is?! First, it comes in 3 different sheens – flat, low-lustre, and high gloss. I chose the low-lustre finish. Second, it's made for painted floors, so I know it is durable. And third, the name says it all – STAYS CLEAR. Here is the description on the can:
"A premium quality product that combines the attributes of acrylic and polyurethane resins to produce a durable clear finish that dries quickly with very little odor. Provides excellent resistance to damage caused by abrasion, household chemicals and water, alcohol and food stains. For use on new or previously painted, stained or varnished interior wood surfaces, including floors. May also be used as a protective clear over decorative finishes on any substance."
I hear the angels sing! Now, I will say one thing, this product is absolutely meant to be applied with a sprayer. You can brush it on with a bristled brush but for a project like this, I would recommend thinning it out about 5-10% to prevent any air bubbles in the surface. I did try it without thinning it and I wasn't happy at all. If you do use a brush, definitely use a high-quality finishing brush such as a Purdy or Corona China Bristle. You can also use a microfiber roller but it will put on a heavier, shinier coat. Do not use a foam roller. I did 2 very light coats 2 hours apart and let dry overnight before installing the doors back on.
DRY TIME VS CURE TIME
After installing the doors and drawers back on the cabinets, I left them open to allow the paint/poly to cure. It took about two and a half weeks for mine to fully cure inside, but I have read that it can take up to 60 days to fully cure. What do I mean by curing? Paint can be dry to the touch and not actually be fully dry. If I were to close all my drawers so that there was paint to paint contact, and then opened them a day or so later, I risk the paint sticking together and (horror) pulling some of the paint off.
I know today's tutorial was kind of in-depth and chocked full of information, but if you ever go about painting kitchen cabinets, you will love this!
If you liked this, here are more furniture painting tutorials