These budget home improvement projects will make a huge impact on your home. Most of these home remodel projects can be completed in one weekend too!
It's been almost 8 years since we moved into our house of possibilities. Although there was overt damage and no running water, the vast majority of the ugly in our home was just major neglect. Since then, we have gone on to renovate several homes for clients, often times for sale.
And my biggest takeaway from that experience…
You can absolutely have a little luxury even when on a shoestring budget and doing it yourself will save a bundle. Painting walls and updating your window treatments are quick easy wins to give you a since of comfort.
Even if you don't have a lot of confidence in big home remodel projects, these easy home improvement projects are fairly easy and pack a punch!
A home is our biggest life investment and even if you aren't planning on moving anytime soon, you don't want to put off small repairs until the last minute.
Several of these home improvement ideas only take a weekend and can boost a home's value, curb appeal, and your sanity of not having to see an eyesore again!
1. Updating Light Fixtures (Or adding New Ones)
Light fixtures are the jewelry of the house. Updating an old chandelier takes about an hour and can make a statement in a room.
It still shocks me how many homes are built today without light fixtures. It's like someone left the job before it was completed. If you aren't comfortable with DIYing this project, you can hire an electrician for relatively cheap to add the wire, if you have a switch already connected to an outlet.
Here are some of our favorite lighting ideas around the house:
2. Update the Exterior Inexpensively
The entry way of a home is really a first impression. Adding some landscaping and even just washing the concrete or paver stones can be a big impact. I have seen many gorgeous front entry ways transformed with just a few plants and painting the door.
Inexpensive Curb Appeal Ideas we have done:
Landscaping doesn't have to be ornate to be beautiful.
For plants, repeating combinations of 3 plants can be simple, stunning, and cohesive. I also find that you don't need a super green thumb with only 3 types of plants.
3. Repairing and Adding Trim
Trim is actually a big deal to a lot of people. Adding trim can make a house feel luxurious and custom, while superficial cracks can feel like the house is falling around you.
If you feel a little handy and want to dress up the walls for a focal point or adding an air of sophistication, installing picture frame wainscoting is one of my favorite options, but there are many styles to choose from including board and batten, raised panel, and bead board.
Here are our tips and projects for adding or repairing trim in a home:
4. Changing out Hardware
Updated hardware on kitchen and bath cabinets can make a big impact without much money.
If you need to replace hardware, either fill the old holes and paint or get hardware that is the same size to match.
5. New Backsplash
Tiling can be one of the more tedious and advanced projects to do if you are using traditional mortar and tile. However, today's tile has so many more options if you don't feel confident laying mortar and tile.
One of my favorites is peel and stick tile! It can be permanent or removable if you like. We helped my brother-in-law install a glass peel and stick backsplash and it looks beautiful and has held up well.
More Kitchen Updates:
6. Simple Bathroom Updates
To get the most bang for your buck, kitchens and bathrooms are the best place to upgrade. A full renovation is not required to make simple updates to a bathroom.
We have done several bathroom remodels, but many of the updates are smaller scale and easy to do.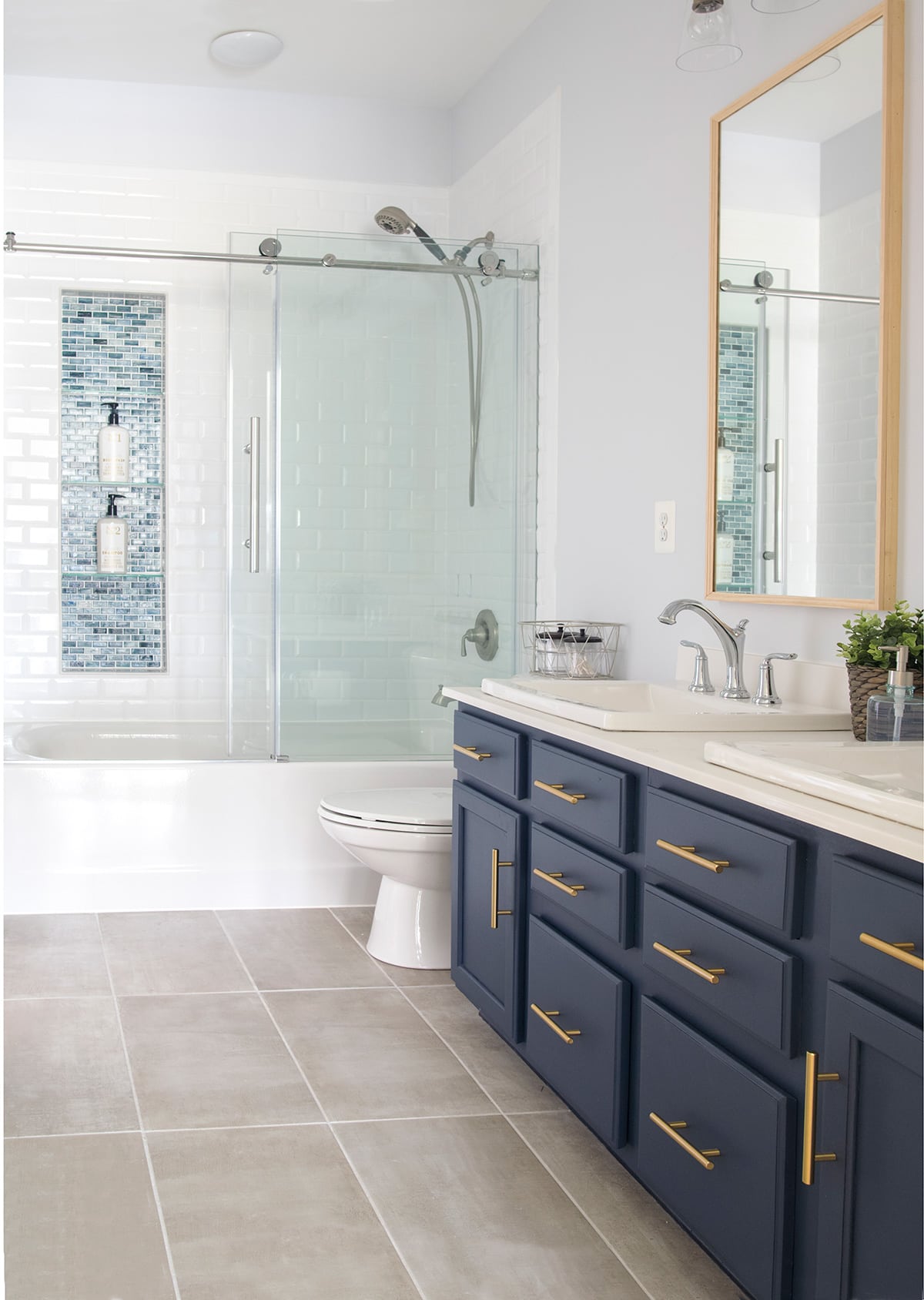 7. Update the Outlets
Updating electrical outlets and light switches brings an easy ROI. Updating electrical outlets also allows you to remove old or non-compliant outlets.
If you aren't familiar with how to change an electrical outlet, check out YouTube or take some classes to learn safety and procedures. Changing out an outlet is actually a very easy task once you get the basics.
8. Updating Cabinets without Replacing
Cabinets are very expensive to replace. There are several less expensive options though including replacing just the doors, painting the cabinets, and updating the hardware.
All make a big impact too.
One of our most popular projects with clients and readers is learning how to paint cabinets! While this project is definitely time consuming, it's a good one a beginner can handle as long as they have the right knowledge and tools.
9. Upgrade Your Storage
Be an advocate of making your existing storage work for you! Simple updates like replacing wire shelves with a cabinet make a big difference (and hide the clutter). We did this in our laundry room makeover. We have also added custom closets and maximized the space in all our cabinets with these tricks.
I know that I will be thanking myself for the making these small repairs when it comes time to move (someday!). The chaos of moving is enough on its own, and I don't want to update or repair something that is driving me crazy just so someone else can enjoy it!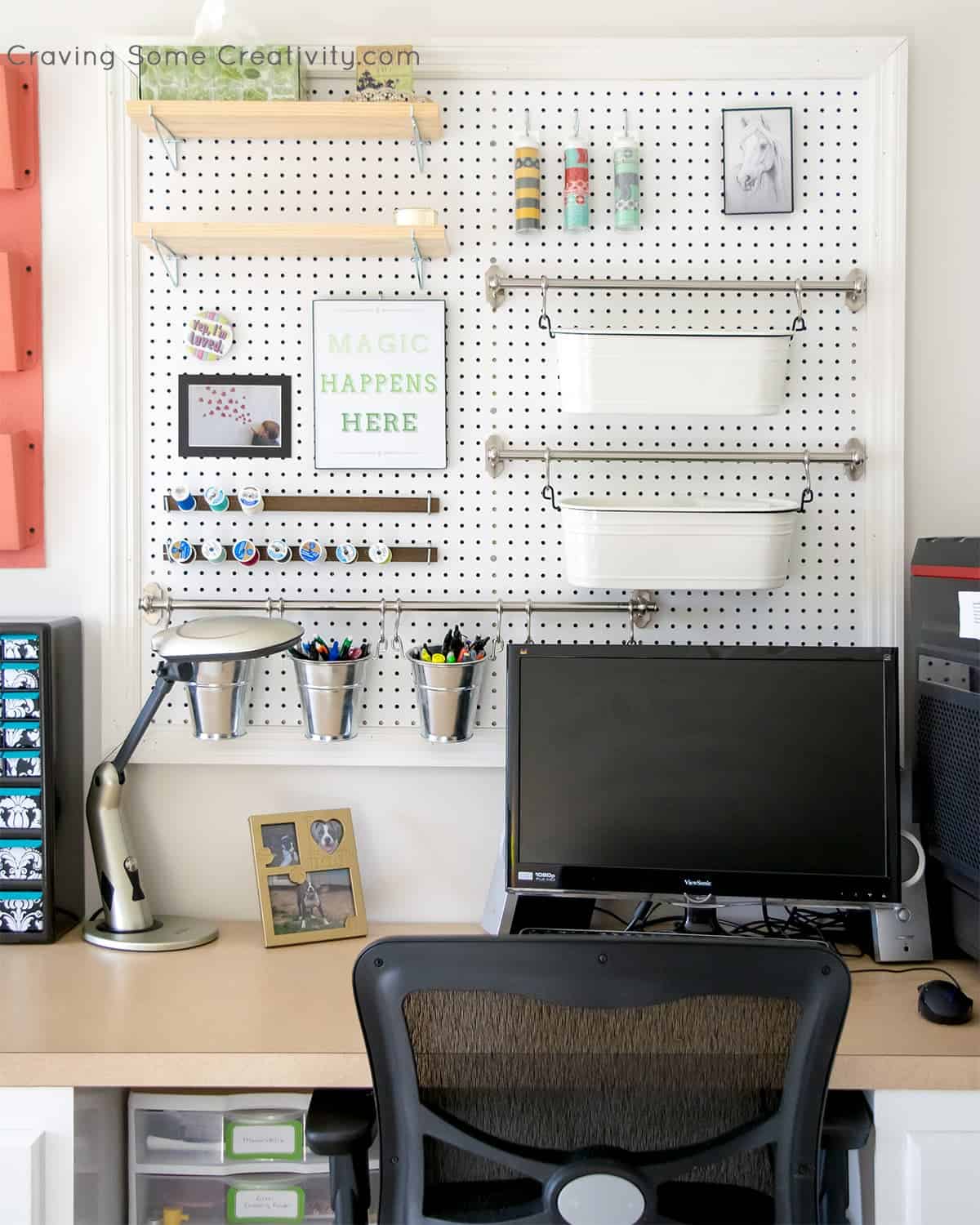 Grab our free series "Weekend Home Projects that will Transform Your Life"
Sign up below to receive updates including free printables, organization tips, home improvement projects, recipes and more!
More Home Projects You May Enjoy