Garage wall storage is the secret to maintaining order. We're sharing 25 of our favorite garage wall organization ideas to make your space a dream. Compare the pros and cons and choose a solution that maximizes space and efficiency.
Is your garage the keeper of cast-off items? This space commonly gets used for far more than parking the family car, or does anyone even do that anymore? Our own garage is a mix of tools, bicycles, basketballs, muddy shoes, and miscellaneous project debris. It can quickly become a maze of general mayhem. Sound familiar? Time for a mini-makeover!
First things first, get inspired! A fresh coat of paint on the garage door and coating the garage floor instantly refreshes your space. Next, set realistic goals to clear the clutter with common sense solutions found in 15 Garage Organization Tips.
Garage wall storage is the secret weapon to maintaining an organized space. Keep items off the floor whenever possible to free up valuable square footage for work and play. Avoid the pitfall of piles and create a no-fail storage system that adapts to your family's changing needs. It is possible with these ideas below!
Types of Garage Wall Organization
Ok, let's visualize the space. Wall organizers can be broken up into three main categories:
Wall-Mounted: Often attached with brackets that are fixed to the studs in your walls. Medium difficulty level installation.
Ceiling-Mounted: Typically have brackets that are drilled into your garage ceiling studs. Most difficult type of installation.
Free Standing: Shelves and cabinets which may require some assembly and takes up floor space. Usually doesn't mount to the wall or ceiling. Easy installation. Shelves are easier to scan for what items, while cabinets are better if you prefer to keep items hidden from sight or protected from dust.
Whether you're shopping for a quick solution to a particularly vexing issue or hoping to renovate your entire garage, I've compiled 25 garage wall storage ideas to inspire you.
Wall Mounted Storage Solutions
1. Hanging Rails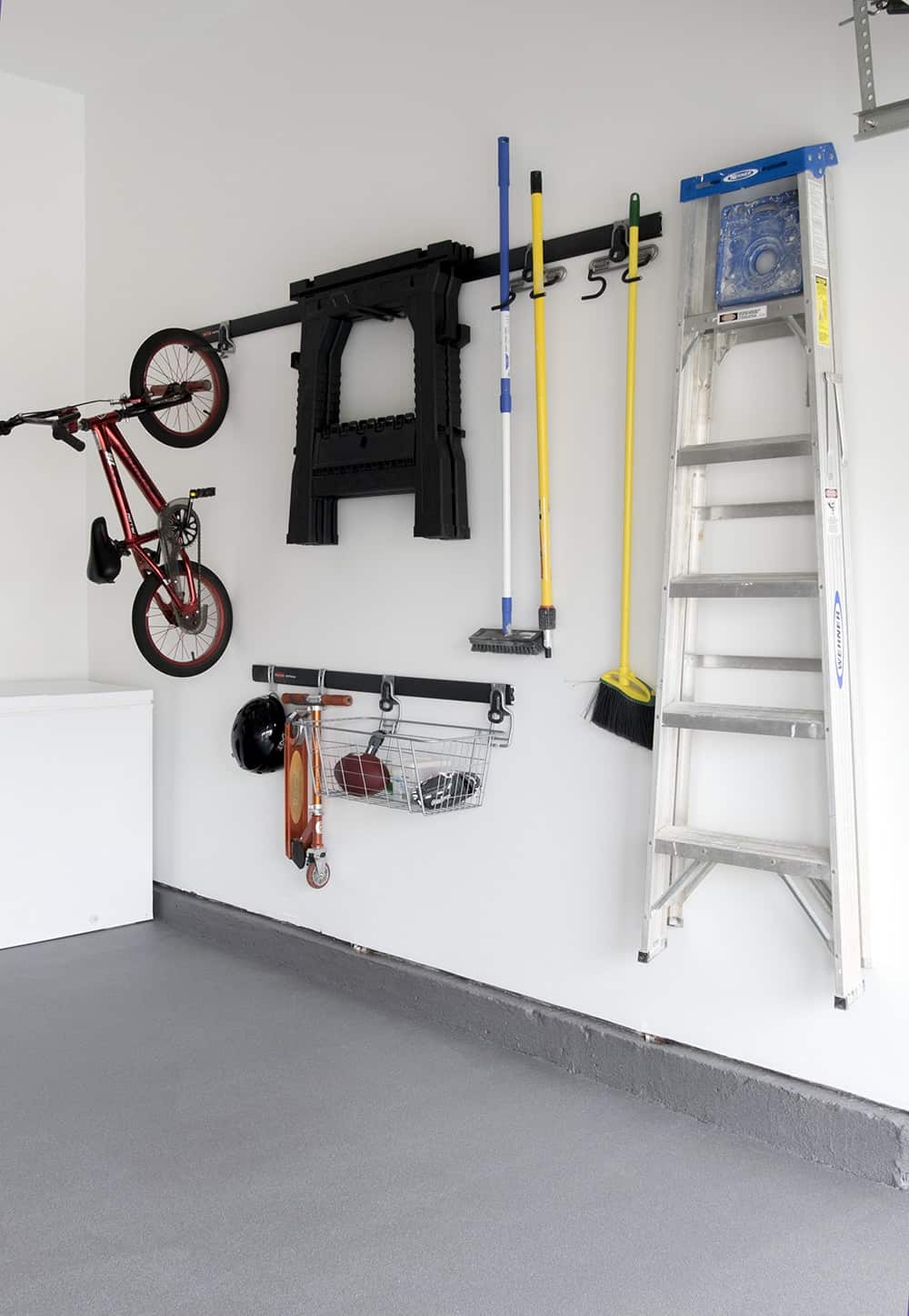 When deciding how to best utilize our own garage wall storage, we chose a complete Rail System with accessories. The accessories are what most attracted us to this particular system because we wanted a bike rack and large mesh baskets, but there are tons of options. It's also a snap to change the configuration as needs change. Overstock carries a similar channel option that may work better for your situation.
2. PVC Slatwall Panel
A PVC slatwall panel offers unlimited options for garage wall orgastorage. The wall is fitted with slotted plastic panels to hold everything from hooks, shelves, and baskets to group small items. Modular capabilities allow you to customize your garage storage and change your design as needed.
3. Expandable Shelf
Modular wall mounted ceiling shelves save space by utilizing oft-unused garage real estate. The modular component means it's completely customizable to fit into any space and to suit all of your storage needs. Keep seasonal items stored out of the way, toolboxes out from underfoot, and chemicals safe from the kiddos' grasps.
4. Lawn Tool Storage
Rakes, brooms, rackets- oh my! It's plumb difficult to find a perfect spot to keep long-handled tools or rolls of anything high and dry. Enter this ingenious DIY Yard Tool Storage. Simply secure a cardboard concrete-forming tube to a 2×4 mounted to a garage stud for a custom DIY storage center.
Garage Ceiling Storage Solutions
Overhead garage storage frees up valuable floor space and provides great storage space for items such as holiday decor, kayaks, and other seasonal items you may not need regular access to. Just make sure to pay attention to weight limits and try to attach into studs for security and peace of mind.
5. DIY Ceiling Storage System
This clever ceiling garage storage system is an easy one-day DIY project! Plastic totes and common 2×4's create a long-term storage solution that doesn't cost any square footage.
6. Overhead Shelf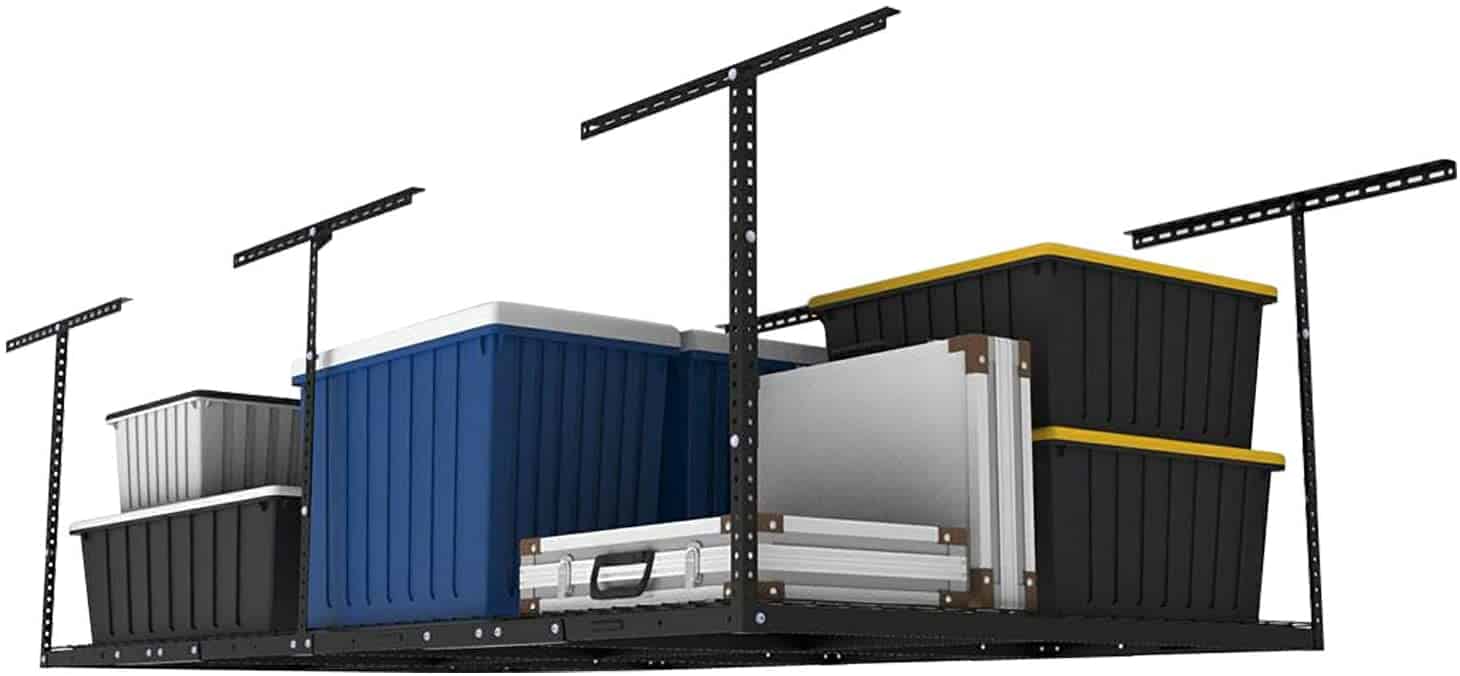 Overhead shelves are ideal for bulky items that don't get used on a regular basis. Think luggage, coolers, or fishing gear. I particularly love this steel overhead unit for its flexibility, (it's adjustable) and durability.
Workbench Storage
Workbenches are a key element to many garage spaces. Modern workbenches can be customized to include drawers and shelves to increase efficiency and maintain a neat work area. Gone are the days of having to 'make do' with parts and tools placed in awkward, hard-to-reach places.
7. Bench Rails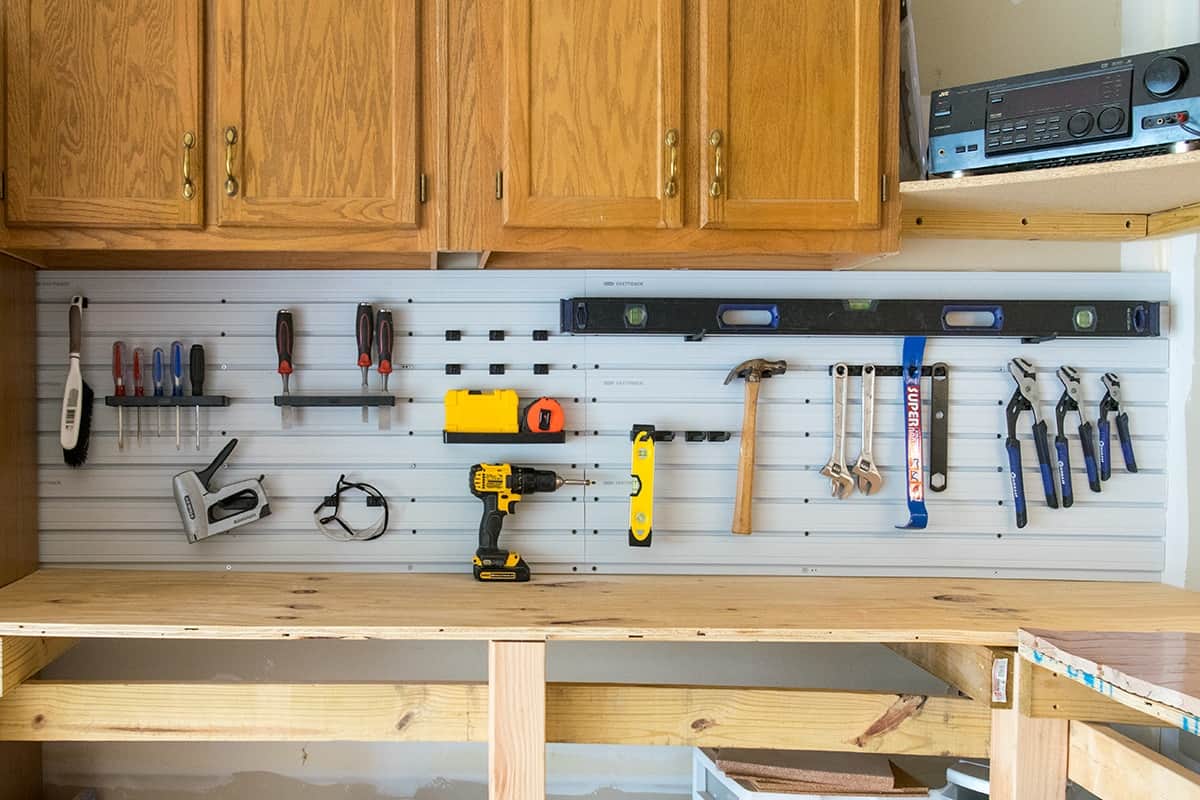 Install bench rails to utilize vertical space above your workbench. The rails keep tools and equipment easily within reach while your surface remains clutter-free. This handy backboard also keep supplies from rolling off the backside of your bench.
8. Build Your Own Workbench with Shelves
When tackling our own garage renovation building a workbench was a necessity. We needed shelves to keep our power tools handy and an uncluttered project space. Durability, size, and function were all factors that came into play when choosing our design.
9. Metal Pegboard
Pegboards are real MVP's of organization so it seems only natural to install one in the garage. Adding a pegboard does more than save floor space. It's essential tool storage. Hanging things at eye level means you can locate exactly what you need quickly. Pegboards keep tools stored safely from little hands while protecting the longevity of your investments.
Metal pegboards are garage superstars. Metal holes won't bend or break under duress from heavy tools. Add a small shelf without fear of collapse. These pegboards boast all of the benefits of a traditional pegboard as well, such as easy installation and customization.
10. Mix and Max Modular Pieces from IKEA
Choose your own adventure with a modular workbench. These benches combine different sized and shaped components tailored for your specific needs. More often than not, this choice is cost effective and only requires basic assembly skills. Even better? There are unlimited options for adding storage capacity to metal wooden modular workbenches like this one from Ikea.
11. Modular Pegboard
Is your garage limited on floor and wall space? This modular pegboard storage by Woodsmith provides a savvy DIY solution to make the most of limited space. The multi-panel door design allows for tool storage on both sides of the pegboard panels. Items are organized catalog-style without taking up excess real estate.
12. Wall Tool Organizer with Storage Bins
Clear your workbench clutter with this handy all-in-one wall mounted organizer. Durable back panels allow you to create a custom organization system to best suit your needs. Three bin sizes and ample hand tool storage capability means all your bits and pieces are within safe and easy reach.
13. DIY Pegboard
Transform an ordinary slatwall panel into a custom DIY pegboard with storage straps and S-hooks. These stretchy nylon cinch straps are an optimal solution to all of your nagging garage annoyances. Tame cables, cords and hoses once and for all. The durable elastic buckles are a cinch to hang difficult items like hand vacs and lawn equipment.
Sports Equipment Storage
The garage is the perfect room in your home for all of your sports equipment storage needs. It's typically the last place you head to before dashing to practice or the big game. Therefore, it's the ideal spot to drop off equipment. The main objective when storing sports equipment is to keep it visible and easy to grab but not underfoot. Bonus points for storage solutions that air equipment out, keeping those sweaty odors at bay.
14. Equipment Storage Rack
Some sporting goods pose more storage challenges than others, particularly if you're tight on space. A wall mounted lumber rack provides a creative and customizable solution. With six levels of storage, it's easy to organize snowboards, hockey sticks, field hockey gear, and more. Keep your golf gear off the ground and your garage in good order.
15. Vertical Bike Rack
Bicycles are historically difficult to store. This brilliant Hanger Wall Mounted Bike Rack frees up floor space but still allows easy access to mount and dismount multiple bicycles. The bike hooks are wrapped densely to provide added security for your wheels, hubcaps, and spokes. An easy 4-step installation process makes this a must-buy solution for avid cyclists.
16. Ball Storage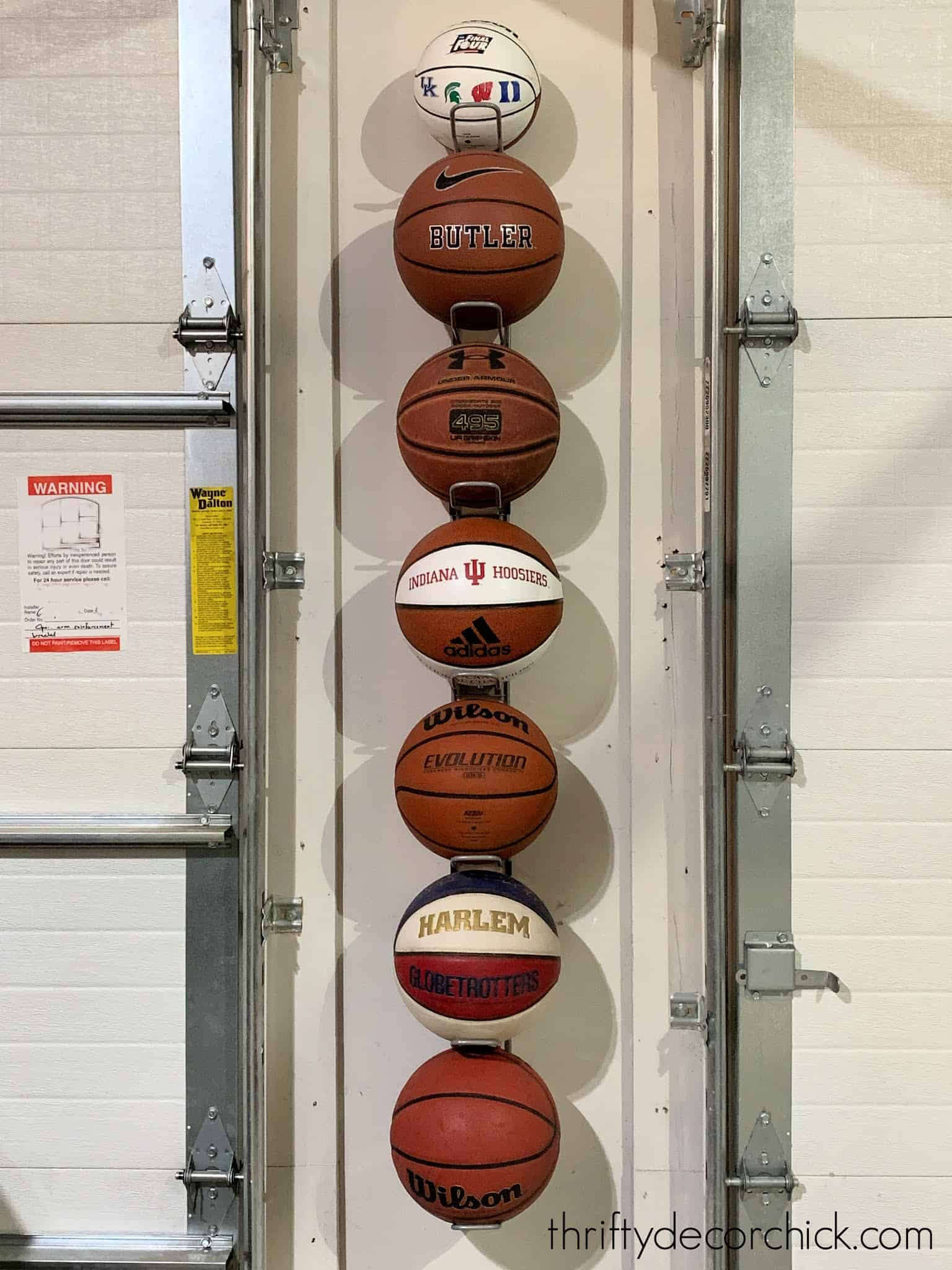 Get your head in the game with a sleek wall mounted ball holder like this style from Thrifty Decor Chick. Keep balls secure between use while giving kids (and husbands) an easy no-fuss way to put their equipment away.
17. Easy Access Ball Carousel
If your family participates in lots of hobbies, equipment can pile up quickly. A vertical ball storage rack provides a practical and space saving depot for all of those loose ends. With dedicated racks to shelve four balls, convenient hooks to hold bat bags or helmets, and steel baskets for other miscellaneous items- this multipurpose ball rack is something to cheer about.
18. All-in-One Sports Equipment Garage Storage
Combine all of the benefits of vertical wall storage and a ball storage bin. The ultimate sports organizer storage rack screws into the wall for maximum security and is the quintessential sporting goods armory. Athletic bags, cleats, bats, helmets, hockey sticks, tackle boxes- there's simply no sport apparatus this organizer doesn't accommodate. The unique design maximizes storage while allowing easy access to every component.
Shelving and Bins
Freestanding units are excellent options for storing a variety of items. This type of storage doesn't mount to a wall or a ceiling. Although some floor space is sacrificed, shelves still provide ample vertical storage. Freestanding shelving is versatile enough to work in a basement, garage, or shed and usually requires less installation than its wall-mounted counterparts.
19. Make the Most of Vertical Space with Wall Shelves
Purchase bins or baskets to maximize the storage capacity of your vertical wall shelves. In this garage renovation from Making Lemonade, Pack and Track labels from Duct Tape keep bins in good order. No more frustrating searches through random boxes hunting for packed away items. Read some of my best tips for organizing small spaces with storage bins.
20. DIY Freestanding Shelves
Build your own freestanding shelving unit for personalized garage storage. This tutorial from Ana White for DIY Freestanding Wall Shelves is an easy and inexpensive project that requires little more than 2×4's. Although building your own shelves may be more time consuming, the overall benefit of creating something custom tailored for your space is worth it.
21. Freestanding Cabinets
This freestanding garage cabinet may be a pricey investment, but the weather-resistant steel construction means it was built to last. Lockable doors with an interior metal pegboard make it a versatile storage solution for power tools, lawn and garden supplies, sporting goods and more.
22. Hang Tools on the Garage Door
The Cobra Garage Door Storage Rack easily attaches to any standard garage door panel in minutes. It won't impede the garage door travel and makes use of never used storage space! I think I'm in love. This brilliant invention is ideal for fishing poles, mops, brooms, and more.
23. Resin Storage Locker
This Tall Storage Locker defies the notion that garage wall organization needs to be metal in order to be durable. The resin panels are resistant to scratches, dents, and rust. Keep hand tools, gardening gear, or surplus Costco stock out of sight and protected from dust and debris. This handy cabinet boasts three adjustable metal-reinforced shelves, each capable of holding 75 lbs, and is also padlock compatible.
24. Customized DIY Open Shelving System
Create your ideal garage shelving unit! Build durable and functional custom shelving to suit your individual needs. Designed to fit anywhere and hold practically anything, Shelf links shelves can be modified as your storage requirements change. These are built to last. Just add 2×4's and some elbow grease.
25. Sorting Center
Organize all of your random items in one easy to access command center. The Soft Sided Sorter features three large compartments with a removable wire grid that creates 12 slots to store sports equipment and tools upright. Use the cart to organize all of your summer fun activities like pool noodles, sunscreen, beach bags, etc. Or use it for lawn & garden or sports equipment storage. The possibilities are limitless.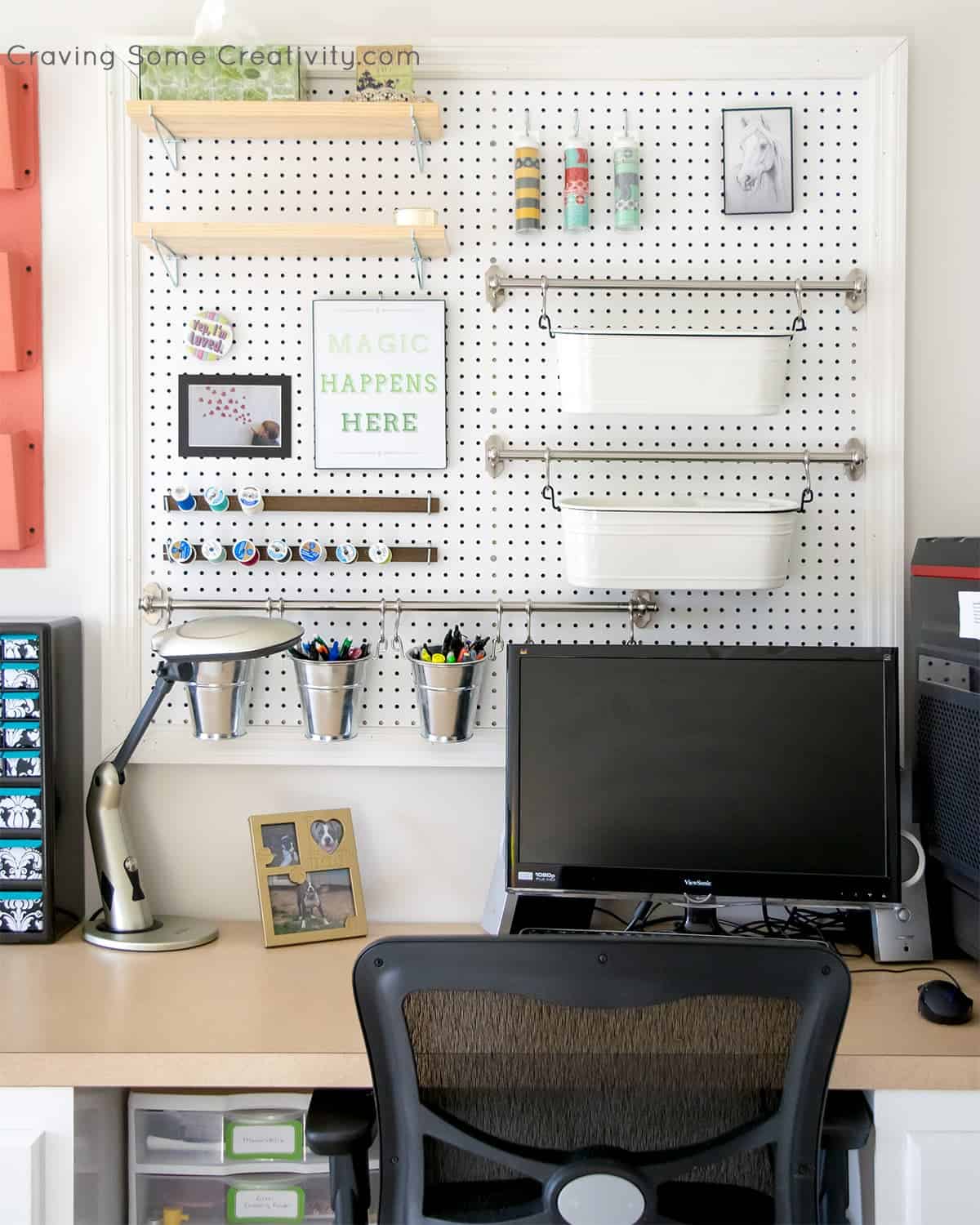 Grab our free series "Weekend Home Projects that will Transform Your Life"
Sign up below to receive updates including free printables, organization tips, home improvement projects, recipes and more!
PS I love seeing your creations! Be sure to take a photo and tag #cravingcreative on Instagram! You can also stay in touch with me through following me on Instagram, Pinterest, and subscribing to the newsletter!