This recipe for Authentic Cajun Shrimp Etouffee is my favorite since childhood. You can use shrimp, crawfish, and/or andouille sausage. If you haven't had the pleasure of this classic New Orleans dish, you should!
"First, you make a roux…"
Etouffee is all about the roux, and my childhood. I don't know where this phrase originated from, but it's a phrase I have heard countless times from my mother. Although I did not grow up in New Orleans, it is home to my father and his adoration of The Big Easy is legendary. It's similar to how immigrant parents talk about 'the old country' to their children who can't remember. He would regale us with tales about City Park and eating at Commander's Palace. And the food…the food! Authentic pralines are a Christmas staple around our home and shrimp etouffee or dirty rice usually makes an appearance whenever I get the chance to visit my parents.
With my love of Louisiana food, you would wonder why I hadn't put it on the blog until now. The truth is that I didn't feel comfortable putting a recipe on the site until I experienced it from the source. It was on my bucket list to go to New Orleans, and I jumped at the chance when my parents invited me to tag along with them. I wanted to see the city through my father's eyes rather than the spring break-touristy version we always hear about. Of course, no trip is complete without a trip down to Bourbon Street for an absinthe cocktail, which wasn't my cup-o-tea, but that's a 'nother story. The highlight of my trip was getting actually enjoying Etouffee in the region that invented it – several times. It was everything I dreamed it would be.
In Louisiana, cooking is love. The long cooking times, the whisking until you achieve the perfect consistency and color, and the layering of flavors all blend into dishes that are unique and profound. Etouffee means smothered and, in Louisiana, cooking it means a dish that is covered in a liquid. I usually have a strong roux in my etouffee to thicken it up enough to grab onto the shrimp but not so thick as it becomes gelatinous. Of course, when cool it will be thicker. You can always add more stock and shake or stir it to thin, if necessary.
Tips for making Etouffee at Home
The main tips I have for making your own shrimp etouffee, especially if you are unfamiliar with Cajun and Creole cooking, is to make sure you set out any and all ingredients, mixes, utensils, and pots next to you while cooking. This recipe moves quickly, and I have ruined a roux before by running to the pantry in search of stock. However, it isn't difficult, it just takes some babysitting, and love.
The second tip is to know your desired spice level. To be truthful, I am not a fan of super spicy food. Actually, I am sort of a wuss and the recipe I make is well seasoned but it isn't spicy. Etouffee isn't usually very hot/spicy in my experience, but if you want to increase the heat level, add more cayenne or black pepper to suit your tastes. Andouille sausage is also a really great way to increase the heat but also add an additional blended flavor. As I said, I am a wuss, so if I want to add sausage and shrimp, I usually stick to Kielbasa.
If you are in an area that has fresh crawfish, lucky you! I prefer crawfish over shrimp, but shrimp will definitely do in a pinch.
How to Make a Roux
The roux is the most important part of this dish. The right color and consistency is essential. Although I believe I go over this pretty well in the recipe instructions, it is worth taking a few extra minutes to really explain this concept.
Depending on the dish, there are many different kinds of roux and despite consisting of the same ingredients, they can taste drastically different.
You guage a roux on it's color. They range from blond to a coffee colored roux called black roux. For this recipe, we are trying to achieve a red-brown color, about the color of a penny. A little lighter is fine, too dark is not. To make the roux, you will be constantly whisking to avoid any burning for about 3-5 minutes.
It is also important to note that once you achieve the ideal color, immediately remove the pan from all heat. Don't just turn off the burner.
Tools Used to Make Etouffee
Cast Iron Skillet: This is my most used pan in my kitchen, heavy, keeps heat well and gives the BEST sear ever.
Andouille Sausage: Spicy and very authentic
That's it! Etouffee is one of my favorite dishes to serve to guests and parties and I am all about keeping a clean and fresh home for guests. I really hope that you try this recipe (and maybe share some with this gal?! haha).
Want More Delicious Homemade Recipes?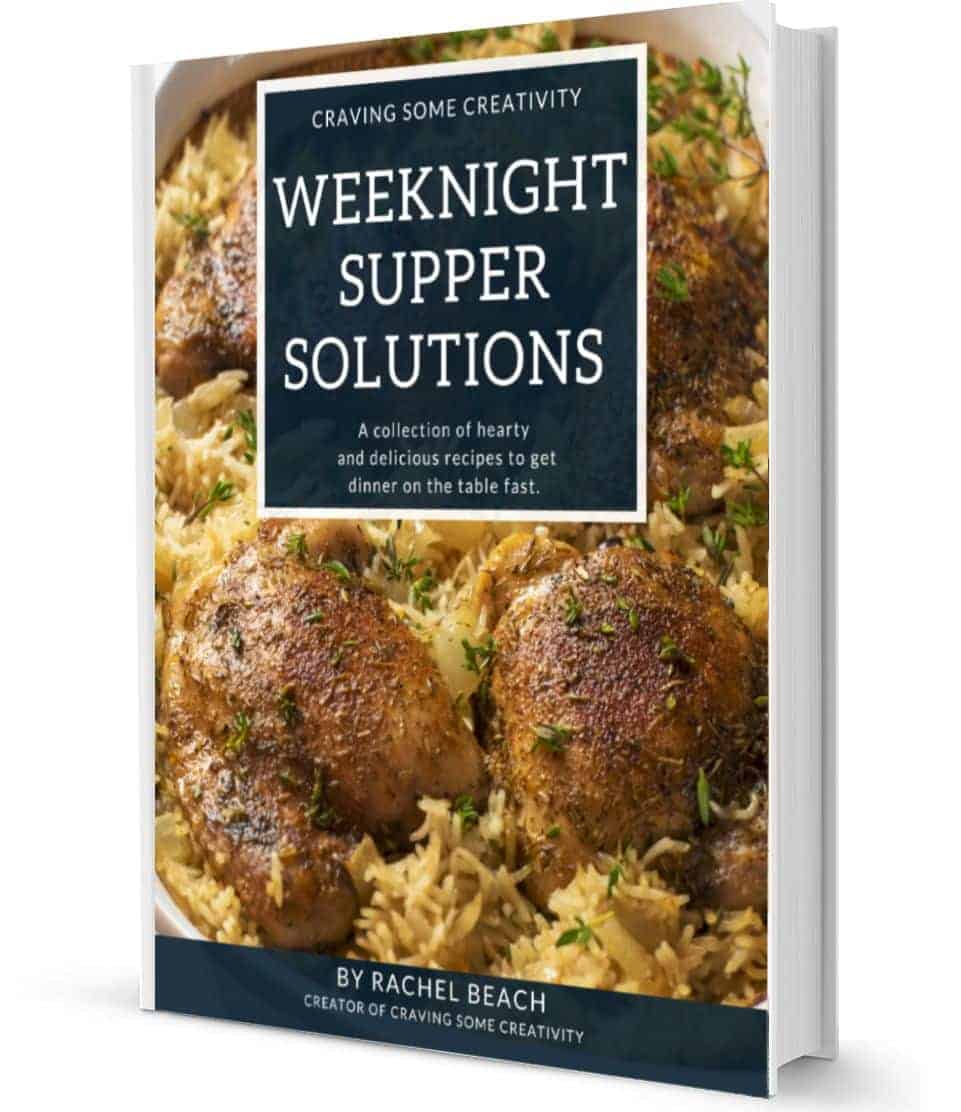 Not Sure
What's For Dinner?
Signup for recipe updates and get a free cookbook of Easy Weeknight Supper Solutions!
Shrimp Etouffee Recipe
This recipe for Authentic Cajun Shrimp Etouffee is my favorite since childhood. You can use shrimp, crawfish, and/or andouille sausage. If you haven't had the pleasure of this classic New Orleans dish, you should!
Print
Pin
Rate
Ingredients
1.5

tsp

Salt

1/2

tsp

ground cayenne pepper

see note about heat

1

tsp

black pepper

1

tsp

Dried Basil

1/2

tsp

dried thyme

1/2

cup

yellow onions

diced

1/2

cup

Celery

diced

1/2

cup

Green Bell Pepper

diced

7

Tbsp

vegetable oil

1/2

cup

All Purpose Flour

3

cups

Seafood Stock

Divided (2 cups, 1 cup)

1

stick

unsalted butter

2

pounds

shrimp, crawfish, or sausage

1/2

cup

Green Onions

finely sliced

4

cups

cooked rice
Instructions
Make sure that your ingredients, utensils, and pots are laid out and convenient before turning on the heat. This recipe moves quickly and relies on constant whisking in some cases so having everything laid out will help keep you from scorching the dish.

In a small bowl, combine the salt, cayenne, pepper, basil, and thyme. Set aside. Bring 2 cups of the seafood stock to a boil. Turn down heat but keep hot.

In a large skillet, heat the oil over high heat until it begins to smoke (looks like slight steam), about 4-5 minutes. Gradually whisk in the flour until smooth. Continue whisking constantly until the flour is a red brown color, about the color of a penny, 3-5 minutes. Immediately remove from heat (don't just turn of the burner) and add the celery, onions, and bell pepper. Add 1/2 (about 1 Tbsp) of the seasoning mixture and stir until well combined.

Over low heat, gradually add the stock into the roux, and whisk until combined. Continue whisking constantly and cooking a few minutes until flour taste is gone.

In a large saucepan or pot over medium heat, melt the butter. Stir in shrimp and saute until just pink on both sides. Add the remaining seafood stock, the roux mixture, and the remaining seasoning mix. Stir until well combined and hot, about 4-6 minutes.

Serve in bowls with a 1/2 cup of rice in the center. Sprinkle green onions over top.
Notes
*Heat – This recipe is well seasoned and decently mild as written. If you wish to up the heat/spice level, you can double either (or both) the cayenne and black pepper to suit your preferences. Andouille sausage is another flavorful option to increase the heat. If you would like sausage without the additional heat, kielbasa can be substituted for Andouille sausage.
Nutrition
Serving:
2
cup
|
Calories:
786
kcal
|
Fat:
56
g
|
Saturated Fat:
18
g
|
Cholesterol:
115
mg
|
Sodium:
1426
mg
|
Calcium:
40
mg
|
Iron:
6.3
mg
Our Latest Recipe Videos
More Delicious New Orleans Dishes