Let's do brunch! Spinach Bacon Quiche is a classic breakfast dish packed with simple ingredients and savory flavors. Loaded with fresh spinach, crispy bacon, and a blend of gruyere and cheddar cheese, in a buttery, flaky crust!
Spinach bacon quiche is one of my longtime favorite recipes to serve when friends or family are visiting. Bright spinach, diced yellow onion, and smoky bacon are cocooned in a velvety egg filling baked in a flaky pie crust. Talk about comfort food!
This dish checks every box. It's simple, satisfying, and versatile enough to serve any time of day.
Why You'll Love This Recipe:
Perfect for make ahead meal prep.
This recipe has never failed me and it makes quiche look easy.
Serve hot or enjoy cold. The rich egg filling tastes delicious either way.
Super easy to modify. Add or substitute any kind of cheese or veggies you have on hand. Spinach Mushroom Quiche is another variation on this family favorite.
Versatile enough to serve for simple breakfast for dinner option or serve on a beautiful Easter Brunch table.
Ingredients and Notes
Eggs: Use large eggs, ideally brought to room temperature, for a light, silky filling.
Prepared Pie Crust: I aim to make it easy so a store-bought pie crust works well. It also comes with a pie pan which is so convenient.
Cheeses: Use an equal parts mix of two of your favorites like cheddar and gruyere cheese, mozzarella, Swiss, or parmesan.
Milk/Heavy Cream: This recipe contains equal parts milk and heavy cream because it's what I usually have on hand. I have used half and half instead too.
Chopped Spinach: I chop and destem fresh spinach. If using frozen, use about ⅓ the amount or about ½ cup, squeezed to remove excess moisture.
The Best Ways to Cook Bacon
For this recipe, we are precooking the bacon before filling the quiche so whatever way you enjoy is the best way!
Pan-frying: Cook on the stove over medium heat until cooked through and crisp.
Pro: Perhaps the most traditional style, frying bacon allows you to control the precise level of crispiness.
Con: It's a time-consuming process and can make a big mess. It's also famous for uneven cooking.
Baking: Preheat your oven to 400°F (200°C). Cook on a baking sheet for 10-20 minutes until your desired crispness.
Pro: Convenient and less messy when you're feeding a crowd or working on other components.
Con: Pan-fried bacon is more flavorful than baked bacon.
Microwave: On a paper towel lined plate, cook bacon about 1 minute per slice plus 1 more minute depending on your desired level of crispiness.
Pro: A quick and easy method that works well for a few pieces or breakfast on-the-run.
Con: The microwave pulls all of the fat from the bacon, leaving it a little dry. The plate gets VERY HOT. Handle with oven mitts.
Grilling: Use a grill flat top or skillet.
Pro: Grilling bacon is a great option to add smoky flavor, especially if the grill is already fired up for other foods.
Con: It can be challenging to get an even cook on this surface and can result in flare-ups if the fat drips onto the flames.
Pro tip: If baking, I recommend using a baking mat or parchment paper. Makes cleanup a breeze and you can save the bacon gr3ease for other recipes.
How to Layer a Spinach Quiche Recipe
The full recipe instructions are in the recipe card at the bottom of this post, but I provide this as a visual guide to the recipe to answer any questions.
Prepare the crust and make the filling components. The bottom of the pie crust will never be soggy since it is pre-baked. (photo 1 and bacon photo)
Sprinkle half the cheese. (photo 2)
Loosely layer the toppings and then the rest of the cheese. You want air pockets between items. Lay a few pieces of bacon on top for texture (photo 3)
Whisk and pour the egg custard in, filling all the nooks and crannies. (photo 4)
Recipe Tips
You can prep everything the night before. That includes pre-baking the pie shell (cover tightly to store) and cooking the vegetables.
My quiche recipe is made for a regular sized pre-bought pie crust. You can double the recipe for a deep dish or just double the egg mixture if you prefer.
I've never had a problem with the crust edges burning, but you can fold aluminum foil around the edges to prevent that.
Whole milk does make the creamiest texture but use whatever you have in the fridge.
I make different varieties all the time by substituting veggies in a 1 to 1 ratio.
You can also use any protein you desire, like turkey bacon, sausage, or cooked chicken.
More Brunch Recipes you will enjoy
In all fairness, my quiche in the photos is slightly overbaked. I love a good crust on top that adds to the texture overall of the quiche.
Common Questions
How do you stop a quiche from leaking?
If you fork your crust before baking, there is no need to go all the way through the bottom. This can lead to the egg custard leaking through as it bakes. Pre-baked crusts are also less likely to leak because the forked holes will fill in as it bakes.
What is the difference between Gruyere and Swiss Cheese?
These cheeses share a nutty, slightly sweet flavor profile. Both are excellent melting cheeses. Gruyère tends to have a stronger flavor than American Swiss. Gruyère cheese has a thick brown rind and American Swiss Cheese has a wax seal.
How do you tell if a quiche is cooked in the middle?
A done quiche should feel bouncy with a light touch. Make sure the quiche is baked in the center of the oven for a evenly cooked crust and top. If the top is starting to brown, the quiche should be done.
How long should quiche rest before cutting?
Wait 15-20 minutes before slicing to allow excess moisture to escape as steam and the ingredients to set up enough for cutting nice slices.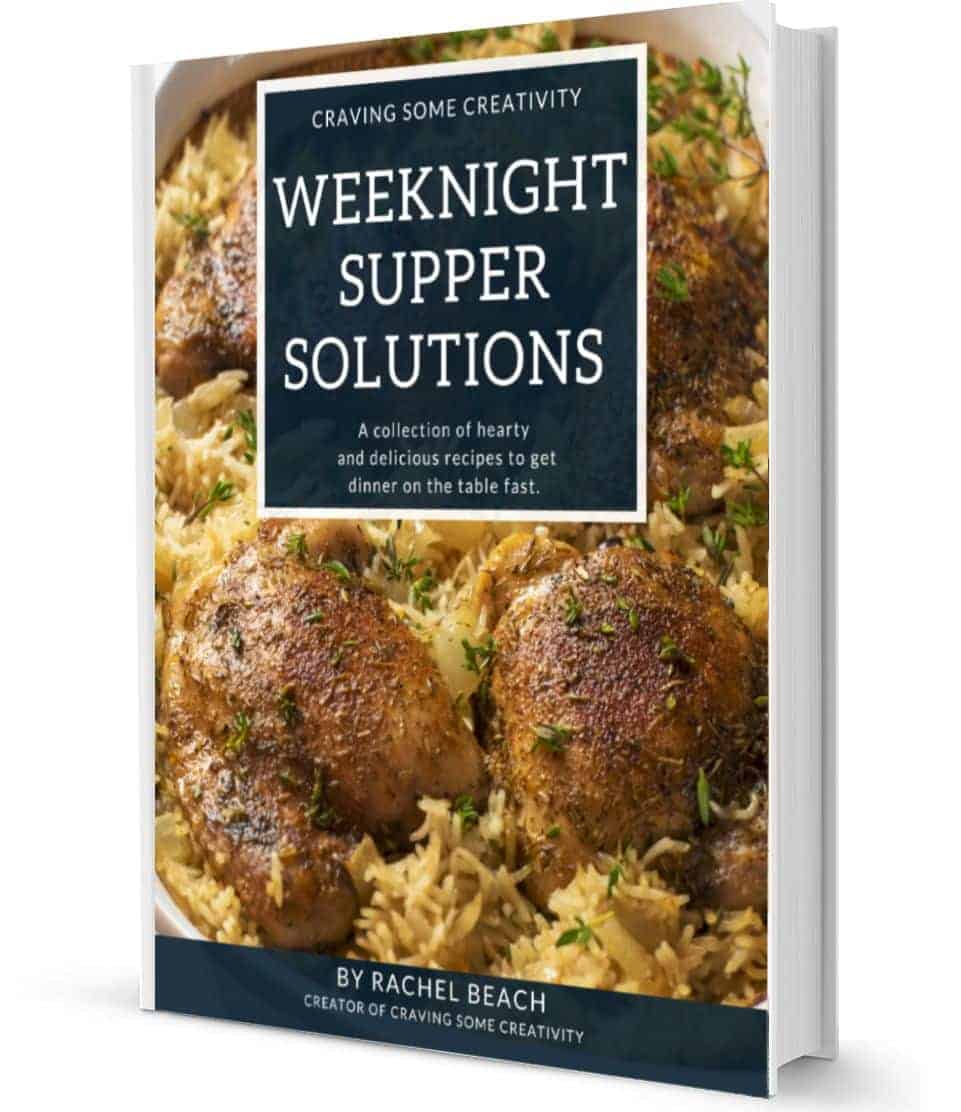 Not Sure
What's For Dinner?
Signup for recipe updates and get a free cookbook of Easy Weeknight Supper Solutions!
More Delicious Brunch Recipes
PS. If you make this recipe, leave a COMMENT AND A STAR RATING in the comments section at the bottom and be sure to take a photo and tag it #cravingcreative on Instagram! I appreciate you for taking the time to read about me and my family recipes. 
Spinach Bacon Quiche
With a creamy egg custard, savory spinach, bacon and cheese filling in a flaky pie crust, this easy Bacon and Spinach Quiche recipe is something to wake up for!
Print
Pin
Rate
Ingredients
1

pre-made crust

prepared as directed

1

tablespoon

butter

½

lb

bacon

3

ounces

fresh spinach

3 cups fresh or ½ cup frozen

½

cup

diced yellow onion

½

cup

milk

½

cup

heavy cream

3

large eggs

1

large egg yolk

salt and pepper

1

cup

Cheddar cheese

divided

½

cup

Gruyere or Swiss Cheese
Instructions
Preheat oven to 375 degrees. Bake crust according to directions. Set aside to cool.

Place bacon in a large, deep skillet, and cook over medium-high heat, turning occasionally, until evenly browned, about 10 minutes. Drain bacon slices on a paper towel-lined plate. Chop when cool. Alternatively, you can cook the bacon in a microwave on a paper towel lined plate or in the oven until crispy.

Melt butter in a large skillet over medium-high heat. Add onions, and cook, stirring until translucent but not brown. Stir in the spinach and cook for about a minute until the spinach wilts.

In a medium mixing bowl, whisk together milk, cream, eggs, and egg yolk. Season with salt and pepper to taste.

In the pie crust, sprinkle half of the cheese evenly over the bottom of the crust. Sprinkle with vegetable mixture and bacon, and then top with the remaining cheese. Pour the egg mixture over the cheese.

Bake until just set in the center, about 30-35 minutes. 40-50 for deep dish. Cool on a wire rack for about 10 minutes before slicing.
Notes
Make Ahead Instructions: You can prep everything the night before. That includes pre-baking the pie shell (cover tightly to store), and cooking the vegetables.
Deep Dish: My quiche recipe is made for a regular sized pre-bought pie crust. You can double the recipe for a deep dish or just double the egg mixture if you prefer.
Spinach: You can use frozen spinach instead. I would use about ⅓ to ½ cup of frozen. After thawing, make sure to squeeze and blot out any moisture you can.
Milk: I make this quiche with ½ cup heavy cream and ½ cup whatever % milk is in the fridge. However, whole milk does produce the creamiest texture.
Filling substitutions: I make different varieties all the time by substituting veggies with a 1 to 1 ratio. Basically, 1 cup of mushrooms roughly equals 1 cup of diced red peppers, etc. Sometimes, I have even skipped the spinach without changing the other ingredients.
Nutrition
Serving:
1
slice
|
Calories:
409
kcal
|
Carbohydrates:
14
g
|
Protein:
14
g
|
Fat:
24
g
|
Saturated Fat:
8
g
|
Polyunsaturated Fat:
3
g
|
Monounsaturated Fat:
12
g
|
Trans Fat:
0.1
g
|
Cholesterol:
147
mg
|
Sodium:
289
mg
|
Potassium:
229
mg
|
Fiber:
3
g
|
Sugar:
2
g
|
Vitamin A:
1614
IU
|
Vitamin C:
4
mg
|
Calcium:
219
mg
|
Iron:
10
mg