Tired of the look of your stair railings and banister? Learn how to paint stair rails and balusters for an inexpensive upgrade to your home's aesthetic that also adds significant value when done well.
When we installed new hardwood floors, I was shocked at the price to replace the balusters, railings, and steps. $200 per step and the railings would add several thousand dollars to our project.
That was pretty far outside my budget, so a $50 can of paint looked mighty enticing for painting railings and the balusters. Painting them would be an inexpensive, but high impact upgrade!
Much like painting railings are high-traffic areas. They will be touched, leaned on, and perhaps an occasional child who seems to think they are a new style of jungle gym (or is that just mine?!). This project is a little different from my many projects painting furniture or other surfaces in the home, so I am sharing tips to make the process easier and last for years to come!
Supplies Needed and Recommendations
Over years of remodeling homes, I have developed my no-fail list of products for painting tricky surfaces:
Orbital Palm Sander with 120 or 220 grit sandpaper
Sanding blocks – I like the ones with the angled edge.
Stainblocking Primer – Premium or Adhesion is my never-failed-me-ever primer. I don't use original or any other brand although I have tried several.
Fine Paintbrushes – A fine furniture paint brush will give you the best finish. In fact, I often use takylon brushes from the craft store for detail work.
Clean, dry lint-free rags
Wood Filler – Only for imperfections or filling old hardware
Benjamin Moore Advance
Note: It is too much work to pull out and reinstall stair rails and balusters, so I paint them with a brush. This is why I recommend a good quality brush to minimize strokes. I detached the single handrail on the right wall because it was rather simple.
Even after a few years of use, the paint looks almost perfectly new!
How to Paint Stair Railing and Spindles
Step 1: Cleaning and Prepping
As with any DIY project, preparation is key to success!
First, everything should be cleaned thoroughly with a degreaser that won't leave a film. teaspoon works very well, but other readily available cleaners work just as well. Use a microfiber or tack cloth to remove any dirt, debris, and grime.
Step 2: Maximum Bond
Handrails are probably one of the most trafficked surfaces in your home. Therefore, they NEED to be as durable as possible. I recommend that the rails and balusters be sanded to achieve a proper bond. Hand sanding all of this is certainly the worst part of the job, but you really just need to "rough-up" the surface.
Tips:
There is no need to remove all of the previous varnish and stain. Just remove the glossy finish.
Use 120 grit sandpaper or 80 grit sanding sponges.
Flat surfaces can be sanded with an orbital sander to make it faster and easier.
Try to sand in the direction of the grain.
I usually sand the handrail where people grab the most a little extra.
Step 3: High Bond Primer (if necessary)
Tape off the spindles first to get a nice edge. Then after a few days of letting the black paint dry, I taped off the rails and painted the spindles.
In my experience, there are a few paints where you can skip priming – Chalk Paint and Fusion Mineral. I will say I don't like chalk paint for a project like this.
There are, however, situations that I would still use a high-quality stain-blocking primer:
Painting over dark surfaces (i.e. navy or black) with a light or white color.
Bad stains like deeply embedded oil or markers.
Rails with knots in the wood such as knotty pine. <- This is uncommon.
However, if you use other paints, 1 coat of primer is all you need for good coverage and sealing. After using many, many primers, this series of Kilz is my never fail go-to primer.
Step 4: Types of Paint
Since handrails are such a high traffic surface, I recommend a hard enamel-type paint in a satin or semi-gloss finish. Flat or matte paints are generally more likely to blemish and can be harder to clean.
My go to paint for handrails is Benjamin Moore Advance. There are some other paints that I would use, however, they are either more expensive (Sherwin Williams Emerald Line and Benjamin Moore Grand Entrance), have mixed reviews even if I haven't had a problem (Behr Cabinet Paint), or limited colors (Rustoleum Cabinet Transformations).
Read More>>>> Our thoroughly tested guide to The Best Paint for Furniture.
Pros of these types of paints:
Hardest Finish that will last!
No primer needed unless you have stains or knotty wood.
Does not need a topcoat for durability.
Smooth self-leveling paint
Easy to wipe and keep clean (if in a satin or semi-gloss finish)
For this particular project, I used the pre-mixed Advance paint. A quart was more than enough for all of our stair railings. Closeup of Satin Black in Benjamin Moore Advance:
All-in-all, it took me about 4 days to do the railing above, two long handrails attached to the walls, and two smaller sections of banister on the opposite side. I am so happy with the results!
Step 5: Paint Curing Time
In my experience, BM advance does cure pretty fast. In the dead of winter (low humidity), the Benjamin Moore paint cured in only a few days. However, don't depend on those results.
I pleaded with everyone in the house not to touch the railings for a week until I was sure they would be able to withstand it. True cure time can take up to a month or more if you live in a high-humidity region.
Like Easy Home Improvement Ideas? We have tons to check out!
Expert Tips to Get the Best Finish
The best paint for painting railings, in my experience, is Benjamin Moore Advance. Unless you have raw wood, it doesn't require priming! It levels beautifully without brush strokes.
These are my Favorite Brushes that are soft and don't leave brush strokes. You can get smaller ones like these paint brushes at Michael's craft store for under $10.
Use a one-inch brush to paint details. This makes the paint even, stroke free, and less likely to drip than a larger brush.
Sand and paint in the direction of the grain.
Always tape off areas you don't want to paint. It's faster, easier, and looks much more professional no matter how steady the hand.
Frequently Asked Questions
What kind of paint do you use on stair railings?
My go to paint for handrails is Benjamin Moore Advance. There are some other paints listed in the article that I would use. The most durable paints will be a satin or high-gloss sheen. Do not use a flat paint like chalk paint (unless you use a protective topcoat like polyurethane) on a high traffic piece such as a kitchen table or stair railings.
Is it better to paint or stain stair railing?
You can paint or stain a stair railing with durable results if you use a durable topcoat like polyurethane.
Do I need to sand railings before painting?
Because stair railings are one of the most touched surfaces in a home, it is highly recommended to sand first.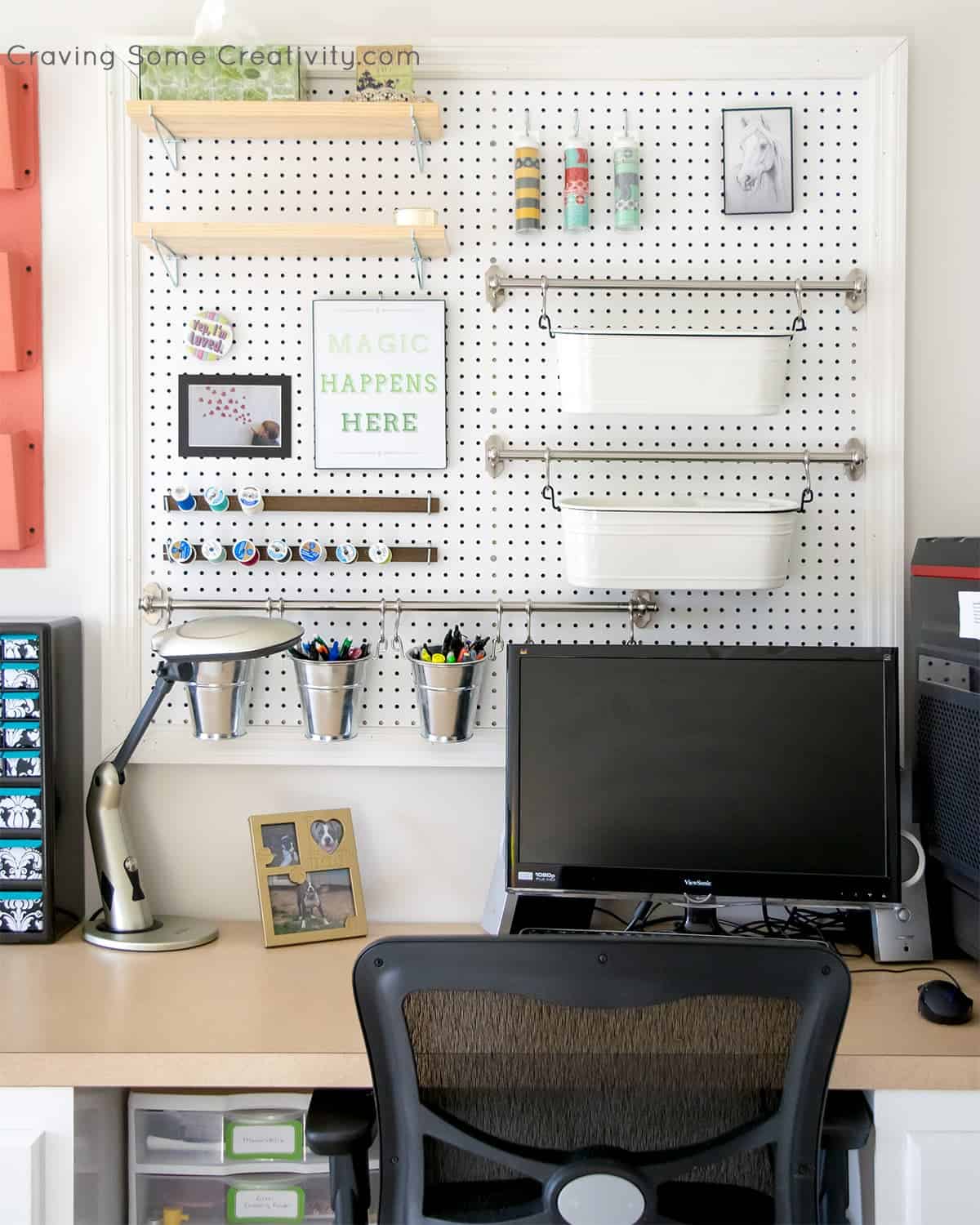 Grab our free series "Weekend Home Projects that will Transform Your Life"
Sign up below to receive updates including free printables, organization tips, home improvement projects, recipes and more!
More Furniture and Home Painting Articles
PS I love seeing your creations! Be sure to take a photo and tag #cravingcreative on Instagram! You can also stay in touch with me through following me on Instagram, Pinterest, and subscribing to the newsletter!
How To Paint Stair Railings and Banister
Tired of the look of your stair railings and banister? Learn how to paint stair rails and balusters for an inexpensive upgrade to your home's aesthetic that also adds significant value when done well.
Print
Pin
Rate
Supplies
Sand paper

120 grit for taking finish off, 220 for smoothing

Sanding Blocks

80 or 120 grit

Wood Filler

Only for imperfections or filling old hardware

Painter's tape

Paint

Protective Top Coat
Instructions
Clean surface thoroughly with a degreaser that won't leave a film. Tri-Sodium Phosphate works well, as do most commercially available cleaners. Repair scratches with wood filler.

Sand any glossy varnish or coating off. Sand a little extra on the hand rail, but otherwise you do not need to sand every bit of previous stain or paint off if it is in good condition. Use an orbital sander with 120 grit on all flat surfaces to make this much easier. Spindles will need to be hand sanded with 80 grit sponge or 120 grit sandpaper. Vacuum and wipe all dust off of the panels before priming.

Tape around surfaces to prevent paint spilling.

If painting white or light colors, prime the railings with a quality primer. Kilz Premium (not original) is my no-fail primer. 1 coat of primer is sufficient. Allow to dry 24-48 hours.

Brush 2 coats of paint for full coverage. Brush with the grain and always from one end to the other. If paint starts to dry, don't go back over it.
Notes
The Best Paint for Bannisters
Benjamin Moore Advance (my #1), Sherwin Williams Emerald Line, Rustoleum Cabinet Transformations
Guide to Cleaning Stair Bannisters for Painting
Knots – use a shellac based primer
Gooey stuff/adhesive – I like Goo Gone for gooey messes, but make sure to clean off with a degreaser afterwards to remove any residue.
Grease stains – clean with a good degreaser like Simple Green to break up what you can.
Permanent Marker/food coloring/other – Clean as best you can and then prime at least two coats.
More Tips for Painting Furniture
Get the right tools. A few extra dollars will save you a lot of heartache and frustration. I have a helpful post on painting without brush strokes here. I prefer fine taklon brushes.
Tape off any edges you don't want painted such as connectors to the wall.