Add storage space to your laundry room with this affordable makeover. Learn how to install cabinets and shelves yourself in the laundry room to store detergents, cleaning supplies and other laundry room items.
Whether you have a small laundry closet or a dark basement, installing cabinets and shelves increases the function and storage space. Closed cabinets add a sleek style while open shelving is convenient and can increase your workspace. Including a mix of storage types helps you maximize space while being a breath of fresh air in an otherwise utilitarian space.
Laundry room cabinets boost function in your washer-dryer space. Providing streamlined organization and a polished look, they can make laundry-day tasks feel like less of a chore. Design smart laundry room storage with these helpful tips.
We often get questions about our design builds, especially because we do everything ourselves. Today, I thought I would take your though our design process, step-by-step of how to install cabinets in a laundry room, and answer many of the questions we have received about this affordable makeover.
Options for Cabinets and Shelving
Let's start with the "Before": This is the condition in which we purchased the house.
We have a small laundry closet which I put shelves in before this. This space is so small that I am literally standing inside that tiny 2×2 closet to get this photo.
I'm not sure if there is any organizational item that I hate more than cheap wire shelving. Stuff falls off or tips over, it often bows from weight, and it is very unattractive. The absolute worst is that these builder grade wire shelves never utilize the space well.
This makeover utilizes stock cabinets you can find at a big box home improvement store. We used a 30-inch cabinet, but standard widths for double hanging cabinets include 24, 30, 33, 36, and 48 inches. Single cabinets are usually 12 or 18 inches wide.
Installation Materials
Cabinets:
Cabinets
Stud Finder (Optional)
Laser Level (Optional)
Tape Measure
A straight board to use as a ledger
Level
Ladder
Drill and Bits for screws
Filler Bar if a gap exists between the wall and the cabinets
Shelves:
Shelving material – we used Melamine shelves and cut them to size
Screws and Nails
Caulk (Optional)
How To Install Cabinets
The great thing is that cabinet installation isn't really any harder than putting up shelves. You will need some help lifting the cabinets up onto a wall, but the process is fairly simple.
Step One: Measure and Mark the Wall
Use a stud finder to locate the wall studs. The wall studs are crucial to properly support the weight of the cabinets.
Measure the height and width of the cabinets and mark their placement on the wall. I recommend having at least two studs to bear the weight of a larger or multiple cabinets.
Draw a level horizontal line across the wall where the bottom of the cabinet will sit. The line should be a true level. On this line, mark the studs so you can see the marks when the cabinet is hung.
***Note: Pay careful attention to the position of all electrical wiring and plumbing.
Step 2: Put Up A Ledger Board (Recommended, Not Required)
A ledger board can make it easier to hang a cabinet level. Basically, it is just a board that the cabinet sits on while you level and attach it to the wall. Screw the board into marked studs and level for the cabinet to sit on.
The benefit of a ledger board is that you have something to support the weight of the cabinet and is level. If hanging cabinets by yourself (which I don't recommend), or if the weight is a lot to handle, a ledger board is essential.
The negative of using a ledger board is that you remove it after the cabinet is installed and have to patch and paint the holes you made.
Step 3: Hanging Multiple Laundry Room Cabinets
If hanging multiple cabinets, screw 2 or 3 cabinets together before attaching them on the wall. To do this, clamp the cabinets together how you want them to match up and secure with screws where the cabinets meet.
***Pro Tip: It is extremely important to pre-drill holes to hang them. It is much more difficult to drill and hold the cabinet, plus you risk splitting the wood of the cabinet. You don't have to predrill the walls, just the cabinets themselves.
Step 4: Mount the laundry wall cabinets
Lift the cabinets onto the ledger board and check for plumb and level. Shim the cabinets if necessary to make them level front to back.
Once you have shimmed for plumb and level, secure the cabinets into the wall at the studs.
Step 5: How to Fix Wall Gaps
If a gap exists between wall and the last cabinet, use a filler bar (supplied by the manufacturer) to enclose the gap. Before securing the last cabinet, measure, mark, cut and secure this piece to the side of the last cabinet.
After all the cabinets are in place, attach the doors and hardware. Remove the ledger board and patch and paint the wall if necessary.
Adding Laundry Room Shelves
You can also add shelves very easily on the sides of the cabinets or between them. There are lots of ideas here from using floating shelves to a hanging bar for drying clothes.
In our laundry room, the open shelves on either side make the room feel a little bigger and give options for a decorative touch. The shelves are supported by a small piece of trim. All of the shelves were cut from some melamine sheets for shelving
.
The shelf above the washer and dryer is also added using this method and a center support. This smaller shelf is great since it hides cords and gives a cleaner look. It easily comes out in case we need to work behind the washer and dryer.
Caulking for Built-Ins
Caulking around the edges where the wall meets the shelving is optional. While it does give a more built-in appearance, but it won't add anything to the structure or rigidity of the cabinetry. Always caulk before painting or use clear caulk. We have more tips in our post on caulking baseboards here.
FAQs
Where to buy laundry room cabinets?
You can purchase stock cabinets at a big home improvement store like Home Depot. Another option is a local installer or a kitchen cabinet specialty store. Custom cabinets can also be ordered at both locations
How deep are laundry room cabinets?
Base cabinets are 24 inches deep, not including any countertop overhang. Hanging Wall cabinets are usually 12 or 15 inches deep.
What size are laundry room cabinets?
The size of your cabinets depends on how much wall space you have to work with. Stock widths for double hanging cabinets include 24, 30, 33, 36, and 48 inches. Single cabinets are usually 12 or 18 inches wide.
How do you attach the molding to the top of the laundry room cabinet?
I have shared how I added the trim at the top of the cabinet here in a post. It's a relatively simple project and the detail give the room a much more polished look.
Can you use kitchen cabinets for laundry room?
Yes, generally kitchen cabinets are the same as those used in laundry rooms. The application is just a different room.
DIY Laundry Room Makeover
In our laundry room makeover, I was mostly focused on adding storage and a lot more function than decorating. Of course, I added a few items to both increase my happiness level while facing the laundry task and make things a little easier to work with.
I created my own stencil with a Cricut machine and painted it on the wall.
Sources for our Affordable Laundry Room Makeover:
Cabinet and trim molding – $120
Shelves – $40
Organizer between washer and dryer – $56 (LOVE THIS!)
Platform – free (scrap wood)
Baskets – $26
Paint – free (leftover from my son's room and the kitchen)
Accessories and artwork – $35 (most are either made by me or re-purposed from around the house)
Total – $277 !!!
Check Out Our New Laundry Room Makeover and Organization Here.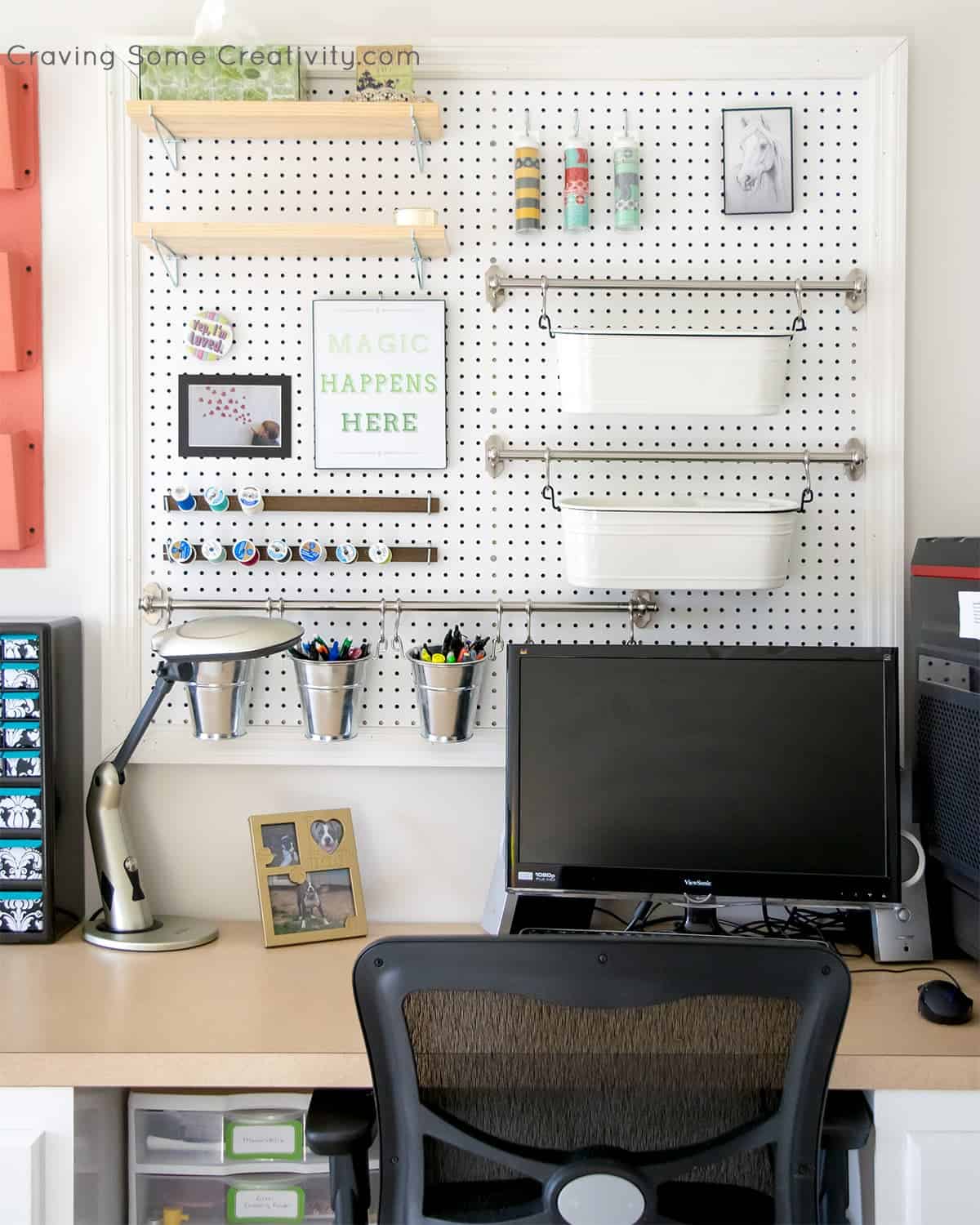 Grab our free series "Weekend Home Projects that will Transform Your Life"
Sign up below to receive updates including free printables, organization tips, home improvement projects, recipes and more!
Other Ideas