Blue kitchen cabinets are popular for good reason. It adds depth and sophistication while being very versatile with other neutral tones. From soft blue-gray to bold navy, here are the best blue and navy kitchen cabinet paint colors to blend perfectly in modern kitchens. Tips about lighting, professional application, and more. Add a little color to your world!
While I do appreciate the merits of warm white kitchen, I'm ready to put some color in my world! Cue the blues.
Blue has been trending as one of the top choices for cabinet colors for half a decade. In fact, blue is the most popular cabinet color after white! Shades of blue coordinate with any neutral, while offering a unique splash of color. From modern farmhouse to mid-century modern, there's a perfect pigment for every aesthetic.
So how does one choose the perfect shade of blue? Although there are easily thousands of inspiration pics online, it can be to find any images with the actual paint color listed! Don't panic my friends, I've included paint colors from real life kitchens for inspiration and help!
Some rules of thumb remain standard:
Light shades make tight spaces reflect more light.
Dark colors work best in larger spaces.
Assess your kitchen lighting because it's key when picking any shade of paint.
Go halvsies if you want! A blue island or bottom row of navy kitchen cabinets make for a stunning statement.
Learn more about how to choose paint colors or painting kitchen cabinets like a pro. In the meantime, let's dive into the world of moody blues to find the perfect shade for your kitchen cabinets.
Pale Blue Kitchen Cabinets
If you like the idea of dipping your toes in the color pool but prefer something subtle, pale blue is a solid choice. The tones mimic natural elements like the sky and the sea to create a serene gathering space. Pale blue cabinets are an ideal option for small kitchens, or for those seeking a soft whisper of color. Here are 5 examples for inspiration in your design.
1. Benjamin Moore Blue Smoke
Create a zen-like oasis with this medium gray shade softened by beautiful blue-green undertones. Blue Smoke's cool tones mirror tranquil watercolors. Gleaming white countertops and a stunning marble backsplash brighten the space. Brushed nickel hardware, soft gray accents, and a plush rug supply the perfect blend of pattern and texture.
2. Benjamin Moore Pale Smoke
What happens when you mix a hint of blue with a moody pale green? The perfect cool and calming gray tone is created. Pale smoke has a nearly translucent quality. The above design shows off the celestial hue by pairing it with classic white subway tile backsplash and silvery gray accents.
3. Sherwin Williams Krypton

Add a calming color to any neutral space with Krypton. This cool blue gray creates a comforting coastal vibe without coming on too strong. Strong gray undertones make it easy to pair this halcyon hue with crisp white or warm natural accents.
Pro Tip: Sample, sample, sample. Did I say sample? Take colors for a "test drive" before you pick up a paint brush. No one should not pick a paint color based off a photo they saw online.
For example, would you believe the perfect "blue" for my modern bathroom is actually silver?! It reads quite blue! Similarly, Krypton appears medium gray on the swatch card but bluer in certain spaces.
4. Behr Half Sea Fog
A medium grayish blue with hints of teal green, Half Sea Fog is reminiscent of quiet drizzly mornings. It's a timeless blue that naturally casts a sense of ease. It's that first sip of coffee before the rest of the world wakes up kind of feeling. In the kitchen above, I especially love how the black accents juxtaposed against cool and warm tones highlight the versatility of this shade. The subway tile backsplash gives it a classic, easy look.
Popular Pale Blue Color Ideas:
Sherwin Williams Hinting Blue
Sherwin Williams Notable Hue
Farrow & Ball Skylight
Benjamin Moore Soft Jazz
Benjamin Moore Ice Cube Silver – Our modern bathroom makeover. It reads blue.
Soft Blue Cabinet Paint Colors
Soft blue is the current darling of the professional design world. And rightly so. Soft blues invigorate any space with clean, cozy comfort. These sentimental shades- faded denim, ocean waves, foggy mornings – these brilliant hues effortlessly coordinate with a variety of decor styles.
Keep in mind that lighting changes the tone of blue shades considerably. Consider your natural light exposure and your existing trim when choosing a soft blue paint. Shades with a touch of gray tend to withstand the test of time. I've listed some of my tried-and-true favorites.
5. Benjamin Moore Cortland Blue
Clean. Classic. Elegant. This noble old-world blue is a beautiful blend of blue and gray. Van Courtland Blue may be inspired by historic landmarks, but it lends itself to contemporary spaces with ease. It's a timeless shade that will never be out of fashion. Van Courtland Blue brightens up this modern laundry workspace. White quartz counters and brass hardware pop against the soft blue sheen for a polished finish.
6. Benjamin Moore Normandy Blue
A distinguished shade of dusty blue, Normandy Blue makes a bold statement without overwhelming a small space. Use it in your open concept kitchen, or to highlight architectural details. This medium gray blue is reminiscent of cheerful cafes where you linger over coffee with friends. It's a perennial favorite for interiors and exteriors. The patterned tile mosaic backsplash and ornate cabinetry trim take center stage in this stylish kitchen design featuring Normandy Blue cabinets.
7. Behr Adirondack Blue
A deep blue with cool gray undertones, this refreshing shade is as hypnotic as the fog-enshrined mountain range that inspired its name. Adirondack Blue is a true team player. It balances bold accents as easily as it breathes new life into traditional spaces. As illustrated in the featured design scheme this blue works well with a range of eclectic styles and finishes.
8. Sherwin Williams Revel Blue
A grayish azure color with cool undertones plays with the borders of the color spectrum. Although Revel Blue is considered a light blue, it dabbles into purple territory just enough to provide an air of nobility to your kitchen/bath space. We've learned that shades that blend two colors together, (in this case purple and blue), will vary greatly under different lighting conditions. In this example, the transition from dark floors to light countertops and upper cabinets really allows the lower Revel Blue cabinets to shine.
Popular Medium Colors:
Sherwin Williams Honest Blue
Benjamin Moore Solitude
Farrow & Ball Oval Room Blue
Farrow & Ball DeNimes
Benjamin Moore Winter Lake
Valspar Summer House Blue
Sherwin Williams Waterloo
Dark and Navy Blue Kitchen Cabinets
Did you know that navy blue has been concluded to be the most relaxing color? Navy kitchen cabinets may be a hot trend, but it's no flash in the pan. Dark blue and navy cabinets have withstood the test of time because it is so high-end looking. While many trends have fizzled out, these versatile hues have been favored by designers for decades. Simply put- navy is the new black. Here are some of my favorites.
9. Benjamin Moore Blue Note
Feeling gutsy? This may be the color for you! It anchors your space and provides a sophisticated backdrop for other details to pop. But don't be fooled, this isn't a one note color! The undertones are navy with a tinge of green. It transitions beautifully from day to night. Pair with white subway tile, white countertops and chrome appliances for a modern, clean kitchen design.
10. Farrow and Ball Stiffkey Blue
A moody blue that gives us all the right feels! Stiffkey Blue is inspired by the Norfolk Beach where the mud and cockles share this deep navy hue. In the daylight this blue feels vibrant and inviting while the evening brings forth a more intimate mood. It's a traditional shade that lends itself effortlessly to contemporary design.
11. Sherwin Williams Salty Dog
Salty Dog is a pretty ingenious description for this traditional navy-blue cabinet color. There's just a hint of green, so it appears bolder and brighter than other navy colors in well-lit homes. This fashionable blue is an ideal choice to use in large rooms to balance scale. A striking blue island is akin to a dash of sprinkles on a scoop of vanilla ice cream. Talk about wow factor!
12. Sherwin Williams Naval
I found a true navy blue! SW Naval is a rich navy blue that is an excellent option for your kitchen, bathroom, or laundry room cabinets. Mix with warm or cool tones, silver or gold hardware, white or gray accents…the possibilities are endless with Naval as your anchor (pun intended).
Pro Tip: Dark shades such as Naval or Blue Note work best in large open concept kitchens or high ceiling spaces. Deep/bold paint colors bring large rooms to scale whereas they tend to overwhelm small spaces.
13. Benjamin Moore Van Deusen Blue
My dining room walls are painted in Van Deusen Blue, which reads like a beautiful dark blue denim. This is my go-to color when I want the feel of navy in smaller or dimmer spaces. It's a cool navy tone with very little undertone, so the quality of the color primarily depends on light exposure. In well-lit spaces Van Deusen appears in its true form as a medium dark shade of blue.
14. Behr Midnight Blue
There's something inherently comforting about a navy and white color palette. It's fresh without feeling fussy. Behr's Midnight Blue is a deep blue with gray undertones that manages to be captivating and calming all at once. This rich moody blue evokes a nearly meditative state of coziness while adding an unexpected pop of color to an otherwise neutral palette. The juxtaposition of contemporary and classic featured here is understated brilliance.
More Dark & Navy Blue Kitchen Cabinets Colors to Consider:
Benjamin Moore Newburyport Blue
Sherwin Williams Dress Blues
Fusion Mineral Midnight Blue (my bathroom cabinet paint color)
Benjamin Moore New Providence Navy
Farrow and Ball Hague Blue
Valspar Indigo Streamer (My Front Door Paint Color)
Frequently Asked Questions
Should you do the same color on the island as the rest of the cabinets?
Both ways work well depending on the layout of your kitchen. The kitchen island is a perfect place to test a pop of color without overwhelming a space.
What sheen should cabinets be painted?
I always recommend at least a satin finish for best durability. However, you can also do a lower sheen such as a matte with a sealing topcoat. You can read all of our recommendations about finishing topcoats here.
What countertops go best with blue cabinets?
The best choices for blue cabinets are usually a white, black, or wood countertop. White marble countertops have beautiful veining that is accentuated by cool colors. There are many options today that can also mimic real marble without the maintenance. With the right shade of blue, blond butcher block countertops can also be an excellent choice.
What metal finish goes with blue cabinets?
Blue is very versatile in that it works with any metal finish from brass/gold to black and chrome. Brass/gold fixtures warm these shades up, while chrome fixtures highlight cool gray undertones.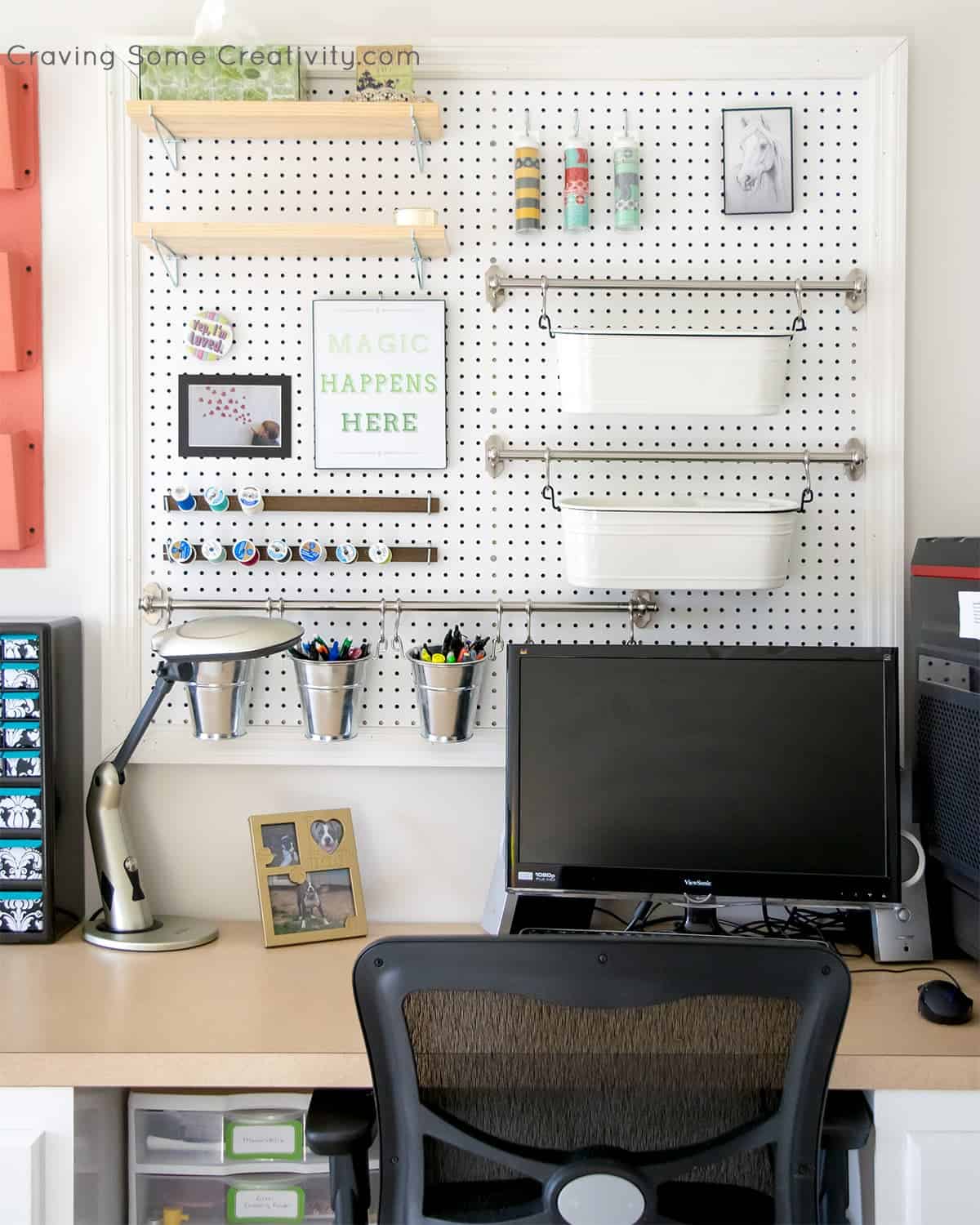 Grab our free series "Weekend Home Projects that will Transform Your Life"
Sign up below to receive updates including free printables, organization tips, home improvement projects, recipes and more!
More Paint Ideas and Makeovers
PS I love seeing your creations! Be sure to take a photo and tag #cravingcreative on Instagram! You can also stay in touch with me through following me on Instagram, Pinterest, and subscribing to the newsletter!