We gave my husband's office a huge manly makeover and, as part of that makeover, I took our plain jane mini-fridge and turned it into the most awesome man-cave worthy beer safe refrigerator! This fridge is spray painted and has held up really well. Read on to learn how to paint your fridge!
Right now… you are probably thinking, "What in the world?!" Ok, to be totally honest, I am a little nervous about today's mini-fridge makeover. I find it hilarious but it is pretty outside the box. When I was sitting down to design Hubby's office space, I stared at this honking white mini-fridge with no idea how to incorporate it into my vision of an uber manly sanctuary. I seriously stared at the great white conundrum forever before I was struck with the idea to paint it up like this fancy gun safe. Part crazy, part not knowing if I could pull it off, and a dash of "this is gonna be awesome!" cemented the idea for me. Oh, and when my husband had the same mix of emotions, I knew it was the only choice.
How to Paint a Fridge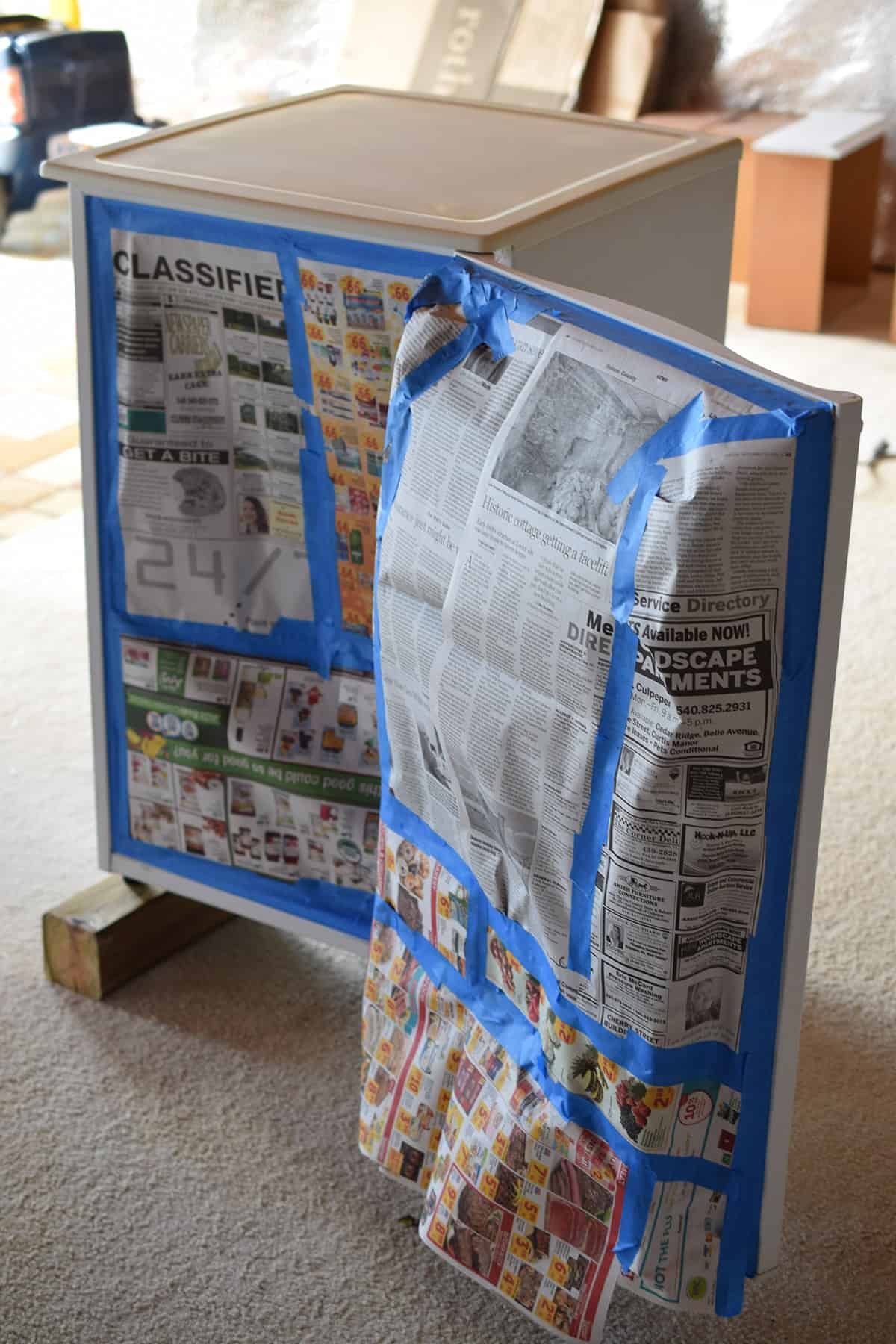 The fridge started out as boring white. We lugged it to the workshop in a properly ventilated area. Spray paint is caustic. Don't do this indoors. I scrubbed it down and cleaned everything and then taped off the insides of the fridge. I left the rubber gaskets around the door frame as white because I felt the paint would flake off them anyhow. I did paint the area where the gasket would touch when the door was closed but we are having some sticking problems so I believe this was a mistake.
*UPDATE* – Don't paint where the gaskets attach to the refridgerator to close. Even months later, the door is hard to open and sticks a lot. However, no paint ever came off from this area. I put a line of mineral oil on the gasket to keep it from sticking so much but I would advise not to paint that area.
In our case, our fridge has painted metal sides and door, but a plastic top and handles. I needed spray paint that would appropriately stick to both types of surfaces so I used this all-surface spray paint (which so happened to come in the perfect shade of gun safe matte black). To warn anyone, while I have read some reviews where this style of nozzle leaked, I had no problem in the four cans that I used. I did wear latex gloves though.
Next, the fridge is sanded down lightly. What I mean by "lightly" is that the entire surface was sanded evenly but not so much that I messed with any integrity of the piece or went through the existing paint. I used a palm sander to make this a breeze. The dust in the air should be left to settle overnight and then every surface down with dry cloth->wet cloth->dry cloth method. One coat of spray primer and two coats of the matte oil rubbed bronze was added. Make sure that when you are spray painting an appliance, you use even, light coats and follow the spray paint instructions on the can for dry time and time between coats.
If you want to stencil the mini-fridge
The extra step is involved using my cutting machine to custom design a stencil for this project. I used Real Stencil Material. Normally, I just use the right vinyl for my stencils because I am frugal, but this is a job that you have to get right the first time. There is almost no easy way to fix a mistake. The stencil material comes in 12×24 inches so after creating the full design, I moved the pieces to fit into the cutting area. After cutting it out on my silhouette cameo, I peeled off the negative spaces or the areas that I wanted to paint. This particular design has many tiny, delicate pieces so I used transfer material to put the design on the fridge and then peeled the transfer tape off.
In order to make sure that the Black spray paint was at its maximum hardness, I let the refrigerator sit for over a week. The stencil material has an adhesive backing and I wanted to make sure that it would not peel any of the paint off. I taped the stencil pieces on as you see above and spray painted the refrigerator with silver metallic paint. I allowed the paint to dry for according to the directions on the spray can and then gently removed the stencil. For hard to get pieces, I used the tip of a sharp craft knife and gently pried them up, while being careful not to scrape any paint.

Lastly, I had hubby drill a real safe dial into the door of the fridge. Our particular fridge only has insulation in the door area (no light or coils). He was so worried that the door would dent so he used very light pressure when drilling. The dial itself came off an old ATM and adds a lot of realism to the mini-fridge "safe". It does spin but it is only for looks and does not lock the fridge.
Want to see More of our DIY projects?? Check out these makeovers!
We called it "The Beer Safe" because it is sort of a humorous, whimsical project. Who thinks to paint their mini-fridge like a gun safe?! It's even funnier to me since it is mostly stocked with water bottles and soda, although beer does make an appearance. Hubby does partake in the occasional tasty beverage, but I maybe have a few glasses of wine or a cocktail a year with company. To call it "The Beer Safe" is almost theatrical in its over-the-top-ness.
So, I would love to hear what you think! Love it, hate it, still laughing at our cheeky little project?
*UPDATE: I have gotten many requests from readers about shipping the Beer Safe Stencil for those who do not own the equipment. This is a very intricate stencil that I custom made for this project and is copyrighted. I am not currently setup as a merchant/store to sell these (yet!). As an alternative, RM Wraps makes quality covers and has a similar Beer Safe design here. They also have a wide selection of other really cool vinyl wraps to check out.
Frequently asked questions:
Do you have to apply a clear coat over a painted refrigerator?
I did not apply a clear coat when doing this project. I used rustoleum spray paint, which is quite durable and has held up very well. If you have handles on your refrigerator, I would consider applying a clear coat of sealer for added durability and to prevent chipping or rubbing off on your hands.
Can I use a different type of paint on a refrigerator?
If this isn't quite the finish you're looking for, there are several different types of paint that you can use. Spray paint is the easiest to apply, however, chalk paint and appliance epoxy are commonly used as well. Be sure to check if your paint requires primer. If you're interested in more ideas for painting your refrigerator, check out my post with these 15 amazing DIY refrigerator makeovers.
Can I paint my refrigerator if it has some rust spots on it?
If your refrigerator is in perfectly good working condition, but has a few rust spots, don't worry! You can use products you probably already have at home, like vinegar or a baking soda and water paste to scrub of rust off. You can also sand off any rust spots. Be sure to sand until the surface is as smooth as possible, then remove all the dust and clean everything completely before priming.
Can you use magnetic primer on a refrigerator?
You don't have to use the magnetic primer, but you can definitely go that direction if you like to hang things on your refrigerator. Depending on the type of paint you use and how thick of a coating you apply, it may lose some of it's ability to hold magnets even with the magnetic primer.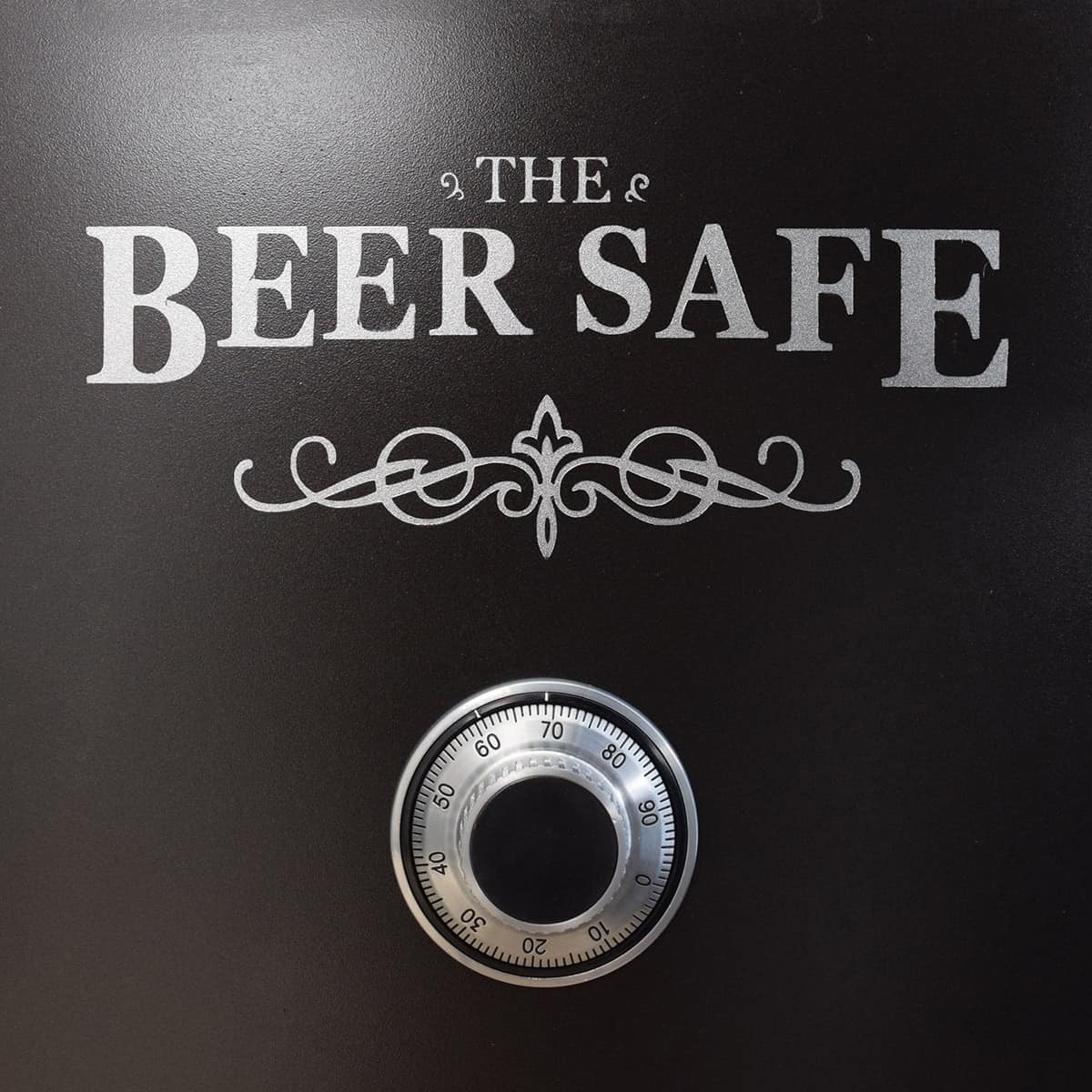 Grab our free series "Weekend Home Projects that will Transform Your Life"
Sign up below to receive updates including free printables, organization tips, home improvement projects, recipes and more!
More Makeover Ideas