Indulge in tender, juicy Grilled Maple Glazed Pork Chops coated in a smoky maple marinade that cooks down to a sweet and sassy glaze. Tips for choosing the perfect pork chop, grilling for a proper cook, and more!
If you've been here awhile, you already know how much I love marinades like Steak Kabobs, Teriyaki Chicken Skewers, and juicy grilled Chicken Thighs! Today's recipe for Maple Glazed Pork Chops is a summer and fall delight where maple syrup lends buttery sweetness during the grilling process as it cooks down to a tantalizing sauce.
A favorite fix-it-and-forget-it recipe, marinate in the morning and enjoy the rest of your day before grilling to perfection! And it still takes less than 20 minutes to make.
The Secret to Moist Pork Chops
The secret to super juicy pork chops is brining or marinating. Although there's a lot of science behind how it works, the bottom line is that marinating both tenderizes meat while infusing flavor. Today's recipe is designed to work as a marinade that cooks down to create the most flavorful maple glazed pork chops.
Real Maple Syrup. Only 100% pure maple syrup for the most maple flavor. I have not tried to use maple extract.
Liquid Smoke. Potent, so you only need a little, but it makes this marinade the best!
Brown Sugar. I use light because it's what I keep on hand but the extra molasses in dark brown sugar would be lovely.
Soy Sauce. Regular or low sodium is fine. You could also use balsamic vinegar, although it will alter the taste.
Spices. Paprika, garlic, red pepper flakes, and oregano wake up the marinade and round out the flavors without overpowering it.
Orange Zest. A little bit of citrus acidity helps the marinade do its magic.
How to Pick the Best Pork Chops
Look for chops with a pinkish-red color without bruising or irregularities.
Choose cuts with a moderate amount of fat, as it enhances juiciness and adds flavor during cooking.
Opt for thicker cuts to prevent overcooking and maintain moisture. However, use a slightly lower cooking temperature to keep the outside from drying out.
Boneless pork chops have less fat, making them less tender. However, bone-in pork chops can be trickier to evenly cook next to the bone.
Grilling is easier if the meat is even in thickness. For grilling, I use ¾-1-inch-thick pork chops.
Do check the date for freshness.
Tips for Grilling Moist and Tender Pork Chops
Preheat the grill to medium-high heat (around 400-450°F) for boneless chops and medium heat (around 350-375°F) for bone-in chops.
Season the pork chops with at least 30 minutes rest before grilling to enhance flavor.
Let the pork chops come to room temperature before cooking. Cold meat causes the outside to overcook, while the inside will be underdone.
Brush the grill grates with oil or use a non-stick cooking spray to prevent sticking.
For boneless chops, grill each side for about 4-5 minutes, flipping only once. The USDA recommends and internal temperature of 145°F (63°C).
For bone-in chops, sear them over direct heat for 2-3 minutes per side, then move to indirect heat and continue grilling for another 10-12 minutes. Always check next to the bone for doneness.
Avoid overcooking to maintain juiciness; use a meat thermometer to ensure accuracy.
Allow the chops to rest for 5-10 minutes after grilling to retain their juices before serving.
Baste the chops with a maple glaze during the last few minutes of grilling for added flavor.
Clean the grill grates after use to prevent sticking and ensure the best grilling experience next time.
More Delicious Pork Recipes to Try:
Frequently Asked Questions
Can you bake or pan fry these pork chops?
Yes, although grilling is my preferred method since it enhances the smoky, char flavors that deepen the maple syrup base. It's also easy to baste and thicken the glaze.
How do I know when pork chops are done cooking?
The most accurate way is to use an instant read thermometer. The USDA recommends an internal temperature of 145°F (63°C) and to allow the chops to rest for at least 3 minutes after cooking. For bone-in chops, make sure to check both the chop and next to the bone in the middle.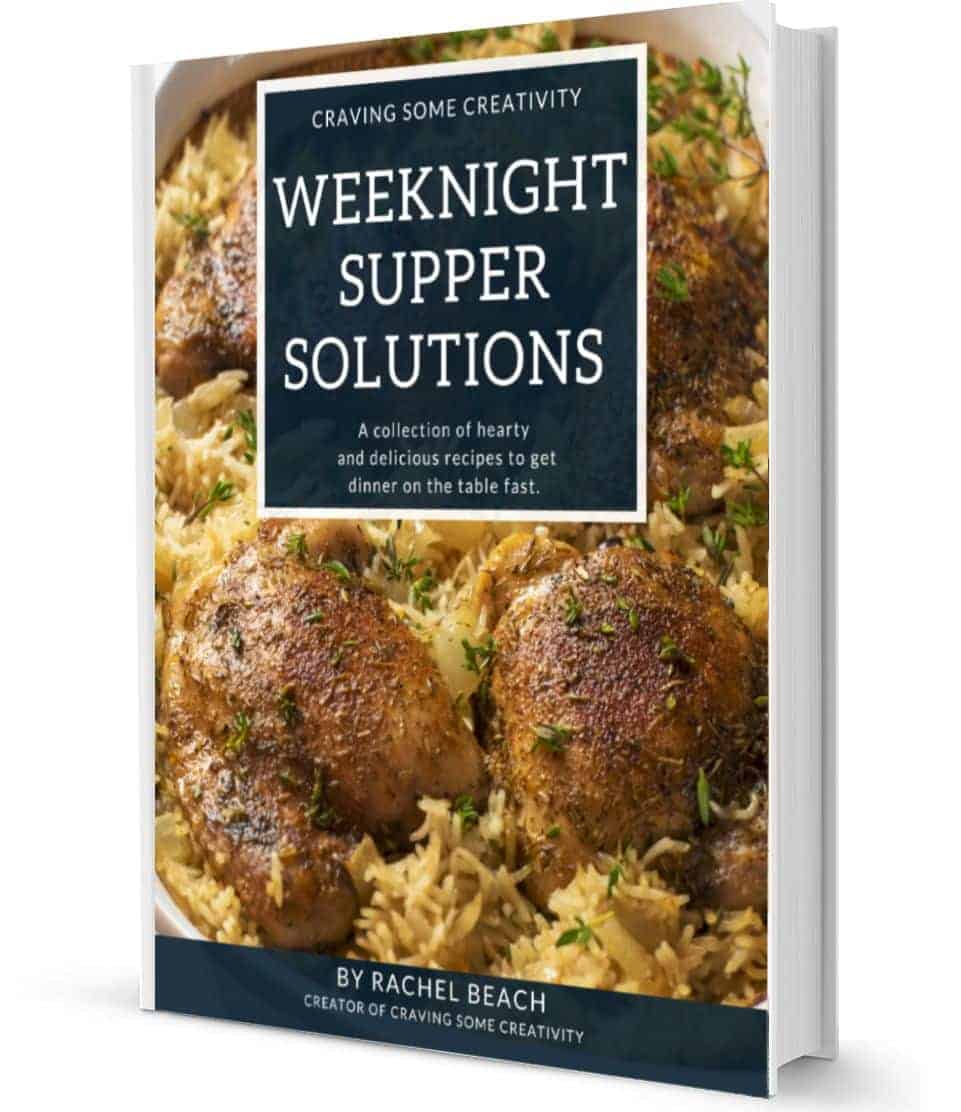 Not Sure
What's For Dinner?
Signup for recipe updates and get a free cookbook of Easy Weeknight Supper Solutions!
More Delicious Recipes You May Like
PS. If you make this recipe, leave a COMMENT AND A STAR RATING in the comments section at the bottom and be sure to take a photo and tag it #cravingcreative on Instagram! I appreciate you for taking the time to read about me and my family recipes. 
Grilled Maple Glazed Pork Chops
Indulge in tender, juicy Grilled Maple Glazed Pork Chops coated in a smoky maple pork marinade that thickens to a beautiful glaze during cooking.
Print
Pin
Rate
Ingredients
4-6

Pork Chops

boneless or bone-in is fine

2

tablespoon

Vegetable Oil

¼

cup

Brown Sugar

I use light, but dark brown sugar works too

½

teaspoon

Liquid Smoke

½

teaspoon

Onion Powder

2

teaspoon

Minced Garlic

about 2 cloves

½

teaspoon

Red Pepper Flakes

optional

1

tablespoon

Paprika

1

teaspoon

Orange zest

1

teaspoon

Oregano

dried

3

tablespoon

Maple Syrup

⅓

cup

soy sauce
Instructions
Make sure pork is evenly the same thickness and pat dry with paper towels to remove any excess juice.

Whisk together all marinade ingredients in a small bowl. Place pork chops in a gallon Ziplock bag or a bowl. Pour the marinade over chops and toss to fully coat. Seal bag or bowl and marinade 2 hours or in the refrigerator overnight. In a pinch, the minimum I would recommend marinating is 30 minutes.

After the pork is marinated, put the sauce on the stovetop and boil for 5 to 7 minutes. Pour through a mesh sieve to remove any bits.

Grill pork chops over medium to medium high heat until it reaches 145 degrees internal temperature, turning halfway through. About 8-10 minutes total cooking time. Baste with the maple glaze as you grill. Let the chops rest for 3-5 minutes before serving.
Notes
Grilling Tips
Make sure your meat is mostly even in thickness. I lay the pieces out flat before marinating and, if there is a particularly thick lump (over 1.5 inches), I press it a little flatter.
Marinade for at least 2 hours or overnight in the refrigerator (you can do less time but it won't brine or seep as well into the pork).
Cook pork chops on medium to medium high heat for 4-5 minutes on each side.
Storage Suggestions
Serve: You can keep cooked pork at room temperature for up to 2 hours but it's best to refrigerate as soon as possible.
Refrigerate: Cooked pork chops should be stored in the refrigerator, wrapped tightly in aluminum foil or in an airtight container, for up to 4 days. Don't cut up the meat until ready to reheat.
Freeze: You can freeze with the marinade or after cooking. Cool your meat to room temperature, and place in a freezer or food saver bag to minimize freezer burn. Freeze for up to 4 months. You can pre-cut this for salads and sandwiches to reduce thaw time. 
Nutrition
Calories:
307
kcal
|
Carbohydrates:
23
g
|
Protein:
22
g
|
Fat:
14
g
|
Saturated Fat:
4
g
|
Polyunsaturated Fat:
5
g
|
Monounsaturated Fat:
5
g
|
Trans Fat:
0.1
g
|
Cholesterol:
67
mg
|
Sodium:
60
mg
|
Potassium:
479
mg
|
Fiber:
1
g
|
Sugar:
20
g
|
Vitamin A:
951
IU
|
Vitamin C:
1
mg
|
Calcium:
48
mg
|
Iron:
1
mg