These colorful painted furniture ideas are amazing transformations that put a modern and beautiful story to old furniture. From subtle hues to bold blue painted furniture, there are projects here to refresh your entire home. Creative DIY ideas, tutorials, and before and afters, for pieces large and small.
There's probably nothing I love more than creatively painted furniture. Giving a thrifted piece a makeover that is uniquely you will completely transform your space. And paint is my all-time favorite transformation medium.
As a furniture refinisher myself, anytime I get requested to use color from a client, I get super excited! While I have several white painted furniture pieces and gorgeous black painted furniture pieces, color is always a fun addition.
Whether you're repurposing a well-loved piece, or you've decided to update your current furniture, a simple paint job revives your pieces. See which paints I've selected as the best paints for furniture. For professional looking results, read my tips on eliminating brush strokes and choosing the best topcoat to protect your custom creation.
Take a look at these impressive painted furniture ideas by fellow DIYers. From layered paints to bright colors to floral transfers, there is something for every style. If you see anything you love and want to read more about it, you can find a direct link to each project underneath each photo and these talented creatives often have many more stunning colorful painted furniture ideas!
Blue & Navy Painted Furniture
Navy is the new black. It's versatile, clean and timeless. When it comes to blues, the sky's the limit. From light beachy-hues to dark navy, this gender-neutral hue perks up any decor scheme.
Check out our favorite Navy paints in our post the Best Blue Cabinet Paint Colors.
Good bones make sensational before and afters. This Kent Coffey Lancia dresser was already in great condition when Painted by Kayla Payne acquired it. The dark glossy sheen is accented by beautiful brass hardware, creating polished elegance.
I spied untapped potential in this estate sale leftover, so naturally I hauled it home. After a bit of wood filler and elbow grease, this weekend warrior project became a lovely feature of our guest room. I chose a romantic hand-painted finish for this piece, using Fusion Mineral Paint in Little Whale.
Midnight Blue Painted Bathroom Cabinet
How about this unexpected pop of Midnight Blue to inspire? This post on how to paint a bathroom cabinet gives useful tips for painting high traffic furniture. It's a good beginner DIY project, and a great budget saver.
Benjamin Moore Hale Navy Dresser
Renovating this piece was a work of heart for Renovated Faith. She chose Benjamin Moore Hale Navy to update this beloved piece. The rich navy accentuates the exquisite detail of this antique.
Lighten up a little! That was the idea behind this gorgeous furniture makeover from Lost & Found Decor. Her husband's dark and drab dresser became a conversation piece with a few coats of French Eggshell by Fusion Mineral Paint.
Navy Blue Dresser with Gold Knobs
Someone's trash is another person's treasure. When A Ray of Sunlight scored this free dresser off Facebook Marketplace, it was in desperate need of TLC. Follow their step-by-step tutorial on this DIY dresser makeover.
Green Painted Furniture
With so many beautiful nature-inspired hues to choose from, green is is the "it" color of the design world. Modern greens are vibrant, bold and timeless. From sage to deep emeralds, green painted furniture is a stylish refresh for any room.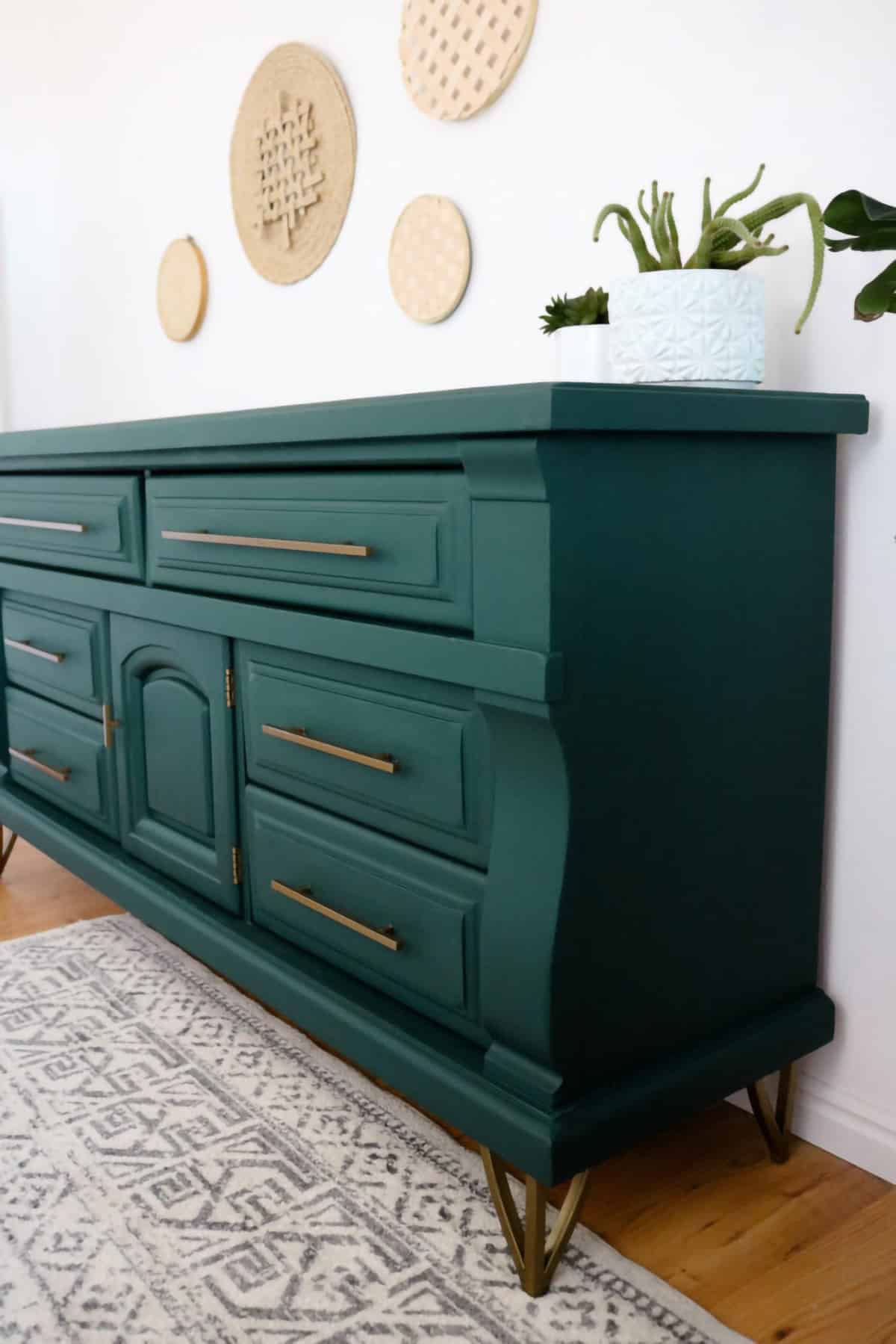 If furniture could talk, this $25 yard sale find would tell the story of two drastically different transformations within the span of four years. Lily Ardor walks us through how she makes DIY chalk paint using Nightwatch by PPG Paints.
Is it just me, or does every man have an attachment to something that we find, well, unsightly? This brilliant drawer front makeover from Do Dodson Designs, manages the earthy neutral tone of Hampton Olive by Silk Mineral Paint compliments the other bedroom decor seamlessly.
When old meets new, you get an original vibe which is exactly what Salvaged Living was aiming for. She used Urban Garden from the HGTV Home line by Sherwin Williams to paint her walls and ceiling and bookcase. The result? An illusion of custom built-ins minus the heavy price tag!
Color outside of the lines by blending paint colors! Brushed by Brandy created this lush Juniper shade by blending a mix of Palmetto, Antebellum Blue, and Midnight Sky French.
Upcycling antique furniture is a true labor of love. When The Honeycomb Home stumbled upon this gem, it had seen better days. She pulled up her sleeves and got to work, selecting Vine Leaf from Behr to give this piece present-day purpose. The rich glossy color showcases the dresser's curves and bevels.
Paint is the star of the show in this furniture makeover featured by petal+ ply. The console was in overall good condition, simply in need of a makeover. Lush by Velvet Finishes Paint was selected to make a bold statement, and to easily cover the former black finish without much fuss. The updated creamy white hardware is a perfect pop against the deep green base. Lush and lovely!
Dreaming of coastal waters and sunsets by the shores? This dreamy coastal dresser from @bluewreninteriors inspires all the beach feels. Brushed brass hardware and Brook by Fusion Mineral Paint work in natural harmony for understated seaside style.
Looking for more sage greens? I have a whole post dedicated to our 20 favorite Sage Green Cabinet Paints.
Purple & Pink Painted Furniture
There's no such thing as a color faux pas when it comes to painting furniture. A fun new colorful painted furniture piece can reinvigorate any long-forgotten piece. With so many modern finishes and color options readily available- why not put a little color in your world?
This pretty in pink before and after project was almost the "one that got away." Salvaged Inspirations initially passed on this dresser but couldn't resist the urge to go back. Thanks to her intuition and Pink Champagne Chalk Mineral Paint, this makeover story has a very happy ending.
I'm plum crazy over this floral-patterned piece from Lost and Found Decor. An antique Basset Italian Provincial chest of drawers is given a glamorous update with Fusion Twilight Geranium paint and romantic floral transfers. What a stunner!
Guests go gaga for this raspberry refresh by Style your Senses. She used Design Master ColorTool Spray Paint in Raspberry to rehab this gorgeous addition to her guest suite. The updated gold hardware pops crisply against the bright hue. Can you feel the ambiance radiating from this room?
Baroque Inspired Burgundy Bookcases
What a mood. Outdated veneer bookcases receive a major overhaul. Fusion Mineral Paint in Winchester packs a juicy punch transforming this custom library into a royally cozy space.
Kismet by Melange Paints @pennollo_designs. a luscious aubergine purple with rich, earthy undertones.
Yellow Painted Furniture
As much as I love the traditional blues and greens, there's something unexpected about a brightly yellow painted finish. Yellow hues, oranges, and golden painted furniture is the cool kid in high school. It's chic and always in style. Use this in your project to add vintage brightness, or cheer in a room.
It was Colonel Mustard in the hall with the candlestick. This custom antique sideboard from Brushed by Brandy features Colonel Mustard paint by Dixie Belle. The vivid goldenrod hues make an electric entryway statement. Check out the bee drawer pulls, simply divine.
Miss Mustard Seed Yellow Dresser
Yellow is such a joyful color, but it can be tricky to pick the perfect shade. Eight Hundred Furniture hit the proverbial nail on the head with Miss Mustard Seed's "Mustard Seed Yellow" Milk Paint. This buttery shade hits all the right notes as it's not too bright but doesn't slant too gold.
What's the golden rule of playing with color? Essentially, there are no rules! This Burnt Amber Hutch from Amber Street Market is right on trend thanks to a custom blended hue from Melange Paints. ONE in "Rust," an earthy clay gets a dash of equal parts 'Mesa," a rustic red and "Mink," a warm putty brown to create a boho chic shade.
Patterned Painting Ideas
Dark Green Serpentine Sideboard
In this gorgeous furniture refinish by Gracie's Attic, a deep green is used as a beautiful accent color. The multi tonal finish provides dimension and intrigue. This upcycle is a cohesive combination of modern and antique, where the dark emerald green provides a clean outline for the gold details to shine.
BOHO PATTERNED BEDSIDE TABLES
This is one of those projects that has it all! The geometric pattern allows you to do a little more for less. And the end result could easily pass for a designer set! Rainforest by Pureco Paint is a deep jewel-like teal with chameleon-like qualities.
Everything's coming up roses on this Rifle Paper Co. covered desk rehab. Follow along as the weathered door steps out of her comfort zone and conquers! General Finishes Coastal Blue paint mimics the inky depths of the ocean, which makes an ideal anchor for the bright poppy print.
More furniture painting ideas? Take a peek at some of these:
Seeing what other DIYers have been up to, always reinvigorates me. How about you? Did you find something new to inspire one of your future projects? I'm so thankful to have access to platforms where we can easily share creative ideas and how-to's.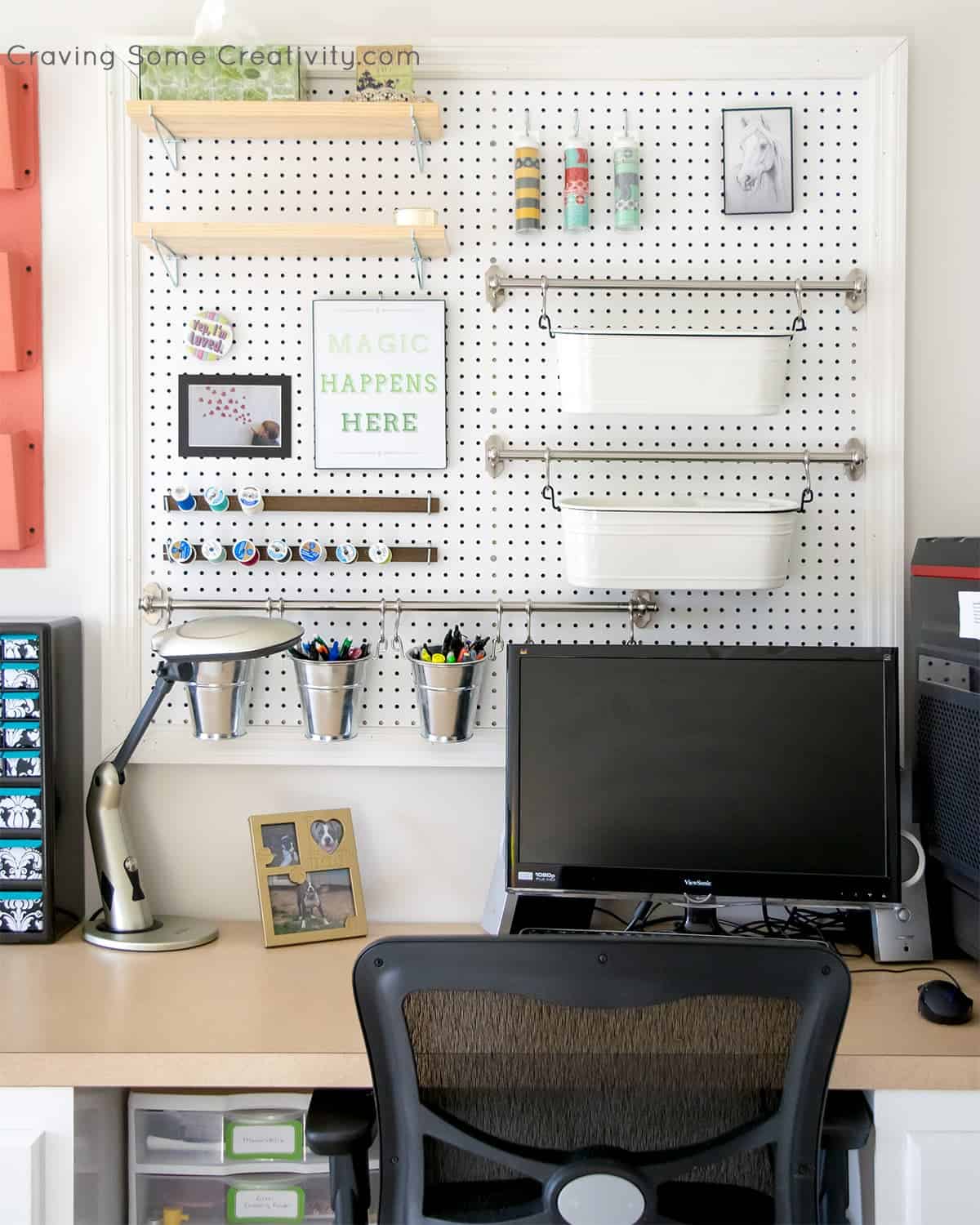 Grab our free series "Weekend Home Projects that will Transform Your Life"
Sign up below to receive updates including free printables, organization tips, home improvement projects, recipes and more!
Learn How To Paint Furniture
PS I love seeing your creations! Be sure to take a photo and tag #cravingcreative on Instagram! You can also stay in touch with me through following me on Instagram, Pinterest, and subscribing to the newsletter!