These DIY furniture makeovers are sure to inspire! Creative Before and after ideas we can't get enough of.
There's probably nothing I love more than creative furniture makeovers. Breathing new life into an old piece of furniture to give it new function and style is my jam. Today, I want to share some of the most impressive before and after furniture makeovers that I have come across and maybe 1 or 2 of my personal favorites that I have done over the past few years. Read on to check them out!
In decorating our house on a budget, I shop around at thrift stores, Craigslist, and sometimes yard sales. I have more ideas than I have time really. But I have a coffee table, two full bedroom sets, and a corner cabinet waiting for their own makeovers. Of course, during this experiment called blogging, I have connected with a few extremely talented DIY furniture divas. From roadside reclaims to Ikea transformations, these ladies really get creative. You will not believe how some of these projects started out!
This DIY Clock Coffee Table I thought was very inventive. A simple entry way table makeover but with some pizazz with the clock numbers made it very cool.
The technique on this table is really cool. It is called cerusing and you can see the before and after cerused table here. The best way to describe this technique is almost like filling the wood grain with paint or color so that the texture really comes out.
Stencils are all the rage and this Vintage Painted Bicycle Side Table is a beautiful furniture makeover!
Isn't this floral patterned twilight plum piece from Lost and Found Decor stunning?! BTW, her shop is filled to the brim with amazing tutorials and ideas for creating unique makeovers.
The Beer Safe is one of my All-time favorite makeovers. Originally a plain mini-fridge, it definitely has some personality now!
Turning an Old Dresser into a TV Console is genius! The hardware is really cool too.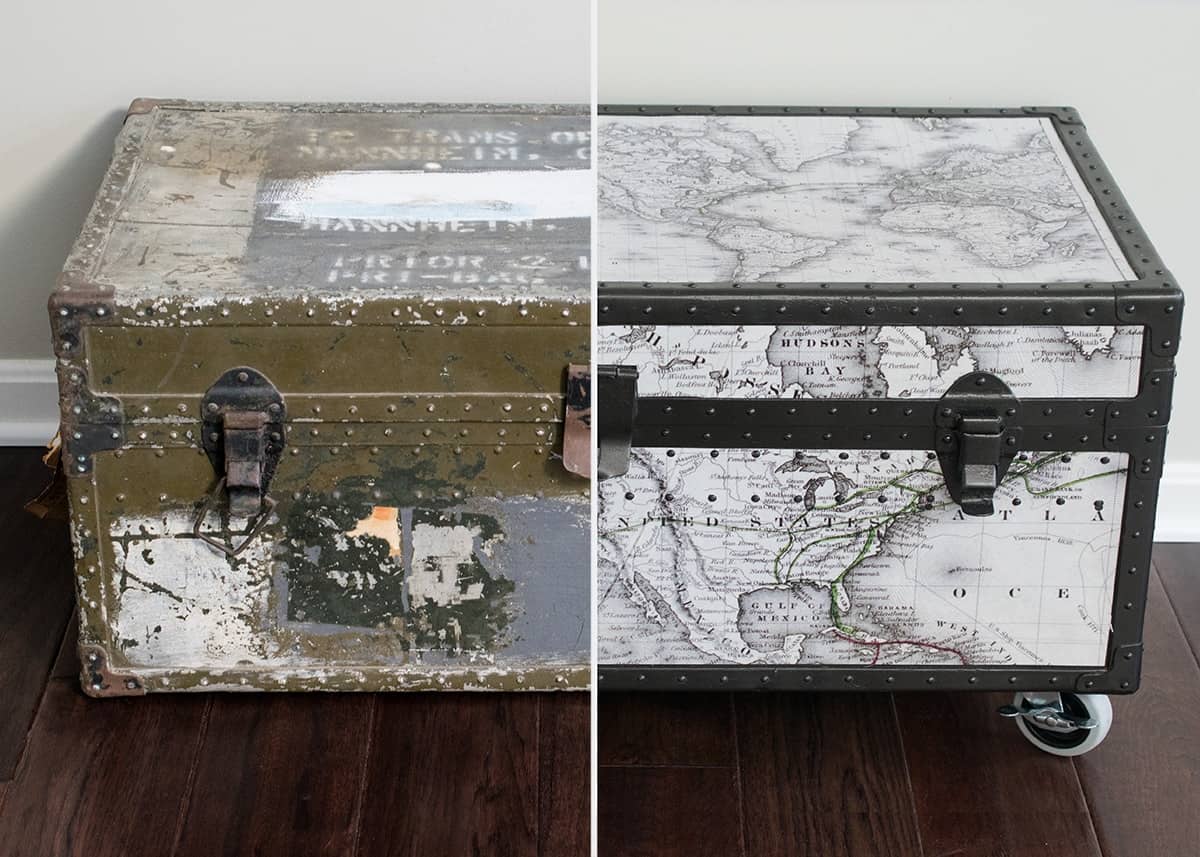 Yep, this antique military trunk is almost unrecognizeable in it's original form. The vintage maps on this trunk makeover are a really cool addition too!
This chair makeover is super impressive because they are No Sew! I love that!
Isn't this table beautiful? You won't believe how this outdoor dining table makeover started! A true thrift store find and the new top is stunning.
Can you believe this used to be your standard oak dining room table?! The contrast and color in this Kitchen Table Makeover is beautiful!
I have lots more furniture transformations planned but I love looking at all the other inspiration around me for future projects. Do you like them as well?
If you are interested in learning more about giving your furniture a stunning makeover, check out these articles:
Pssst...
Grab our free series "Weekend Home Projects that will Transform Your Life"
Sign up below to receive updates including free printables, organization tips, home improvement projects, recipes and more!
Learn How To Paint Furniture