These painted furniture ideas are sure to inspire your next makeover! Creative Before and after DIY ideas we can't get enough of that also have great tutorials.
There's probably nothing I love more than creative painted furniture ideas. Breathing new life into an old piece of furniture to give it new function and style is my jam.
In decorating our house on a budget, I shop around at thrift stores, Craigslist, and sometimes yard sales. I have more ideas than I have time really. Here in the DIY blog world, I have connected with some extremely talented furniture flippers. From roadside reclaims to Ikea transformations, these ladies really get creative.
Today, I want to share some of the most impressive before and after furniture makeovers that I have come across and my personal favorites that I have done over the past few years.
Beautiful Painted Furniture Ideas and Examples
You will not believe how some of these projects started out!
This DIY Clock Coffee Table is so inventive! It is a chalk painted table using a stencil. A simple entry way table makeover but she really made it interesting by adding the clock numbers.
The technique on this table is really cool. It is called cerusing and you can see the before and after cerused table here. The best way to describe this technique is almost like filling the wood grain with paint or color so that the texture really comes out.
Stencils are all the rage and this Vintage Painted Bicycle Side Table is a beautiful furniture makeover! It really ups the vintage feel and makes it look similar to an apothecary cabinet.
Isn't this floral patterned twilight plum piece from Lost and Found Decor stunning?! BTW, her shop is filled to the brim with amazing tutorials and ideas for creating unique makeovers.
The Beer Safe is one of my all-time favorite makeovers. Originally a plain mini-fridge, it definitely has some personality now! The stencil is hand made and now has a very authentic look.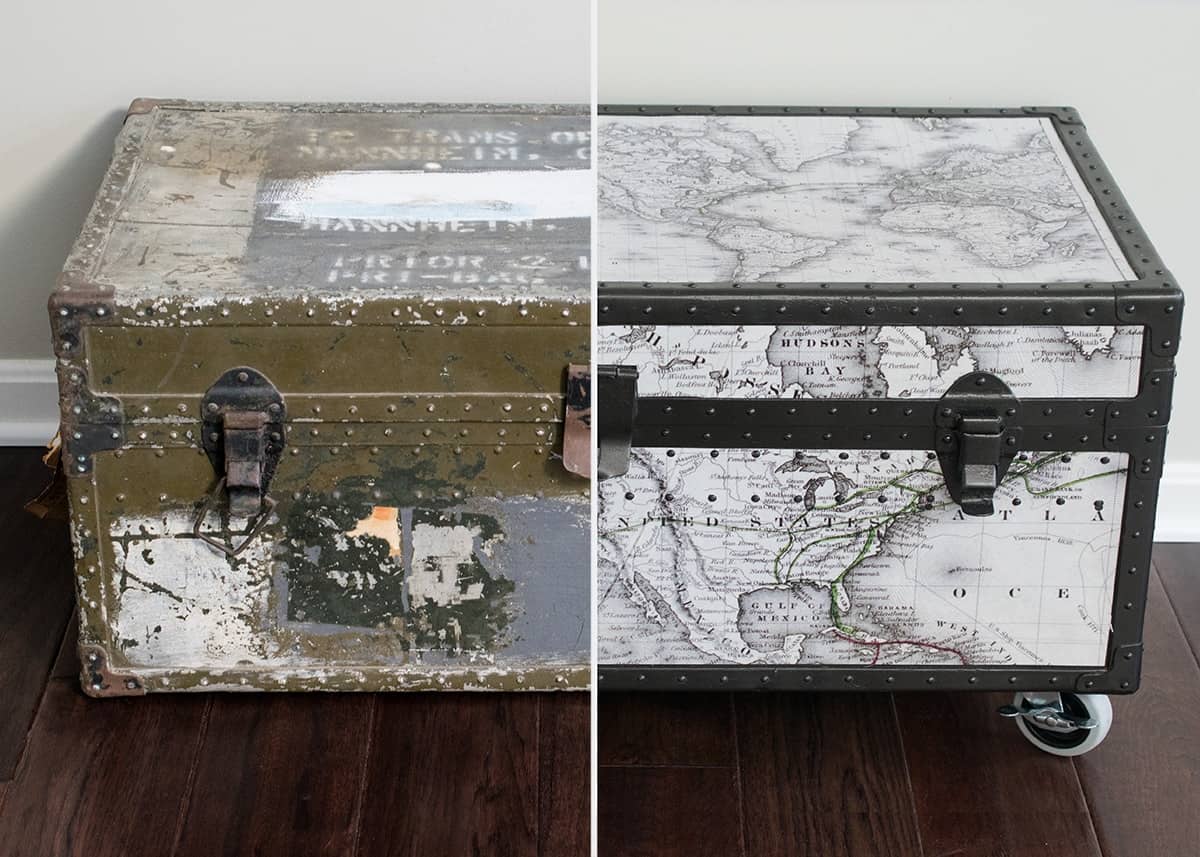 Yep, this antique military trunk is almost unrecognizable from it's before. The vintage maps on this trunk makeover are a really cool addition too!
This chair makeover is super impressive because they are No Sew! I love that! The riveted details give a sophisticated style but also makes the new chair covers look nearly original.
Isn't this table beautiful? You won't believe how this outdoor dining table makeover started! A true thrift store find and the new top is stunning. It is actually washed with a gray so that the color is muted but the wood pattern still shows through.
How To Make Old Furniture Look Modern
Painting dark furniture white can be a little intimidating. Painting this massive entertainment center a cream white was the right way to go though. Now the beatiful details and craftmaship like the ornate door handles stand out. The center was even built to match.
How about this pop of midnight blue as a painted furniture idea to inspire? This post on how to paint a bathroom cabinet gives great tips for high traffic furniture and a beautiful makeover.
Bonus: Unpainted beauty!
Can you believe this thrifted find was originally a dark cherry red? This finish is called raw wood because it is designed to look like wood that doesn't have a stain or finish on it, but doesn't turn orange or yellow either like clear stains can do. This post teaches how to get the raw wood furniture finish. I love it's timeless beauty and the changing of the finish brought the beautiful wood grain patterns out.
How did you like these painted furniture makeovers? I have lots more furniture transformations planned but I love looking at all the other inspiration around me for future projects.
Want to see more furniture painting ideas? Take a peek at some of these:
Grab our free series "Weekend Home Projects that will Transform Your Life"
Sign up below to receive updates including free printables, organization tips, home improvement projects, recipes and more!
Learn How To Paint Furniture