Have a piece of furniture to be refinished? But you don't know how to strip furniture stain from wood? You're in the right place! These tips get the job done with less work and sanding.
Lately, I have been wanting to bring more of the natural warmth of wood tones. While I feel I am forever painting things white for clients and myself, if I am lucky enough to find a piece with great bones and beautiful wood, I would rather not hide that under layers of paint.
Enter the dining room table I got off craigslist:
I had been playing with refinishing this table for a long, long time. The deep, red tones really didn't go with the rest of the house. And oddly, it has this stunning diagonal inlay that is almost completely hidden by the dark stain.
I've been stripping paint off of furniture for years, and to be honest, it's not my favorite thing to do. It's smelly, time consuming and can sometime takes forever to strip all the layers.
But I've got secrets to making this so much easier!
Materials Needed for Stripping:
A good paint stripper – which one depends on you. I generally like a thick stripper that really works like this one from Klean Strip which does both paint and most polyurethanes. If you are worried about fumes, I would recommend one like this. It's better at paint than hard varnishes in my opinion, but it can be used indoors.
safety gear – gloves, face mask for fumes, eye protection
plastic drop cloths
saran or plastic wrap, or garbage bags
paint scraper
steel wool (I used a few bags of 000 or 00 for this whole table)
sand paper – I use 120 and then 220.
paper towels
Mineral spirits – to clean up paint stripper residue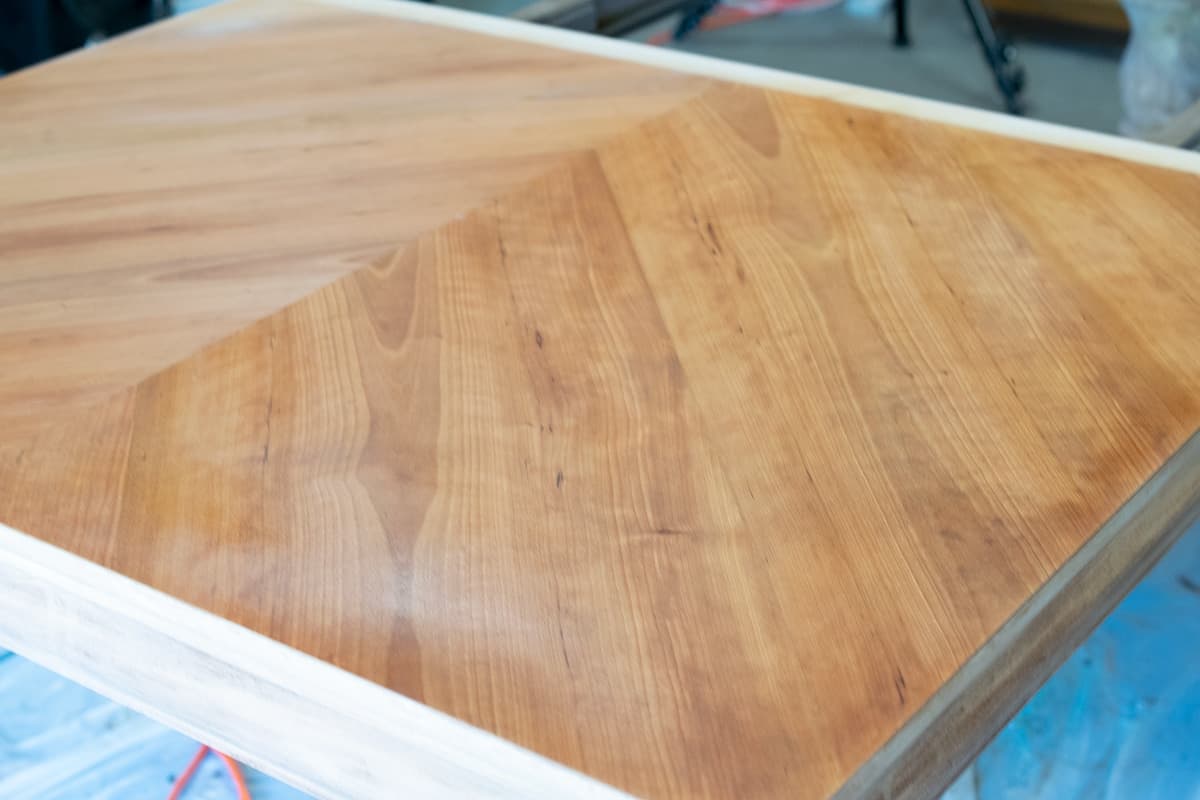 HOW TO STRIP FURNITURE OF PAINT or STAIN
I've tried many different processes and this is the method that works the best for me.
Put on your safety gear. I highly recommend working outdoors with any stripper or, at least, a garage with the doors all the way open. Citristrip is safe indoors, but I still like to work outdoors.
brush the piece with paint stripper. Be generous but not gloppy.
Stripper works best when the temperature is above 50 at least.
Spread the stripper on rather thickly. I use kwik-strip which works quite fast and doesn't require wrapping with saran wrap. *Read Saran wrap technique below.
Scrape off the gooey varnish. I use a plastic paint scraper on flat surfaces and steel wool in crevices. There will be a lot of residue so keep paper towels and a trash can handy to put the waste into.
After all or nearly all the residue is removed, spray a paper towel or lint free cloth with mineral spirits and wipe away any extra residue.
There shouldn't be much sanding left, but it is helpful to sand until you have reached your desired finish!
The biggest takeaway here is that the stripper stops working when it dries. If you need to leave the stripper on for awhile, I recommend wrapping the furniture with saran wrap. This keeps the stripper working and makes it easier to scrape off.
Because of the crevices of the table legs and the sides, I plastic wrapped them and left them for about 4-6 hours. Leaving it this way made the stripper work very well in ONE COAT.
Tips for Working with Paint Stripper
Make sure the stripper stays wet. Once it dries up, the stripper stops working. If you're in a hot/dry climate, wrap your wood with plastic wrap or plastic bags. Any brand is fine!
Pour the Stripper into a separate metal can – I find it much easier to work with by pouring the stripper into a small, clean paint can. You can buy quart paint cans at any local hardware store. Then you can easily dip your brush in the can.
For detailed areas, use a toothbrush or steel wool wrapped bamboo skewer. To get into tight crevices, I use all kinds of tools from toothpicks, bamboo skewers, nails. Just make sure not to gouge the wood.
Wait 24 hours after the piece is cleaned. Now that the piece is stripped, I would recommend waiting at least 24 hours or more before adding any stain, sealer, or finish.
So here are a few "after" shots. Can you believe this beautiful grain and pattern was hiding under all that dark stain?!
For this table, I detailed how I gave it a raw wood style in this post. It's a trend that's gaining popularity lately and I am going to write a post on how I achieved this beautiful unfinished, yet slightly gray look, but that is for another day.
Ready to tackle refinishing a piece of furniture in your home?!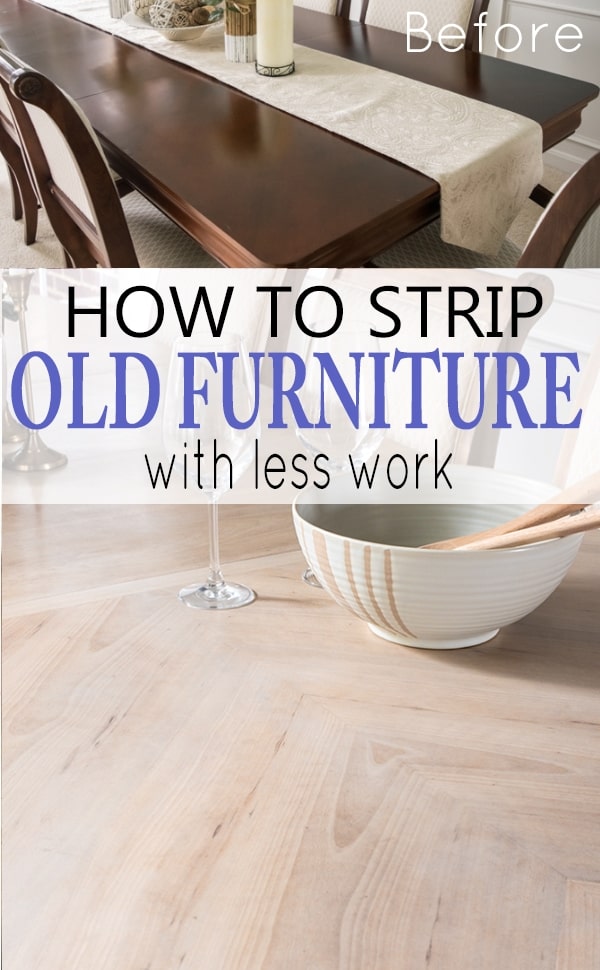 More Furniture Refinishing Tutorials:
Grab our free series "Weekend Home Projects that will Transform Your Life"
Sign up below to receive updates including free printables, organization tips, home improvement projects, recipes and more!
More Painting Tutorials