Hearty Beef and Rice Soup is bursting with rich, rustic flavors. Tender beef, carrots, green beans, and mushrooms provide a variety of flavors and textures with the added bonus of nutty wild rice. This simple home cooked meal is a simmering pot of comfort on chilly days.
As the leaves begin to blush and the evening air cools, my stew pot beckons. Nothing kicks off the change of season quite like a hearty pot of soup. Whether you're feeding a crowd, or cuddled up on a lazy Sunday, a hot bowl of Chicken Meatball Soup, Italian Sausage Kale, or classic Broccoli Cheddar can't be beat.
Indulge in the homey flavors of this hearty Beef and Rice Soup. This soup is packed with flavor, a merry medley of tender beef, colorful veggies, and wild rice. It's nourishing and nutritious, an easy weeknight supper or cozy snow day treat.
It's also practical- with easy to shop, budget friendly ingredients. And the flavors grow richer on day two, making this soup the ultimate leftover option for lunch or dinner. Let's dive into our soup du jour!
Ingredients and Notes
The full recipe is in the card at the bottom of this post, but I use this area to explain substitutions, where to find ingredients, and what to look for.
Beef. I generally cut beef chuck into larger cubes, about 1-1.25 inches (3cm) and lightly flour them before searing. Ground beef can also be substituted.
Vegetables. You need about 4-5 cups of vegetables of your choice. Mushrooms are always a solid pairing with beef. Green beans, carrots, and onions provide some delicious pops of color.
Long Grain and Wild Rice. I prefer to use a mixture of rice or a box of Uncle Ben's Original. The wild rice has a nice, nutty flavor and texture, but can be a little too much if using only wild rice.
Beef Broth. Beef broth has more flavor than bone broth, but you can use either. While it won't be as beefy and flavorful, you can substitute chicken broth or vegetable broth in a pinch.
Seasonings and Flavor boosters. This soup is a robust mixture of red wine, Worcestershire, garlic, and thyme.
What beef to use for stewing?
For this recipe, you can use many different cuts of beef (or ground hamburger if you prefer). I find a lot of recipes can be confusing because they don't use retail names. However, these are my general recommendations for stews and soups:
Beef Chuck (Chuck roast, shoulder roast)
Top Round Roast
Beef Tenderloin (very expensive)
Brisket
Sirloin Roast
I generally go for a chuck roast as it's the best compromise between flavor/tenderness without being as pricey as other cuts like sirloin or tenderloin. It gets quite tender when slow-cooked, infusing the stew with rich flavors.
Tips for Choosing Beef
Choose Tough Cuts. Opt for cuts like chuck, brisket, or round as they become tender when stewed.
Marbling. Fat adds flavor and prevents dryness during cooking. Look for small fat deposits spread through the tissues rather than thick layers of fat between the individual muscles.
Trim Excess Fat. A layer of fat on the outside of the cut isn't great for stewing as it won't provide tenderness to the beef as it cooks away, so trim it off.
Consistent Size. Cut beef into uniform pieces for even cooking in the stew. It's definitely easier to make with a uniform, rectangular shape cut of beef.
Freshness. Choose meat with an evenly deep red color, avoiding any off-smells or discoloration. Color darkness does not change the taste of meat. Some cows just have darker, almost purple, colored muscle.
Freezer Options. Frozen beef can also be used, but thaw it properly before cooking.
Don't get fooled by labels. Inform yourself on beef grades. There's absolutely no reason to buy into gimmicky advertising terms like "certified angus beef" or "top choice" that are more expensive.
How This Soup Comes Together
The full recipe including measurements is located at the bottom of this post, but I keep this area for a visual presentation of how it comes together.
Sear the Beef. After a light coating of flour. It should at least be primarily seared on the sides. If some pink is still present when adding the sherry, that's fine. (photo 1 above is after sherry and garlic/thyme is added).
Stir in seasonings and vegetables. Certain vegetables like green beans and peas do not need a long cook time so I add them later with the rice. Turn heat down and cover to maintain a simmer (not boil) for 1 hour. (photo 2 is before simmering).
Add in the green beans and long grain and wild rice (without the seasoning packet). Stir. Cover again and maintain a simmer until the rice is fully cooked,about 20 minutes. (photo 3 above is just after rice and green beans are added)
The final photo is when the soup is ready to serve! This soup is easy to serve as is, or elevate your presentation with a dollop of cream, or sprigs of parsley or thyme.
Serving and Storage Suggestions
Ideas to serve with Beef and Rice Soup. This hearty soup is a wonderful, comforting meal all on its own. However, I sometimes serve with a good wheat roll or crusty bread.
Store: Leftovers are amazing! Wild rice won't get soggy like short grain white rice either. Store in an airtight container or Ziplock bag in the refrigerator. The recipe is good for 4-5 days. I personally skim off the layer of solidified orange fats before reheating, but it's your choice.
Reheat: You can also reheat individual servings in the microwave by transferring to a microwave safe bowl and microwaving for 60 seconds. Continue to microwave at 30 second intervals until heated through.
Freeze: This is a wonderful freezer meal, although I would probably not add the rice until reheating. Freeze after cooking in an airtight container or bag with a few inches at the top to allow for expansion. Lasts 3-4 months if well sealed. When you're ready to use, thaw in the fridge overnight and then warm on the stove over medium heat until piping hot.
More One Pot Meals You May Enjoy
FAQs
Can I use frozen vegetables?
Yes, you can use fresh or frozen vegetables easily. Frozen vegetables don't take as long to cook, so I may consider adding those closer to the finished cook time, like the green beans. Frozen carrots and onions should be fine to add in at the same time as the recipes states.
Will cooked rice absorb more liquid?
In short, yes, but some more than others. Refined or white rice tends to be noticeably more soggy than wild rice if left in water or broth over time.
What kind of Rice Can I Use?
While my recipe calls for using wild rice, if you don't have it, you can use any other long grained rice instead. This will cut down the cooking time as well, so check your rice to note its cooking time. Don't use a minute rice or other instant rice, as they will become mushy.
Can I make beef soup in a slow cooker or crockpot?
Yes, I've actually done this many times. Make certain to sear the beef per the instructions and then cook 4-5 hours on low heat. I don't add the rice and cook it until just before dinner time.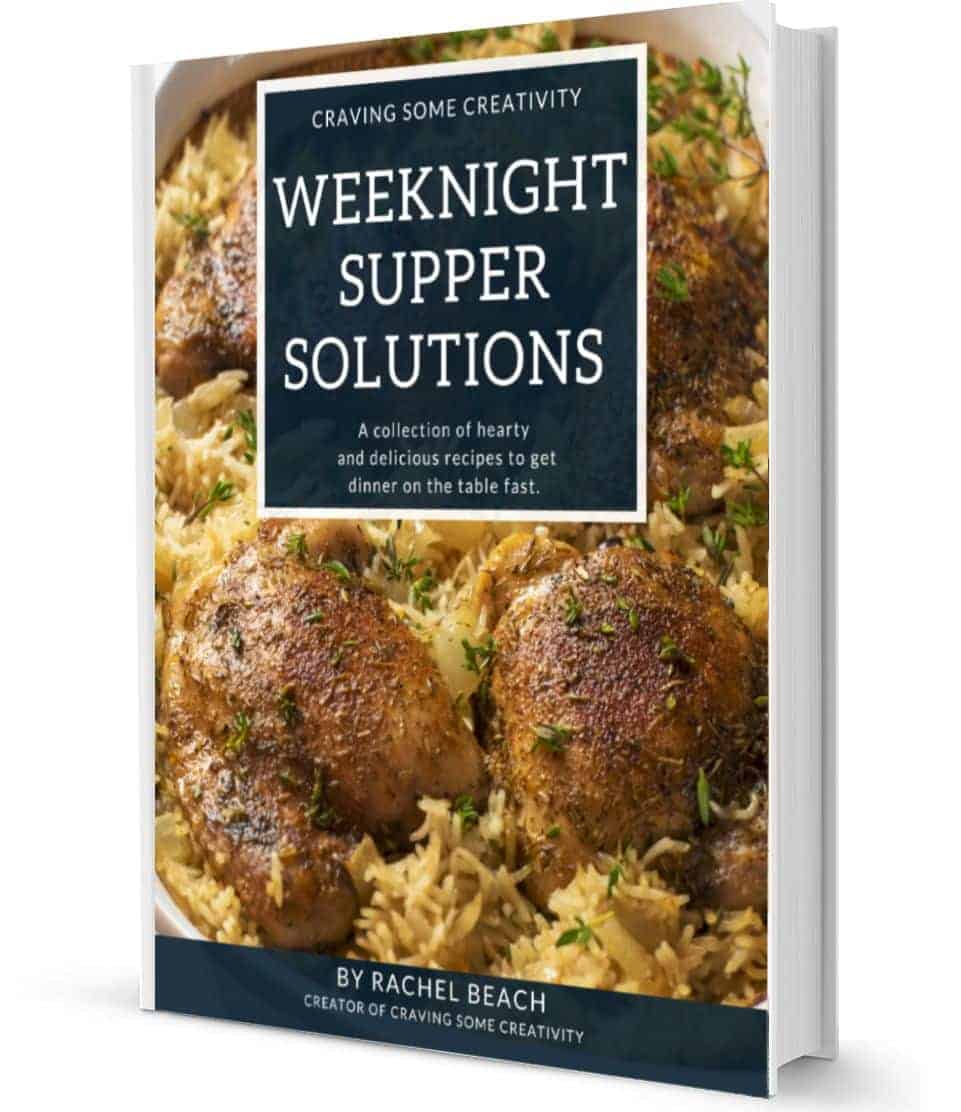 Not Sure
What's For Dinner?
Signup for recipe updates and get a free cookbook of Easy Weeknight Supper Solutions!
More Comforting Dinner Recipes
PS. If you make this recipe, leave a COMMENT AND A STAR RATING in the comments section at the bottom and be sure to take a photo and tag it #cravingcreative on Instagram! I appreciate you for taking the time to read about me and my family recipes. 
Beef and Rice Soup
This hearty Beef and Rice Soup is bursting with rich, rustic flavors. Tender beef, carrots, green beans, and mushrooms provide rich, wholesome flavor while nutty wild rice provides the perfect taste and texture contrast.
Print
Pin
Rate
Ingredients
1.5-2

lb

Beef Stew Meat

Ground Beef is also fine.

2

tablespoon

All Purpose Flour

2

tablespoon

vegetable oil

1 ½

cups

Carrots

Sliced, about 3 medium

⅓

cup

Red Wine

1

tablespoon

Minced Garlic

1

teaspoon

Thyme, dried

1

cup

Yellow Onion

diced

4

oz

Mushrooms

sliced

1

cup

green beans

fresh or frozen

2

tablespoon

Worcestershire

5

cups

Beef Broth

40 oz, or you can get by on 32 oz plus a cup of water

1

14oz

canned diced tomatoes

6

oz

Long grain and Wild rice

I use Uncle Ben's Original

Salt and Pepper
Instructions
Cut beef into 1-1.25 inch pieces. In a bowl, sprinkle flour over beef and toss to coat.

Over medium heat, add the oil and floured beef. Sear and brown the outsides for a few minutes. Add red wine and deglaze the bottom of the pot, scraping up the bits on bottom.

Stir in garlic and thyme. Cook for one minute. Add carrots, onion, mushrooms, broth, Worcestershire, and tomatoes. Bring soup to a boil.

Turn heat to low or whatever temperature maintains a simmer (not boil). Cover and simmer for 1 hour.

Add in the green beans and long grain and wild rice (without the seasoning packet). Stir. Cover, reduce heat to a simmer, and cook until the rice is fully cooked (about 20 minutes).

If desired, add a touch of heavy cream just before serving. Season to taste with salt and pepper. Serve hot.
Notes
I use Uncle Ben's original or chicken flavor for this soup because it is the easiest to find. I like a mix of wild rice and long grain, rather than 100% wild rice. 
Nutrition
Serving:
1
cup
|
Calories:
275
kcal
|
Carbohydrates:
24
g
|
Protein:
25
g
|
Fat:
8
g
|
Saturated Fat:
2
g
|
Polyunsaturated Fat:
2
g
|
Monounsaturated Fat:
3
g
|
Trans Fat:
0.02
g
|
Cholesterol:
53
mg
|
Sodium:
682
mg
|
Potassium:
688
mg
|
Fiber:
3
g
|
Sugar:
4
g
|
Vitamin A:
4124
IU
|
Vitamin C:
6
mg
|
Calcium:
56
mg
|
Iron:
3
mg