Looking for the best options to protect your painted furniture? Read on to learn more about using poly (polycrylic/polyacrylic and water-based polyurethane) to protect your furniture pieces from stains and scratches.
Most people who look up painting furniture will see tutorial after tutorial about the virtues of furniture paint and chalk paint such as Annie Sloan, Country Chic, or CeCe Caldwell. And there are many positives including hiding small flaws and less prepwork than other types of paint. In fact, many of you have probably transformed a few pieces in your home with paint. It's a really fun and slightly addicting hobby, to be sure!
One of the most common worries that I see from clients, friends, and readers is about the durability of any painted project. How do I protect my painted furniture? Can I scrub it? Will it show fingerprints or smudges?
These are all very valid questions and today I am answering these burning questions. You can see several of our other furniture transformations here.
Wax vs Poly for Durability
There are essentially two kinds of protecting top coats for furniture projects: wax and poly. This is actually important since they act in very different ways, and for the most part we will treat Water-based Polyurethane and Polyacrylic/polycrylic as the same since they both can be used to protect painted surfaces. However, unless the directions specify, oil-based polyurethane is used for stained surfaces. I could write whole articles dedicated to the differences between wax and water based polyurethane, but for the purposes of this article, water-based polyurethane provides much more durability and protection over time than wax does.
That isn't to say that you should always use a polyurethane however. Wax provides an aesthetic that Poly cannot match and that is an important distinction.
To be fair, I am not a huge fan of wax unless it is dark wax for the purpose of antiquing a piece. In fact, wax can even be used over water based poly! I would highly recommend a flat or low sheen poly in this case, and the wax must be the last coat. I usually recommend this way of doing dark wax on low traffic pieces (not table tops) or in recesses like ornate table legs because it is easier to manage and wipes off easier if you get too much.
When You Should Add Extra Protection to Painted Furniture
My house is rowdy with boys, large dogs, and general mayhem around the clock. Feet on furniture and loud bangs are a pretty normal occurrence. Although no finish is going to be bullet proof, poly is going to provide the best protection option. I do not always use a top coat and some paints are perfectly fine without it. For example, my entertainment center does not have a top coat but the paint itself is an acrylic emulsion paint. For high traffic pieces (any table top, kitchen cabinets, kids furniture), I definitely recommend a top coat to provide the best protection to your painted furniture.
For almost all dark matte paints, I like to use a poly or wax as well. Dark colors tend to show smudges, fingerprints, and dust more easily. I want to be able to wipe those surfaces so I love that poly provides that extra protection that makes surfaces scrubbable. An example is my craft room cabinets- I spilled a quart of paint down the front of my white painted cabinets and carpet. They were protected with a thick poly so after wiping them off, there isn't a stain or change at all and they were easy to wipe off.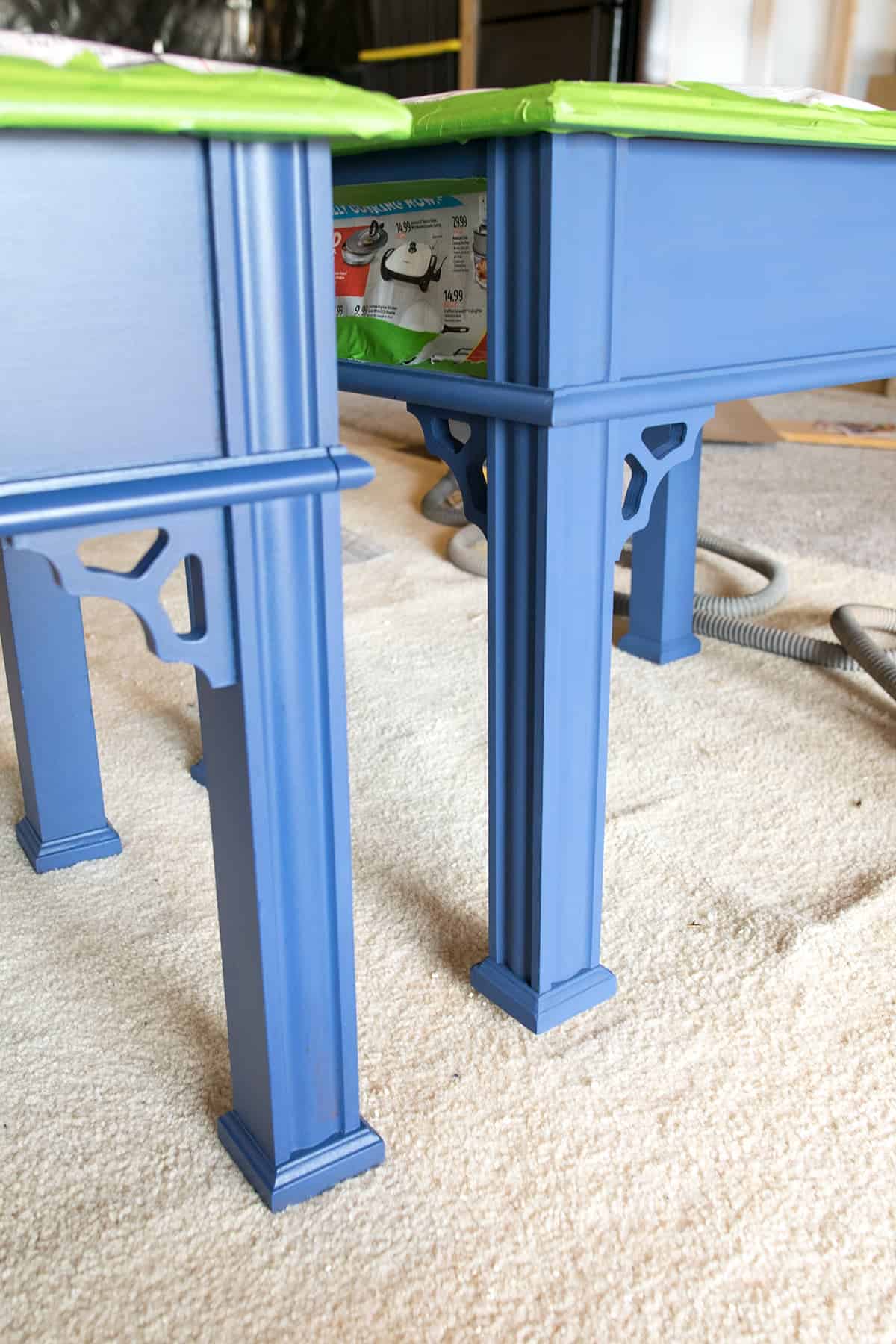 One other place that I highly recommend using a top coat is in humid areas such as bathrooms or kitchens. A satin or higher sheen in a kitchen/bath is also a good idea to keep the paint looking good.
Using Polyacrylic and Sheen Changes
In the above picture, I painted two side tables for a friend using Country Chic Chalk Paint in Midnight Blue. Dark colors tend to show dust and fingerprints more easily. Since I knew these pieces would be going to a home of rowdy boys (like my own), I asked the client if she would like me to add some additional protection in the form of a polyacrylic.
I did warn her of one thing…a top coat will change the sheen on chalk paint. In the above picture, the right side table has no top coat on it, while the left side is sprayed in two coats of Benjamin Moore Polyacrylic in Satin. For many of my projects, I use and recommend this sprayer and this spray shelter to keep over-spray to a minimum.
How much of a change depends on which brand you use, but what I love about a top coat is also that it tends to deepen and make the colors slightly richer.
So what brands of Poly have I used and recommend?

This is a matte poly that you wipe on with a clean, folded cheesecloth. Although I like the final sheen of it being pretty true to matte, I have found it a bit difficult to work with. For most Fusion Mineral paint projects, I often don't use a top coat like on our entertainment center makeover.
Pros:
Cures much quicker than other brands I have worked with, a few days in normal humidity (less than 60%).
Beautiful matte sheen.
It is scratch resistant, and does not yellow or alter the paint colors.
Wipe On Application
Cons:
Dries very quickly and has a very short working time.
Make sure you turn it upside down for 30 minutes before applying and then gently shake to evenly disburse the ingredients.
I have had some trouble in the past with streaks, but not always.
Here is a dresser project that I did with Fusion Mineral's Tough Coat. It does have a nice matte sheen.
I do like this General Finishes Flat Out Flat, especially with a paint sprayer. For my projects, it is the best and most flat sheen option that I have used. It isn't quite as durable as the High Performance Polyurethane (which does have a flat option) or the ultra-durable Enduro Clear Poly. Links include purchasing information.
Pros:
Beautiful product that can be brushed or sprayed.
The sheen tends to be more matte than other polys that I have tried.
They also have a High Performance Polyurethane that is very good quality if you are looking for a higher sheen and increased durability.
Cons:
This desk was originally finished in chalky finish paint and I sprayed General Finishes Flat Poly Acrylic as a top coat.
Minwax Poly (both wipe-on and regular polycrylic can be purchased here)
I will be perfectly honest. I know you guys are probably wondering about the best budget option for painting your piece. And here it is: Minwax Poly. However, I will give a caution to you. Especially with white or pale colors, I have read about and personally seen this product turn yellow with certain brands of paint, usually cheaper brands of paint. There is some sort of chemical reaction that happens that causes this. By far, most users of this product have not seen a problem, so I would do a test on a scrap piece of wood and let it sit for a few days before finishing your piece.
Pros:
Cons:
I have personally seen this product turn yellow and streaky over white paint.
My personal favorite for a satin/eggshell sheen (called low lustre). I put this finish on my son's dresser and around his desk and it has held up beautifully with almost no scratches. He is very hard on furniture.
Pros:
Best durability I have every seen.
I have used this on several projects with many different paints (including latex because…long story) and it has NEVER yellowed.
Several sheens including flat, low lustre, and high gloss. I have not tried the flat but I want to.
Cons:
It can be brushed, but it is much better thinned by 10% and used with a paint sprayer.
Generally, has a very long cure time.
Slightly harder to find (my Benjamin Moore Store only carries gallon size) and expensive.
Can only be purchased at a Benjamin Moore Store.
This table was top coated with with Benjamin Moore Stays Clear. I put several coats on this since it is a dining room table, but you can see the sheen on the base. Heavier or more coats will have a longer cure time. For example, with cabinets I know they are cured when I can shut the door for 24 hours without sticking.
This dresser is also in low lustre sheen but I got a better sprayer made for furniture and I did three thinner coats.
Final Thoughts on How to Protect Painted Furniture
Several products will do the job flawlessly if you follow the instructions. There are a few best practices such as making sure you completely stir the poly before use and occasionally during application to keep the ingredients in suspension. As with any paint project, do not use in high (>80%) or very low humidity. I also try to avoid direct sunlight and allow the piece to fully cure before setting items on it such as heavy lamps or other painted materials.
Have fun with your project! Feel free to ask any questions or give your experience with these products in the comments below.
Want to Learn more about Painting Furniture? Check out these Guides for beginners:
Grab our free series "Weekend Home Projects that will Transform Your Life"
Sign up below to receive updates including free printables, organization tips, home improvement projects, recipes and more!
More Furniture Painting Techniques