Looking for the best topcoats to protect painted furniture? Get fast answers to the best products and techniques that will keep your projects beautiful, durable, and lasting for years.
Breathing new life into a piece of furniture is one of the best ways to decorate your home and make it more functional. It's a really fun and a slightly addicting hobby, to be sure! But now that you have that piece that shows your unique style, what is the best way to protect it?
One of the most common worries that I see from clients, friends, and readers is about the durability of any painted project. How do I protect my painted furniture? Can I scrub it? Will it show fingerprints or smudges? These are all very valid questions that we will be giving you the shortcut answer to!
Note: New products have come on the market in recent years and I have updated my recommendations for 2021 after experience with dozens of painted projects for clients and myself.
Does Painted Furniture need a Top coat?
My house is rowdy with boys, large dogs, and general mayhem around the clock. Feet on furniture and loud bangs are a pretty normal occurrence. Although no finish is going to be bullet proof, a durable top coat is going to make it last for years.
I do not always use a topcoat as some paints are very durable on their own. For example, my Fusion Mineral Painted Entertainment Center does not have a topcoat. There are a few instances, however, that I highly recommend a topcoat:
High traffic pieces. Particularly dining tables, coffee tables, desks, end tables, and cabinets as these are all used often and subject to wear and tear.
Dark or Black Paint colors. Dark colors tend to show smudges, fingerprints, and dust more easily. I want to be able to wipe those surfaces, so I love that poly provides that extra protection that makes surfaces scrubbable.
Chalk Paint. Chalk paint is blessed with a velvety feel that many love. However, chalk paint is more prone to stains and marks since it has the least smooth sheen.
Kitchens and Bathrooms. Generally, I highly recommend topcoats for pieces specifically in kitchens and bathrooms because of the potential for water exposure and high humidity.
Types of Top Coats
There are essentially two kinds of protecting top coats for furniture projects: wax and water-based polyurethane. Epoxy or resin is sometimes used but that's a whole different subject. With water-based polyurethane, you may see companies describe them as water-borne, polycrylic, polyacrylic, or acrylic resin. Without giving a chemistry lesson, we are grouping them all under water-based.
I could write whole articles dedicated to the differences between wax and water based polyurethane, but for the purposes of this article, water-based polyurethane provides much more durability and protection over time than wax does.
That isn't to say that you should always use a polyurethane however. Wax provides an aesthetic that Poly cannot match. You can see our Raw Finish Table makeover to best explain. Also, wax can be used over water-based poly! I would highly recommend a flat or low sheen water-based polyurethane, and the wax must be the last coat.
A Word About Sheen Changes
In the below picture, I painted two side tables for a friend using Country Chic Chalk Paint in Midnight Blue. I did warn her of one thing…a topcoat will change the sheen.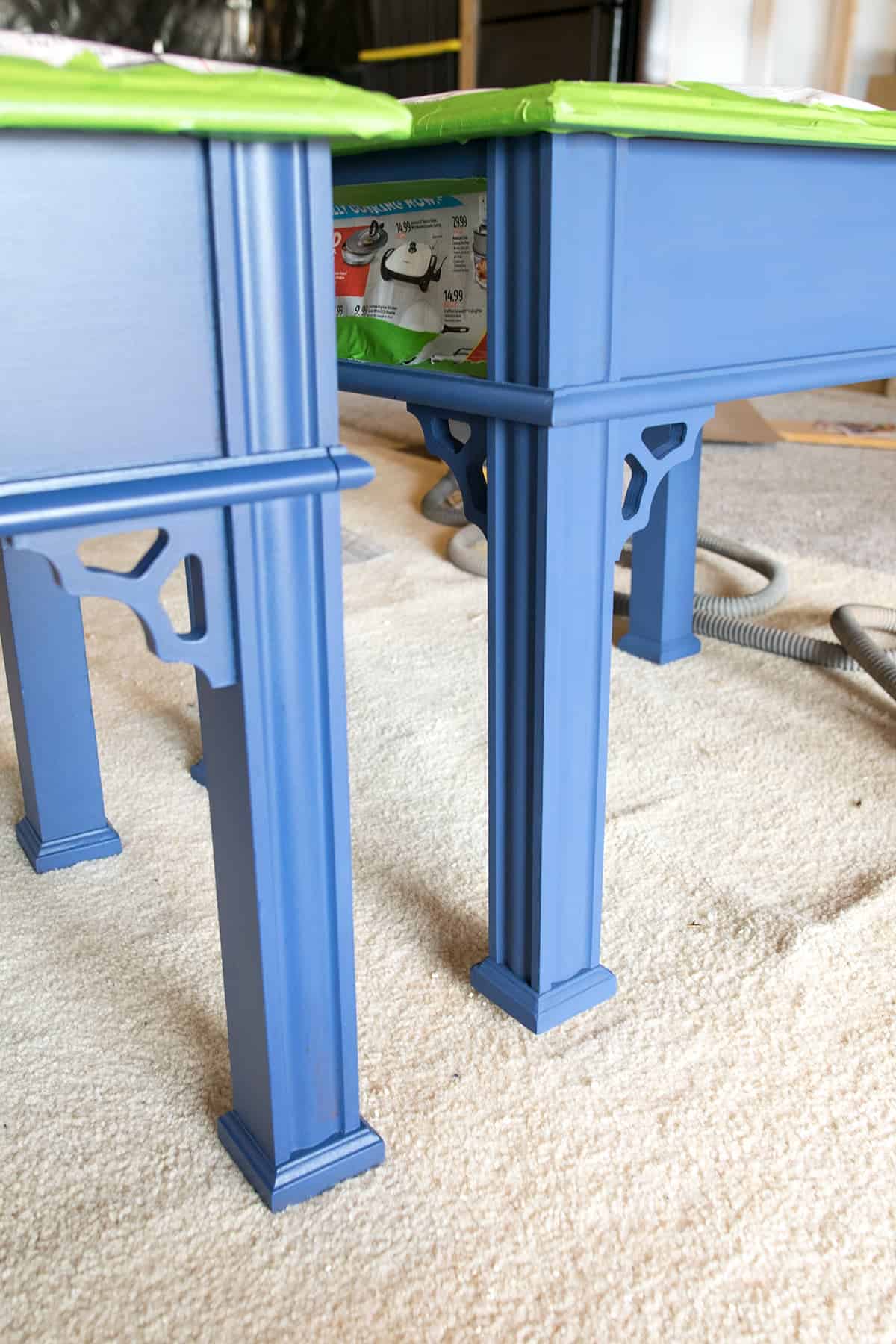 In the photo above, the right-side table has no topcoat on it, while the left side is sprayed in two coats of Benjamin Moore Polyacrylic in Satin.
How much of a change depends on which brand you use and sheen. However, even a flat topcoat on top of a flat paint will slightly deepen the color.
Best Water-Based Polyurethanes for Furniture
You will definitely want to read the pros and cons of each because different projects require different topcoats, but below is a overview to understand my recommendations.
Best Overall (Sprayer): Benjamin Moore Advance Stays Clear
Smoothest Brush Finish: Varathane Waterbased Polyurethane
Best Budget: Minwax Polyacrylic Spray
Chalk Paint Best Matte Finish: General Finishes Flat Out Flat
I have used many other types of clear coats and I would like to list why they aren't included in my recommendations. I get a lot of questions about these and this is my personal experience so other's may disagree.
Fusion Mineral Tough Coat: I hate having to wait 30 minutes to mix and I have had some problems with streaking.
Crystalac Water Based Polyurethane: One of my dark pieces developed water rings, and it not my favorite sheen.
Anything Oil Based: DO NOT USE! These tend to create a yellow haze.
Bona Waterborne Traffic HD: This is technically a floor polyurethane and probably the best on the market for that. I looooved it for a floor and staircase I stained. However, I have not tested it long enough over painted surfaces to see if it ambers over time. Same with Bona Mega One Crystal Clear.
Choose the Right Polyurethane
Varathane Water-Based Polyurethane
A beautiful, rock hard finish that lasts. The best brush finish of all that I have tested, it lays smooth without brush strokes and is low VOC for indoor use.
Pros:
As good a durability as Stays Clear.
One of the easier ones to find at your local Home Depot.
Several Sheens including Matte, Satin, Semi-gloss, and Gloss
Easiest to brush without leaving brush marks.
The Best Brush finish polyurethane I have tried.
It also can be sprayed. I have used it a few times but one of the times that I sprayed the satin with a HVLP sprayer (air powered) and it turned into a powdery, almost cloudy finish.
Cons:
Bubbles can be an issue (sometimes). If you are careful and do this immediately, you can touch the bubbles with a tooth pick or something sharp to pop them. You should use a quality brush and don't rake off the excess from your brush back into the can. It helps to use a different can and pour that can back in when finished.
Dries very fast which can make brush strokes an issue because it sets so fast.
Stays Clear still wins for me with a paint sprayer.
Example:
You can see more details about this post about How To Paint a Dresser. The dresser is painted in Fusion Mineral Little Whale with Varathane Polyurethane in Flat.
Benjamin Moore Stays Clear
My personal favorite for a satin/eggshell sheen (called low lustre). It's actually made for painted floors, so it's durability is top-tier! The main problem is that I find it can only be sprayed (but that spray is unmatched in finish).
Pros:
Best durability I have every seen.
I have used this on several projects with many different paints (including latex because…long story) and it has NEVER yellowed.
Several sheens including flat, low lustre, and high gloss. I have not tried the flat but I want to.
Cons:
It can be brushed, but it is much better thinned by 10% and used with a paint sprayer.
Generally, has a very long cure time.
Slightly harder to find (my Benjamin Moore Store only carries gallon size) and is expensive.
Can only be purchased at a Benjamin Moore Store.
Example:
This cerused table was top coated with Benjamin Moore Stays Clear. I put several coats on this since it is a dining room table, but you can see the sheen on the base. Heavier or more coats will have a longer cure time. For example, with cabinets I know they are cured when I can shut the door for 24 hours without sticking.
General Finishes Flat Out Flat
I do like this one, especially with a paint sprayer. For my projects, it is the best and most flat sheen option that I have used. It isn't quite as durable as the High Performance Polyurethane (which does have a flat option) or the ultra-durable Enduro Clear Poly.
Pros:
Beautiful product that can be brushed or sprayed.
The sheen tends to be more matte than other polys that I have tried.
They also have a High-Performance Polyurethane that is very good quality with even more durability.
Cons:
Most Expensive Brand.
I don't find myself reaching as much for this with clients because many of them prefer an eggshell sheen rather than a true flat.
Example:
This chalk painted desk was sprayed General Finishes High Performance Flat as a topcoat.
Minwax Water Based Polycrylic
The best budget option for painting your piece. And here it is: Minwax Polycrylic. It comes in both a spray can and a paint can, which can be easily brushed or sprayed.
However, I will give a caution to you. Especially with white or pale colors, I have read about and personally seen this product turn yellow, usually with cheaper brands of paint. By far, most users of this product have not seen a problem, so I would do a test on a scrap piece of wood and let it sit for a few days before finishing your piece.
Pros:
Comes in satin, semi-gloss, and flat.
Most inexpensive option.
Easy to find in stores.
Cons:
I have personally seen this product turn yellow and streaky over white paint.
Not as durable as other brands.
I did have an issue once where it peeled off the paint the next day.
Example:
This antique door was a fun project for a client! She wanted to preserve the chippy paint style without more chips of paint all over her floor. We sprayed Minwax Polycrylic (to stiffen and stick the peeling paint) and then used a brush gently to apply more layers of Fusion Mineral Tough Coat (which won't ever yellow or amber).
Best Practices for Applying Polyurethane
Several products will do the job flawlessly if you follow the instructions. There are a few best practices to help you nail the process.
Completely stir the poly before use and occasionally during application to keep the ingredients in suspension. Be careful not to incorporate bubbles while stirring.
Use a high quality paint brush or paint sprayer.
Brush or wipe quickly in the same direction one end to the other. Do Not back-brush if the product is drying.
It is generally not necessary to sand between coats, unless you have imperfections which can be sanded out.
As with any paint project, do not use in high (>80%) or very low humidity.
Avoid direct sunlight when applying.
Allow the piece to fully cure before setting items on it such as heavy lamps or other painted materials.
Want to Learn more about Painting Furniture? Check out these Guides:
FAQs
Can you use water-based polyurethane over wax?
Polyurethane cannot bond properly to a piece of furniture that has had wax applied to it. The wax must be stripped entirely, usually with chemical strippers.
What is the best topcoat for chalk paint?
General Finish's High-Performance Top Coat in Flat Finish is the best chalk paint topcoat because it preserves the look, feel and color of milk paint and chalk paint while increasing the durability dramatically.
Is polyurethane the same as a sealer?
A quick way to tell if your polyurethane is truely water resistant is to leave out a glass of ice water on a test surface for a few hours to overnight. If a water ring shows up, the surface isn't entirely sealed.
Does chalk paint scratch easily?
When chalk paint isn't protected with a top coat, it is prone to easily scratching and stains from spills. It also is harder to clean.
Have fun with your project! Feel free to ask any questions or give your experience with these products in the comments below.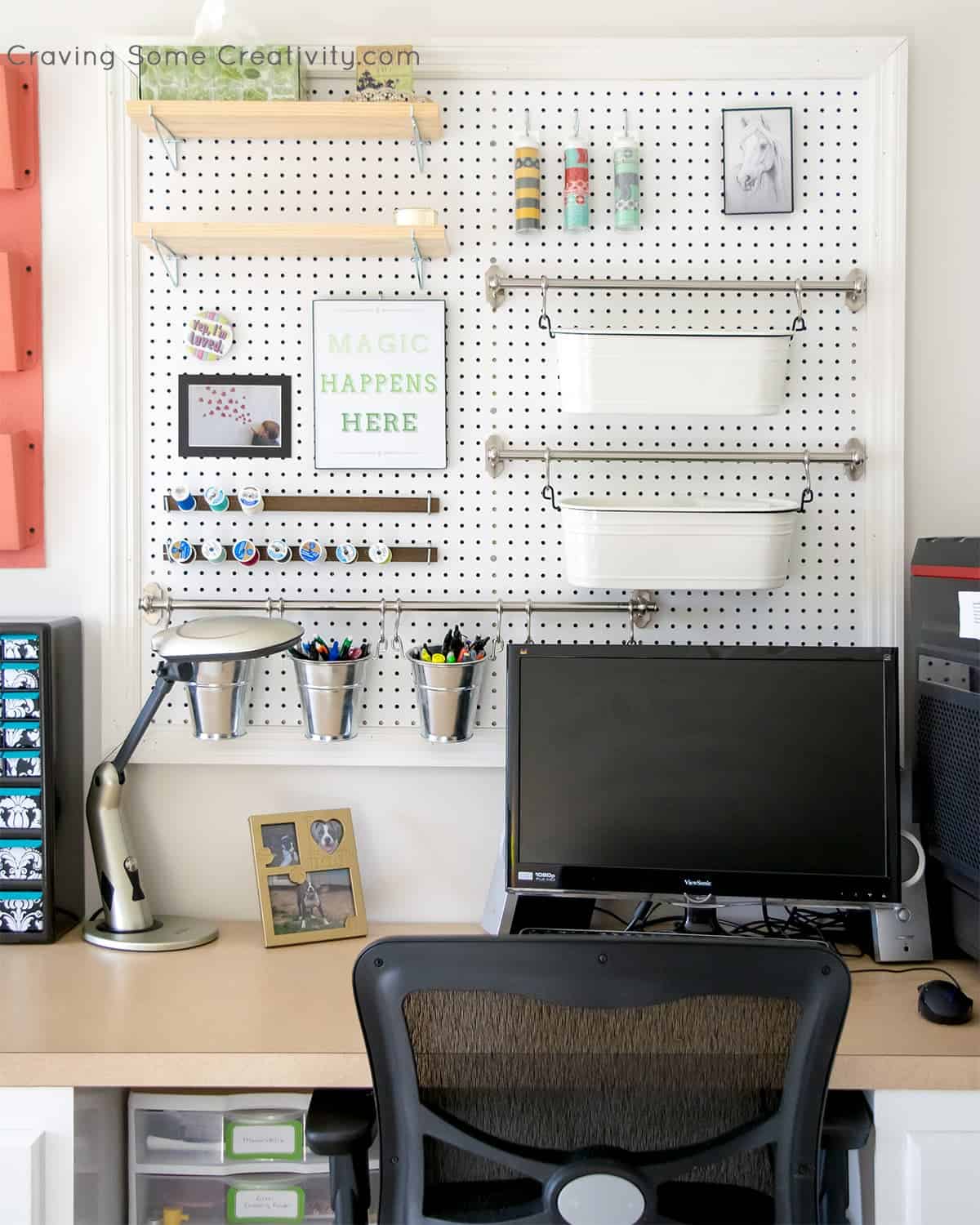 Grab our free series "Weekend Home Projects that will Transform Your Life"
Sign up below to receive updates including free printables, organization tips, home improvement projects, recipes and more!
More Furniture Painting Techniques
PS I love seeing your creations! Be sure to take a photo and tag #cravingcreative on Instagram! You can also stay in touch with me through following me on Instagram, Pinterest, and subscribing to the newsletter!