Nothing beats a paint sprayer for efficiency and creating a professional paint job. This easy guide to the best paint sprayers includes airless, budget friendly, and best finish from a DIYer that has used and owned many models.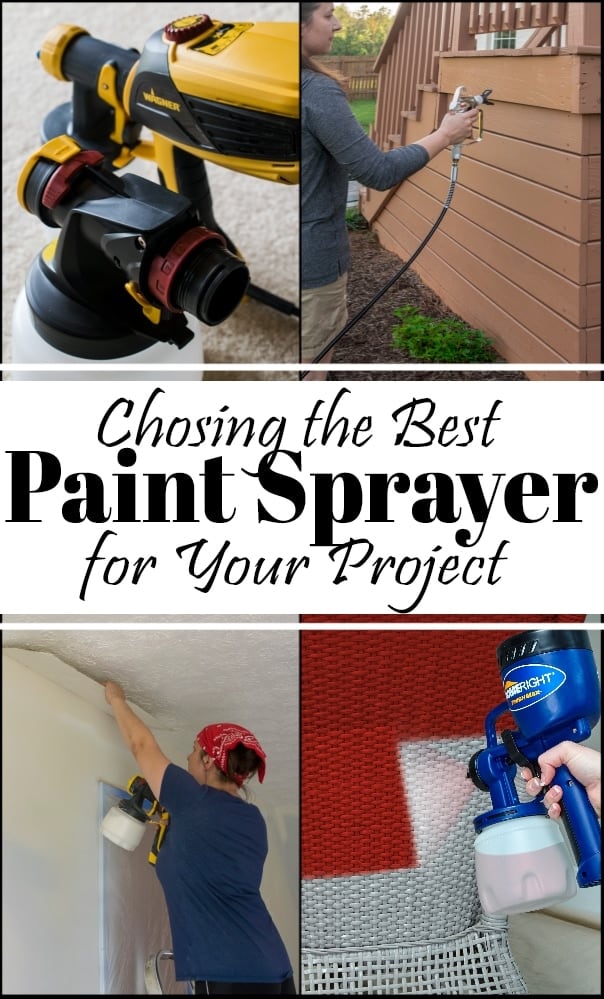 Not all paint sprayers are created equal.
Because I have so many painting projects on the blog, I get a lot of questions about paint sprayers. Short answer – They make my DIY-loving life so much easier and save time! My recommendations are based on my long use of multiple different sprayers and I am not sponsored or affiliated with any brand.
However, choosing the right one for you is NOT a one-size-fits-all choice. This list is mostly geared towards paint sprayers for home use, not professional painters, so you will find more budget friendly options that clean up and set-up/break down easily, all while providing a great finish. If you just want a shortcut to the right one for you, this guide is for you!
Here is a fun fact: I own 4 models of paint sprayers! I've also tried several more, so this list is based on real experience, not just compiled from a bunch of amazon reviews. I can tell you the pros and cons of most models so you can choose the best paint sprayer for your project. However, if you are like me, you may find more and more uses as time goes on!
Check Out Some of Our Projects Using A Paint Sprayer:
Types of Paint Sprayers
There are essentially two types of paint sprayers: Airless and HVLP. LVLP exists but most of the DIY spray painter brands opt for HVLP. HVLP stands for High Volume, Low Pressure and LVLP is Low Volume. HVLP basically mixes in more air to power their painting process.
For the remainder of this article, I generally refer to HVLP sprayers as "air-mixture".
The Best Paint Sprayers (Our Recommendations)
1. Maximum Portability
If ridiculously easy portability is your #1, this Graco Cordless is the sprayer for you. While pricier than the other options on this list, you won't find some of the features that this sprayer has anywhere else.
Pros
Works well for stains and paints (even unthinned- but I still thin)
NO CORD
Works with Dewalt's standard 20 volt-max lithium battery system, and comes with 2 batteries.
A fully charged battery sprays about a gallon
Delivers a finish equal to Graco's corded sprayers.
Pretty light for a hand-held sprayer
Trigger is very light, so less hand fatigue.
Easy to clean – you don't have to do a lot of breakdown.
Has a reversible tip, so it's very easy to unclog. Much easier than the other models.
Cons
More expensive than the other models.
If you do large jobs, like decks or fences or even a decent sized room, charging batteries and refilling is a killer.
You will need to repurchase bags for the container, but they are somewhat reusable if you clean them properly.
Pro Tip: For those wondering about the difference between the Graco Cordless and the Graco UltraMax, I would recommend the Cordless. The UltraMax comes with an additional tip that is finer and sprays hot solvents, but I don't find any necessity for it or additional features that a DIYer/homeowner/light professional would need.
2. Best Airless Paint Sprayers – Best Finish
The simple truth is that airless sprayers deliver the best finish when used by someone experienced with them. They are a bit harder to control than their air-powered friends and can leave some drip marks if you aren't careful. But if you are experienced with a sprayer, this is the one that makes a job fun!
For Airless sprayers, I generally recommend the Control Pro 150, although the Magnum X5 is a good second choice.
For me, the Wagner edges out the Magnum based on two factors: It has a better warranty and I like the soft spray fan better. The Wagner brands purposely use less pressure power in order to create less overspray and create a safer work environment for a homeowner. The X5 has more horsepower, but the Control Pro sprays plenty fast, while giving you less overspray.
Control Pro 150 Pros:
I like the softer fan spray of this sprayer compared to other brands. It's easier to make seamless coats.
55% less overspray than comparable models. Less paint used and more control.
Complete projects in much faster time than air-mixture models, reducing hand and arm fatigue.
Thick exterior paints can require a 0.17 tip, but I have done solid stains without problem with a 0.15 tip. The Control Pro 150 only has the 0.15 tip, so if you feel you need a larger tip, trade up for the Control Pro 170.
You can control the speed and pressure of the gun with knobs.
Cons:
The learning curve is greater than with the air-powered sprayers (HVLP).
Because paint speed is considerably faster than air-mixture models, your body moves faster to compensate.
The fan width is not adjustable.
Drips and Runs are more prevalent – I usually have someone go behind me with a brush to check for runs.
Here is a pretty good comparison graphic comparing several models of entry level airless sprayers:
Note: If it is hard to read, you can click it to open it here for a closer look!
3. Best Paint Sprayer for Exterior Home Use
I feel that for the homeowner/weekend warrior, the higher grades of spray painters aren't really necessary, unless you plan to spray very thick coatings like epoxies or garage floor coatings. If you want a higher flow rate or a increased coating capability, upgrade to the Control Pro 170. The Control Pro 170 also features an all-metal spray gun which provides added durability and longevity.
However, I do love my Control Pro 130. I prefer the 150 because you can control the pressure, where the 130 is a shoot-and-go. The clean-up is also a bit more since you have to clean the tank as well, but it's a great value for the price. This one also uses the HEA technology, which uses less pressure to decrease over-spray.
4. Best Paint Sprayer for Large Projects
Large projects would be decks, fences, textured ceilings or walls, or whole house painting (interior or exterior). These are projects you want a sprayer that works fast and evenly. I put textured ceilings on this list because hand and arm fatigue is a big problem.
On large projects such as those listed, I would recommend a Wagner Control Pro 150 or Wagner Control Pro 130. The 150 is a better sprayer overall because the cleanup is faster and easier, and it has more features to change the speed of the sprayer. That isn't to say the 130 isn't a strong consideration if you are more budget minded or have only a few projects.
I listed why the Control Pro 150 was such a great sprayer above (under best airless sprayers), but the Control Pro 130 shares many great benefits such as:
The handle produces less operator fatigue because the motor sits on the floor. The trigger is also light and doesn't require a lot of hand strength.
A 25 foot long cord means less having to move the tank around.
Not having the tank on the handle means I can see what I am spraying easier
Perfect for any project involving a ladder.
This Wagner airless paint sprayer produces up to 55% less over-spray than traditional airless sprayers which means easier clean up and less paint or stain used.
5. The Most Useful Sprayer (all-around)
The Flexio 5000 is a favorite of mine for furniture projects, walls, ornate trim, or interior projects for the following reasons:
It does operate a little slower. This gives me more control in keeping the finish consistent.
I feel that the overspray is less with this painter vs an airless.
Powered by mixing air and paint, which makes the paint dry much faster. However, much of the paint will dry as it hits the surface, which can give an orange peel effect if you aren't careful.
Less possibility of runs.
You have less fatigue since the compressor is on the ground.
Includes 9 different speeds and controls to perfect your finish
Includes two sized nozzles -1 for large projects like walls and 1 for finer detail projects like furniture or crafts.
This is a Flexio 590, but the controls are very similar.
For those on a budget who really only have a few smaller projects in mind, I love this Homeright Sprayer Model. It's the first sprayer I started with and still a good buy.
Pros:
Great Value while providing a good finish
Simple to operate
Change the volume control to change the spray pattern from 1″ to 12″
A variety of spray tips included
Cons:
Both the tank and motor are on the handle so it's heavier than other models (will lead to fatigue on larger projects)
It's designed for smaller projects only such as furniture and cabinets. While it can take on larger projects in a pinch, I would generally recommend a different sprayer for fences or large decks.
If I could only purchase one spayer, it would be…
I do a ton of projects, from very long fences to fine detail crafts with a sprayer. If I could personally only pick one sprayer for all my projects, it would be the Flexio 5000. It has the most versatility for me with large and small projects.
However, it would be very difficult for me personally to give up my Control Pro 150 Airless Sprayer. I personally love the finish of airless and I feel that especially for large outdoor projects, the finish not only looks better but it goes on much faster and it lasts a little longer on things like decks and fences because the paint or stain bonds to the wood better.
Paint Sprayer FAQs
Are paint sprayers worth the money?
Yes! For large projects such as cabinets, fencing, and painting walls, a paint sprayer can save you many hours of time. They also deliver a professional brushless finish.
Which is better, air or airless sprayer?
Both have their uses. An airless sprayer works incredibly well for large projects and exterior painting, but isn't as user friendly. An air powered sprayer is better for furniture and small projects.
What kinds of paint can you use with a sprayer?
You can use almost any kind of interior/exterior paint or stain. You may need a larger or special tip and an airless sprayer for epoxies, solid stain, or textured paints.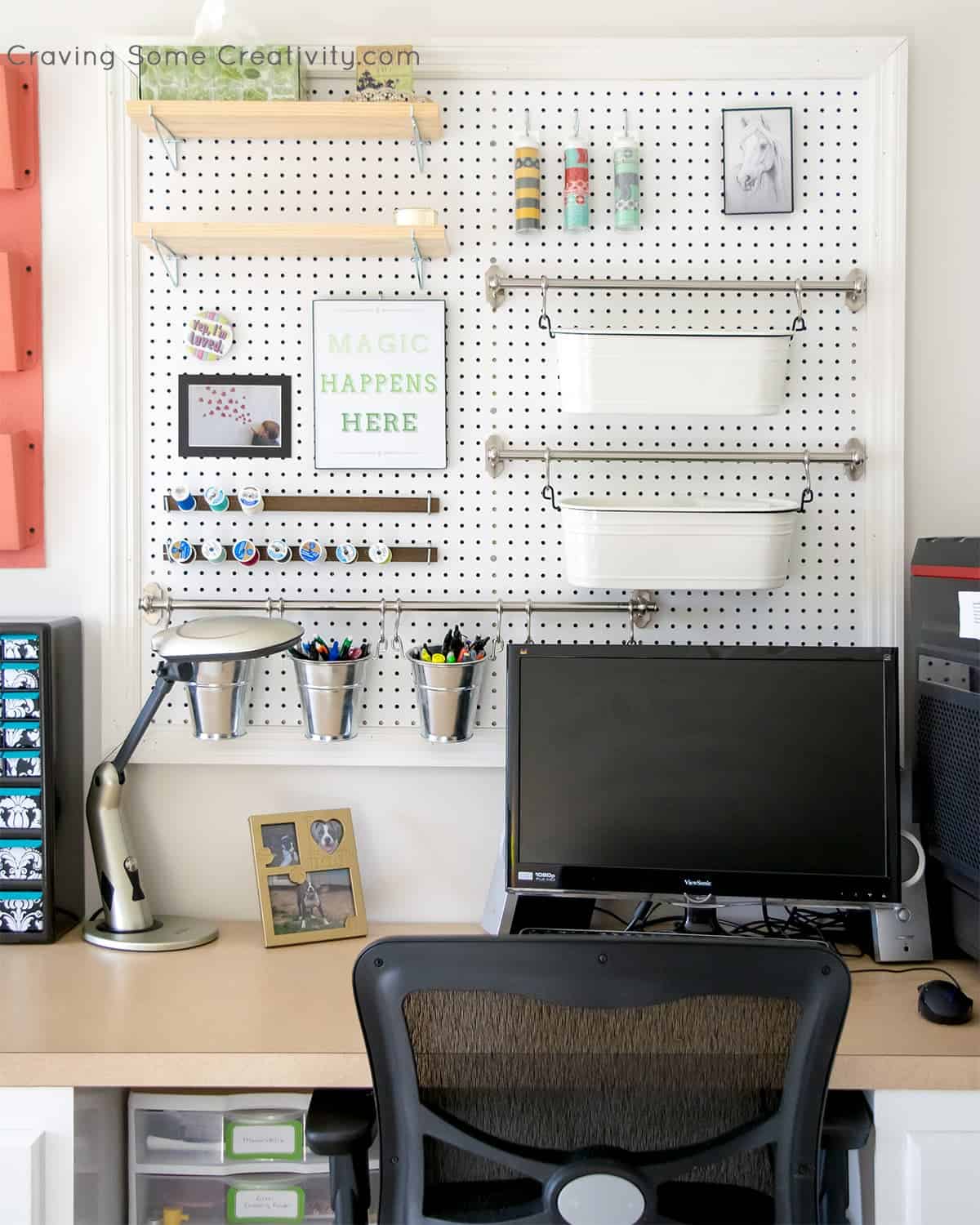 Grab our free series "Weekend Home Projects that will Transform Your Life"
Sign up below to receive updates including free printables, organization tips, home improvement projects, recipes and more!
More Home Improvement Ideas
PS I love seeing your creations! Be sure to take a photo and tag #cravingcreative on Instagram! You can also stay in touch with me through following me on Instagram, Pinterest, and subscribing to the newsletter!