Peel and stick back splash tiles are an easy DIY upgrade for your kitchen that even a beginner tiler can accomplish! You can get the look of real glass tile without having to use mortar or grout. This tutorial walks you step by step with tips for a variety of applications, examples, and tips for a great installation.
When my brother-in-law bought their house, he wanted to do some upgrades but knew that they may only live in this house a few years. So, they decided to do budget updates with small projects to make the space livable and give a good return.
I have tiled many backsplashes and bathrooms the traditional way, so I was excited to try a new method and see if it was worth it. We have even done groutable vinyl tile installation, glue down lvt installation, and worked installing beveled tile, so I felt like this would be fun!
This DIY project really changed the whole atmosphere of the kitchen giving it a modern and sophisticated feel. Read on to learn how to install a peel and stick tile backsplash in the kitchen or anywhere!
Recommended Supplies
For Thin Metal, Vinyl, and Plastic Tiles:
Heavy Sniping Shears
Hard ruler or Straight Edge
Measuring Tape
Sharp Scissors, craft knife, or box cutters
pencil
Level – we love our 4 ft. level!
dry erase or washable marker
kraft paper for making templates (optional)
Paint and Supplies – (Optional) Paint should be a similar color to the tile
Latex Caulk for Kitchen and Bathrooms
Additional needs for real stone and glass peel and stick:
Glass cutter – One with a snap helper is ideal. Only for glass tiles.
Wet Saw – This is for intricate cuts like around outlets for both glass and stone
Eye goggles
Types of Peel and Stick Tiles
There are actually several different types of peel and stick tiles available today. These include sheets and individual tiles that are made from vinyl, glass, metal, or even real stone!
I actually love the individual tiles because you can develop your own patterns. We have a guide to Subway tile patterns for kitchens and bathrooms for inspiration.
Here are a few of our favorites:
(Click the photo to go to the retail site)

How To Prep the Wall
Prepping the surface
As with any DIY project, surface prep is always key.
For surfaces in good condition (no mold, structural problems, or water damage) that are previously painted, all you need to do is make sure it is free of grease, dirt, and stains.
I would recommend painting the wall a similar color to the tile in the event there are any gaps, but this is optional. Tiles will stick best to non-shiny surfaces so use a flat paint or sand lightly. Do not install on fresh drywall.
In this case, we added a very thin backerboard and primed it because they wanted the ability to change it out easily if needed. That is a great idea if you have a rental or know that you will replace the countertops at some point. It also works if you have large bows inward in your drywall.
Check for Straightness
The largest consideration to make before you make your first cut is to make sure your cabinets and countertop are completely straight relative to each other. Even a small difference can be noticeable unless you plan ahead. Measure at both ends and the center to see if there are any differences in height.
Square and level aren't as important, but you should know this as well. If you do have a difference in height, the best place to hide it is at the top, under the cabinets.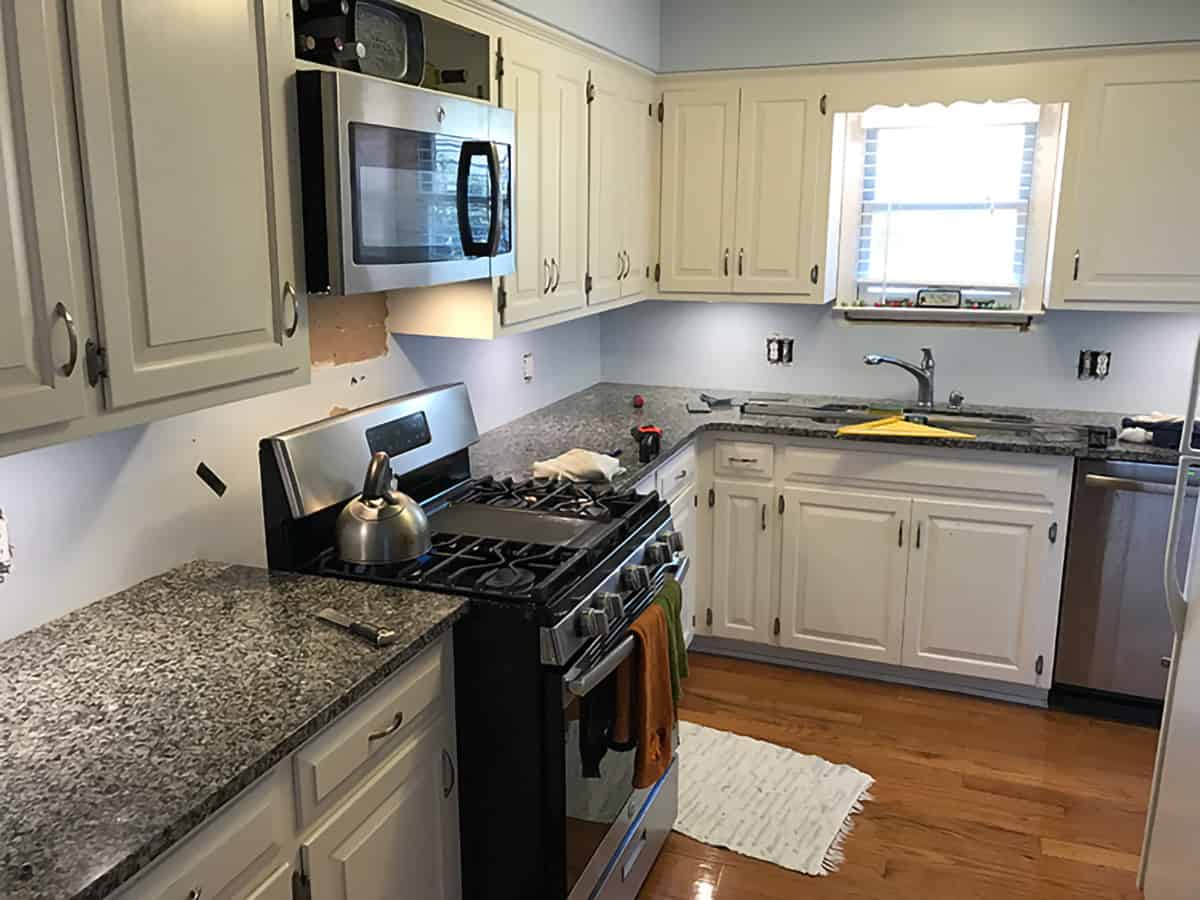 Setting Up
The first step is to make a plan.
Always lay out the pattern before applying it to the wall. It's just good practice. The backing is very sticky, so it is not easy to remove.
Since imperfections are easier to hide underneath the cabinets, I suggest going bottom to top. Sometimes it's best to start at one end and sometimes it is best to start in the middle or a corner depending on if you have if your area is not completely straight.
If you have glass or real stone tile, you will still need a glass cutter and/or a wet saw. Set out your tools and I recommend covering the countertops with some sort of plastic.
TIP #1: While you won't make a nasty mess like you do with mortar, I still recommend putting some towels down on the countertop and under your tile cutter to catch any glass fragments from the cutter.
How To Install a Peel and Stick Backsplash
While, yes, the instructions are pretty much to peel the backing off, and stick it to the wall, I have a few hints for trouble spots and cutting.
To start mark a vertical reference line that you can follow to make sure the lines are straight.
In some products, the adhesive is so strong that you GET ONE SHOT at putting it on right. It may not come back off so make sure to position it carefully.
If you have to remove it, pry it up gently with a putty knife.
Since there is no mortar to dry, I find it easiest to put all of the whole tiles on and then come back to the tiles that need cutting. This will clear a lot of mess out your way and frame all sides for proper cuts.
Periodically check that your tile pattern is straight and doesn't dip or bow.
There is no reason to use spacers or leave a gap between tiles.
Vinyl and Silica type tiles can be cut with strong scissors or heavy-duty snips.
With a simple glass cutting tool the tiles are cut fairly easily around outlets and corners. For intricate cuts, we did end up using a wet saw with a diamond cutting blade with no issue.
If you have an intricate cut, you can make a template out of paper to ensure proper fit before cutting the sheet.
TIP #2: Use a dry erase or washable marker to draw your cut lines. It is easy to see, and you can wipe it off right after cutting the tile.
Caulking the Backsplash
It is still highly recommended that you run a line of caulk where the countertop meets the backsplash. This is to prevent any water or moisture from running up behind the tiles, which can cause mold or failure of the tiles.
The peel and stick kitchen backsplash has now been up for several months and is holding up very well. It is easy to clean and no tiles have fallen. During installation, 1 tile was cracked when the outlet plate was screwed in a bit too tight and he plans to replace that piece. It would be impossible to patch a regular mortar and grout tile, so this glass tile seems very forgiving.
Like Budget Renovation? We have lots of ideas!
Frequently asked Questions
How much does it cost?
The cost will vary based on the price of peel and stick backsplash tiles that are purchased and the size of the kitchen. It can be anywhere from $200-700.
How long do peel and stick tiles last?
The information out there as to how long they can last ranges wildly but based on our experience that it will at least last a few years if installed properly. Installation, moisture, and heat exposure can all affect how well it adheres and how long it will last.
Can you use this over old tile?
Yes! Make sure the surface is free of any dirt and press firmly. While it will work best on flat tiles, you can do it over rough surface tiles if you use a liquid adhesive like liquid nails. You only need a 5-6 pea-sized dots of adhesive for a 3×6 tile.
Is peel and stick tile worth it?
I would recommend this project for areas that are not prone to heavy moisture like a bathroom. A backsplash should be fine but pay attention to the area behind the sink. It is definitely easier than traditional tile and will last several years with the right installation.
Can you use peel and stick tile behind the stove?
Most silica and vinyl peel and stick tiles cannot be used near a heat source like a fireplace or stove. However, there are some varieties that use glass and real stone that may be used. Check the manufacturer's instructions.
Does the wall behind peel and stick tile need to be painted to match?
Painting the wall is only necessary if you suspect you will have gaps between the tile or a glass tile. If you leave gaps, however, choose a color that is the same or similar to the color of your tile. Allow your paint to dry for about a week before covering with the peel and stick tile to ensure it adheres correctly.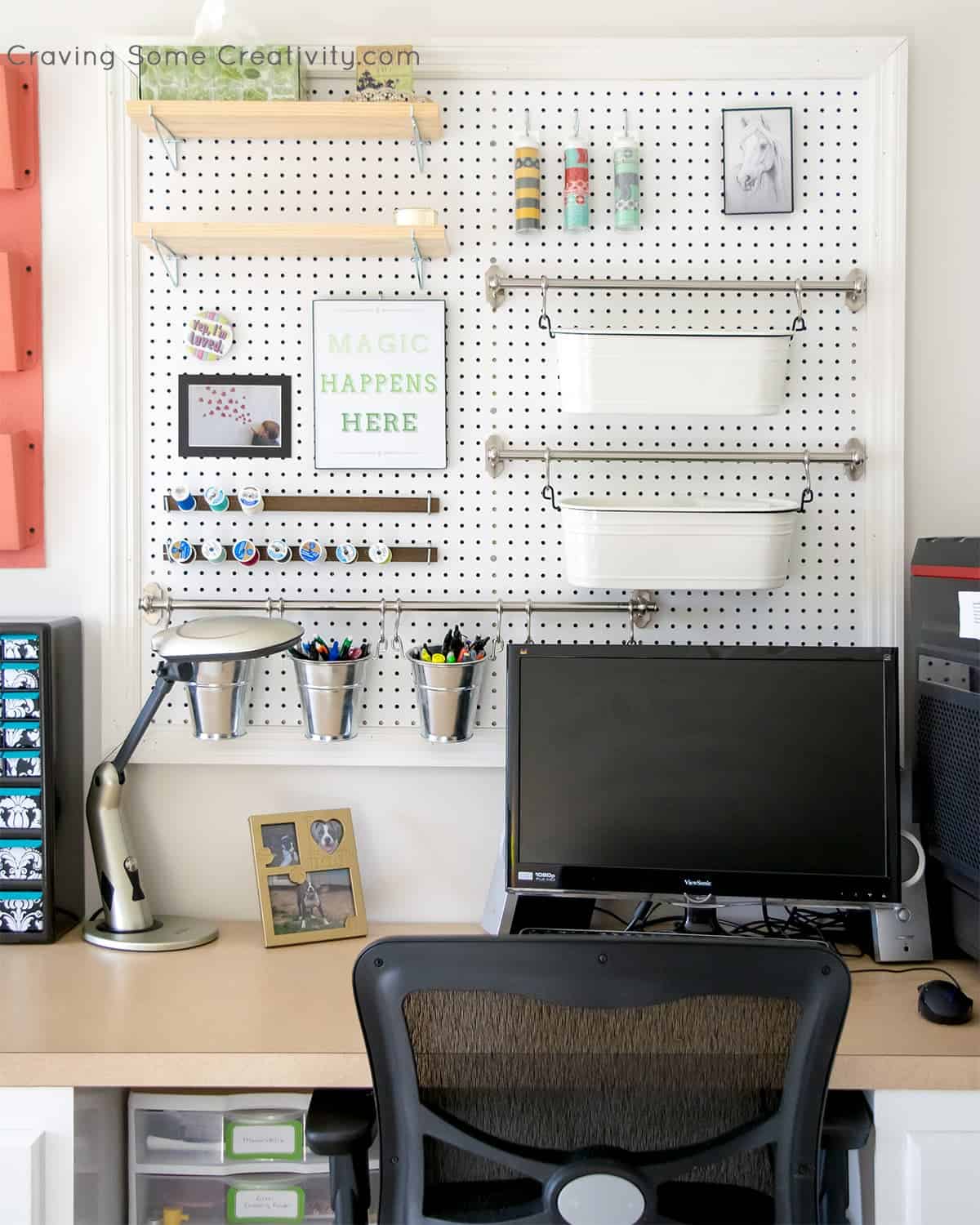 Grab our free series "Weekend Home Projects that will Transform Your Life"
Sign up below to receive updates including free printables, organization tips, home improvement projects, recipes and more!
More Kitchen DIY Projects
PS I love seeing your creations! Be sure to take a photo and tag #cravingcreative on Instagram! You can also stay in touch with me through following me on Instagram, Pinterest, and subscribing to the newsletter!
Peel and Stick Tile Installation
A Step-by-step tutorial for tiling a peel and stick backsplash for a perfect job. This easy DIY upgrade for your kitchen that even a beginner tiler can accomplish!
Print
Pin
Rate
Tools
Tape Measure

Scissors

Paint Supplies

If you need to paint the wall behind the tile.

Safety glasses

To use with tile cutting saw
Supplies
Peel and Stick Tile

Pencil

Marking Pen

Dry erase or washable markers work well.

Paint

optional

Caulk

one rated for Kitchen and Bathroom

Paper

for making templates
Instructions
Clean the backsplash area well to remove any grease, dirt, or stains. If desired, paint with a similar color to the tile in case there are any gaps.

Measure the height between the countertop and upper cabinets in several places to check for any slope. Also check for level on both surfaces. If you have a slope, the best place to minimize its visual impact is right underneath the cabinets.

Lay out the tile prior to putting on a wall and make sure it fits together as desired. Peel the backing off and stick the wall firmly. I prefer to do all the whole tiles and then come back to the cut areas.

For vinyl or silica tiles, heavy duty scissors or snips can be used to cut them. For glass or stone peel and stick, glass snips and a wet saw will be used for intricate cuts.

Add a line of caulk around the perimeter where the countertop meets the tile to prevent any moisture from getting behind the tile.