Removing counter tops, sink, and other appliances yourself can save you a lot of money on a kitchen remodel.
Often times, installers won't tell you about the hidden costs of their installation prices. Current prices for removing old countertops are about $17-30 a square foot! In fact, we saved almost $650 by removing the old countertops ourselves. Removal of the existing counter tops is something even a beginner can do.
Wear Safety Equipment While Removing Countertops
As with any DIY, wear the proper gear such as gloves, masks, glasses, and proper shoes. You never know when you are going to drop a hammer on your foot or step on a nail. You should also use the proper safety equipment to prepare for the unexpected, particularly if you have an older home. Are you prepared to deal with such hazards as asbestos, lead paint, or mold? In our kitchen, we knew their was some mold behind the sink from the previous owners. We were ecstatic to find out that it was only very superficial and had not extended down anywhere else. However, we wore masks because we did not know what we would find or what type of mold it was.
Unfortunately, we also found that the previous installers had hammered out the wall behind the counter tops in order to force the laminate counter tops to fit. This is, apparently, a common occurrence. Since we were not installing a 4 inch lip on the back, this meant patching the drywall with new drywall.
Check for Proper Fit of New Countertops
If you are also replacing your sink or any appliance with connections, make sure the connections will properly fit before the install. Make sure the pipes, gas lines, and electrical are long enough for a potential change in height. This is particularly true if you are changing the depth of the sink. Will the garbage disposal still hook up properly? Check not only how much room you have under the sink but also that the lines coming from the wall will accommodate a change in height.
Many people do not realize that sinks only include the shell in the price. You will have to purchase the drain kits if reinstalling yourself.
How To Remove Counter Tops
There are essentially only two ways in which countertops are installed. They either screw into brackets to keep them from shifting, as is the case of laminate counter tops, or they simply rest on the cabinets themselves.
There is often a caulk line between the cabinets and the countertop. To remove, use a utility knife, and cut the caulk line, being careful not to mar the cabinet faces.
If there are brackets on the inside of the cabinets, unscrew them and then gently lift the countertops. Gently scrape any excess caulk. That's all there is to it!
How to Check for Level of New Countertops
It's a fact that houses settle and that cabinets may not be level. A good countertop installer will make sure that your counter tops are level. However, always make sure your counter tops are shimmed properly. Do this by placing a level on the counter tops before your installers leave.
Remove Everything From your Cabinets
Dust will happen. Dropping something may happen. That will leave your dishes and bake-ware exposed.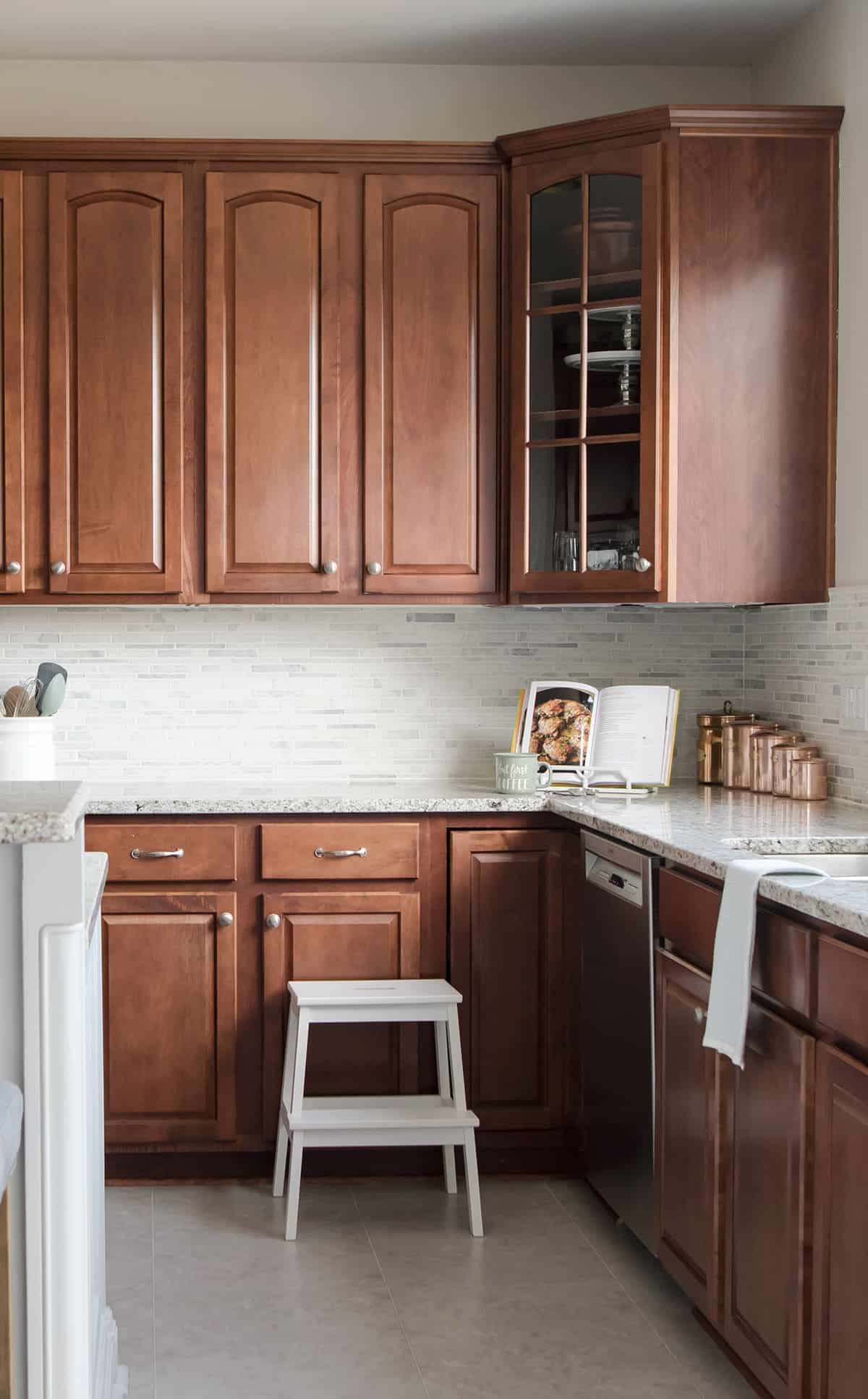 Review and Approve Everything
Very few things are cut on site. If you have a natural stone, make sure you approve not only the slab, but the placement of the cuts as well. There may be a mar in a section of the counter top you want to avoid or you want to minimize any seams. Ask to see the slab with the cut markings on it before they cut. The outlets behind our bar were not correctly measured and cut on-site. They had to bring out a new piece a couple of days later to fix that but it was worth it. On a laminate bar top we did a few years ago, we made absolutely sure they would use one solid piece without seams because it was 45 inches wide. Reviewing and asking questions is very important when you are working with any company.
Looking for More Kitchen DIY Projects? We have tons from our Renovations: