Love a herringbone pattern tile or wood, but worried it's not easy to create? It's no harder than other subway tile patterns with these simple tips to get started.
I've been getting many questions about the bathroom remodel at my parent's house, most specifically comments on how intricate and beautiful the herringbone pattern inset is on the shower. Quite a few mentioned that herringbone must be so difficult to lay, but that isn't the case!
Herringbone Tile Supplies
You will need mostly the same general tools and supplies for tiling herringbone vs other patterns. Here is a handy list of some of the items I use and recommend.
General tips for tiling
With any pattern, especially intricate ones, use tile spacers. I usually keep two kinds on hand – T-shaped like these and Wedge tile spacers. I much prefer the T-shaped ones over other shapes like these cross ones, because the T fits well into staggered joints and they are easy to remove. Wedges comes in handy because you can trim them to size, so I use both.
I don't usually lay tile out before putting on the wall. Normally, it's very difficult for me to have a large enough flat surface to everything exact to make the correct cuts before laying on the wall. So cuts are performed as I go.
Always cover and pad anything you don't want scratched or dinged in case you drop a tile or mortar. In a bathtub or shower pan, I lay down folded towels and then cover with a plastic sheet that is taped around the wall.
The mortar will harden fairly quickly when it is on the hardi-backer or other substrate. For intricate patterns, I recommend spreading the mortar/adhesive on the back of the tile rather than putting the mortar on the wall.
Spread the mortar over the entire back area of the tile
Scrape it just like you would do the wall with the spreader at a consistent 30-45-degree angle.
Stick it onto the wall and give it a little wiggle to make sure it's sticking. Use your spacers to make sure the tile is level & adjust if necessary.
How To Lay Herringbone Pattern Tile
The first step in laying a herringbone pattern is to find the center point of the wall. Measure the length of the wall and mark the halfway point.
A floor layout is different than a wall. Normally, on a floor, you would start in the center and radiate out towards the walls on either side, but we can't do that with a wall because gravity might cause the tiles to slip downward, ruining your pattern. You can either start at the bottom or use a ledger board in the middle. A ledger board is just a very straight board you screw into the wall that the tile can rest on. When you are done, unscrew the ledger board and tile in it's place.
I always use a ledger board for starting out on a tub surround, in place of the first row of tiles. I measure it exactly the width of the first row plus grout, like this: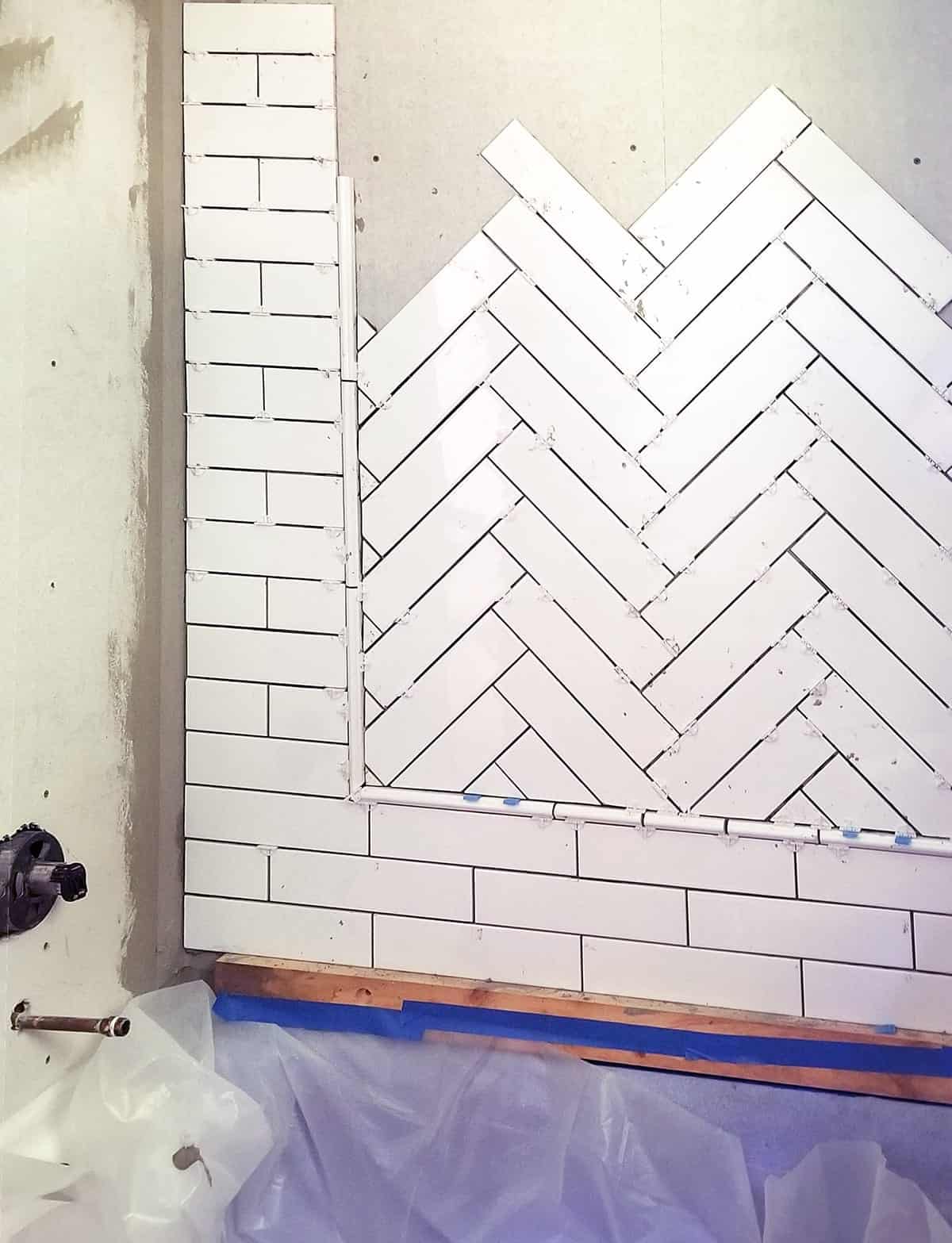 The first tile is the most important because it sets the pattern for the rest of the tile. In order to make the pattern perfectly even on both sides, start it like the picture below. To get a 45 degree angle, use a combination square (without the ruler) or draw a line with a square.
Unfortunately, I learned this trick the hard way because I couldn't find what I needed on the internet, so my pattern in real life is a bit off, but no one has noticed.
One neat thing is that once you get that first piece exactly right, and start tiling up, the side cut pieces will all be the same size! This is, of course, assuming the walls are straight. I usually went up several rows with whole pieces and then made a template to cut five or six tiles on the sides at one time.
So that's it! It's not any harder than other tile patterns once you get that first tile set. I hear a lot that tiling scares beginning DIYers, but it's actually one of the easier – though tedious – projects to do. If you can get the walls up straight, tiling is a breeze.
Hope you find this inspiring, because I look at that picture and it looks so comforting and relaxing and modern.
Pssst...
Grab our free series "Weekend Home Projects that will Transform Your Life"
Sign up below to receive updates including free printables, organization tips, home improvement projects, recipes and more!