Warm Apple Crumb Cake is brimming with sweet apples and a crunchy double cinnamon streusel topping. Perfect for welcoming guests or an overnight breakfast to look forward to, this cake is soft, perfectly spiced, and drizzled with caramel sauce.
The season of warm, fuzzy feelings is here! Mittens, fireplaces, and family traditions evoke vibrant, yet cozy feelings in me. And nothing gives warm fuzzies in the morning like diving into this Apple Crumb Cake. If you love sweet apple recipes, check out Apple Crumb Bars, Southern Fried Apples, or maybe a glass of Caramel Apple Sangria.
Rustic in appearance, and piled high with that dreamy, crunchy cinnamon streusel, this cake may make you want to get out of bed a little early. It tastes incredible served warm with just touch of caramel drizzle.
What interesting about this cake is that it comes together quickly in a method called reverse creaming. It makes cake making super simple! This technique produces a dense, but even ultrafine crumb and velvety texture that perfectly juxtaposes the topping. But more on that later…
Ingredients and Notes
Below is an overview of what you will need to make these with notes to making the very best apple crumb cake.
For The Cake:
Apples – Green Granny Smith are the quintessential baking apple, but you can also use other, sweeter apples like Gala or Honeycrisp. You can slice or dice them, but I find dicing to be a little easier to cut the cake.
Sugar – I use both white sugar and light brown sugar in this recipe. The combination of white and light brown sugar in the batter helps keep things sweet and moist.
Butter. Softened butter in the batter is reverse creamed, while melted butter in the crumb gives us that crumbly texture on the top that we all love. I use unsalted butter for both.
Milk – Offering up a creaminess that works with the baking soda and baking powder but not as much as buttermilk, so the cake stays velvety and dense to support the apple slices.
Flour – A good quality all-purpose flour is an easy addition. If your flour is particularly lumpy, it can be sifted but not otherwise required.
Cinnamon – I would highly recommend keeping this if you can, but if you can't have cinnamon, the closest substitute would be nutmeg.
Caramel Sauce – This is optional, but I think it makes the cake look fresh and pretty plus it's great against the apples and cinnamon flavor.
For the crumb topping:
We don't use any additional ingredients, which is nice. Like my Lemon Blueberry Muffins recipe, this uses my never-fail streusel topping, except we are doubling it for even more amazing crumb!
Step by Step Instructions
The full recipe is below in the recipe card, but I include this visual guide to answer any questions and give tips to create the best crumb topping ever!
Make the Crumb Topping. The butter should be very soft or even melted. Mix together with a whisk. The topping should clump together if you squeeze it in your hands. (Photo 1)
Reverse Cream the batter. This is a little different from your typical cake making. Rather than creaming the butter with the sugar and eggs, we are going to mix it together with the sugar and dry ingredients first. Then we add the wet ingredients (milk, eggs, vanilla) to the mix. While it will look crumbly when mixed with the flour, everything smooths out nicely after it is all together. (Photo 2)
Alternate layers…or not. I like to layer a bit of the apples and cinnamon topping into the middle of the cake. It spreads the cinnamon flavor around a little more, however, you can just pour the batter in and top with the apples and topping if you wish. (photo 3 – after middle layer)
Crumble the topping. I like a well textured topping. I usually squeeze a handful of the mixture and then break it up and sprinkle over the apple layer. (Photo 4 – ready to go in the oven)
Bake and Cool. I use a 9-inch springform pan for this. It's a little tall for a regular 9-inch round pan., but an 9×9 square pan will also do well. I grease the pan on sides and bottom with a little butter. A few minutes after coming out of the oven, run a knife around the edges to release them easier.
Reader's Note*: The caramel sauce is optional, but I highly recommend it. I like a thicker caramel topping like you find in jars as opposed to the syrupy squeeze bottle variety. Drizzling a simple glaze is another option but it won't add anything beyond looking pretty.
Serving and Storage Suggestions
I love this cake because you can eat it any time of day. Slicing a piece of cake for yourself at 7am is so taboo, but crumb cake totally gets a pass. I mean how does that work?
Serving: After allowing it to cool for a bit, you can slice it up and top with caramel topping sauce if desired. It is delicious warmed slightly or at room temperature.
Storage: I leave mine in a doomed cake travel carrier at room temperature. I store it in the microwave, so I don't eat the whole thing, but that's just me. Lasts about 4 days.
Make Ahead: Because of the creaming method, this recipe stays moist and soft longer than others. So, yes, it is perfect to make the day before for breakfast or overnight guests.

More Delicious Make Ahead Breakfast Recipes
Frequently Asked Questions
Is crumb cake the same thing as coffee cake?
Although similar, the main difference is the amount of streusel topping. Coffee cake has less streusel topping and more cake. Crumb cake has a thicker, chunkier layer on top. Both are delicious as breakfast options.
Can I swap or leave out the apples?
If you don't love cooked apples, you can leave them out and will be delicious as a simple cinnamon cake. You could also add nuts, such as pecans, to the streusel topping or make a simple vanilla glaze with vanilla, milk, and powdered sugar.
Can I make this cake as individual muffins?
Sure, you can make cute little individual muffins! Mix the ingredients as directed and divide evenly into a greased or lined 12-cup muffin tin. Top with streusel topping and bake at 350 for about 25 minutes.
Can I freeze Crumb Cake?
Yes! Once completely cool, wrap the crumb cake in plastic wrap, then in foil, and place in a well-sealed freezer bag for up to 3 months. Thaw at room temperature before serving.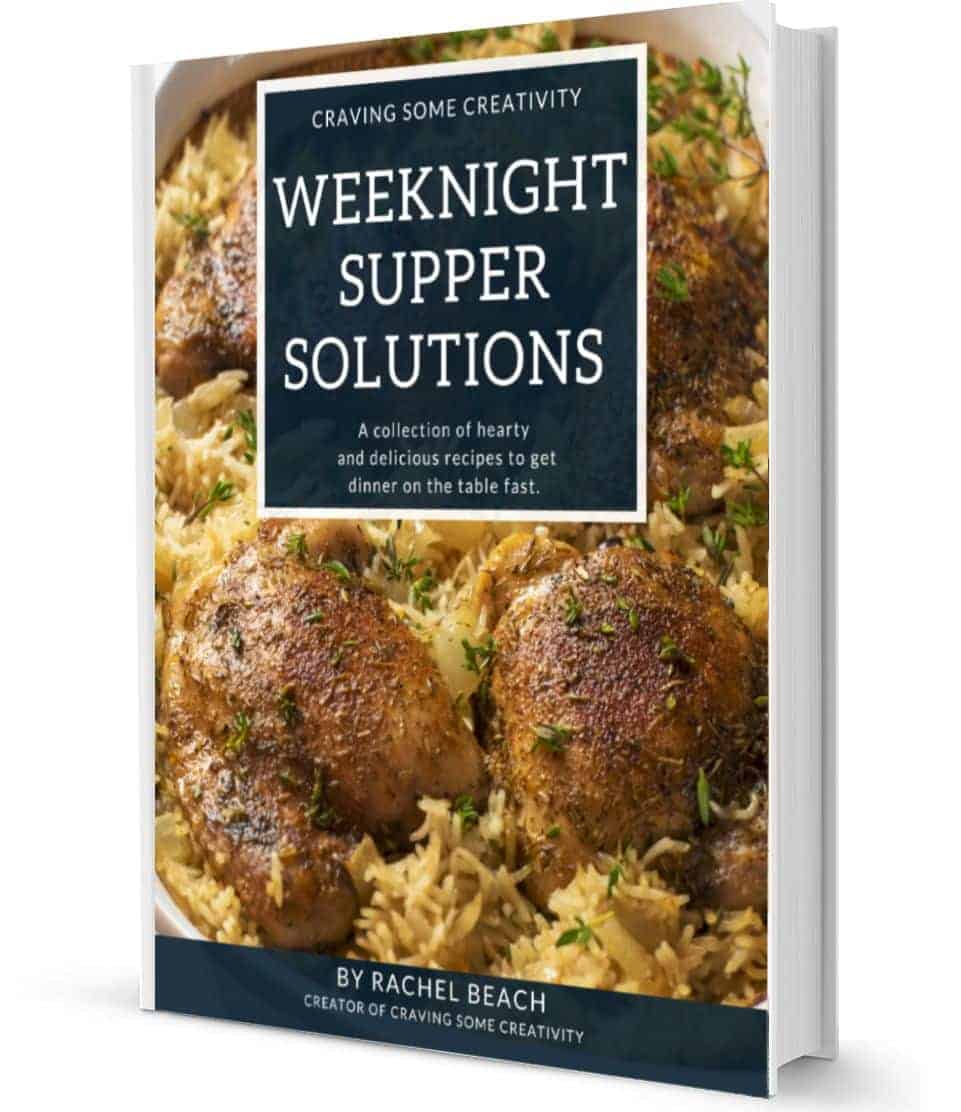 Not Sure
What's For Dinner?
Signup for recipe updates and get a free cookbook of Easy Weeknight Supper Solutions!
More Delicious Make Ahead Breakfasts
PS. If you make this recipe, leave a COMMENT AND A STAR RATING in the comments section at the bottom and be sure to take a photo and tag it #cravingcreative on Instagram! I appreciate you for taking the time to read about me and my family recipes. 
Apple Crumb Cake
Warm Apple Crumb Cake is brimming with sweet apples and a crunchy double cinnamon streusel topping. Perfect for welcoming guests or an overnight breakfast to look forward to, this cake is soft, perfectly spiced, and drizzled with caramel sauce.
Print
Pin
Rate
Ingredients
Cake
½

cup

Butter

softened

1

cup

All-Purpose Flour

1

teaspoon

Baking Powder

¼

teaspoon

Salt

1

teaspoon

Ground Cinnamon

½

teaspoon

Baking Soda

¼

cup

White Sugar

½

cup

Light Brown Sugar

¼

cup

Milk

2

Eggs

1

teaspoon

Vanilla Extract

2

Granny Smith Apples

peeled, cored, and thinly sliced or diced
Crumb Topping
1.5

cup

All Purpose Flour

½

cup

Brown Sugar

¼

cup

White Sugar

1

teaspoon

cinnamon

6

tablespoon

Butter

very soft or melted

1

teaspoon

Baking Powder

Caramel Sauce

Optional
Instructions
For the topping
For the streusel, stir together the sugars, flour, and cinnamon. Using a pastry blender or your hands, mix in the butter until the streusel is crumbly and well mixed. Sprinkle evenly over top of the apple slices.
For the Cake
Preheat oven to 350°F. Grease an 9×9 pan or a 9-inch springform pan.

With an electric or stand mixer, add both sugars, flour, baking soda, baking powder, salt, and cinnamon. Stir mix at medium speed until combined.

To the flour mixture, add butter 1 tablespoon at a time, not adding the next tablespoon until the previous has been well mixed. Once all butter has been added, mixture will resemble coarse sandy crumbs.

In a separate bowl, whisk together milk, egg and vanilla extract until mostly smooth. Turn mixer speed to low and slowly add the wet mixture into batter. Stir to combine, scraping the sides and bottom as needed.
Assembly and Baking
Spread ½ the batter into prepared pan. Layer ½ of the diced apples over the top and sprinkle with a few handfuls of the topping mix. Dollop the rest of the batter and spread it out. The batter may not completely cover the apples and that is fine. Alternatively, you can just pour the batter entirely and lay all of the apples on top.

Spread the rest of the diced apples evenly over the top. Sprinkle the remaining crumb topping. You want a mixture of larger chunks and finer crumbs for the best texture.

Bake 45-55 minutes or until the streusel topping is browned and the center is firm. After cooling, drizzle with caramel sauce if desired.
Nutrition
Serving:
1
slice
|
Calories:
167
kcal
|
Carbohydrates:
23
g
|
Fat:
7
g
|
Sodium:
113
mg
|
Sugar:
12
g
|
Vitamin C:
3.3
mg
|
Calcium:
30
mg
|
Iron:
1.3
mg