This shop has been compensated by Collective Bias, Inc. and Rubbermaid®. All opinions are mine alone. #GarageCleanUp #CollectiveBias
When you are renovating, the garage is as much a heart of the home as the kitchen, maybe more so. In our renovation, the garage storage we had was mostly leftovers from other projects. This Father's Day, we decided to reward the big guy who makes so many of the wonderful projects you see on the blog.  Being kind of neat freak, we had to have a plan that would work for him long-term and grow as he, ahem, collected more tools. Organizing the garage really shouldn't take more than a weekend and I have had my eye on the Rubbermaid® FastTrack® Garage Organization System for a few years. So we are excited to use their products for garage organization.
Step 1 – Evaluate Your Needs
Organization means nothing without function. Start by listing goals for the garage. Do you want to have room to park the car? Do you need a workstation for projects? Or maybe you would just like to actually find the Christmas lights without opening 10 boxes. Don't make your goals too complex or impossible to maintain (like rotating boxes of seasonal items every holiday). A list of goals and priorities will make it much easier to maintain. Our goals were: be able to park the car during snowstorms, have the most frequently used tools easily in reach and accessible for projects, and get all of the kid's toys off the floor. Your goals will probably be different but the planning will take some time. In our garage, we started with nothing when we moved in. Everything has been built or scraped from other projects. However, when it came to those finishing touches, we had to turn to the professionals to get the garage organized and accessible. The Rubbermaid® FastTrack® System has rails and accessories that help you store 10 times the amount by using the space between the studs and holds up to 1750lbs.
While we were planning out our shopping list, we looked online and made sure everything we needed was available at our store. Unfortunately, our store did not have the Rubbermaid® FastTrack® 24 in. Mesh Baskets (love those!) so we ordered them for free in-store delivery.
Step 2 – Purge
Depending on how much stuff is actually in your garage, you may have to clear it all out to see what you have before purging. I recommend clearing the driveway and pulling everything out if possible. It may seem like an extra step, but it will make the job easier and more efficient. Set up zones to keep similar items together. This is actually my favorite step. Purging feels so liberating for me but I also understand that some things can be hard to let go. For a large job, do 2 rounds of combing through everything for purging. At first, it can be hard to let some items go but this gets easier as the process goes along. If you have plans for certain items (i.e. donating, garage sale, etc) try to make sure those are done within one week after the cleanup. The longer you wait, the more likely those items will creep back into your space and be forgotten about again.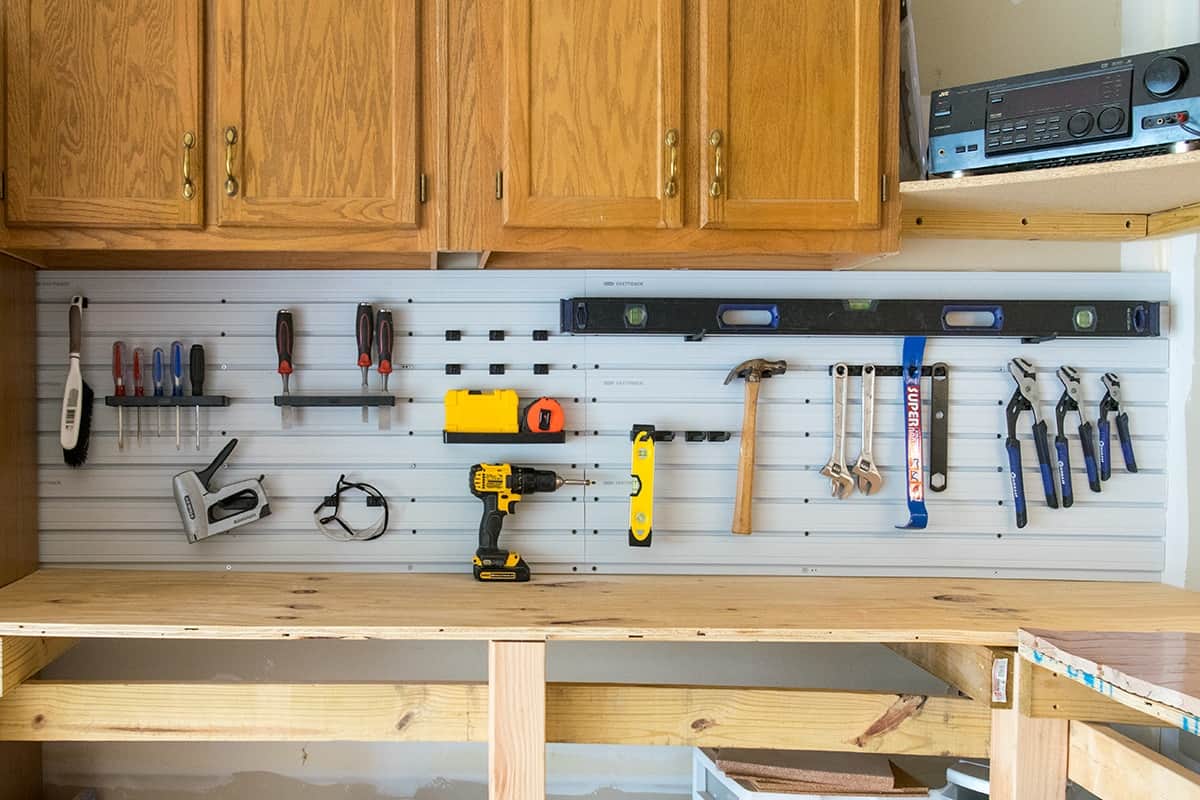 Step 3 – A Place for Everything
While everything is out, now is the time to get the storage items in place. Until this point, you may not have been sure what would actually fit back in the garage. This is why we created the goals and plan before we started. Before you start putting everything organized in the garage, make sure you have a place for it to go. For example, one of our goals was to have the most used tools easily accessible and in plain sight. Hubby and I started by installing these new Rubbermaid® FastTrack® Wall Panels for the tools. It can be easily customized depending on your needs.
Step 4 – Organizing
The groundwork is laid and now it's time to get everything in its place. Here is the thing about organizing: everyone has a different logic for their organization method and no one understands yours. You may scoff at that idea but I cannot tell you how many times someone couldn't find the band-aids in the first aid kit. It seems so obvious to me, but they look in the medicine basket because "It's an emergency!". Make sure everyone knows where an item belongs or it will never find its way back.
In order to get the kid's toys off the ground, we used these rails which are quick and easy to install.  To install the rails , you will need a hardware pack: one pack is needed to mount a 48″ rail and two packs are needed to mount an 84″ rail. The wall panels also have hardware packs available to use and the color matches for a professional look.  Simply add the screws into your studs and slide the cover over the rail. Add hooks and accessories as you see fit. The best part about this system is the you can change it in a few seconds as your needs change.
Step 5 – Maintain
Yep, maintenance really deserves to be its own step because it is probably the most important of all! What's the point of cleaning and organizing if it falls right back into disarray? First, make sure you follow-up on any items that didn't belong in the garage such as the donation, garage sale, and the "I'm saving this for Aunt Ginger" piles.
After all this, you know that I am going to put his Father's Day gift to good use. He loves his space and new organization system. Our son's toys won't be littering the ground and my lovely friends know I always have a DIY project in mind.   I did make a promise to him of no projects in June but we just finished several furniture and garden projects so I can't wait to show those off in the coming weeks.
Have a great Monday!
More Organization Projects:
Organizing Ideas for the Pantry