20 Craft Room storage and organization ideas that will inspire and leave you ready to tackle organizing your craft supplies. These budget-friendly DIYs are perfect for small spaces accessories.
These craft room ideas will certainly inspire! Let's be honest, a gorgeous and organized craft room is just fun!
**UPDATE: I have completed my own storage and you can see it in my Craft Room Makeover here! I have included a few ideas below from that makeover.
Long ago, I asserted that hubby and I would always share an office. To tell the truth, he hasn't always been the fondest of this idea. I can't blame him as my philosophy is not to put away a project until it is finished (i.e. messy girl). For example, one time he moved his desk into another room. I slid into one of my bratty, petty, and sort-of-hilarious episodes and would text him (he was literally next door) to "come here please" over and over and over. Yeah, it was petty, but he moved back. Now I have to clean up my act if I want to keep it that way.
My Requirements for Craft Room Organization
LOTS of wall storage
Area for kids to draw and display artwork
Must be designed to keep my messy self under control
Must be light and bright (for photography and vision)
Have a computer station
Must be cheap (budget is under $1000)
Must be inspiring!
To tell you about my craft room, it's a 16x9ft room. It already has crown molding and it has no overhead light.
Pegboards for Organization
One of the major requirements for my own craft room storage is to build a pegboard on the wall above my desk. Pegboards are perfect for custom craft room storage and small supplies.
Clean simple and full of fun! This sewing room pegboard organizer blends both functional storage and pretty. Love the little touches like the picture frames to encourage good work.
This colorful pegboard is also one of my favorites. What a genius way to store rolls of vinyl! Also, small tools are in easy reach and the cups are great for pens, glue, and tape.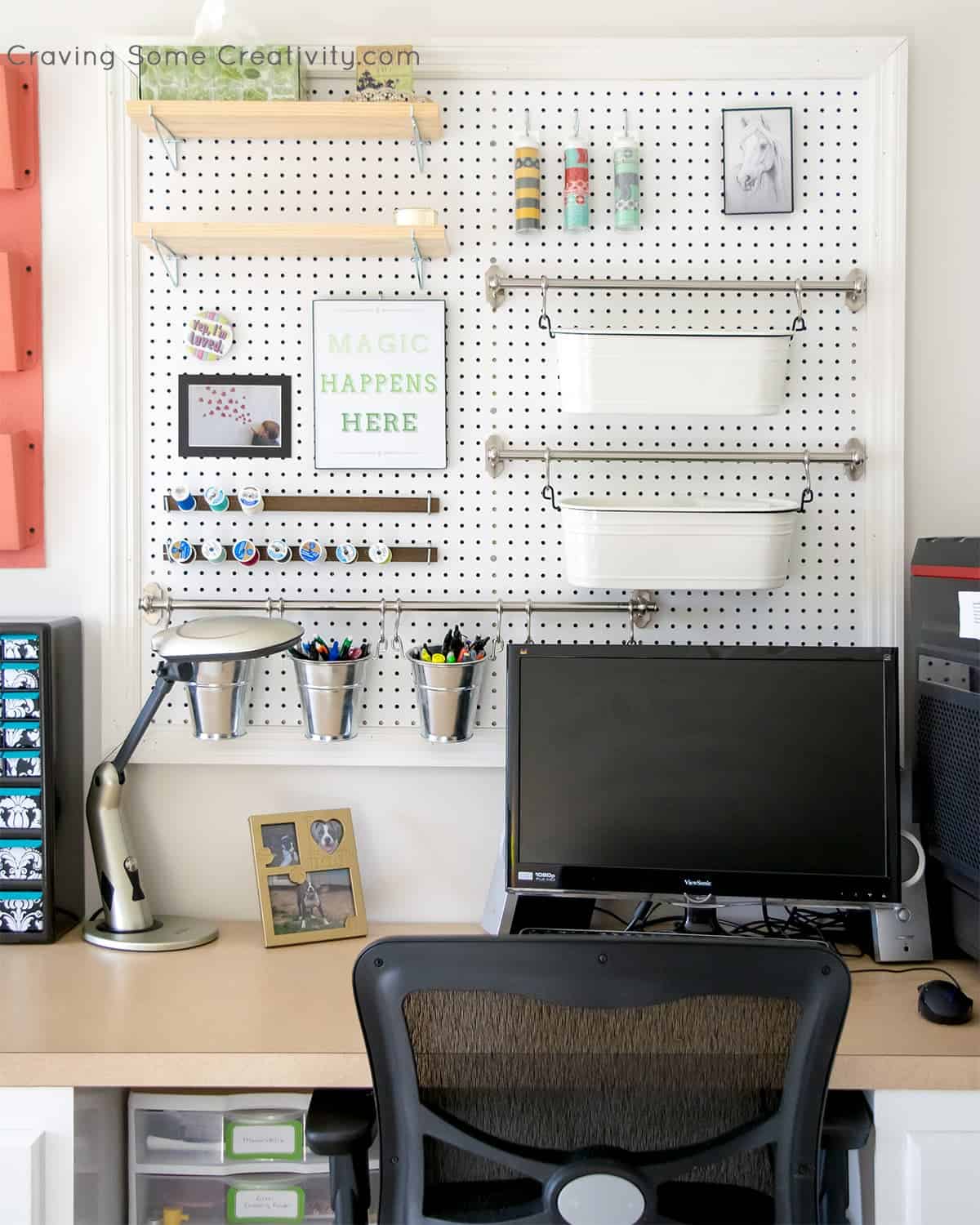 Craft Room Wall Storage Ideas
But I know that hanging a pegboard isn't nearly enough storage for my hoard of craft supplies. So, I asked hubby to build me a version of this storage unit:
This wall storage is a great way to store ribbons, paint bottles, stamp pads, glitter, and colorful items I want to display.
For my son's artwork, I have the perfect way for him to display it in all its glory!
Wall Display for Children's Art, Photographs, or even Christmas Cards
Craft Room Display Shelves
Shelves are some of the best ways to organize items for easy access and display them. They can be as simple as some IKEA bookcases along a wall or even sophisticated built-ins.
The decorative storage on this bookcase is both beautiful and functional with the use of antique suitcases and rustic crates.
This moveable display shelf includes plans for building it. The simple crates are easy to label and store items by category.
I chose this craft room for so many reasons. First the color on the back of the bookshelf is so fun and a great way to create cohesion in the space. However, I also love the flat file cabinet (also known as a Hamilton type or printer's cabinet). It is great for storing markers, paper, and flat tools or utensils.
More Craft Room Organization Ideas
Ok, now that we have the storage covered, I still need some inspiration for storing cute supplies that will be in the viewable area.
Check these ideas out!
I think this room is gonna shape up to be a dream judging from all these beautiful craft room ideas! Do you have any unique ways to store office and craft supplies?
SEE THE CRAFT ROOM MAKEOVER HERE
Grab our free series "Weekend Home Projects that will Transform Your Life"
Sign up below to receive updates including free printables, organization tips, home improvement projects, recipes and more!