20 Craft Room storage and organization ideas that will inspire! Create a customized organization system that works for you; you'll be amazed at how quickly new habits are formed! These budget-friendly DIYs are perfect for small spaces and organizing odds & ends.
Long ago, I asserted that hubby and I would share an office. He hasn't always been a fan of this idea. To be honest, I can't blame him. My standard operating procedure is to leave a project out until it's finished and that can get a tad messy.
Once he even moved his desk to another room. I slid into a slightly bratty, albeit hilarious, episode where I texted him to "come here please" over, and over, and over. Did I mention he was right next door?
Petty? Perhaps. But he moved his desk back. Mission accomplished! I also realized I needed to clean up my act if I wanted him to stay.
Keeping that in mind, our dream craft room makeover incorporated extra organization elements into its design. And today, I am sharing all the inspiration I got to create my own office organization systems that work and the cutest, most functional storage options.
You can find my completed Dream Craft Room Makeover in this post.
My Desired Elements
LOTS of wall storage
Area for kids (and me!) to draw and display artwork
Easy to keep organized
Must be light and bright (for photography and my eyes)
Room to grow
Computer station & Work Space
Wallet-friendly (budget is under $1000)
Inspirational
Pegboards for Organization
One of the major requirements for my own craft room storage was a pegboard on the wall above my desk. Pegboards are perfect for custom craft room storage and small supplies.
Small tools are within easy reach in this workspace upgrade (above). The cups are ideal for sorting pens, markers, glue, and tape. And how about the genius way to store rolls of vinyl?! (below)
Clean simple and full of fun! These pegboard organizers blend both functional storage and design. I love the little touches like the picture frames with motivational quotes and potted plants.
And here is my very own! How To Hang a Pegboard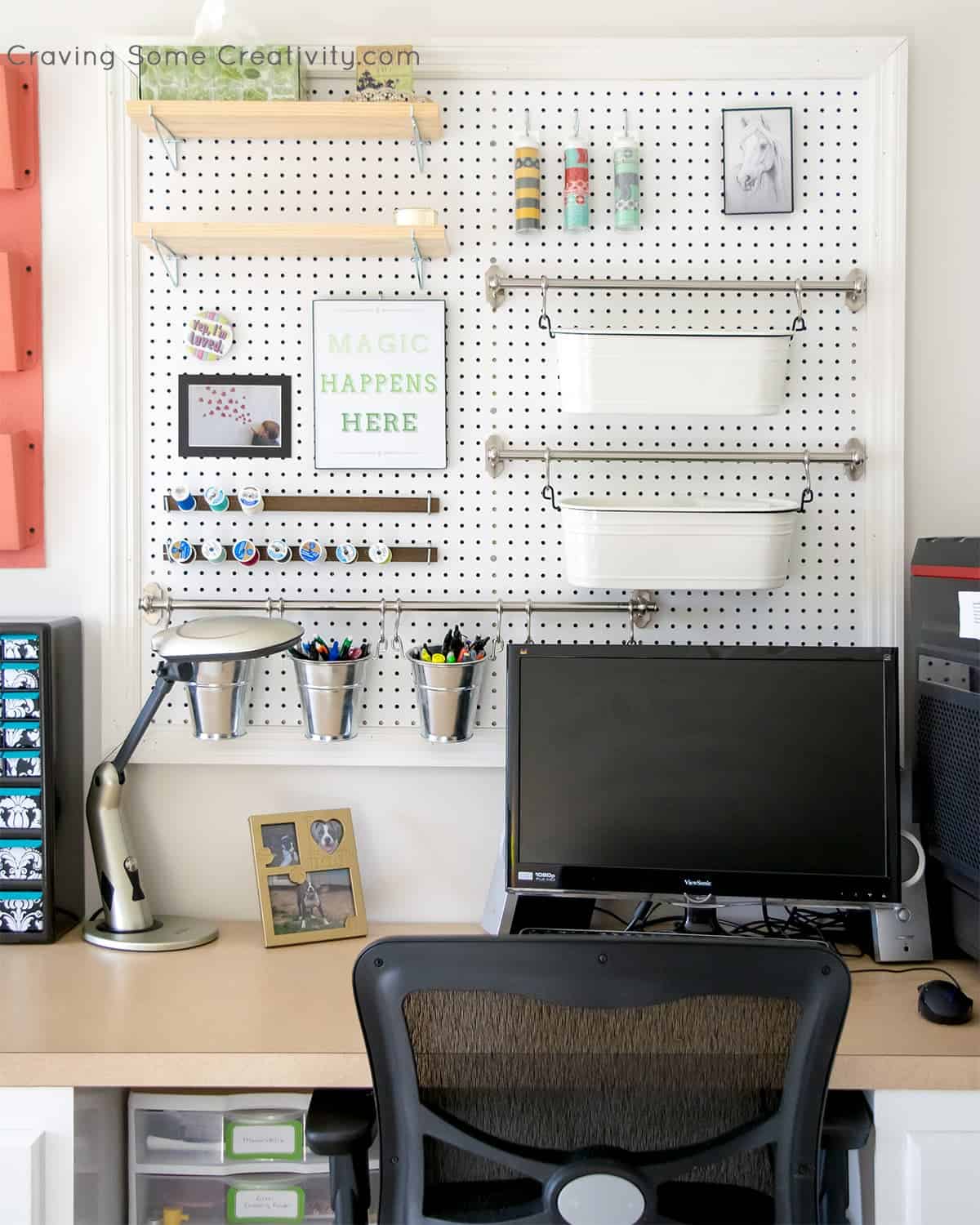 Craft Room Wall Storage Ideas
Alas, like most avid crafters, hanging a pegboard isn't nearly enough storage for my cache of supplies. So, we built our very own version of this rustic style storage display. These wall cubicles are a neat way to display ribbons, paint bottles, stamp pads, glitter, and other colorful items.
More wall organization ideas:
Wall mounted file folders hold future plans, current projects, and help me stay on track.
Clipboards and scratch paper mounted on the wall
Wall shelves with labeled bins
Creative Wall Art Display
An artwork display was an essential component for my craft room design. I desired something where my son's creations could take center stage, and easily be changed out as his pieces matured. We constructed the perfect way for my son to display his artwork in all its glory!
This can be used to display new crafts or sometimes items waiting to dry or work on again. I sometimes use it for him and myself as a corkboard with memories and notes.
Here are some similar ideas that we considered:
Oversized Photo Holders – Includes 25 clips and mounting hardware to make it so easy to hang! I have also seen cork boards used in much the same way.
Personalized Sign with Wooden Clothespins – The clothespins are actually glued to the surface here rather than hung by string, which means the string won't bend. The sting in the photo is only decorative.
White Clamp Style – Powerful magnets secure the artwork between the two wooden slats, which separate easily to allow for a frequent rotation of their latest and greatest creations.
Steel Rod Hanging Apparatus – I love the options of using the hanging clips, which cascade down or you can buy multiple rods. The wire cable can support 30 LBS too!
Craft Room Display Shelves
Shelving is key to keep items organized and convenient. A good shelving unit also serves as a showcase display. Your shelving unit can be as simple as some IKEA bookcases grouped along a wall, or as sophisticated as built-ins.
Using antique suitcases and rustic crates adds decorative flair and functional storage to a traditional bookcase.
The rolling crate display shelf includes plans for building it. The simple crates are easy to label and store items by category.
This green craft room inspires me on so many levels. First, let's talk about the color on the back of the bookshelf! It's fun and a great way to create cohesion in the space. And then, there's the flat file cabinet (also known as a Hamilton type or printer's cabinet). It's sleek, clean, and simply perfect for storing paper, markers, flat tools or utensils.
Who says China cabinets are only for showcasing dishes? Repurpose a dining hutch into a craft cupboard. It's a beautiful way to exhibit supplies while keeping them well ordered.
More Craft Room Organization Ideas
A set of drawers from an old Singer sewing machine gets a chic makeover and a new purpose. The small drawers are ideal for keeping your crafting process under control. A small apothecary cabinet or jewelry organizer also keeps bits & pieces tidy.
And here are some of my all-time favorite ideas for organizing small bits and craft supplies:
Get this 3-tier unit here from a post on workspace organization
Thread Organizer that you can frame on the wall
Craft Supplies in Mason Jars
Craft Paint in IKEA buckets – I'm not sure if IKEA has these buckets still, but you can use a window box and hangers like these a similar effect.
We created our dream craft room thanks to all of these beautiful craft room inspirations! What are some of the unique ways you've come up with to store office and craft supplies?
SEE THE CRAFT ROOM MAKEOVER HERE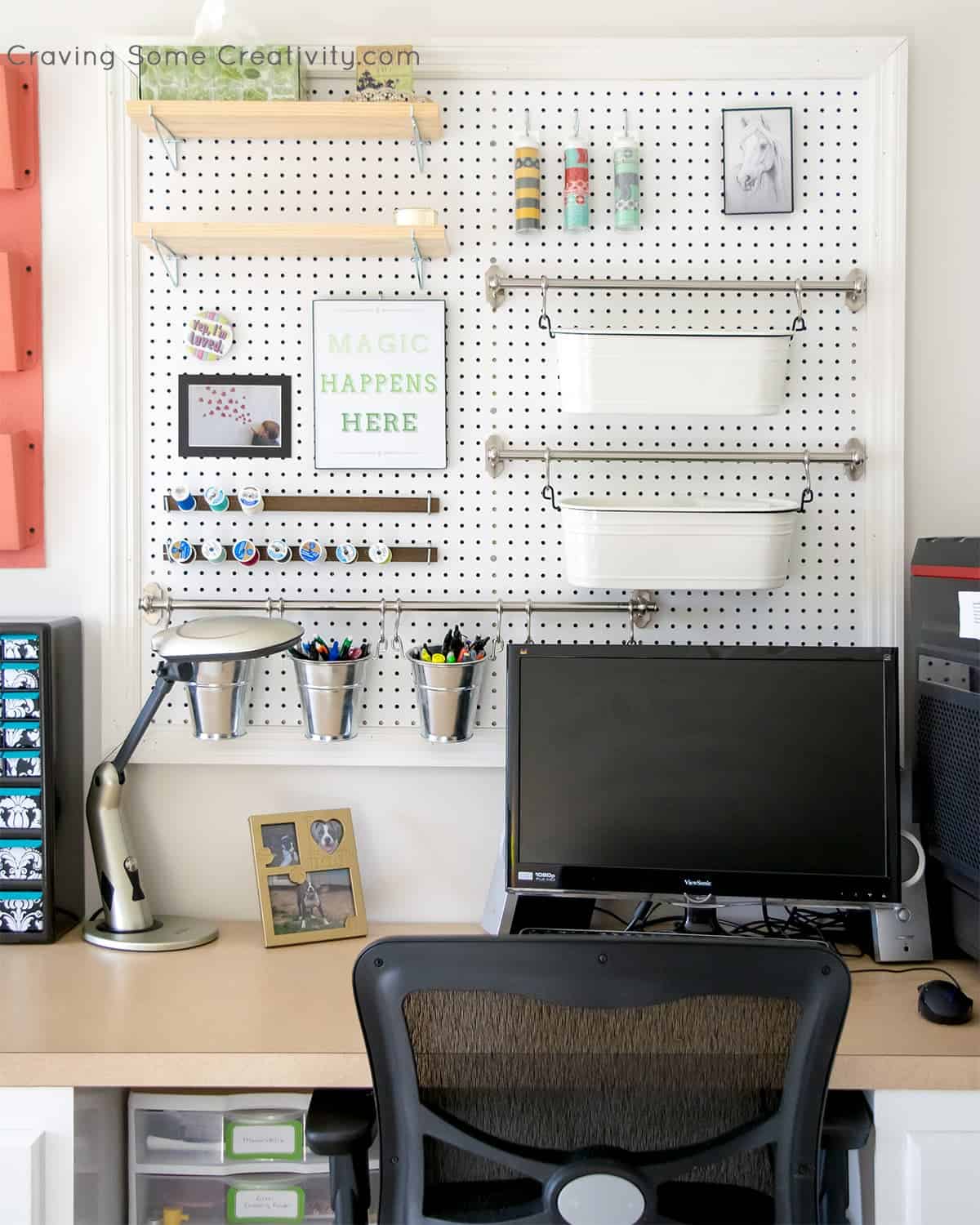 Grab our free series "Weekend Home Projects that will Transform Your Life"
Sign up below to receive updates including free printables, organization tips, home improvement projects, recipes and more!
More Home Organization