These craft room ideas will certainly inspire! Let's be honest, a gorgeous and organized craft room is just fun! Honestly, this is so much fun and I keep sneaking away from other BORING home maintenance projects to dream about my new office.
**UPDATE: My own Craft Room Sanctuary is complete and I am showing both my inspiration and how it turned out below! If you want to skip to it, click here for the full Craft Room Makeover Reveal.
Long ago, I asserted that hubby and I would always share an office. To tell the truth, he hasn't always been the fondest of this idea. I can't blame him as my philosophy is not to put away a project until it is finished (i.e. messy girl). I can remember a time when we were newlyweds and he moved his desk into another room. I slid into one of my bratty, petty, and sort-of-hilarious episodes and would text him (he was literally next door) to "come here please" over and over and over. Yeah, it was petty, but he moved back. Now I have to clean up my act if I want to keep it that way.
List of MUSTS for craft room organization:
1. LOTS of wall storage

2. I desperately want one of those cute pegboards

3. Must have an area for my son to draw and display his artwork

4. Must be able to keep my mess at bay and away from Husband's desk

5. Must be light and bright (I do some photography in there)

6. Must have a computer station

7. Must be movable for now (the floors will be redone later in the year or next year)

8. Must be cheap (budget for entire room is under $1000)

9. Must be inspiring!
To tell you about my craft room, it's a 16x9ft room. Today is about the inspirational craft room ideas I have cooking up and how they were actually implemented in my own craft room. *This post may contain affiliate links.
Pegboards for Organization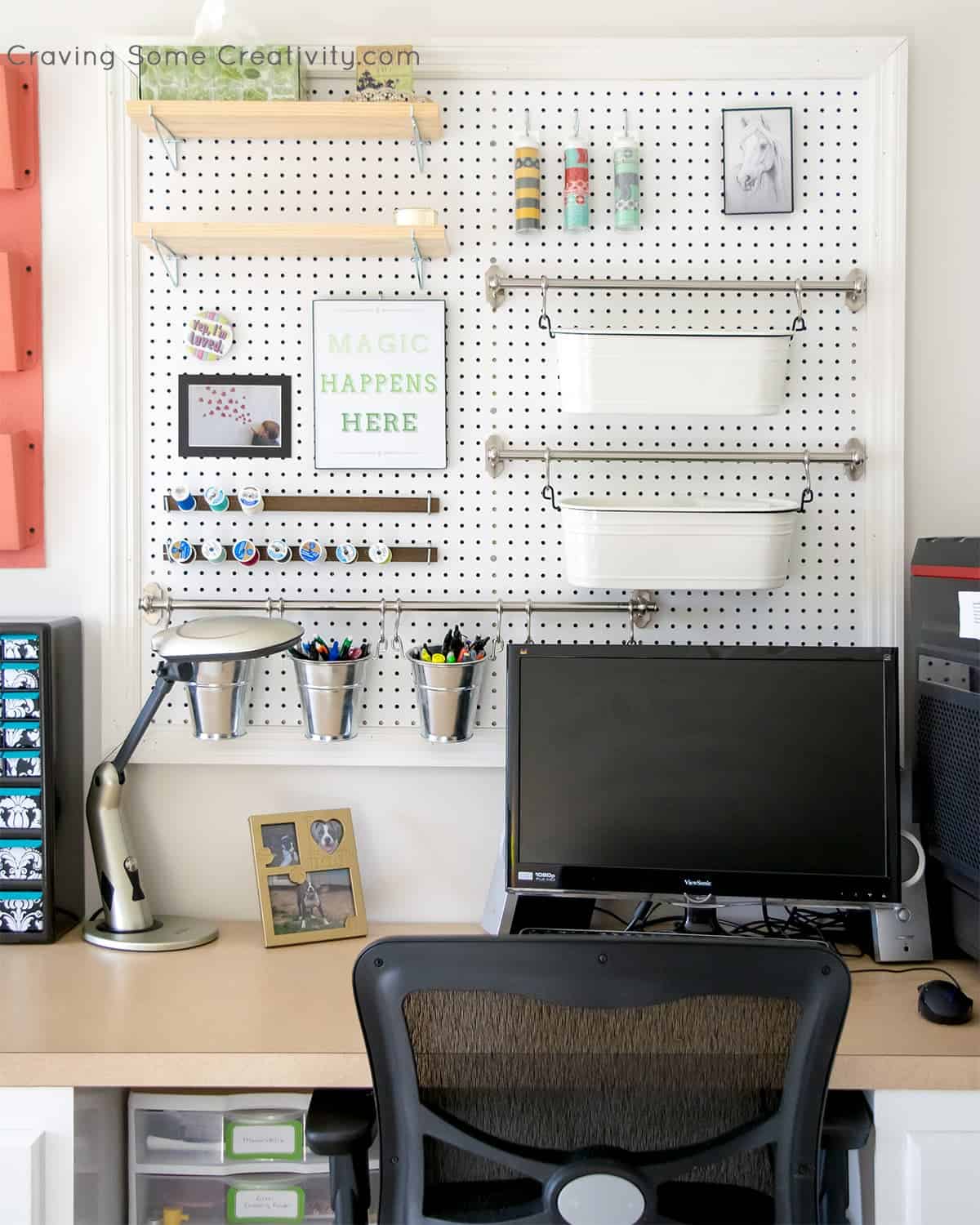 And my very own DIY Made and Framed Pegboard
Craft Room Wall Storage Ideas
But I know that isn't nearly enough storage for my hoard of craft supplies. So, I asked hubby to build me a version of this storage unit.
Which turned out much less rustic and I love it just as much!
For my son's artwork, I have the perfect way for him to display it in all its glory!
Wall Display for Children's Art, Photographs, or even Christmas Cards
Craft Supply Organization Ideas
Ok, now that we have the storage covered, I still need some inspiration for storing cute supplies that will be in the viewable area.
Check these ideas out!
I think this room is gonna shape up to be a dream judging from all these beautiful craft room ideas! Do you have any unique ways to store office and craft supplies?