Cinnamon Sugar Pretzels are a harmonious balance of sweet and salty crunch drizzled with a creamy white chocolate finish. These little snacks are so addicting – bet you can't eat just one! Create the ultimate sweet snack mix in under 30 minutes.
I don't know about you, but I've always been a sucker for those warm mall pretzels. Just the aroma gets me every time! Now you can satisfy that sweet treat craving from the comfort of home and in less than 30 minutes! This version even comes with a bonus white chocolate drizzle that takes it over the top delicious!
These little pretzels can be quite addictive. Consider yourself forewarned. My husband was out of town the first time I made a batch. He was disappointed to find the pretzel container empty upon his return; no taste test for him. Ooops!
Truthfully, there are so many year-round excuses for these little bites. Sprinkle with red or green sugar for your next holiday cookie swap. And, like our recipes for Chocolate Candy Apples, and Marshmallow Pops, these are great to make with kids or as a gourmet food gift during the holiday season. They are easy to store, simple to ship, and irresistible as a game day dessert snack.
Ingredients and Notes
Make this fragrant finger food and crowd pleaser with five common ingredients.
Pretzels: We make these super easy by using pre-made pretzels but homemade ones would work well too. Any pretzel shape can be used although I prefer the classic hard twists. I try to find the unsalted variety if I can find it (almost never), but some may prefer the mixture of sweet and salty.
Oil: A touch of oil is used to bind the topping, so I use regular vegetable blend oil for no added taste. Canola or Coconut Oil should be fine. I have not used melted butter specifically, but it generally has a lower burning point than oil.
Cinnamon: Ground cinnamon. Always use the freshest spices available.
Sugar: White granulated sugar is used here. However, you can sub half brown sugar & half white sugar or use larger sugar crystals.
White Chocolate. For most of my recipes, I use melting chocolate. However, since these are drizzled rather than coated, white chocolate chips are perfectly fine. You could also use other chocolate flavors too.
Step by Step Recipe Guide
The full instructions are in the recipe card at the bottom of this post, and this is super simple to execute but I include this section for photos, tips, and any information I can think of.
First Coat: Stir in the pretzels to coat evenly with the cinnamon sugar coating mixture. An additional layer is added after baking to pump up the flavor.
Bake: Parchment paper allows for easier cleanup of the baking sheet and less sticking of the chocolate as you drizzle later on. You can also use a baking mat. It's best to put the pretzels in a single layer to make chocolate drizzling easier. Since we are using store bought pretzels, they will already be a nice golden brown and cooked. We just want the coating to harden and become tacky.
Melt the Chocolate: While the pretzels are cooling, melt the chocolate chips in the microwave using a microwave safe bowl. Do this in increments, stirring each time. Take care not to scorch the chocolate.
Topping: Whisk remaining cinnamon & sugar. Sprinkle over pretzels. Drizzle the melted white chocolate all over the pretzels. You can use a spoon, or a chocolate decorating bottle to produce more even lines. However, make sure the chocolate isn't too hot for the bottle.
Tips and Variation Ideas
If the white chocolate chips aren't melting to an easy piping consistency, add 1 teaspoon of vegetable oil while melting and stir.
Pipe the white chocolate with a chocolate bottle for controlled lines. An icing bag or a Ziplock bag with the tip snipped off will also create a nice even stream.
Sprinkle with colored sugars to decorate the pretzels for holidays like Valentine's Day or Christmas.
You can make a party mix by adding nuts, chocolate candies, and/or dehydrated marshmallows. Crush some up on to serve over vanilla ice cream.
These pretzels also make great Christmas gifts when individually wrapped in cellophane bags or mason jars.
Serving & Storage Suggestions
Serving Ideas: I often make these during the holidays along with Carmelitas Cookie Bars and my Famous Peanut Butter Balls. They can stay out for eating, but I'd keep them away from hot lights and other heat sources.
How long do cinnamon sugar pretzels last? Store in a cool, dry place in an airtight container. I don't think they have lasted more than a week for eating but the ingredients are pretty shelf stable so they will last awhile.
Make Ahead: These can definitely be made a few days ahead of time and stored. They are great for car trips!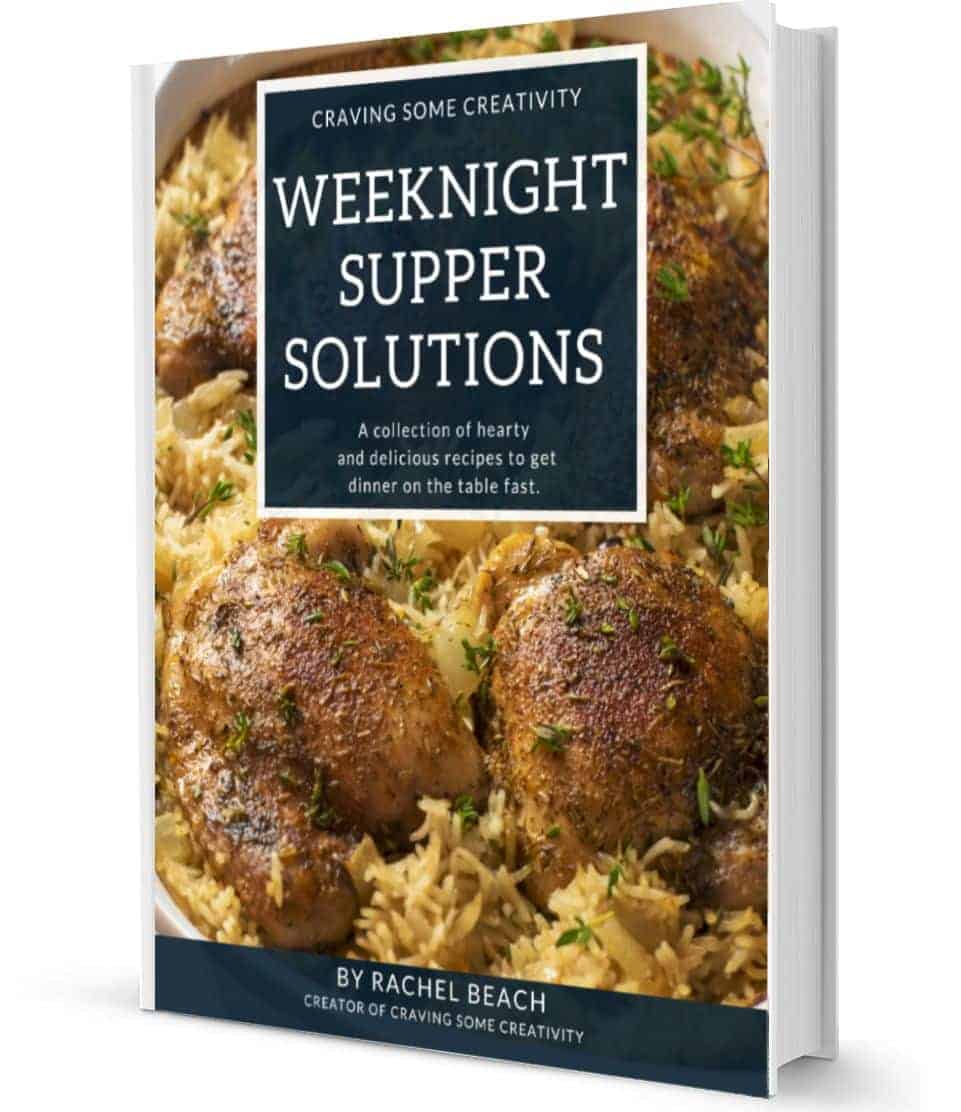 Not Sure
What's For Dinner?
Signup for recipe updates and get a free cookbook of Easy Weeknight Supper Solutions!
More Great Recipes
PS. If you make this recipe, leave a COMMENT AND A STAR RATING in the comments section at the bottom and be sure to take a photo and tag it #cravingcreative on Instagram! I appreciate you for taking the time to read about me and my family recipes. 
Cinnamon Sugar Pretzels
Quick and easy cinnamon sugar pretzels are an addicting blend of sweet and salty drizzled with a creamy white chocolate finish. Ready in under 30 minutes.
Print
Pin
Rate
Ingredients
Coated Pretzels
8

oz

Classic Twist Pretzels

1 medium bag

¼

cup

Vegetable Oil

¼

cup

Granulated white sugar

2

teaspoon

Ground cinnamon

Parchment Paper
Topping After Baking
3

tablespoon

Granulated White Sugar

½

teaspoon

Ground Cinnamon

1

cup

White Chocolate Chips
Instructions
Preheat oven to 325 degrees. In a very large bowl or soup pot, whisk together oil, ¼ cup sugar, and 2 teaspoon cinnamon. Stir in pretzels until well coated.

Lay parchment paper on a cookie sheet and spread pretzels out in a single layer. This will probably take more than 1 cookie sheet.

Bake 15 minutes, turning once half way through. While baking, whisk remaining sugar and cinnamon. After pretzels are done baking, but still warm, sprinkle cinnamon sugar mixture over top. Allow to cool 10-15 minutes.

Melt white chocolate in microwave at 30 second intervals and stirring between each interval until smooth. If white chocolate is too thick, add 1-2 teaspoon of oil. Drizzle over pretzels using a spoon or chocolate sauce bottle.

After chocolate has hardened, transfer to an airtight container. Enoy!
Notes
To create a festive holiday mix, substitute red or green sugar crystals for the sugar that is mixed with the cinnamon and sprinkled over the cooked pretzels.
Nutrition
Serving:
1
oz
|
Calories:
255
kcal
|
Carbohydrates:
32
g
|
Protein:
3.9
g
|
Fat:
12.7
g
|
Cholesterol:
3
mg
|
Sodium:
399
mg
|
Potassium:
85
mg
|
Fiber:
1
g
|
Sugar:
10
g
|
Calcium:
30
mg
|
Iron:
1.6
mg