Tool storage ideas that will make the most of a garage shop and organize power tools, toolboxes, and small supplies! Even if you have a small space, these ideas are real life tested in our own shop for both stationary and portable tool storage.
If I rank the absolute hardest spaces to organize, the garage would definitely be at the top. Turning the dumping ground of awkwardly shaped items into a fully functional workshop and storage area is a challenge. But we are up for it!
Remember when we painted the garage floor? It looks so different now! Our garage organization has evolved quite a bit as our collection and needs have grown.
Thankfully, I've got big help from a woodworking partner who is even better at organized spaces. He loves to research tools, whereas I just want them to function efficiently so I can work on my projects. When you are doing as many home improvement projects as we are, there are so many benefits to a proper functioning workshop and tool space:
We are more productive overall.
Less time and money wasted trying to find something.
Cords stay tangle free.
Dust, debris, and bugs are kept out.
Expensive tools and equipment are better protected.
As workshops go, we have only one side of a 2-car, but we manage to fit everything including a collection of wish list tools like a bandsaw, oversized dust collector, and industrial table saw with feed table.
Over the years, we have used many different systems and tool storage ideas. Today, I thought we would share our favorites and give a small tour of the redesigned garage workshop where things get done around here.
Important Considerations
When selecting storage systems, these are the things we consider:
Budget vs Value. We love a bargain, but it isn't a bargain if it fails or doesn't do what is needed.
Space. Select a system that maximizes space with the ability to expand when your tool collection grows. For this reason, we especially love tool systems that are stackable.
Durability. Heavy duty tool organization systems tend to weigh more. A storage device that can withstand falling off the back of a work truck without cracking or breaking is going to weigh a lot more than a brittle plastic container.
Portable or Stationary. Each approach has its advantages, and this is a decision where you will have to select the appropriate balance depending on intent.
Longevity. We generally advocate for investing in tool organization ideas that has been around awhile and you can build over time or replace if something breaks.
The Best Tool Organization Systems of 2023
There is no one size fits all solution. We have built our tool storage and many of our tools by browsing Facebook marketplace and from when my dad retired. This is a handy list of the items we generally use, love, and recommend:
1. Pegboards
We can't possibly talk about tool organization ideas without talking about pegboards. Peg boards are the gold standard for tool storage for small spaces and walls.
This Metal Pegboard Organizer is a near-perfect system that works well in small spaces and holds an assortment of accessories. This system can be bought in smaller sections and expanded as your needs grow. If your budget is limited and you plan on storing only light weight items, an MDF pegboard may work.
>>>>You can build your own with our step-by-step guide in this post: How to Hang Pegboard
Pros
Leverages wall space without taking up much needed floor space.
Easy access and able to be scanned in a glance.
Metal pegboards tend to hold heavier tools better.
Easy to rearrange.
Pegboards don't stick out, so you won't bang your head on them.
Huge selection and variety of aftermarket accessories to fit your needs.
Cons
The metal can scratch and rust.
The holes aren't as thick, so hooks may jiggle.
These types of pegboards are more expensive but last much longer then mdf.
I somewhat detest standard pegboards for tools because the holes widen and gouge.
The Best Way to Organize Tools on a Pegboard – If you have tools that are particularly large or awkwardly shaped, start with those. Otherwise, start with the tools you use most often and make them accessible.
2. Slatwalls or Rails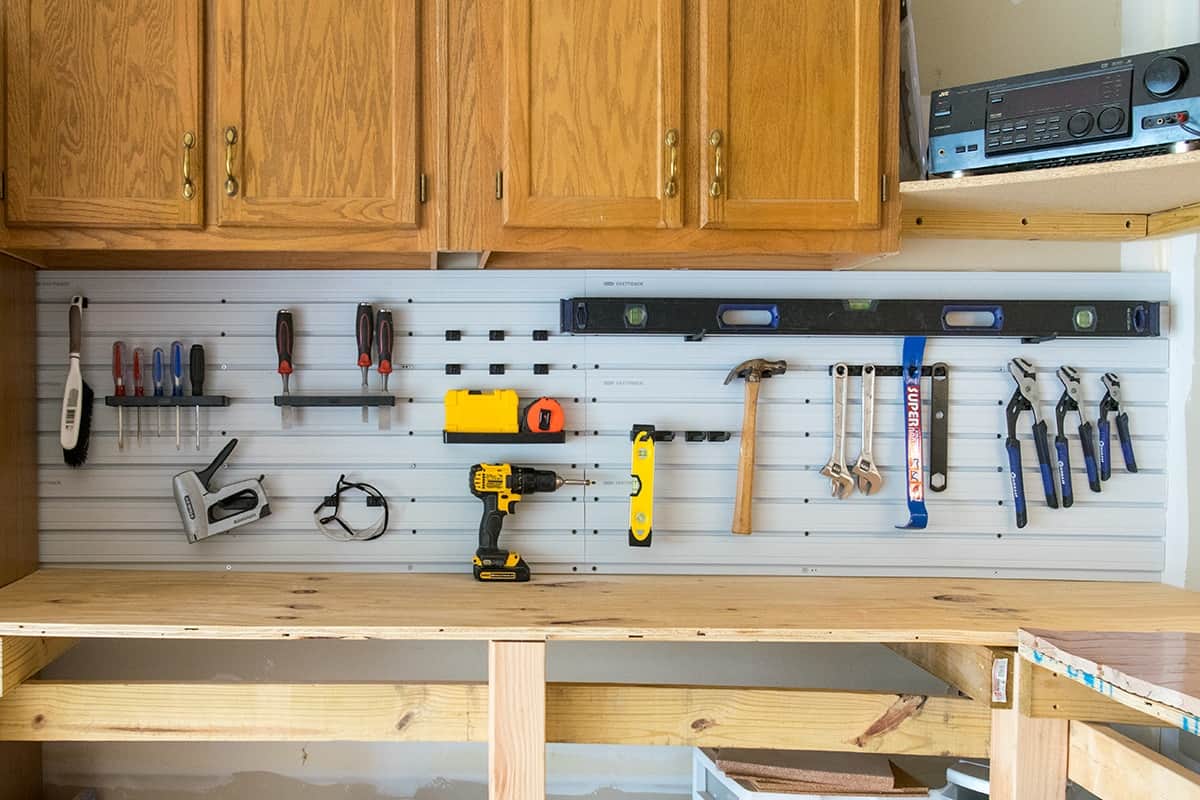 The Rubbermaid Fast Track or Gladiator GearWalls are alternatives to pegboards that provide the same level of customization with more durability and longevity than pressed pegboards or even metal peg boards. We love these in our workshop!
Lowe's also sells a much cheaper version, Craftsman Versatrack, but I have not personally used this system to know how robust it is.
Pros
Durable. The hooks and accessories made for these fit extremely well and are sturdy.
Easy to Install. No framing required, unlike pegboards. Screw into existing wall studs.
Easy to Rearrange. Can be moved precisely where you want and make changes as needs changes.
Hooks are sold individually. You don't have to buy a kit of 40 pieces to get the one hook you want.
Cons
Somewhat Expensive. We built up what we wanted over the years.
Not as easy to cut. It can be difficult to put around items like outlets.
The screws. You can add the screws wherever you like, but once you make a hole, there is no going back. We didn't like the screws that came with the FastTrack, so we used our own and many more than what the directions called for.
3. Rolling Tool Chest
We have a Craftsman and a Snap-On toolbox, but our favorite is the original version of this Gladiator rolling bench, which we have had for 10 years and three moves. It is still in near perfect condition! We actually use it as planer table and the whole unit rolls out and the 5-inch caster wheels lock it in place.
How to Choose a Good Toolbox. There are a few features that we look for when choosing a tool chest.
Heavy duty drawer slides that won't warp or break from weight.
Drawers that extend all the way. To save cost, some are designed to only open ¾.
A mix of drawer heights to store thicker items.
Rust-proof.
4. Toolbox Organization Ideas
A toolbox may be a good start but it's a struggle keeping those small tools from rolling around and clumping up in drawers. We have tried several methods to keep our tools in place in drawers:
Drawer Liner Mats. These are helpful but I find they fail over time, losing their tack and allowing tools to shift. A helpful tip is to use a spray glue or tack on the back side to keep it in place.
Customizable foam. The layers make this mat easier to cut than others we have tried and it's one of the more affordable options, but it's not cheap to do a whole toolbox. Alternatively, you can create this DIY toolbox organizer by taking foam floor mats and cutting slots for your tools. Add a backer or second layer for color differences.
Hardware Storage Organizer. We like the stackable craftsman organizer (pictured above). There are many companies that make versions of these but for the price, durability and functionality the craftsman wins.
Magnetic Tape Labels. I admit this is a future project for us. Having a labeling system in place helps ensure that other people in your shop, and yourself, place things back where they belong (and you can find them later!)
5. Portable Toolbox Organization
Often stackable, portable toolbox organizers are easy to pick up by the handle and go. Keeping with the same brand/system helps ensure they stack as designed. There are a lot of these systems (and fans around the internet who love each for different reasons.) Examples include:
For us, the systems above are more for tool storage and carrying rather than like a daily transport system you can anchor to a truck – although each has a rolling option. That is why I am listing them separately from #6. These are a better price point but don't have as many options or aren't as sturdy.
We like to use these and the transport systems below, not so much for power tools, but for kits. For example, these are great to organize a Dremel and attachments, sander and sandpaper, or an oscillating multi-tool and accessories.
Reader's Note: I am listing these systems (#5 and #6) as great options, but I highly recommend you research which system is best for your needs before committing. Fair warning: You may find yourself down a research rabbit hole as there are so many, many opinions and comparisons.
6. Modular Tool Storage & Transport Systems
The next level of portable tool storage! Modular tool organization systems are those that fit together to create cohesive storage in a compact space. Like some of the portable toolboxes above, you can mix and match different types of boxes on a self-contained rolling system. Think of it as stacking your toolboxes on a dolly and being able to lock them together.
These are a few of the higher end, professional level systems:
Honestly, these systems are more a matter of personal preference rather than one being better than another. For example, the Packout system has over 45 products that stack so something will suit your needs.
Another pro is the durability of these. This Dewalt system fell off the back of a truck and none of the tools were damaged other than some scratches. The locks are very impressive and it's nearly waterproof. The downside is that this modular tool storage system is heavy and a moderate cost but what do you expect for a system that can handle falling out of a truck and survive?
I will admit that our family tends to buy a lot of Dewalt tools, so I like to think that Dewalt tests and designs their modular systems with their own tools in mind.
7. Work Bench
I often joke that woodworkers spend half their time building things to make building things better.
For example, we designed our workbench so that the surface lines up perfectly with the table of the miter saw. It makes it a lot easier for one person to cut long boards. It also connects directly to an oversized dust collector to reduce the dust buildup in the shop.
The shelves are a great place to store awkward items (vacuum, compressor). There aren't many negatives beyond the top is usually cluttered because it's an easy place to set things down.
8. Storage Racks
What would a shop be without scrap materials? We have two ceiling storage racks -one homemade and the other is two of these metal ceiling racks side by side. I like the metal one better as it is larger and fits the space perfectly.
Handmade open shelving is very affordable and straight forward to build. Sometimes it can be difficult to find a shelving rack that fits your space best, so a DIY shelving unit is just as good.
9. Metal or Wood Cabinets
On the other hand, I clearly love cabinet storage. They minimize dust and clutter, but items aren't as easily accessible or seen at a glance. That's where a good labeling and organization comes in pretty handy. Metal or wood cabinets are great to organize supplies and odd shaped items.
I get a lot of questions about what's in our cabinets, so I've put a few handy labels on the photo above. Our cabinets are all second-hand purchases or yard sale finds.
We do have one Metal Storage Cabinet (again, second hand) that was made to store those smaller items like bug spray, weed killer, car cleaning supplies, rags and more. The one I have is super heavy duty 16-gauge steel and they are made in my old hometown in Tennessee. There are more affordable options, however.
Future Garage Shop Plans
I hope you enjoyed seeing our busy workspace and have some inspiration for tool storage and organization ideas! It's not perfect, but we also have some future plans for the space to get it there:
Tape and Mud drywall areas missed during first round.
Repaint the walls from where we moved the cabinets around.
Label drawers and shelves where it makes sense.
Add better clamp storage…and more clamps.
Build a collapsible fence extension with pegs.
Add more of these ideas for garage wall storage on the opposite wall for ladders.
Build a rolling assembly table. (This is a maybe.)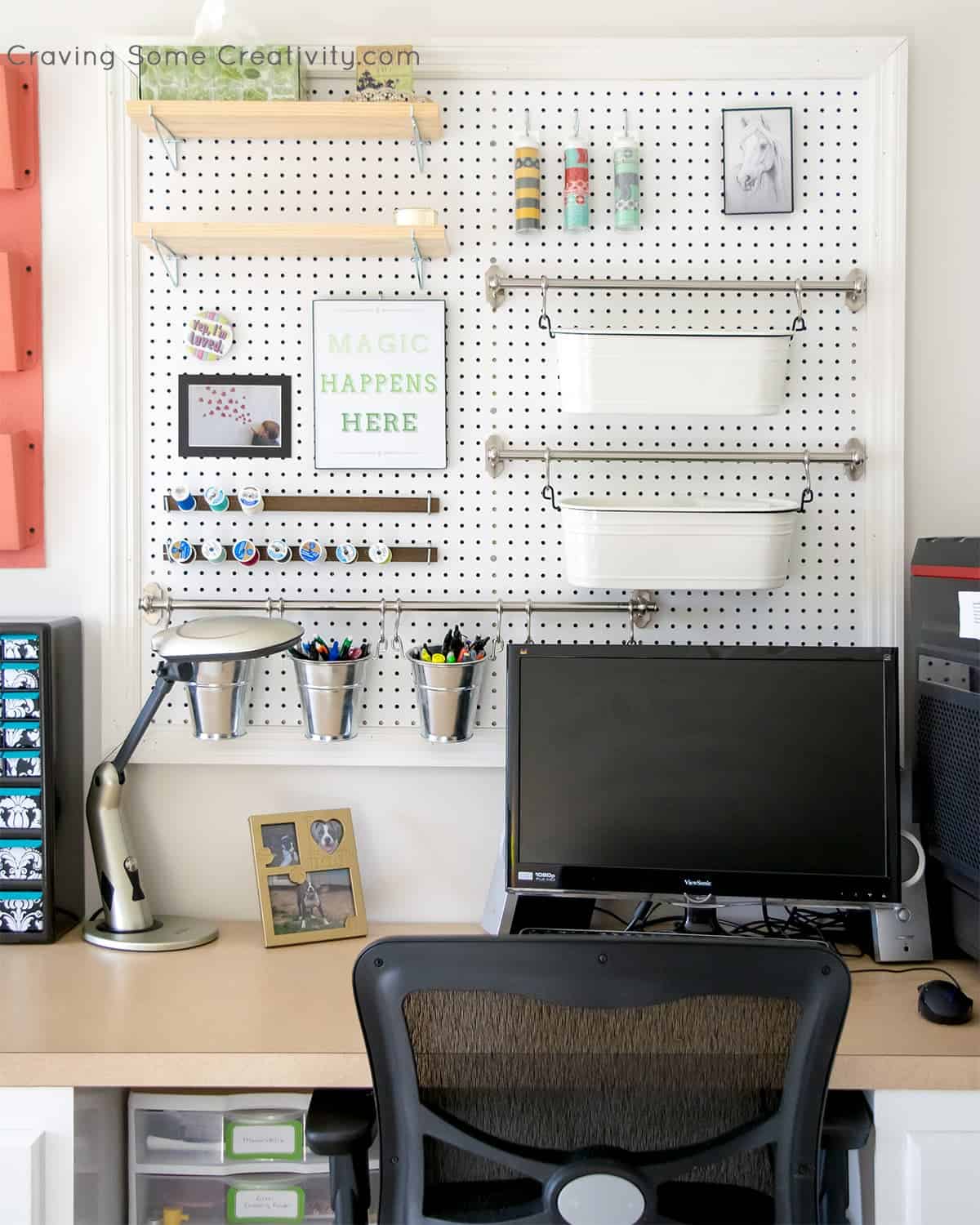 Grab our free series "Weekend Home Projects that will Transform Your Life"
Sign up below to receive updates including free printables, organization tips, home improvement projects, recipes and more!
More Garage Storage Ideas
PS I love seeing your creations! Be sure to take a photo and tag #cravingcreative on Instagram! You can also stay in touch with me through following me on Instagram, Pinterest, and subscribing to the newsletter!