Free printable Whole House Deep Cleaning Checklist- perfect for spring cleaning or a total house refresh anytime of year!
What a week, ya'll! Spring always gets me in the mood to declutter and refresh the house. However, with all of the news of the corona virus, this post seems especially timely. I am not one to dwell on the negative, but we can use this period of "social distancing" as the ideal opportunity to get our home spaces clean, organized, and sanitized.
Personally, I am a clean-once-a-week kinda girl. I do my best to maintain the daily upkeep until cleaning day hits again.
Life is busy! The last thing I feel like doing after a long day is scrubbing floors. Toss in a DIY project that has part of the house under construction and you can forget cleaning. But the spring season does inspire a fresh start. More daylight, warmer temps and blooming buds motivate me to blow away the cobwebs and revive our home.
A Chaotic Home Reflects a Chaotic Mind
I have read studies that say that a home that looks chaotic can affect you deeply. Although I am certainly not a neat freak, waking up to a messy house feels like I have already started behind the ball, even if I had no plans to clean that day. While a few misplaced toys or some dust cause me no reason for pause, a cluttered house is an energy drain. I feel a visceral change amidst chaos, less focused and more frazzled. Do you feel that same way?
The process of deep cleaning can take a lot of time and effort, but it so calming. I feel accomplished and productive as I check off each task. Walking in the door of your freshly scented, spic & span home is an instant uplift, right?!
Deep Cleaning Tips
The home deep cleaning checklist is organized by room, and that is a good idea of where to start. Small wins lead to bigger wins!
Don't feel that the whole list needs to be done at one time either. Break it up by month or season if you wish. Even better if you can delegate some tasks to family members.
Make a list of any necessary repairs or items that need refilled as you go. I often find that I am out of backups like shampoo or the kids are in desperate need of socks when I do a deep cleaning.
For the most part, I don't use harsh chemicals in my home. Years ago, I discovered the benefits of Norwex cloths and it completely changed my cleaning routine. They cut down on my chemical use, keep my surfaces sparkling and kill germs with only water! Use this link for my in-depth review, including my top 5 products and a few I won't buy again. (I have no affiliation with the company at all).
Regardless of the types of cleaning products used in your home, a checklist is universally handy while tackling a deep cleaning project. The checklist aids with staying on task- no more getting sidetracked by the contents of cabinets or closets! This one is yours to print and use for FREE. So grab a clipboard, divvy tasks between family members and spring clean your space together!
This household is undergoing yet another major renovation (finishing a basement- but more on that another day). After the literal dust settles, I will be certainly be busting out my handy dandy checklist for some deep cleaning!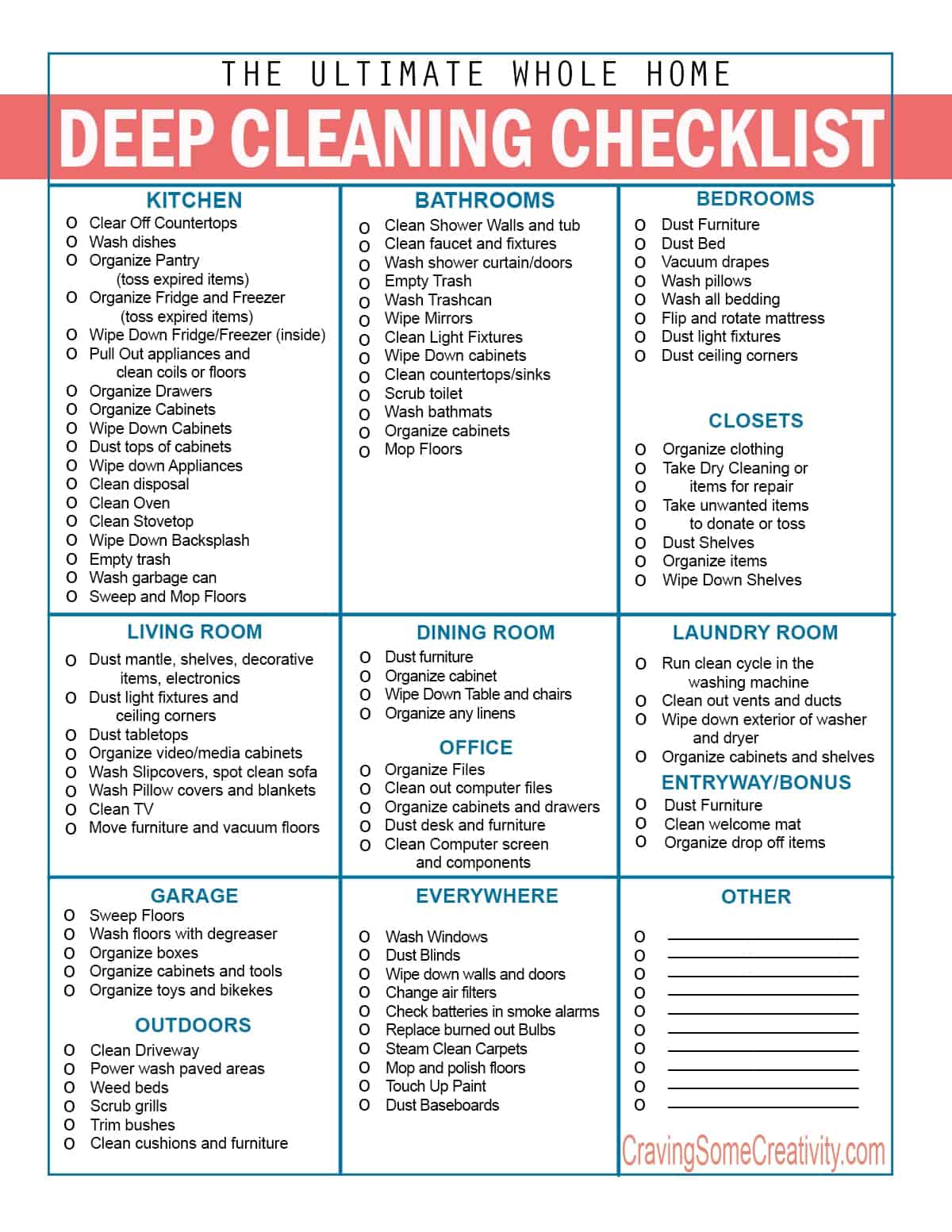 Whole House Cleaning Checklist (click to download)
(Note: This is for personal use only and cannot be used for commercial use, profit or gain in any way. Distribution of any kind is strictly forbidden. Thank you.)
Stay safe and be kind to one another, my friends.
Grab our free series "Weekend Home Projects that will Transform Your Life"
Sign up below to receive updates including free printables, organization tips, home improvement projects, recipes and more!
More Helpful Cleaning Tools