Free printable Whole House Cleaning Checklist! This is a complete house cleaning guide and the ultimate room-by-room checklist perfect for spring cleaning, or a total house refresh any time of year! Easy to use and customize, the list is broken up so you can even schedule rooms as you please.
Deep Cleaning Tips
Spring always gets me in the mood to declutter and refresh the house. More daylight, warmer temps and blooming buds motivate me to blow away the cobwebs and revive our home.
Whether you are a clean-once-a-week kind of person or a little every day, this post and hand house cleaning checklist certainly helps to keep on top of the bigger jobs that aren't taken care of as often.
The process of deep cleaning can take a decent amount of time and effort, but you can feel accomplished and productive as I check off each task. Walking in the door of your freshly scented, spic & span home is an instant uplift, right?!
Cleaning Supplies
Now that you've got a plan, here are some of our best time-saving tips and all-time favorite products that will make these jobs as painless as possible.
A long-handled scrubber
Sponges
Paper Towels
A toothbrush
Touch-up paint
Knife or pipe cleaners or something to get in crevices well
Window Cleaner of your choice
Degreaser or Dish Soap
Floor Soap for your floors – hardwoods, vinyl, or tile
Reader's Note: I don't use harsh chemicals in my home. Years ago, I discovered the benefits of Norwex cloths, and it completely changed my cleaning routine. They cut down on my chemical use, keep my surfaces sparkling and kill germs with only water! You will find my in-depth review, including my top 5 products and a few I won't buy again here. (I have no affiliation with the company at all).
Regardless of the types of cleaning products used in your home, a spring-cleaning checklist is universally handy while tackling a deep cleaning project. The checklist aids with staying on task- no more getting sidetracked by the contents of cabinets or closets! So grab a clipboard, divvy tasks between family members and spring clean your space together!
Deep Home Cleaning Checklist
Download your FREE Deep Whole House Cleaning Checklist Printable HERE. Below is a sneak peek of everything on the list including a section for you to fill in additional chores.
(Note: This is for personal use only and cannot be used for remanufacturing, sales, or commercial gain in any way. Distribution of any kind is strictly forbidden. Thank you.)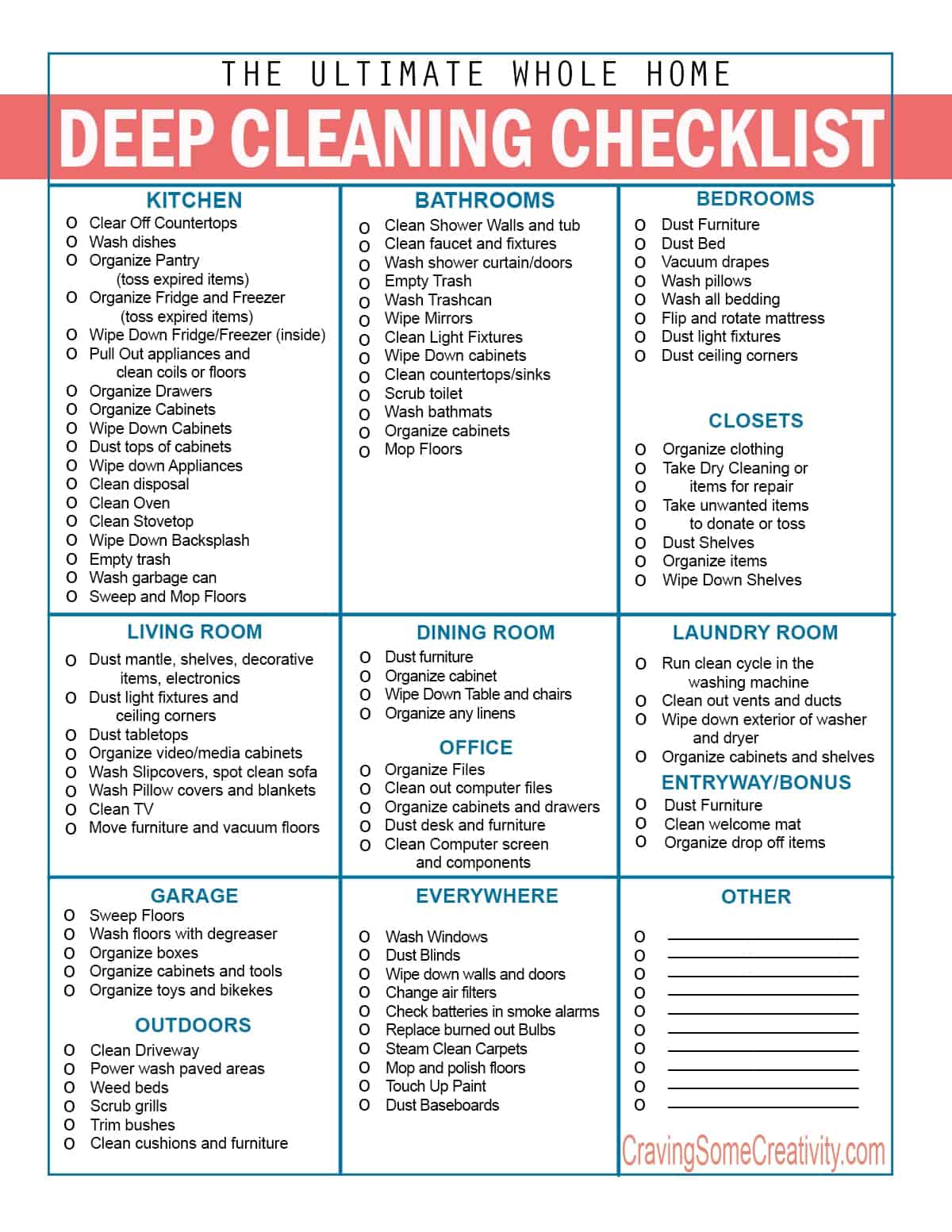 Tips for Cleaning Weekly
The home deep cleaning checklist is organized by room, and that is a good idea of where to start. Small wins lead to bigger wins!
If a whole house clean sounds overwhelming, break it up by day, month, or season if you wish.
Delegate some tasks to family members.
Make a list of any necessary repairs or items that need refilled as you go.
Get to know the fabrics & materials you're cleaning so you don't ruin your furniture.
Tips for Cleaning Monthly
Sort pantry items outdated and what needs to be restocked.
Take inventory of freezer items that need to be tossed, restocked, or eaten soon.
Clean out the trash cans.
Clean garbage disposal. Grind lemon peels or lemon ice down for scent refresh.
Dust blinds or window treatments.
Wipe down any light fixtures and replace burned out bulbs.
Tips for Seasonal Cleaning
Clean refrigerator coils (unplug your fridge first)
Clean out the "junk" drawer
Clean the oven.
Take inventory of spices and supplements. Toss expired ones. Organize spices with labels, as necessary.
Clean bedding including mattresses, duvet covers or comforters, pillows, and more.
Wash shower curtains and extra linens.
Deep clean upholstery and pull out the cushions.
Tips for Yearly Cleaning Tasks
There are several tasks that only need to be done once a year as part of your home-cleaning routines. These tasks are best spread out over the year, and just do one each month.
Steam clean carpets: If your home has a lot of wall-to-wall carpeting, rent or invest in a special Bissell Pet Pro Carpet Cleaner to remove tracked-in dirt and stains.
Touch Up Paint: For touchups, I usually save about a quart of paint (less air and space used). Label each can with the date, color, color code, purchased from, and area you used it.
Seal Grout: If you have white grout, particularly on the floors, it will lose the seal over time. Clean with a mixture of hydrogen peroxide and baking soda and reseal it.
Spring clean windows: Choose a dry, cloudy day to prevent streaks. For high windows outdoors, use a telescopic scrubbing wand and rinse with a high-powered garden hose nozzle.
Clean around dryer and vents: Use the crevice tool on your vacuum to suck up debris around the vents — it's actually a fire hazard and you should have inside dryer vents cleaning regularly.
Clean out Digital and Paper Files: I do this every tax season because it is easiest for me.
Deep Cleaning Questions
Where do I start when cleaning my house?
For each task, start at the highest point in the room. For example, dust ceiling fans or light fixtures. This way, the dust has time to settle. I also make a space for things that don't belong in the room, and only leave when the room is done.
How do you Spring Clean Fast?
Spring cleaning doesn't have to be done at one time. Break up tasks by month to do a few at a time year-round. I highly recommend putting on some dance music and having some helpers chip in with tasks you delegate.
Which comes first, dusting or vacuuming?
When doing a thorough cleaning, dust the room before vacuuming so you can vacuum up those dust particles that settle on the floor. Admittedly, sometimes a cursory sweep of the kitchen floor helps to keep me on task without bothersome bits on my feet. Finish with a thorough sweeping before mopping.
CLICK TO DOWNLOAD THE WHOLE HOME CLEAN CHECKLIST FOR PERSONAL USE ONLY
Stay safe and be kind to one another, friends.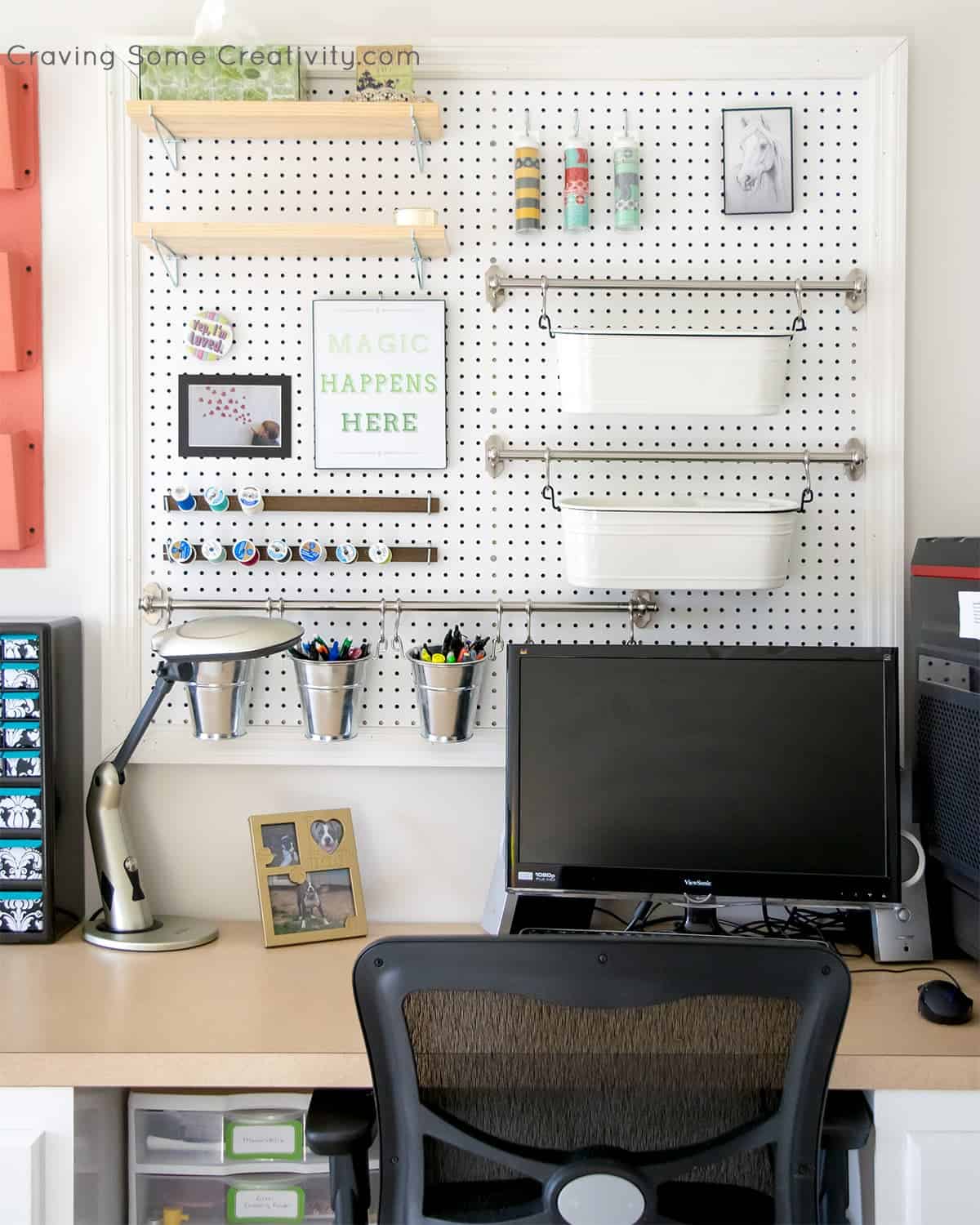 Grab our free series "Weekend Home Projects that will Transform Your Life"
Sign up below to receive updates including free printables, organization tips, home improvement projects, recipes and more!
More Helpful Cleaning Tools
PS I love seeing your creations! Be sure to take a photo and tag #cravingcreative on Instagram! You can also stay in touch with me through following me on Instagram, Pinterest, and subscribing to the newsletter!