Painting the garage floor is a great way to update and protect it. This DIY project for concrete floor coating has been durable and made a huge difference!
I partnered with Behr Premium Granite Grip to update our garage floor and write about our experience.
How To Paint Concrete
We are sprinting down the finish line in the garage makeover! The last time I updated you, we had a major project in mudding and painting the garage walls. Now that the walls are done, I am very excited to be moving on to more…paint?! Well, sort of, but this one is worthy of excitement. We are painting the garage floors!
You see, 3 years of DIY had left our garage floors looking a little worse for wear…
Several months ago, hubby had asked me to find a garage floor coating product to turn our nightmare floor into a respectable shop to work in. This space is the center of our DIY world. It's a garage filled with hopes, creativity, and a whole 'lotta sawdust. We needed a product that was beautiful but wouldn't reflect the sun in our eyes while working on the table-saw. After months of searching for a product that would hit all of our criteria, I found this:
Non-slip coating
Not reflective or glossy
No 2-step insane epoxy (this is much easier!)
Durability – We can drive on it and it resists against dirt, grease & household stains
If you are planning on recoating the garage floor, there are a few tips to make your project the best it can be. Prepping may look like a lot of work, but, truthfully, we did all of the prep work (except moving stuff) in a single day. For additional instruction and examples, check out this how-to video from Behr.
Materials Needed for Painting the Garage Floor
muriatic acid and safety gear (large rubber gloves, closed toe shoes, safety glasses)
baking soda
adhesive roller and Painting pole or a rented textured paint sprayer
Large stir stick
How to Prep the Garage Floor for Painting
Moisture Test
The absolute first thing to do is a moisture test. If your concrete floor collects moisture, it can get under the coating and you will not have a proper bond. The good news is that it is pretty easy to test. Tear off a few feet of clear plastic wrap and lay it on the floor. Use Duck Tape or another well sealing tape around all of the edges. I would recommend leaving for a day or two and check periodically if any moisture, color change, or condensation collects on the floor or the underside of the plastic wrap.
Move Everything off the Floor
Finding a place to store everything from the garage might just be the biggest hurdle. This whole process will take a few days so I recommend doing it all at once. Our bench is built into the wall, so we left that.
Clean and Degrease the Garage Floor
Make sure you scrub off any oil, dirt, or chippy paint from the floor. This is crucial for a proper bond. Use a good degreaser and a long handled scrub brush to remove any contaminants.
Acid Etching the Concrete Garage Floor
Next is the etching. Acid etching is the best way to prep concrete to accept and bond with the coating. While etching isn't hard, safety is the priority here. Muriatic Acid, also known as hydrochloric acid, is a strong acid. It is inexpensive but can do some damage so wear safety goggles, rubber gloves, and old shoes you don't care about. Hubby is sensitive to fumes so he wore a respirator mask. That was probably a bit of overkill, but we are overkill kind of people. Don't be scared, just be safe!
Read and follow all manufacturer's instructions for the muriatic acid and use only with adequate ventilation . You may have to do a few applications depending on the density and smoothness of your concrete.
Tip: Always pour acid into water, NOT water into acid. Does anyone else remember those "What Not to Do in the Chemistry Lab" videos from school? The boiling acid example makes this rule pretty clear.
Neutralize and Rinse
Neutralization of the acid was important to us because we were rinsing down the driveway. Mix 1 cup of baking soda to 1 gallon of water and sprinkle over the floor. Allow to sit 10 minutes and then rinse with a garden hose. When mostly dry, wipe your hand across the floor to make sure there is no powdery white residue left behind. If there is, thoroughly rinse again. Allow the floor to dry completely (2 days).
Tip: The concrete should be approximately the roughness of 150 grit sandpaper. If not, repeat the etching process.
Steps to Recoating A Garage Floor
Now that everything is prepped, your garage floor is ready for coating. Granite Grip covers 50 sq. ft. per gallon. For our two car garage, we used 8 gallons of Ornamental Gem, but there are many natural-looking color options. Make sure to regularly stir the aggregate/flakes suspended in the paint solution. Cover small cracks first with a brush and let dry before your next coat.
There are two ways to apply Behr Premium Granite Grip. The first is renting a texture sprayer from any Home Depot that has a tool rental department and I highly recommend this option. Application is easier, faster, and you will be sure there are no roller marks. If that isn't a possibility, you can use an adhesive roller (not a regular paint nap roller) to apply Granite Grip. Working in a 4×4 area, make sure to minimize roller marks by working in a random pattern.
Tip: Both the acid etching and the Granite Grip must be applied when air/surface temperatures are above 50 degrees F.
You need to apply at least two coats to get full, even coverage. Wait at least 4 hours between coats. We actually applied 3, but our coats were thin and we still kept within the 50 sq ft per gallon recommendation from Behr.
The floor is ready for light traffic in 24 hours but allow coating to dry for 72 hours before subjecting to automotive tires. Longer dry time required in cooler temperatures and in higher humidity. Don't rinse the floor for 30 days and you have yourself a great floor!
Looking for more DIY home projects? Check out these ideas!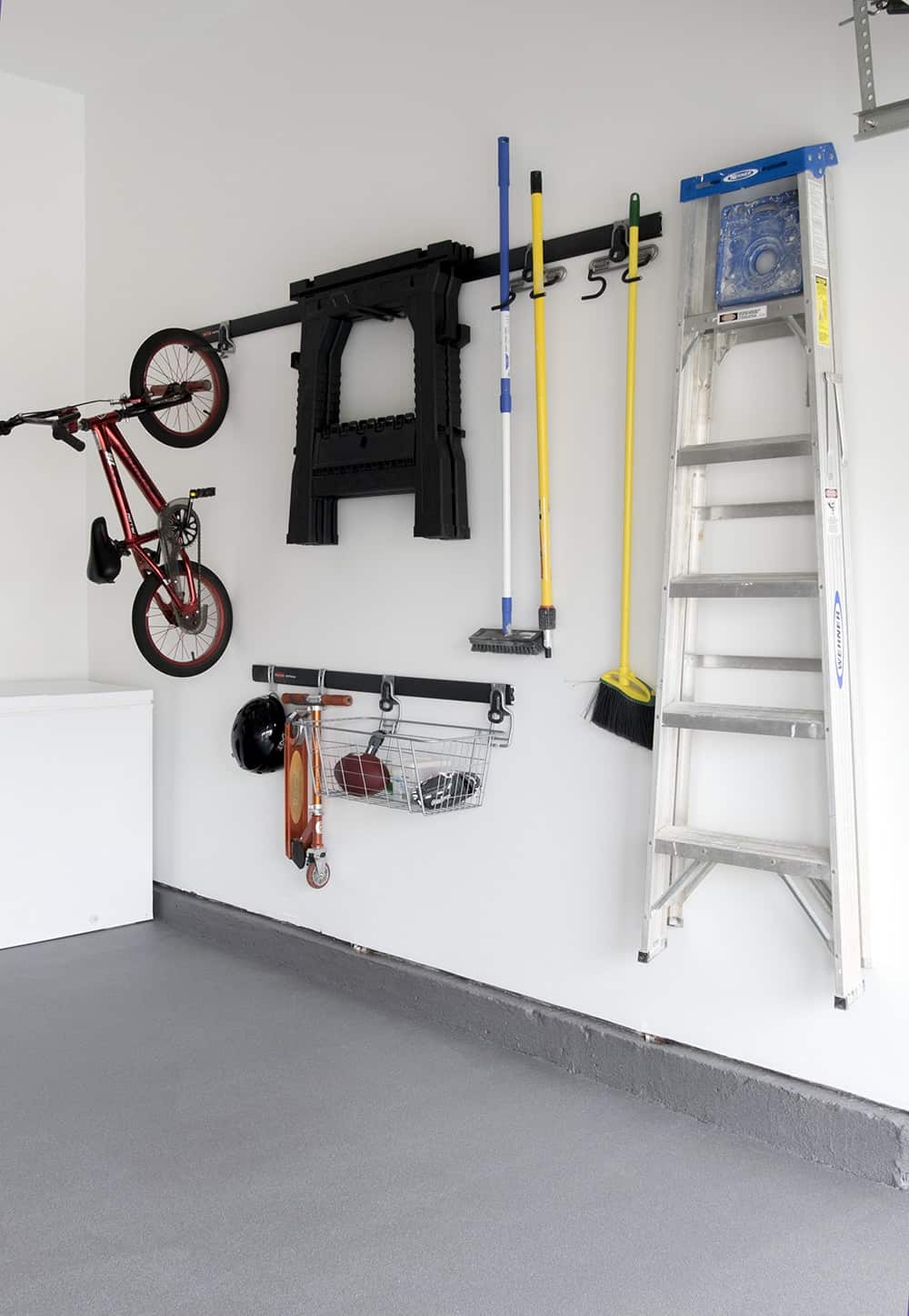 Here it is, completed and pretty! I definitely made the right choice for our floors and hubby is happy which is the most important thing. Now that everything is back where it belongs, it's back to work for us on our next DIY project. With spring in the air, it is time to start some of those long overdue outdoor projects.
But the real question is, are you ready to create your very own garage retreat?!
*Update: It has been 6 months since we coated the garage floor, and I can say that I am very, very happy with it. We have NOT been gentle at all and spills are easier to clean up and it looks just as good as new…when the floor isn't covered in sawdust, haha.
Grab our free series "Weekend Home Projects that will Transform Your Life"
Sign up below to receive updates including free printables, organization tips, home improvement projects, recipes and more!
More DIY Projects