How to organize a small pantry with tips and tricks about food storage, pantry bins, and pantry organization ideas.
My husband told me this weekend that he would marry me all over again…
For my pantry organization.
He's a keeper.
Keeping a small pantry organized can be work. Our small, messy kitchen pantry got a major makeover, and now the space is super organized and efficient.
1. Prepping the pantry
Our pantry has several wood shelves with a coating on them. The coating is sort of rough and stains. After cleaning it thoroughly, I painted the shelves with 2 coats of enamel paint.
Enamel paint is more durable than latex and will stand up better to wear and scraping. I also laid shelf liners across each shelf to further protect against stains and scratching.
Pantry Organization Product source list is at the bottom of this post.
2. Use a Pantry Door Organizer
Doors are the best way to maximize small pantry organization. I love my door hanger. This one is budget friendly and has adjustable heights between shelves. Another option that goes through the entire door is this door organizer that you can adjust and includes different shelves.
Check out our 10 Clever Ideas for Cabinet Door Organizers.
3. Decide on a functional layout.
There are several methods to how you should organize a pantry for maximum effectiveness, and I have many considerations when planning a layout.
Put heavier and larger items on lower shelves.
Put healthy snacks at eye level or in easier reach than treats.
Rarely used items or backups go up higher than eye level.
Don't put food on the floor, but you can add baskets under the bottom shelf that hang in the air.
If you buy groceries in bulk, make sure you have a system for rotating to avoid food expiration.
In our house, my husband happens to be 15 inches taller than me. Of course, he always gets the top shelf since I can't reach it 🙂
4. Buy appropriate containers
Oh, the fun stuff! I use a few different varieties of containers, but whichever you choose, food containers should always be:
Easy to Clean (food grade plastic) – I generally avoid those cute hyacinth baskets. Wire baskets are ok for sealed items like canned goods.
Buy a few extra bins – storage items regularly change so I get a few extra or try to get items that are continually available.
Keep uniformity by using as few different types of containers as possible. I have a large basket type, a medium basket type, pourable containers for cereal, and large dry good storage containers. The more different containers you have, the more cluttered it will look.
Label everything.
5. Don't overfill containers
If you find that you have nearly filled a container, consider getting a second one. One month you may want to take advantage of a great sale or maybe you're a big Costco buyer.
I don't fill pantry bins more than 70% when organizing. In fact, I have two snack bins, 3 bins for canned goods, and 3 unlabeled bins for overflow.
List of Pantry Labels for Jars
Baking Items (Cocoa Powder / Cornstarch / Baking soda)
Flour (All- purpose / Bread Flour / Whole Wheat Flour / Oatmeal /Specialty Flours)
Sugar (Granulated / Brown / Powdered)
Rice (Brown / White)
Pasta (Spaghetti / Penne / shells / macaroni)
Dried Fruits and Nuts (Raisins / Cranberries / dry beans)
Pre-made mixes (Cookie Mix / Pancake Mix / Soup Mix)
Cereals
7. Consider Adding Pull Out Shelves
It doesn't work well in this corner pantry, I admit. However, I added pull out shelves like these to my mother's kitchen pantry which is more like a large cabinet. She loves them!
You can DIY this project or get a custom made system that has nice pull out shelves.
8. Lazy Susan in the corner
I used to use a lazy susan in the deep corners of the pantry for snacks. I didn't include it this time around to create more room for bins, but it was a pretty great idea.
9. Invest in a decent fold-away step stool.
I am pretty short (just above 5 feet tall) so I can't reach the top shelf. A sturdy but easily fold-able step stool like this one is a must have kitchen tool.
Good luck with your pantry project!
LOOKING TO GET YOUR PANTRY IN ORDER? More Ideas:
Frequently asked questions
How should I get started organizing the pantry?
The pantry area can easily become overwhelming, especially if you haven't organized it in a while. First start by pulling everything out and cleaning and lining the shelves. Go through all your items and take inventory, categorize items by what makes the most sense to you. Keeping it organized is much more attainable when it's accessible to your own needs. Assess your available space and budget before choosing containers.
How can I keep inventory of what I have and avoid unnecessary purchases?
The age of technology comes in very handy here! There are so many apps out there to help keep you organized and on top of daily tasks. We like to use the Cozi app for groceries and lists. It's one less thing I have to remember and is so convenient.
How can I organize a small pantry on a budget?
The biggest way to cut cost is by finding budget friendly containers. Look for sales, discount stores, and inexpensive containers like mason jars or IKEA bins. Some of the sturdier systems (OXO good grips or Elfa System) have been around for years so you can buy a little at a time.
>>Shop Pantry Storage<<
(click on photo for source)

.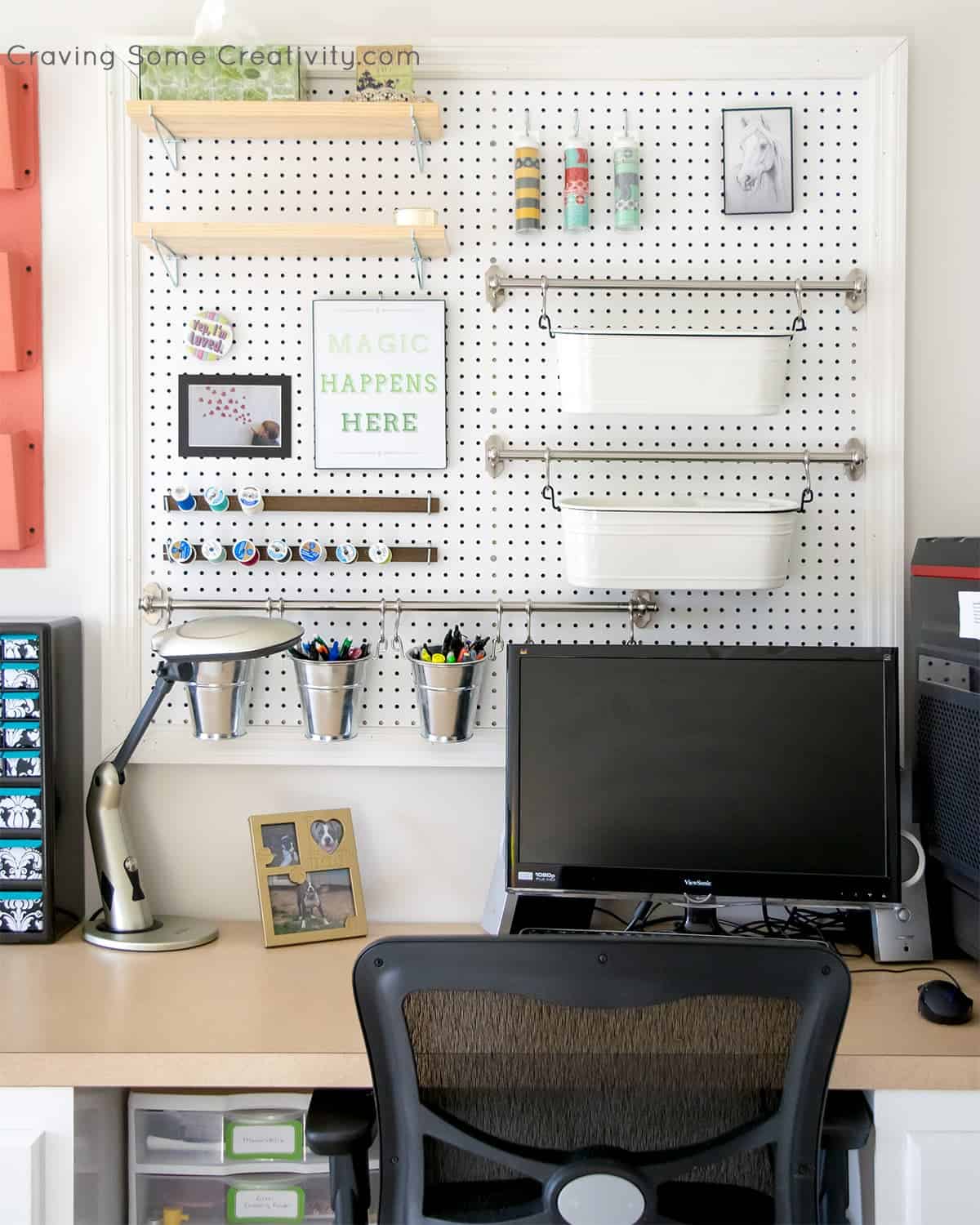 Grab our free series "Weekend Home Projects that will Transform Your Life"
Sign up below to receive updates including free printables, organization tips, home improvement projects, recipes and more!
More Home Organization Projects
PS I love seeing your creations! Be sure to take a photo and tag #cravingcreative on Instagram! You can also stay in touch with me through following me on Instagram, Pinterest, and subscribing to the newsletter!