There are so many great ideas for using scrap wood to decorate a blank wall! Create custom wood wall art for your home with these inspirating ideas, both large and small. Includes creative DIY designs for pallet and reclaimed wood wall decor, modern Geometric designs, and oversized art.
If you've been following along, it's no secret that I'm fond of wood wall decor. Although my husband would beg to differ, I don't think you can really ever have enough wood signs. The same rule applies to throw pillows, am I right? All kidding aside, wood wall decor adds an element of texture and style unlike anything else. Wood grain has distinct and unmatched natural beauty.
Like many avid DIYers, we've amassed a large stack of scrap wood from various woodworking projects. I'm always looking for new creative ways to use it. Although we've all become familiar with wood signs, shiplap walls, and wainscotting, there are many other creative ways to use wood in your home decor projects.
Utilizing wood brings dimension and timeless versatility to any decor scheme, from modern to rustic bohemian. The ideas below are some of my favorite inspirations. Most of these are simple DIY projects, completed by real homeowners just like you!
DIY Wood Wall Decor
Ready for a home decor refresh? These DIY projects include simple tutorials for anyone with basic crafting or DIY skills. Create beautiful custom wall art for your home on a budget!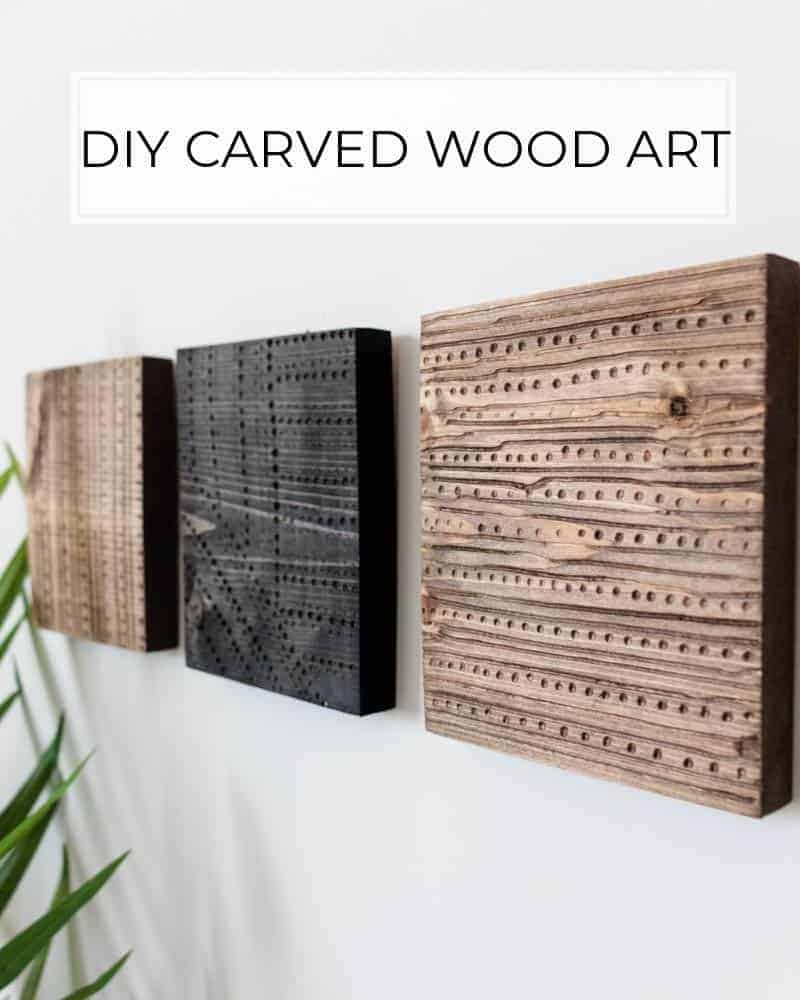 Create dimensional wall art with a hobby tool and scrap wood. This tutorial by Crafted By The Hunts provides simple instructions to construct something beautiful and uniquely yours. I love this project because small imperfections actually make the design more distinct.
Chalkboard Calendar and Command Center
This DIY command center from The House of Wood includes the key essentials to keep a busy household on track. Take command of your daily to-do lists with a chalkboard menu board and calendar. The piece de resistance? A West-Elm catalog inspired cubby shelf created for less than $20.
Looking for a seasonal refresh for your home? Assemble this trio of botanical print wall hangings from canary street in less than an hour! Free downloads are included in the tutorial, but the great thing about this dowel rod DIY is how easy it is to customize.
I adore a good paint project. So naturally, this modern mural wall treatment by Classy Clutter instantly won my heart. Make a bold statement with little more than craft paint, wood beams, and a bit of inspiration.
Upcycle old table tops or bar stools that have seen better days. These easy DIY chalkboard signs from @beckhamandbelle add a touch of whimsy to your home bar set up.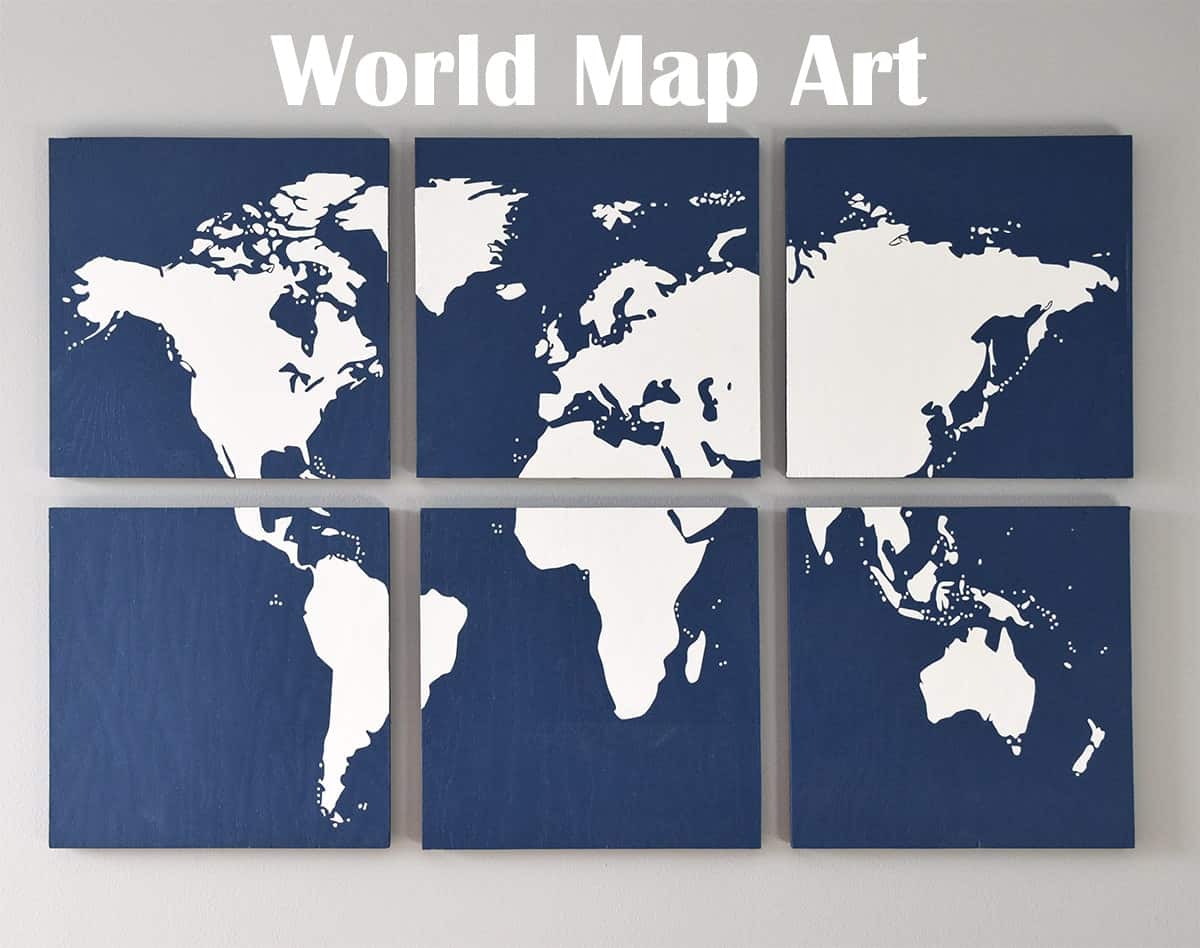 Transform a sheet of plywood into a map of the world with this simple how-to. We created this art to adorn our son's bedroom walls, but this polished piece can be tailored to fit any decor. PDF and cut files included for easy DIY options. Along with this we Painted a Stripe and Arrow with block letters across the top of the wall for an extra touch.
Basket weaving is back! This beginner-level DIY wood wall decor project from Jen Woodhouse is a great statement piece that can be made in the span of an afternoon for around $60.
DIY Poster Frames
Budget decor can still look polished. This DIY frame design from Our House Now a Home presents a polished finish for inexpensive posters. I love this concept for teenager's spaces or dorm rooms. It's gender neutral and modern, without being fussy.
Pallet signs check off all the boxes of a good DIY project. They're easy to make, inexpensive, and only require basic materials. Our vintage wood pallet Christmas sign is made from a few rough-cut fence slats and cost me less than $20! Feel free to use my stencil (provided in post) or create something brand new. The options are endless.
Geometric Wall Art
Geometric wall art is an instant conversation piece and attention grabber. Although this artwork makes a bold statement, it manages to harmonize seamlessly with almost any decor aesthetic. What I love about these finds is how expensive the pieces look, while most are budget friendly DIY projects!
Woodworking with a wow factor! Wood chips are cleverly laid out in multidimensional designs to mimic modern tile patterns. Each panel highlights a distinct design pattern- herringbone, triangles or fractioned squares. Tones of natural browns and gray ombre into unfinished wood to draw the eye further in, and cohesively tie in the three panels. Feeling inspired yet?
Where else can you find extra-large wall art for $10 each? DIY it of course! Making Home Base shares the secret behind giving plywood a Cinderella-style makeover. Go big to cozy up any space.
The key for decorating is simplicity. A simple design creates an aesthetic that's both modern and rustic. This unique piece incorporates three different wood stains to showcase the natural grain pattern, and a dark accent color for a crisp finish. It could easily complement Scandinavian, Boho, or rustic home decor.
This set of geometric wood wall art is actually a duplicate of the exact same design. One is just hung upside down for a totally different look! Plywood and pine boards are fashioned in a pattern of clean lines for a modern, magazine-worthy feel. Crafted by the Hunts provides an extensive project how-to for any aspiring DIYer.
Rather than paying an upwards of $200 for the perfect statement piece for her living room, @angelarosehome made her own- for $20! Follow her tutorial to learn the secret behind turning a thin sheet of plywood into a gorgeous piece of modern art that guests will go gaga for.
Add a splash of color to any space with bright geometric wall art by a Subtle Revelry. In a few easy steps, a common canvas becomes a conversation piece. A fun project for any skill level.
Elevate the look of any room with beautiful mountains art. These panels offer a contemporary alternative to landscape paintings. I love the clean lines and natural finish.
Pallet and Reclaimed Wood Wall Art
There's no denying that Mother Nature produces the most alluring colors and textures. It's honestly tough to duplicate. Reclaimed wood wall art pieces are some of my favorites because of the natural essence of the materials at hand. Pallets create a similar effect. Their grainy composition adds welcome dimension to any room.
This idea from her Tool Belt is a perfect marriage of modern clean lines and traditional rustic warmth. The brick-like pattern highlights the character of each barnwood plank. While originally created to display a wreath, the finished project looks quite handsome on its own.
My love for all things Christmas is no secret around here, so I was delighted to find these DIY scrap wood Christmas Trees by Funky Junk Interiors. She's included easy to follow instructions for Christmas trees fashioned from reclaimed wood planks or pallets. Create your very own festive tree farm this holiday season.
This budget-friendly Love sign from infarrantly creative is simply sweet. The pairing of pleated ruffles and pallet wood adds unexpected panache. While originally designed for a Valentine's Day display, the cheerful yellow and white color scheme make it easy to display year-round.
When I first envisioned my gallery wall, the rustic wooden arrow was a key component. After fruitless searches through home goods stores, I knew the solution was to DIY it. I spent an afternoon in the garage with some scrap wood and a few coats of paint, and voila- my vision came to life. For free!
Our outdoor spaces have become a natural extension of our living space, and as such should reflect similar style. This vertical Welcome sign is an easy afternoon project for even a beginner DIYer. The best part? It's reversible! The back has a different theme for an easy seasonal swap.
Add dimension to any wall space with these DIY stars. This tutorial by Jaime Costiglio is inspired by the Pottery Barn milled log stars. She's even included free plans for five-point stars in various sizes. Great scrap wood project for experienced DIYers.
Did you find a project that suits your home? The oversized geometric wall art is pretty inspirational eye candy. We love to share in your DIY triumphs! Feel free to post your creations in the comments.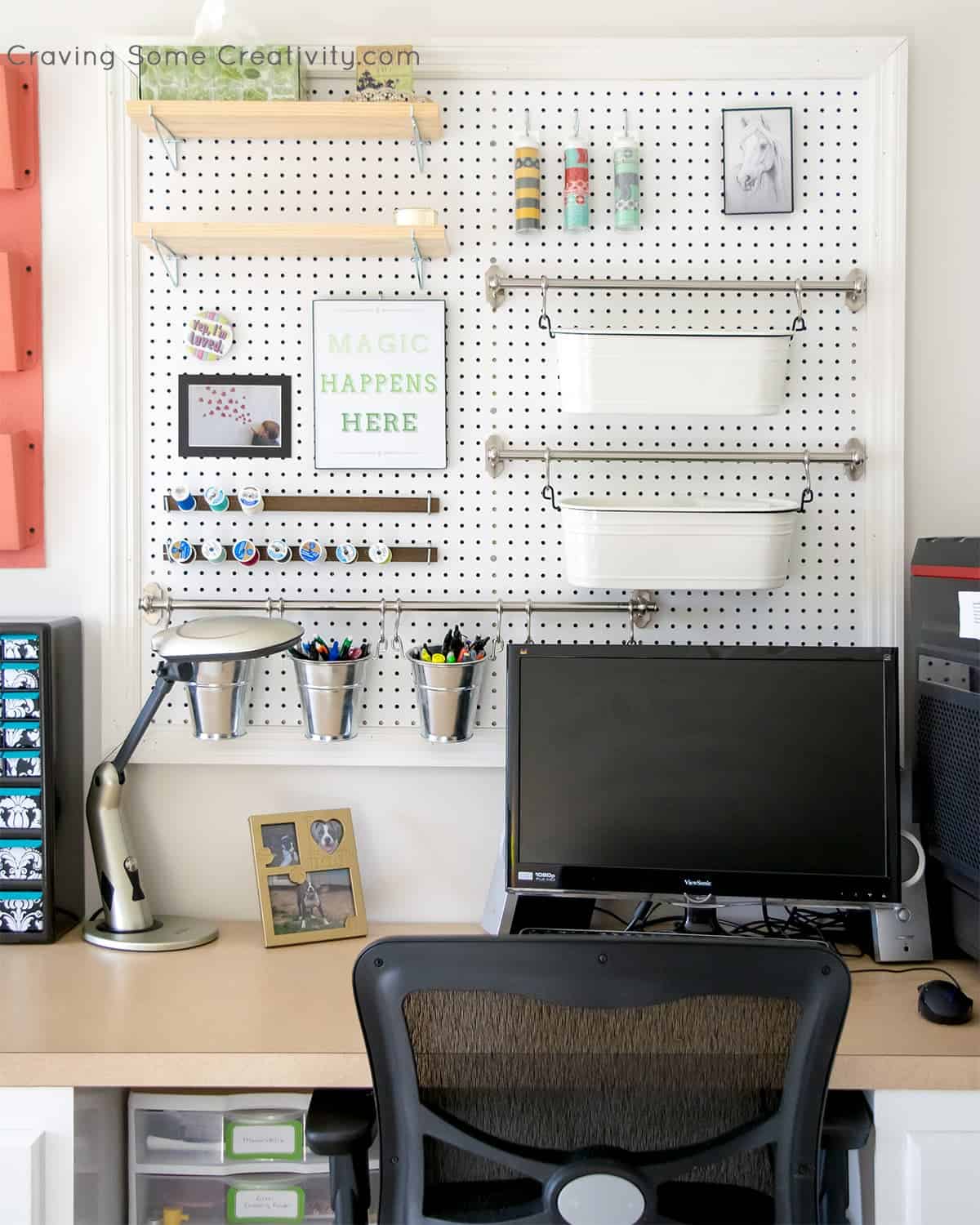 Grab our free series "Weekend Home Projects that will Transform Your Life"
Sign up below to receive updates including free printables, organization tips, home improvement projects, recipes and more!
More Woodworking Projects
PS I love seeing your creations! Be sure to take a photo and tag #cravingcreative on Instagram! You can also stay in touch with me through following me on Instagram, Pinterest, and subscribing to the newsletter!