How to build a yard sign that is personalized! Tutorial for creating a frame and sign board so you can have your own unique creation.
We really like to go all out at my house for Halloween, and the kids in my neighborhood get a huge kick out of it. A few years ago, I had seen some "Dead and Breakfast" Signs (B&B) signs and I loved the idea!
However, I wanted to put my own little spin on it (of course!) and made a Potion Shoppe Sign to go with the theme of most of our decorations…plus that I get to dress up as a witch to hand out candy to trick or treaters!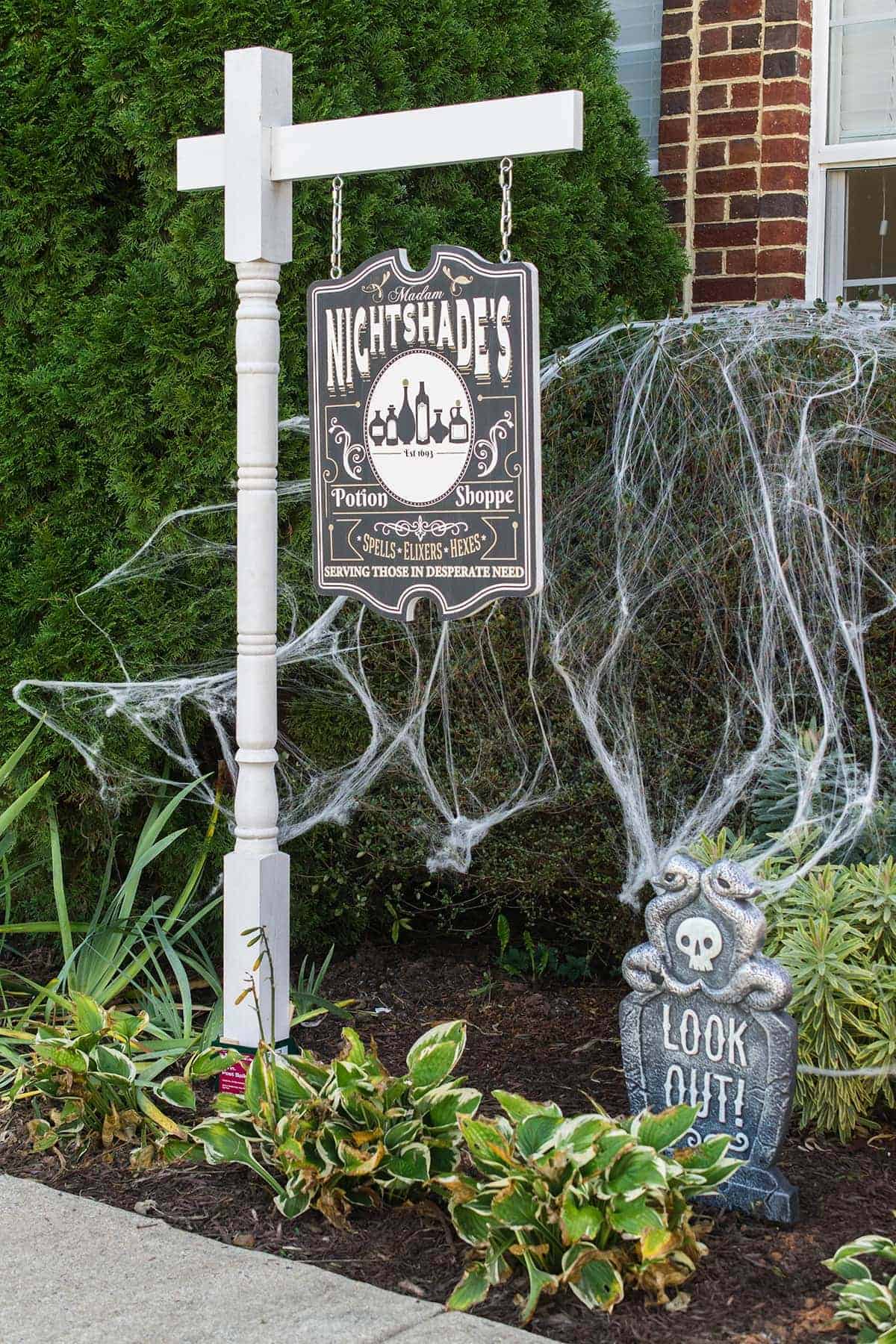 I found these porch columns at Lowe's for $47. We used a large drill bit and hand chisels to create the hole for a pvc board be anchored across the top.
I don't plan to have this post up year round, so we found a deep post spike and drove it in the ground. The top anchors the post nicely but we can take the post down any time we want!
And here is how the sign turned out…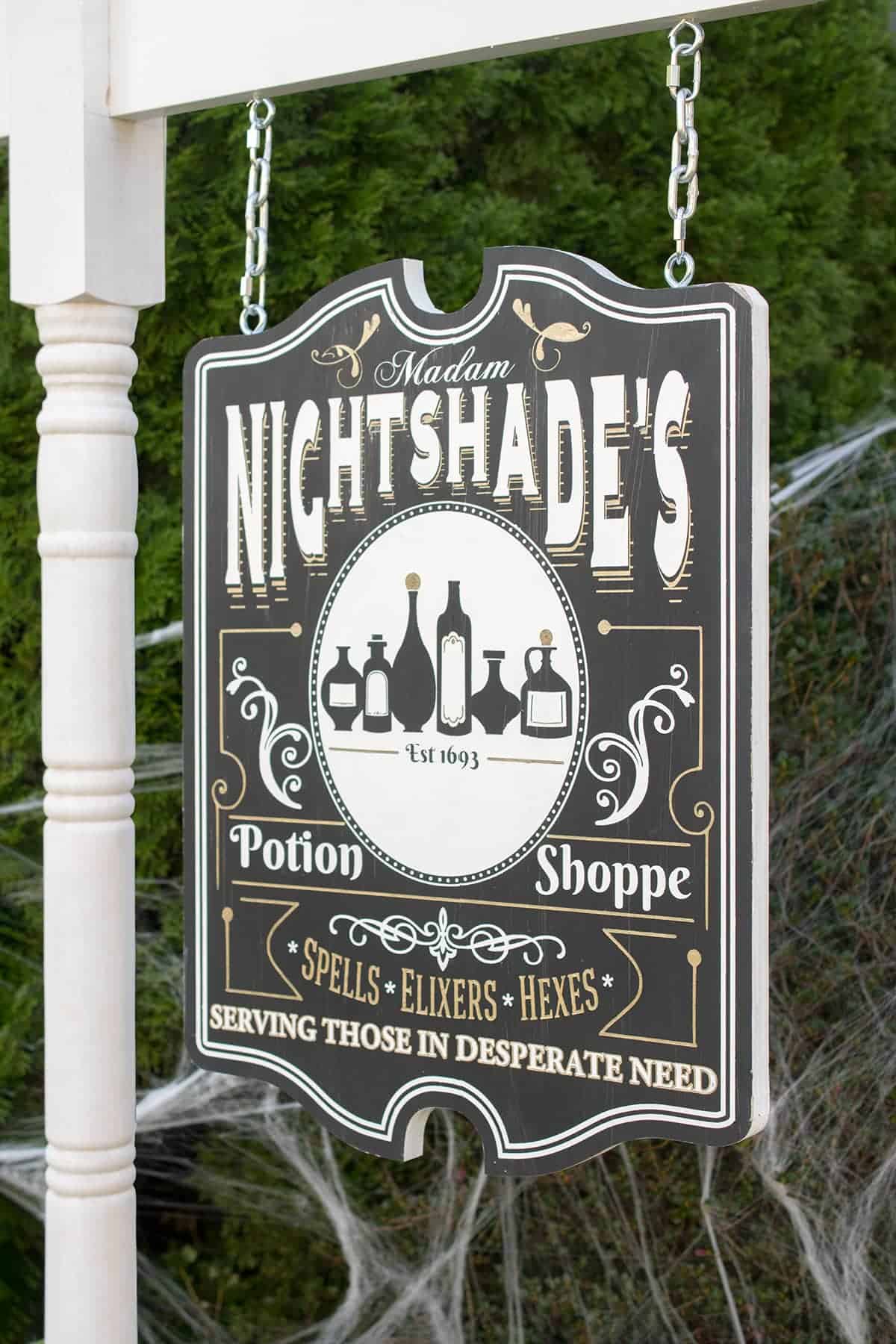 To make the sign, we used MDO plywood (medium density overlay). It's a plywood that is safe for outdoor use and water resistant. It's mostly used for outdoor commercial signs like this.
However, it can be difficult to find and most likely needs to be ordered at a local building supply company (ours had it in stock). Instead, you could use pine or outdoor fencing if you prefer to build a sign.
This particular template was designed and made using a Cricut Machine. Since it is so intricate, I used transfer tape to move it to the board. Then we cut it out using a jig saw and a lot of patience.
Before adding the stencil, I painted the whole board black and let it dry overnight. On the stencil, I used both gold and white acrylic paint to bring in different elements.
Lastly, we attached the top with some eyelets and carabiners like these (link is larger than the ones we purchased from Lowe's).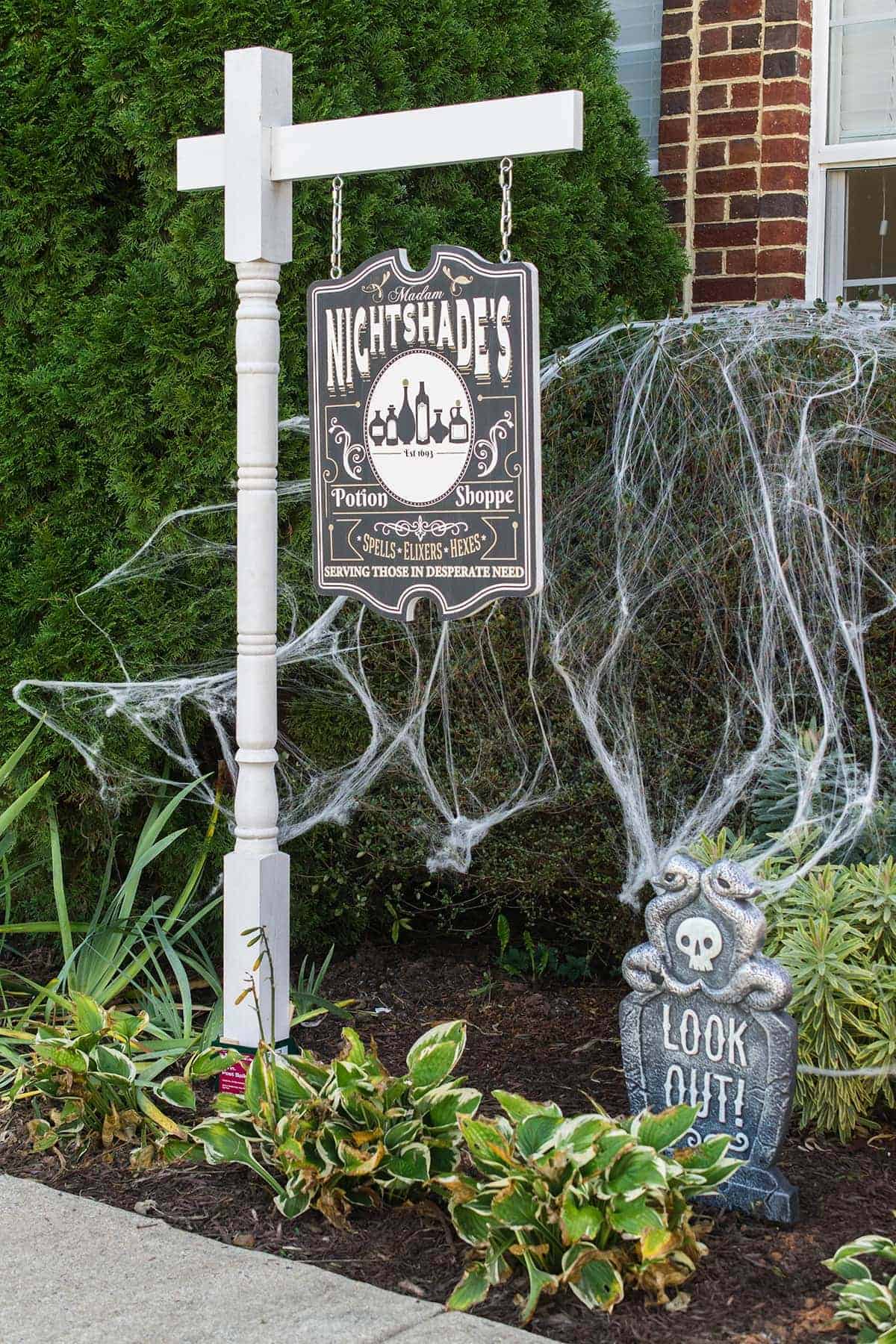 Pretty Spooky-Awesome, right?!
I've still got a few more things to add to this year's display, but I am really excited about the addition of this sign and showing you the rest of it next week!
Grab our free series "Weekend Home Projects that will Transform Your Life"
Sign up below to receive updates including free printables, organization tips, home improvement projects, recipes and more!
More DIY Halloween Decorations