White Balsamic Vinaigrette is a simple yet sophisticated salad dressing that is light, crisp, and a little tangy. Whip up a batch with five common ingredients and serve over traditional garden salads or summer fruit salads. Makes a sweet and tangy marinade for chicken and seafood too!
Making your own salad dressings is one of the easiest kitchen skills to learn. Blend the ingredients and give it a little shake. It takes about as much time as opening a new bottle and saves fridge space too!
So why white balsamic vinegar for a dressing? It has similar properties to traditional balsamic vinegar. The signature sweet-tart vinegar profile is certainly present. But unlike its darker counterpart, white balsamic vinegar is slightly more subtle and sweeter due to the aging and barreling process. This gives is a great flavor for making sophisticated salad dressings that everyone will enjoy.
Today's recipe is one of my longtime favorite surprises. I originally created this White Balsamic Vinaigrette to dress my Cobb Salad, but the dressing was such a homerun that I've since found soooo many uses for it. It's delicious to toss on any salad, but it's especially delicious when paired with fruit like a summery Spinach Salad. I also like to use it to marinade grilled seafood (mahi is amazing!) and chicken.
Ingredients and Notes
Here is an overview of what you will need and what I use to make salad dressings:
Balsamic Vinegar – You can use white or regular (black) balsamic vinegar. White Balsamic tends to be less syrupy with a cleaner aftertaste.
Light Oil – I use a very light tasting olive oil, but grapeseed and vegetable oil are a little milder in taste.
Dijon Mustard – I use stone-ground Dijon mustard since that is what I have in the pantry.
Honey – I use honey that I have in the pantry, but agave nectar or stevia would work.
Minced Garlic – 1 clove of fresh garlic or 1 teaspoon of store-bought minced garlic is perfect.
How To Make Balsamic Salad Dressing
Making this salad dressing is as easy as whisking together the ingredients in a small dish. It may settle and separate as it sits, so give a good stir or shake before putting on the salad.
Recipe Tips
You can add some creaminess to this recipe by adding a ½ cup of mayo or yogurt. I would generally cut the oil if I added mayo but that's a personal preference.
If making ahead, leave the dressing on the side until just ready to serve to keep the veggies crisp.
You can make the dressing in advance and allow the flavors to blend. This dressing is also really delicious as a marinade for chicken and lamb!
Storage and Serving Suggestions
Room Temperature – Because there is no dairy, this white balsamic vinaigrette has a longer shelf life and can be left out at room temperature for up to a day. Once opened and mixed together, the dressing is safer to refrigerate but should be allowed to come to room temp before using for best mixing.
Refrigerator – Store the dressing in an airtight container for up to one month in your refrigerator.
Freezer – The ingredients will separate and it's not recommended to freeze.
More Satisfying Salad Dressings To Try
Frequently Asked Questions
What Is White Balsamic Vinegar?
White balsamic vinegar not as sweet and syrupy as regular balsamic. Made from the Trebbiano grapes, white balsamic vinegar is cooked slowly under pressure, instead of being caramelized like regular Balsamic. It is then aged in uncharred wooden barrels anywhere from 1-12 years.
What does white balsamic vinaigrette taste like?
White Balsamic Vinegar has a sweet, subtle flavor and a clean color, which also comes across when making a vinaigrette as well. This vinegar is mainly used in marinades, salad dressings and other light-colored sauces.
Can I substitute balsamic vinegar for white balsamic?
Yes. Conventional balsamic is a little sweeter tasting and caramelized, but it makes an excellent substitute if you cannot find a white variety.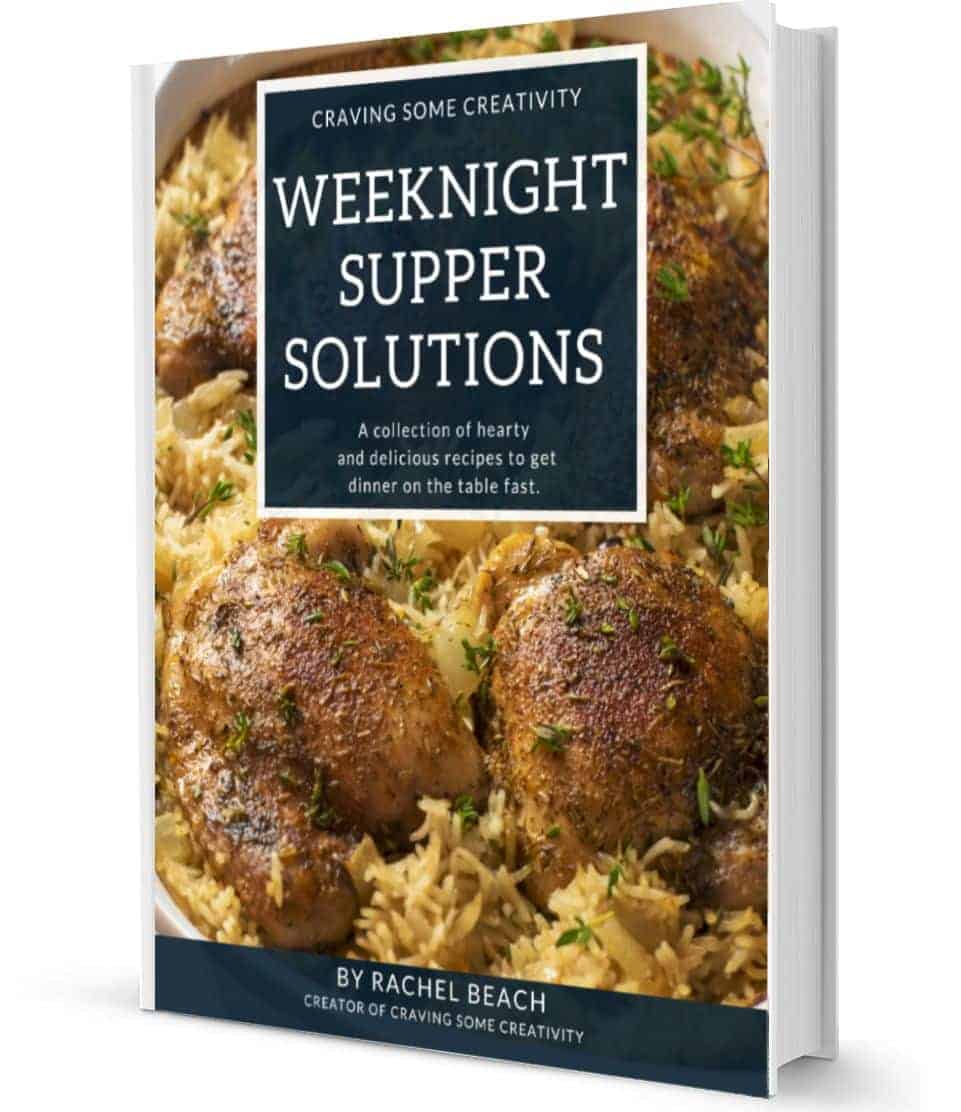 Not Sure
What's For Dinner?
Signup for recipe updates and get a free cookbook of Easy Weeknight Supper Solutions!
More Fresh Recipes
PS. If you make this recipe, leave a COMMENT AND A STAR RATING in the comments section at the bottom and be sure to take a photo and tag it #cravingcreative on Instagram! I appreciate you for taking the time to read about me and my family recipes. 
White Balsamic Vinaigrette
White Balsamic Vinaigrette is a simple yet sophisticated salad dressing that is light, crisp, and a little tangy. With only 5 ingredients, it is easy to serve over traditional garden salads, summer fruit salads, or use as a sweet and tangy marinade.
Print
Pin
Rate
Ingredients
½

cup

light tasting olive oil

4

tablespoon

balsamic vinegar

2

teaspoon

honey

1

teaspoon

dijon mustard

1

garlic clove

minced
Instructions
Combine all the balsamic dressing ingredients in a bottle or mason jar. Close the lid and shake vigorously. If you do not have a bottle with lid, whisk in a bowl. Store at room temperature until needed. Re-shake if the ingredients have separated.

Drizzle dressing just before serving or serve on the side and allow guests to add their own.
Nutrition