Revive your vintage, antique, or dated furniture with this raw wood or natural furniture finish. Create a fresh, modern vibe in 3 easy steps!
Recently, I blogged about stripping our cherry dining room table as part of the dining room makeover. After stripping the layers of dark stain away, I unearthed the table's beautiful wood grain pattern.
It was a capital heart eyes moment, you guys!
I knew the organic beauty of this piece deserved to be highlighted rather than covered with paint or more stain. Hence, I went for the raw wood style currently gracing the showroom floors of Ashley, Pottery Barn, and other high end furniture stores I can't afford to shop in. And who doesn't love rolling up her sleeves to update a beloved piece of furniture?
This particular table is constructed of 3 different types of wood. The table top is made of black cherry wood with oak pieces at the ends. The pedestals and side molding is either birch or maple. Full disclosure, I am not a wood identification expert.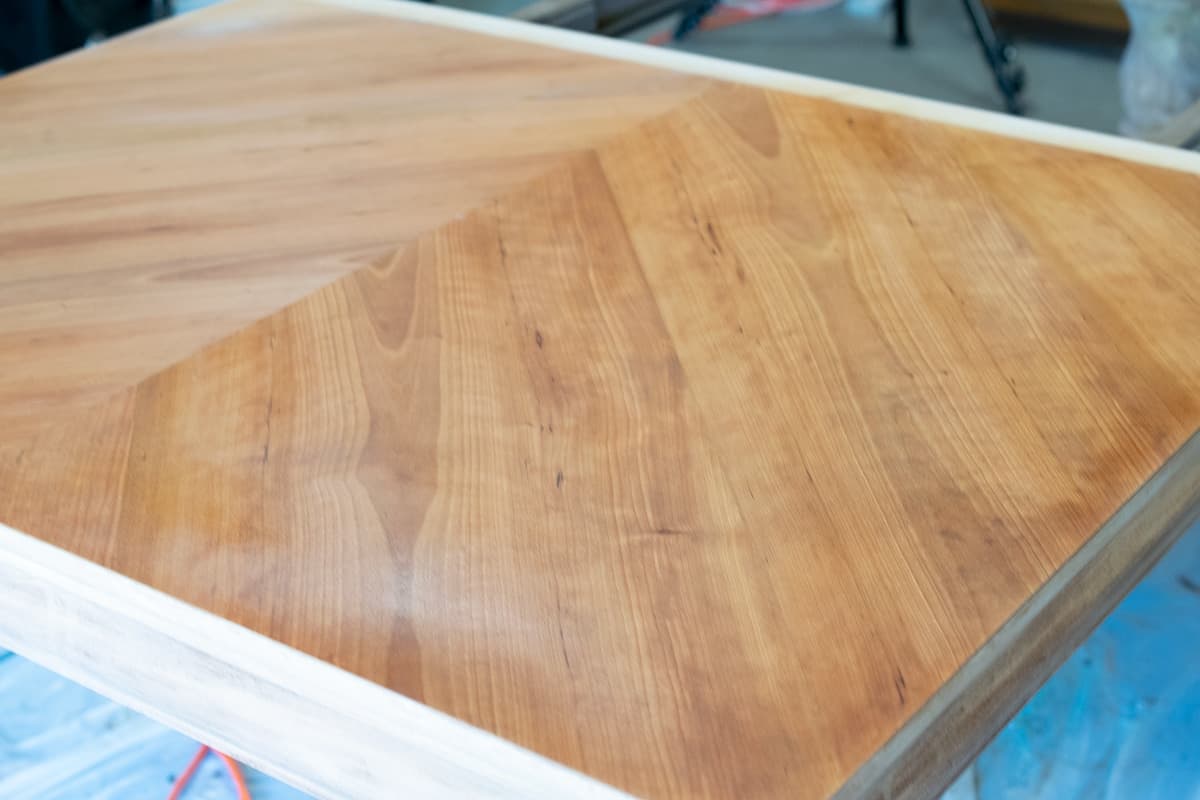 Because the types of wood are different, the colors varied significantly after stripping. I decided to try a new technique for bleaching the table top so the wood tones would be more cohesive and remove any excess stain residue.
SUPPLIES FOR BLEACHING WOOD
A furniture piece, stripped of all finish (you can see how we strip furniture here.)
Rubber gloves, plastic & lint free rags for wiping. These work great but clean, cut up men's T-shirts work just as well.
A fume mask.
Distilled Vinegar to neutralize the wood bleach.
Top coat of your choice (optional but I recommend wax).
How To Bleach Wood
First things first, bleaching wood is not as simple as pouring common household bleach on the table and calling it a day.
Please don't do that!
For furniture, you really need to use a 2-step bleaching product meant specifically for wood. The first step pulls the tannins up to the surface of the wood. The second step lightens the color, which provides an even finish and won't damage the wood itself the way household bleach can. It also removes stubborn stain residue left behind from sanding and requires far less coats. I lightened this cherry table in just 2 coats!
The two steps are super easy too! First, you wipe on solution A with a sponge. Be generous to keep it wet until the next step. Wait 5 mintues for soft woods like pine or poplar, or wait up to 10 minutes for hardwoods like cherry or oak. Then wipe on the second solution with another clean sponge. leave overnight and give a light sanding. If a second bleaching is desired, do it after you have left it overnight or several hours.
Use distilled vinegar to neutralize the bleach if you use more than 1 application.
During the first step, the tannins (color) lift to the surface. This took me by surprise because the table turned very dark. So don't be alarmed if your furniture gets darker or takes on an orange hue while waiting for the second step.
Do I have to Bleach Wood for A Raw Wood Look?
If you are happy with the finish without bleaching, you can skip it. However if you add a topcoat finish, it may alter the original hue. Keep that in mind when making the decision "to bleach or not to bleach?"
For our dining room table, I washed it (mixed ⅔ stain to ⅓ water) with Varathane Sunbleached stain first. I let the stain dry for 1 hour and followed it with a top coat.
Which Top Coat is Best to Use on Raw Wood?
The million dollar question. I have traditionally been a big advocate of using a durable water-based polyeurethane on high traffic surfaces. Specifically surfaces with hot plates of food on them- like dining room tables. In fact, I have written several articles about the best topcoats for furniture here.
But in this case, I used a wax.
I know, I know, who am I?! I never do that!
But my friends, there is a very specific method behind this madness. All polyurethanes (even water based ones), naturally darken the overall wood when applied. I tried all of my favorites. While some were better than others, all of them darkened the wood or brought out an orange tone. Wax was the only way to go for the raw look I wanted.
Using a brush, I applied the wax in circular motions. It gave the wood more depth and richness without affecting the natural color. I waited a few minutes and buffed it down, then I buffed the whole table after an hour to create an even finish.
I recommend two types of wax for a project like this: cerusing wax or paste wax. I chose paste wax for my project because cerusing wax has a tendency to get into crevices and lines and leave bits of excess white. Cerusing wax will remove some of the orange hue from wood to enhance a piece's natural look. So feel free to try both to see which one you like best for your project.
The table's accompanying chairs are made of maple. No bleaching required!
This table has been the centerpiece to many celebrations. Christmases here with the whole family gathered around the table make my heart happy. We share our stories and count our blessings and laugh until our ribs hurt. I couldn't be more pleased with the new life this special piece has breathed into it.
It's ready for more memories to be shared. Happy transforming!
Grab our free series "Weekend Home Projects that will Transform Your Life"
Sign up below to receive updates including free printables, organization tips, home improvement projects, recipes and more!