If you are coming today from one of the other fabulous blogs, and we have not met, I am Rachel and you probably wouldn't believe it now, but our house started out as a really nasty foreclosure. Project by project, we are cleaning it up and making it our own. (You can see a gallery of all our projects HERE.)  I am a Nashville-bred, DC transplant, who loves to make stuff. Lots of stuff. You will usually find me in paint-stained clothes working on my next project. If you are a regular reader, know I try not to overload you with pictures usually, but today is a bit different. Today, I am sharing our foyer and our dining room, which I will be sharing more of next week because we are hosting a simple Christmas party this season.
Our foyer splits into 2 rooms, with the dining room being on the left and what I call a parlour room on the right. (Off the blog, I just call it the front room, but that's not a technical term.) This is where I put our second tree that faces the street. A few facts about our Christmas tree:
You're looking at a 9 ft thrift store tree that I got for FREE. In case you don't know, calling me cheap is a compliment and my whole house is decorated on the cheap.
2. We have a theme for the front and dining room. It's a woodland animals/winter wonderland theme. Our tree has owls, birdhouses, foxes, and rabbits on it. For anyone looking closely, I have a few pieces of paper stuck on the tree as placeholders. I ordered these lanterns which are a huge deal at $7.99 each to put up, but they haven't arrived yet. Bummer.
3. Trains are sort of my husband's thing. They are nostalgic for him since he has always had one at Christmas time and we put ours under the front room tree.
4. This is our family Santa Sack. I created a stencil from this tutorial and "painted" it using a fabric marker. I got my canvas sack for $4 at Hobby Lobby or you can easily order one for about on etsy.
Our dining room continues the winter wonderland theme.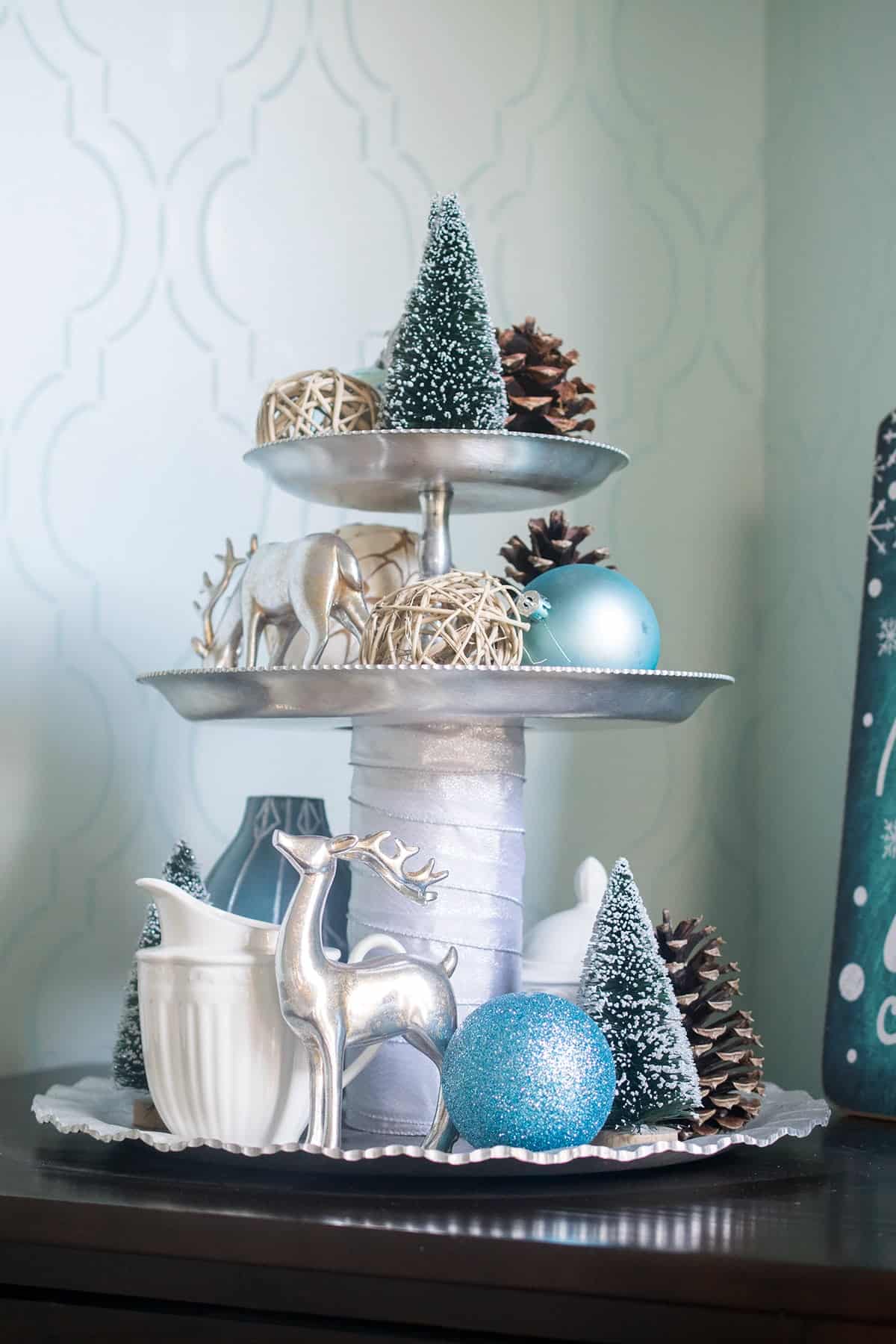 This 3-tiered stand is a new addition this year! It is actually a silver serving tray and a 2-tier cookie stand from my mom's kitchen. I took a piece of wrapping paper cardboard and wrapped it with ribbon to make a 3-tiered stand.
The centerpiece on my dining room table is actually my year-round centerpiece with this magnolia garland, some silver berries, and these black lanterns that I have had for years.
The silver coated deer tie into the foyer, and I got six of them on sale.
To be honest, I am not normally fancy enough to put place cards on my table. It is usually friends and family visiting, so they can sit wherever they please. But I felt like the table needed a bit more color and something festive. I just happened to have some leftover Christmas balls and I love the pop of color on the mats.
Thank you for joining me today and I am so glad you came! If you want to learn more about us, check out a few of my favorite projects we have done:
More Interesting Project Ideas
Grab our free series "Weekend Home Projects that will Transform Your Life"
Sign up below to receive updates including free printables, organization tips, home improvement projects, recipes and more!