This year I turned my dining room and entryway into a cozy Christmas woodland tree theme. To complete the style, there are lots of wood ornaments, DIY ornaments, and natural elements with a little winter sparkle thrown in!
You probably wouldn't believe it now, but our house started out as a really nasty foreclosure. I mean, we had no running water the day we closed on the house. Little by little, we are cleaning it up with lots of home repair and improvement projects.
Our foyer splits into 2 rooms, with the dining room being on the left and what I call a parlor room on the right. This is where I put our second tree that faces the street.
What is a woodland Christmas tree? This style is characterized by natural elements such as branches, wood textures, and a light flocking similar to natural trees in winter. You may also find woodland animals, burlap, and classic farmhouse or country Christmas textures.
Winter Woodland Christmas Tree Theme
I got my inspiration originally from my parent's rustic home in Tennessee. They bring me HUGE pinecones every year and I asked for some other rustic elements from home. I can't say for sure what it is, but this tree really does remind me of a good ol' Nashville Christmas.
A few facts:
You're looking at a 9 ft thrift store tree that I got for FREE. In case you don't know, calling me cheap is a compliment and I have a whole post with over 70 Cheap or free Christmas Decorating Ideas.
I couldn't find a tree skirt I liked, so an old bed sheet worked great. It even has little wood grain lines on it that perfectly fits the theme.
Our tree has owls, birdhouses, deer, wolves, foxes, and rabbits on this rustic tree. I ordered these lanterns, but they haven't arrived yet. Bummer.
I change up decorations every year as I get better and learn new things, like how to add ribbon to a Christmas tree.
Trains are sort of important to my husband. They are nostalgic for him, and we put ours under this tree generally.
DIY Rustic Christmas Ornaments
This tree uses a lot of ornaments that I have made as well as new ones. Along with the wood slice ornaments that I show in my simple design transfer tutorial, I made a whole bunch of new ones.
I painted the tips of large pinecones and glued ribbon to them.
I also took some curly branches from a walk in the woods and covered them with a light dusting of chunky glitter.
I took snowflake yard stakes and cut the ends off because they made a great sparkly effect.
I also created this adorable Santa Sack! Using a stencil from this tutorial, I hand "painted" it using a fabric marker (much easier with complete coverage). I got my canvas sack for $4 at Hobby Lobby or you can easily order one for about on etsy.
Cozy Christmas Dining Room
2022 update: This dining room was a bit of a work in progress when these photos were first taken in 2017. Check out our updated Scottish Christmas theme to see it now.
When starting a makeover, I usually like to pick a vibe and since the dining room lends itself to a blue and icy silver color scheme, so I ran with that.
The table is not yet refinished, so I kept it simple with ornament balls as placeholders for the large family we host every year.
Blue Christmas Table Centerpiece
I am not one to put a ton of stuff on the table because we need the room, but I love how these lanterns and magnolia garland turned out!
The centerpiece on my dining room table is actually my year-round centerpiece with this magnolia garland, some silver berries, and these black lanterns that I have had for years.
The silver coated deer tie into the woodland theme, while the rattan mats are neutral enough to work with all kinds of decor.
To be honest, I am not normally fancy enough to put place cards on my table. It is usually friends and family visiting, so they can sit wherever they please. But I felt like the table needed a bit more color and something festive. I just happened to have some leftover ornament balls and I love the pop of color on the mats.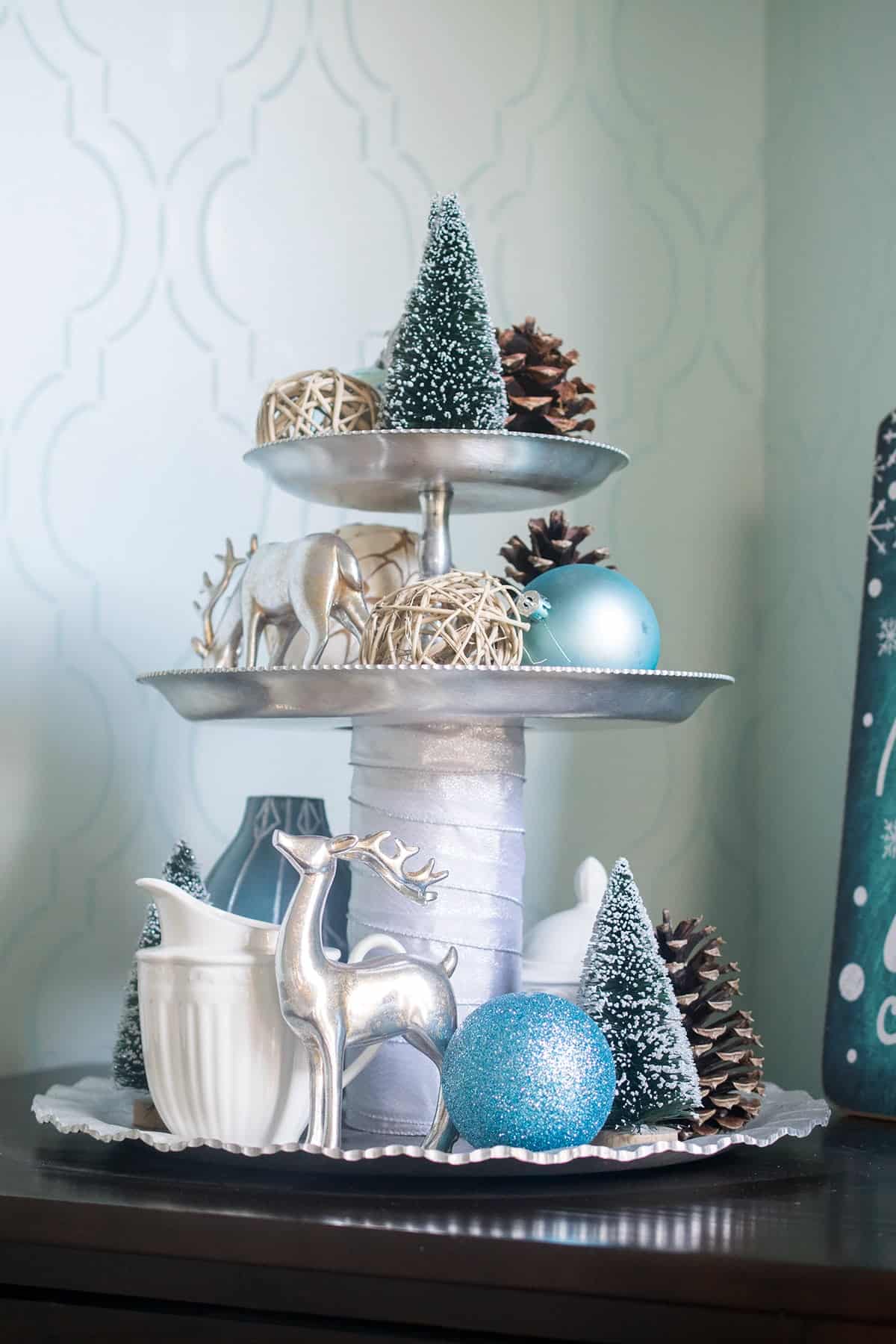 This decorative tray stand is a new crafty touch as well! It is actually a silver serving tray and a cookie stand from my mom's kitchen. I wrapped a sturdy cardboard roll with ribbon to make a 3-tiered stand.
Happy Holidays to all and I hope you enjoyed this little peek into our winter haven!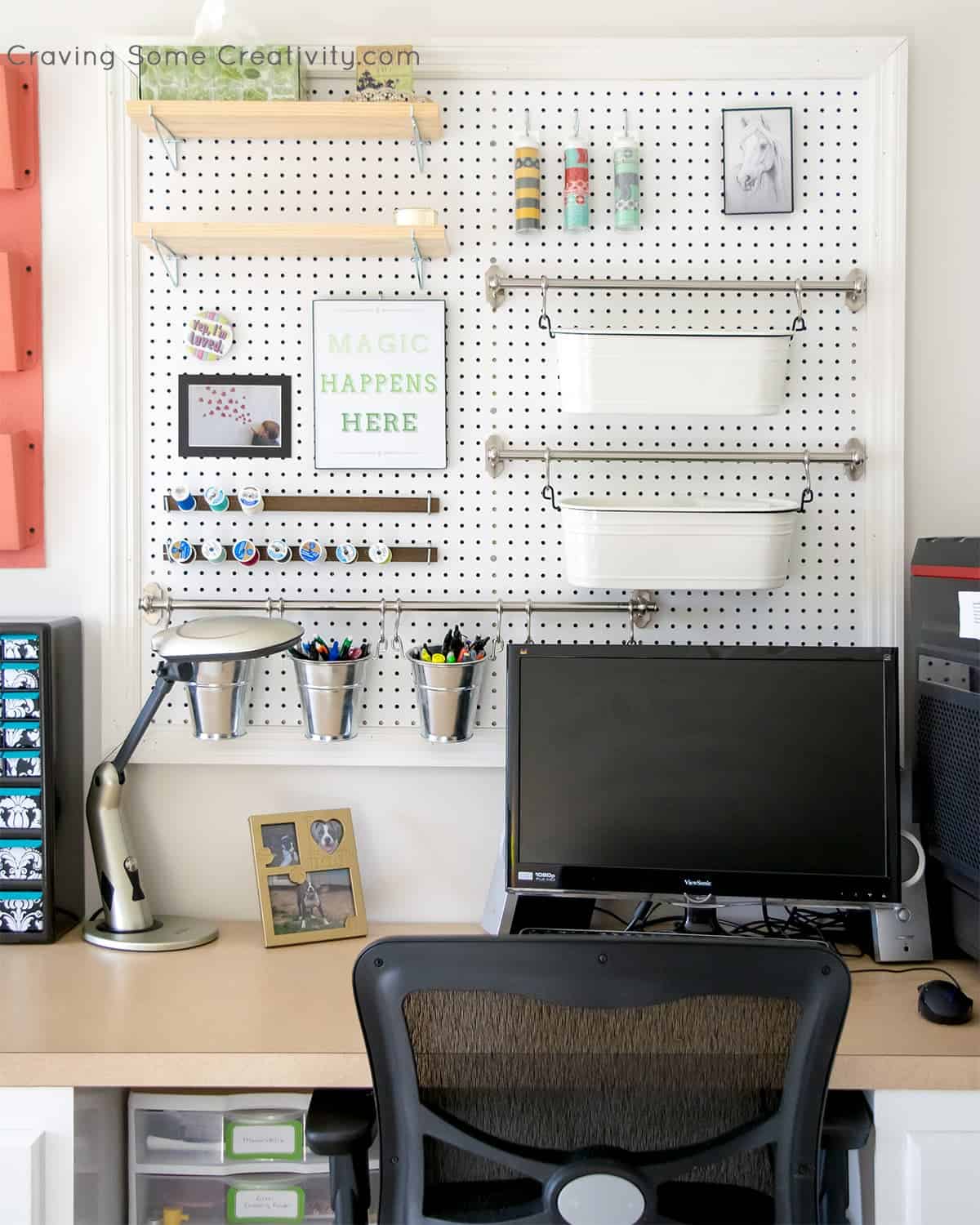 Grab our free series "Weekend Home Projects that will Transform Your Life"
Sign up below to receive updates including free printables, organization tips, home improvement projects, recipes and more!
More Christmas Decorating and Celebration Ideas
PS I love seeing your creations! Be sure to take a photo and tag #cravingcreative on Instagram! You can also stay in touch with me through following me on Instagram, Pinterest, and subscribing to the newsletter!