Winter Woodland Christmas Decorating integrates natural elements like wood grain & cozy textures, while whimsical elements like fairy lights & furry forest friends. Bring a magical sense of woodland wonder to the holiday season!
"Twas a decade ago, we said "yes" to this foreclosure and dove in head first. With so many initial projects underfoot, it was easy to get overwhelmed. The twinkle of my son's eyes was always a welcome respite; a reminder to focus on the feel good stuff- like the holidays.
This Winter Woodland Christmas Theme was born that same year. I wanted to encapsulate some of the hushed magic the winter forest seemed to hold when I was growing up.
Looking for more Christmas tree inspiration? Our collection of Christmas Tree Ideas and Decorations is sure to inspire. Check out the cozy red and gold tree or cool silver & blue winter wonderland Christmas tree, and the non-traditional Earth Tones Christmas Tree.
What is a Woodland Christmas Theme?
Picture stepping into an enchanted winter forest after fresh snowfall. What feeling does that Winter Woodland exude? For me, it's a whimsical balance between the rustic, unpolished charm of nature and the warm, cozy textures of home.
Components of Winter Woodland Christmas Decor:
Natural Elements: Choose natural materials like wood grain textures, pinecones, and branches for decorations. Think rustic style, handcrafted ornaments.
Earthy Palette: Incorporate Earth tones, (deep greens, browns, and shades of red), to mimic the forest's color palette. A neutral color palette is a great color scheme to aim for.
Wildlife & Nature: Feature forest friends such as deer, owls, and squirrels in your decor. They can be featured as ornaments, in tablescapes, signs, and more.
Cozy Textures: Add soft, cozy elements like faux fur, plaid blankets, and knit stockings for warmth and textural interest.
Candles/Warm Lighting: Use candles or warm fairy lights to invite serene ambiance.
Festive Greenery: Adorn your space with garlands, wreaths, and branches made from berries and pinecones.
No matter where you're from, Winter Woodland Christmas decor is an inviting choice that instantly makes one feel home for the holidays. Find all of the "how-to's" listed down below.
Woodland Christmas Tree Design Ideas
Let's start with the tree. Faux trees may be lightly flocked, designed to mimic the natural appearance of trees in winter.
This style is mostly characterized by decorations are natural or rustic. Examples include branches, berries, pinecones, dried flowers, wood textures, and feathers.
Then you add a few elements that glisten. Fat gold ribbon spirals, shimmery snowflake ornaments, jingle bells, pearl garland, and more.
Winter Woodland Christmas Tree Design Tips:
Shop Deals: Would you believe I scored this 9ft thrift store faux flocked tree for FREE?! Learn all kinds of ways to save with over 70 Cheap or Free Christmas Decorating Ideas.
Reuse & Repurpose: I couldn't find a tree skirt I liked, so I repurposed an old bed sheet instead. Bonus: it's got a little wood grain design that's perfectly on theme.
Buildable: Change decor each year, adding/subtracting items as you learn new things and improve your skills such as how to add ribbon to a Christmas tree.
Something Borrowed/Something New: Honor cherished traditions, while making space for new ones. Release the responsibility to carry on EVERY tradition- one or two is A+ work.
Woodland Christmas Ornaments for the Tree
Ready to get crafty? Choose from one of these festive ideas to make your own rustic-style DIY woodland ornaments. This tree highlights many handmade ornaments. Follow my simple design transfer tutorial to learn how-to make these simple wood slice ornaments.
Natural wood ornaments or subtle glass ornaments are the perfect finishing touch for your woodland-themed Christmas tree. Here are a few fa-la-la-la-fabulous ideas to get you started:
Twig Stars:

Gather small twigs. Hot glue them together into a star shape.
Add a loop of twine for hanging.
Add a touch of white paint for a snowy effect.

Pinecone:

Paint pinecones in various colors.
Attach a ribbon with a glue gun at the top.
If you use pinecones from outside, clean them first, to avoid any critters.

Wood Slice Ornaments:
Burlap Reindeer:

Cut reindeer shapes from wide burlap ribbon and stuff them lightly.
Add button eyes, a red ribbon for the nose, and a loop for hanging.

Acorn Cap Snowmen:

Glue acorn caps together to form snowman figures.
Paint faces and scarves on the acorns and attach a hanging loop.

Pine Branch Stars:
Bundle small pine branches together to form a star shape. Wrap twine or ribbon around the bundle to secure it and hang it on the tree.
Felt Forest Animals: Create felt ornaments featuring woodland creatures like foxes, bears, and raccoons. Sew or glue the felt pieces together and add a loop for hanging.
Burlap Bow: Keep it simple by tying together burlap bows and decorating your tree with them.
Woodland Christmas Decorations
If you remember the three key elements of winter woodland Christmas decorations, everything is a natural flow from there. The building blocks of this style are earth tones, natural elements, and woodland wildlife.
Want to make your own Winter Woodland DIY Christmas Decorations? I have used several of these ideas:
Pinecone Wreath: Create a wreath using pinecones and small branches for a country chic touch.
Woodland Creature Ornaments: Hang ornaments featuring woodland animals like deer, foxes, and owls on your tree.
Birch Bark Candles: Use birch bark to wrap around dollar store candles for a natural, forest-inspired look.
Tree Branch Centerpieces: Craft centerpieces using tree branches, pine branches, and pinecones.
Plaid Table Runners: Lay out plaid table runners with woodland-themed dinnerware for no-fuss holiday elegance.
Faux Fur Throws: Drape faux fur throws over your furniture to add warmth and coziness.
Acorn Garland: String together acorns to create a charming seasonal garland.
Mason Jar Luminaries: Paint mason jars with forest scenes and place candles inside for a warm glow.
Forest Scented Candles: Choose scented candles with fragrances like pine, cedar, or balsam fir.
Rustic Woodland Stockings: Hang stockings made of burlap or plaid fabric with woodland creature motifs.
11. DIY Santa Sack:
I created this adorable Santa Sack years ago- so many cherished memories! Following this tutorial with free file, I used a fabric marker to hand "paint" it (much easier with complete coverage). The canvas sack? $4 at Hobby Lobby! Or easily order one on etsy.
Christmas Woodland Table Decorations
Our dining room was a bit of a work in progress when these photos were first taken in 2017- what wasn't? Check out our updated Scottish Christmas theme to see it now.
Since the dining room has an established blue and icy silver color scheme, I built from there. There's truly no need to reinvent the wheel. Make your current design aesthetic work for you not against you.
Winter Woodland Christmas Tablescape Tips:
Be Our Guest: The table was practically begging for a pop of festive color. What's a girl with a collection of ornament balls to do? Get crafty, naturally. I love how the dainty blue sparkle plays against the neutral straw mats. Christmas Kitchen Decor.
Don't Reinvent the Wheel: The rattan mats and white china are neutral enough to work with all kinds of decor. We use them regularly for our large family gatherings. Life is too short for "fancy dishes."
Mix Themed Items with Neutrals: This tiered tray stand anchors the theme firmly into place with a sweet-yet-simple display of seasonal items like silver coated deer. Note the ratio of everyday serving ware, holiday items, and woodland themed accessories.
More of Our Best Christmas Decorating Ideas
The centerpiece featured on my dining room table features my favorite year-round magnolia leaf garland, silver berries, and chic black lanterns that I've owned for years.
The table was practically begging for a pop of festive color. What's a girl with a collection of ornament balls to do? Get crafty, naturally. I love how the dainty blue sparkle plays against the neutral straw mats.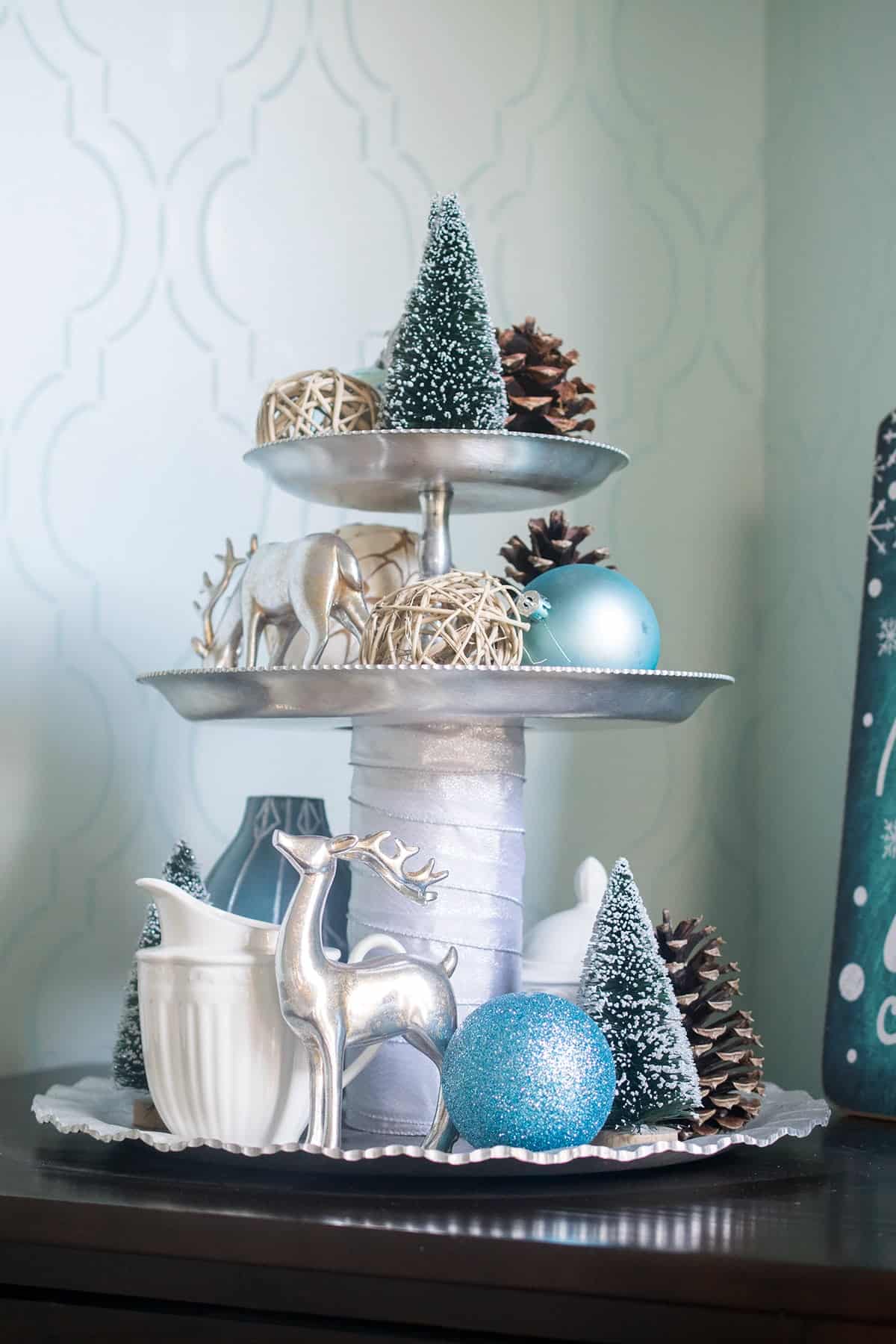 This tiered tray stand anchors the theme firmly into place with a sweet-yet-simple display of seasonal items.
I hope you enjoyed this little peek into our winter haven! Happy Holidays to all and to all…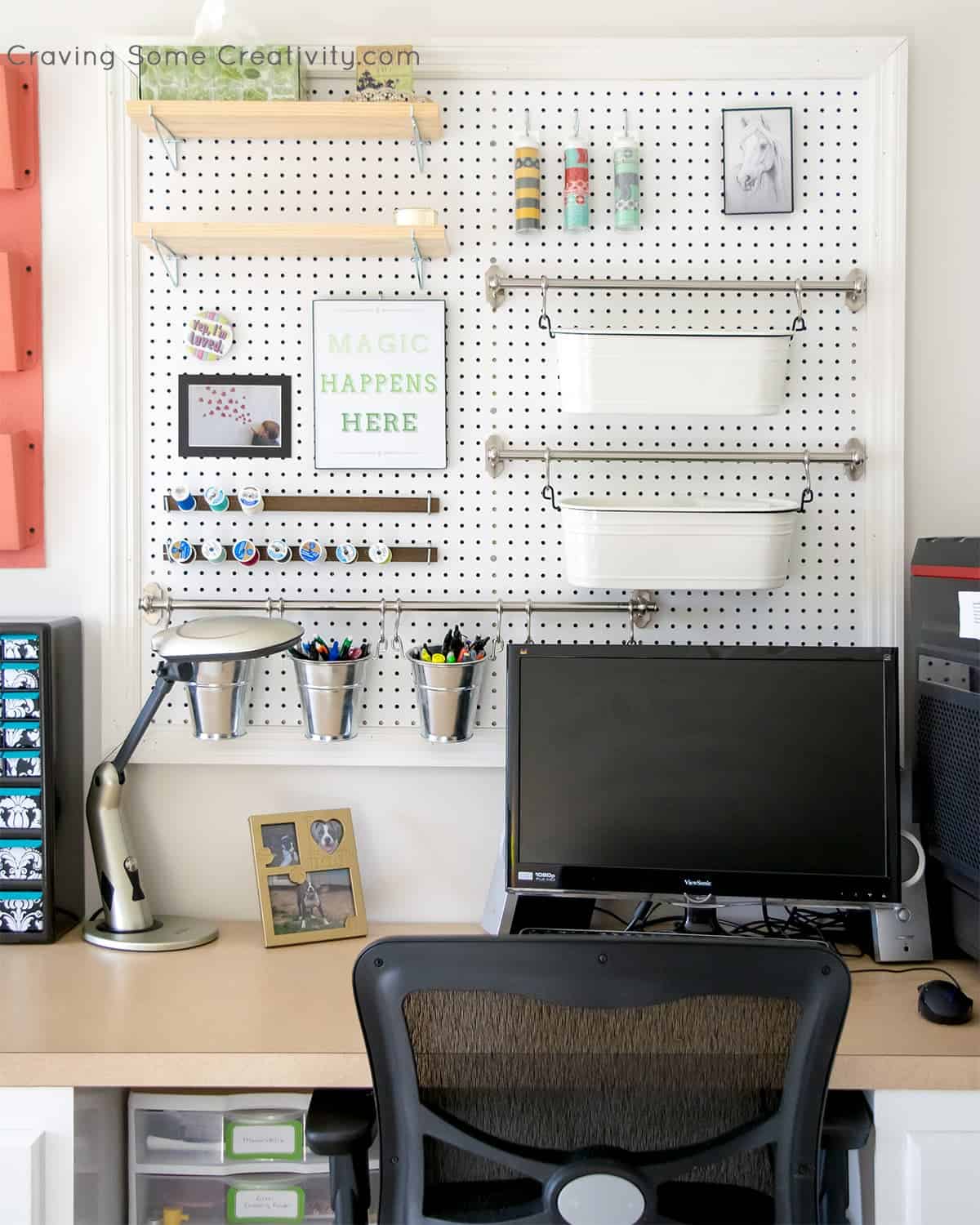 Grab our free series "Weekend Home Projects that will Transform Your Life"
Sign up below to receive updates including free printables, organization tips, home improvement projects, recipes and more!
More Christmas Decorating and Celebration Ideas
PS I love seeing your creations! Be sure to take a photo and tag #cravingcreative on Instagram! You can also stay in touch with me through following me on Instagram, Pinterest, and subscribing to the newsletter!